What I Wore: April 2019
What I Wore: April 2019
This spring has been crazy busy for me at work, and I didn't have as much time as I'd like left for writing, photography and Instagram. That being said, it didn't feel all that much like Spring. Aside from a couple of sunny days, much of the month of April hovered between 0 and 8 degrees celcius with grey skies and rain. May has been a bit better so far, but this post is about what I wore in April, so…
What I Wore – Guncheck and Grey
This jacket is predominantly coloured in browns and greens, but there is a dark grey component in the check that I wanted to pull out in this outfit. I went with my charcoal houndstooth tie from Oxford Rowe because I liked the continuity of the houndstooth pattern, but at a differing scale to be complimentary. A light grey cardigan adds a lighter bit of contrast between the jacket and tie. In the bottom half, I'm wearing my charcoal flannel trousers. A white shirt and cream square from Vanda complete the look. I like pairing the cream square with white shirts for a couple of reasons: it tones down the formality of the white shirt, it offers a less stark contrast against the jacket, and isn't too matchy with the shirt.
What I Wore – Earth Tones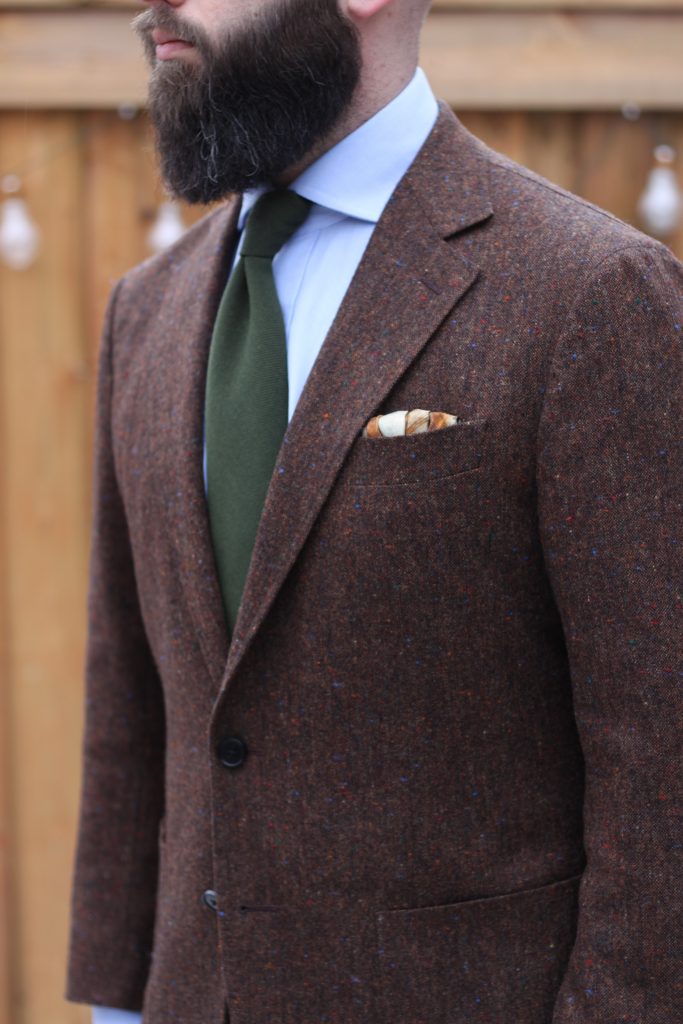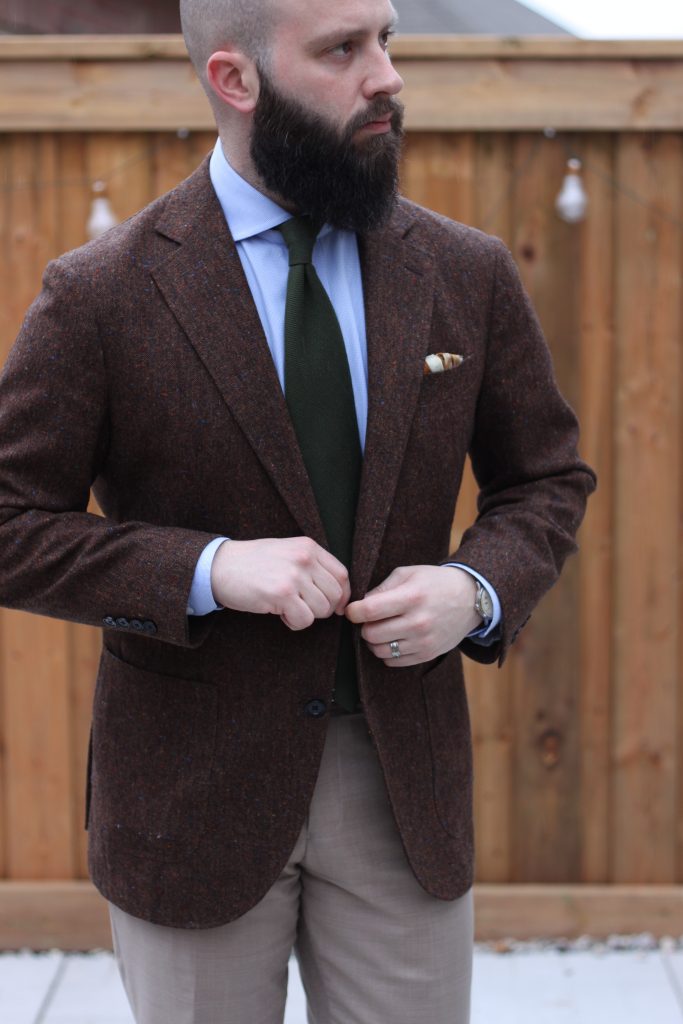 Earthy. Elemental. Brown, blue, green coalesce into a pleasing palette. The rich brown of the jacket would be great on its own, but it also has bright flecks of colour that can be fun to pick out. In this outfit, I chose to play with the green and blue flecks by pairing a soft blue shirt and deep, forest green tie. It seems a bit like the cool blue of the shirt is at odds with the warmth provided by the other pieces of the outfit, but I still think this was generally a good look. In my pocket is the "Night in Harlem" square from SuitSurmesur, which has proven to be a versatile piece. Perhaps a different choice, one with some cooler colours, could have helped balance out the shirt a little bit.
What I Wore – Charcoal and Beige
I wore a similar look a few months ago. It's not an easy look to pull off – wearing a tie that is lighter than both the shirt and jacket. I wrote a post about wearing light ties, which was a fun attempt at objectively reviewing a number of combinations and how to approach light ties. I think in this case, the light brown flannel trousers pair well with the light grey houndstooth tie, and the saturated blue chambray shirt offers some contrast against both. The charcoal tweed jacket from Brooks Brothers is highly contrasting, and does seem to weigh the top half down a little bit. Some of this may be due to the lighting – it was still dark in the morning at this time, and I was using a small umbrella light. It adds drama and nice shadows, but maybe isn't an ideal representative setting for the outfit to be reviewed. Finishing off the look is my Star Chart Cellarius square from Kent Wang. This has quickly become one of my go to squares. The lighter base – cream, white and grey softens the brightness, but still provides contrast to the rest of the design.
What I Wore – A Soft Uniform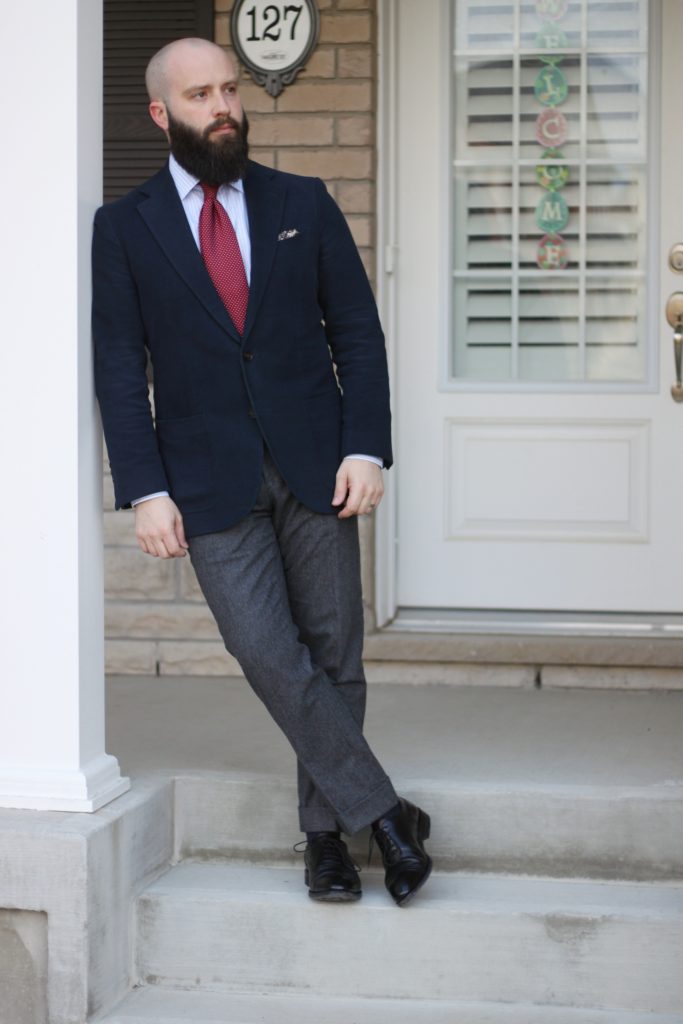 Working within the structure of the basic menswear uniform is a great exercise to go through every now and then. Grey trousers, navy jacket, white/blue shirt, simple tie. Finding a new way to execute an outfit within these constraints is fun challenge. My navy moleskin sport coat is wonderfully soft, and has a uniform texture that pairs nicely with the variation in the mid grey flannels. I went with my light blue butcher striped shirt, and a red pin dot tie. In my pocket I wore the Star Chart Cellarius square again. This rare full shot includes my trusty black cap toes from Carmina via Luxeswap.
What I'll Wear When Spring Arrives
I'm ready for linen. And linen blends. And loafers. I love my Fall/Winter textures and heavy fabrics, but it's time to put them away.