What I Wore: April 2018
What I Wore: April 2018
Spring is in the air
April is a tricky month. You get glimpses of spring, and usually at least one harsh reminder that winter isn't quite ready to release you from its hold. This past month was no exception. As we start to get warmer weather, it's an opportunity to cram in the last few wears of the heavier fabrics (tweed!) that will be put away soon. Here's what I wore (tweed!).
What I Wore: Tweed!
Guncheck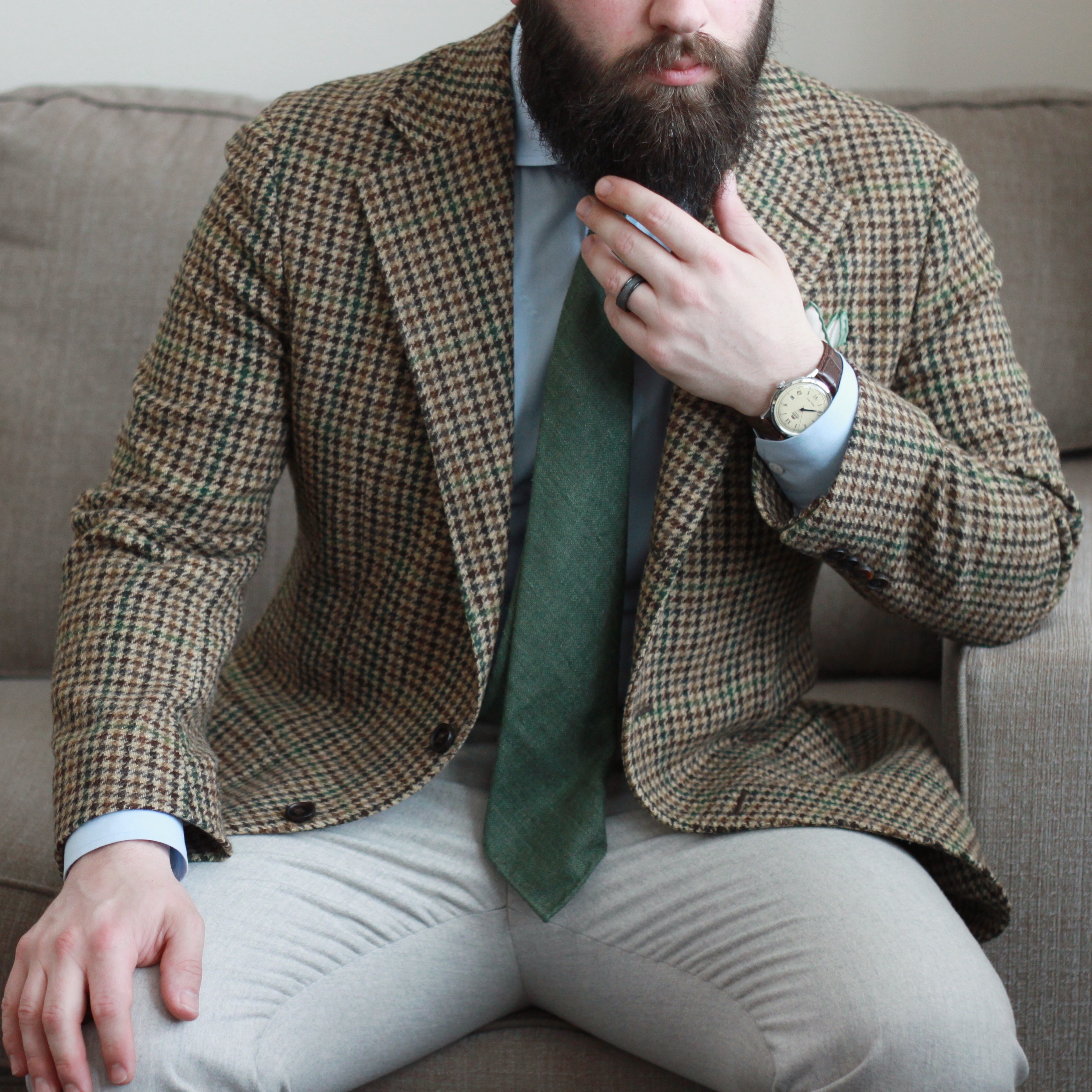 I liked this outfit a lot – and not just because of the jacket. It was fun to play with a bit of seasonal dissonance. Kind of like April does! I chose one of my favourite ties – chive-coloured matka from Vanda. Makta is often considered a summery tie, and while I generally agree, I think it has enough texture to pair well with tweed. The trousers are my light brown VBC flannels which I think go well with this sport coat. Most of my trousers end up being darker than this sport coat, so it's nice to have a lighter option.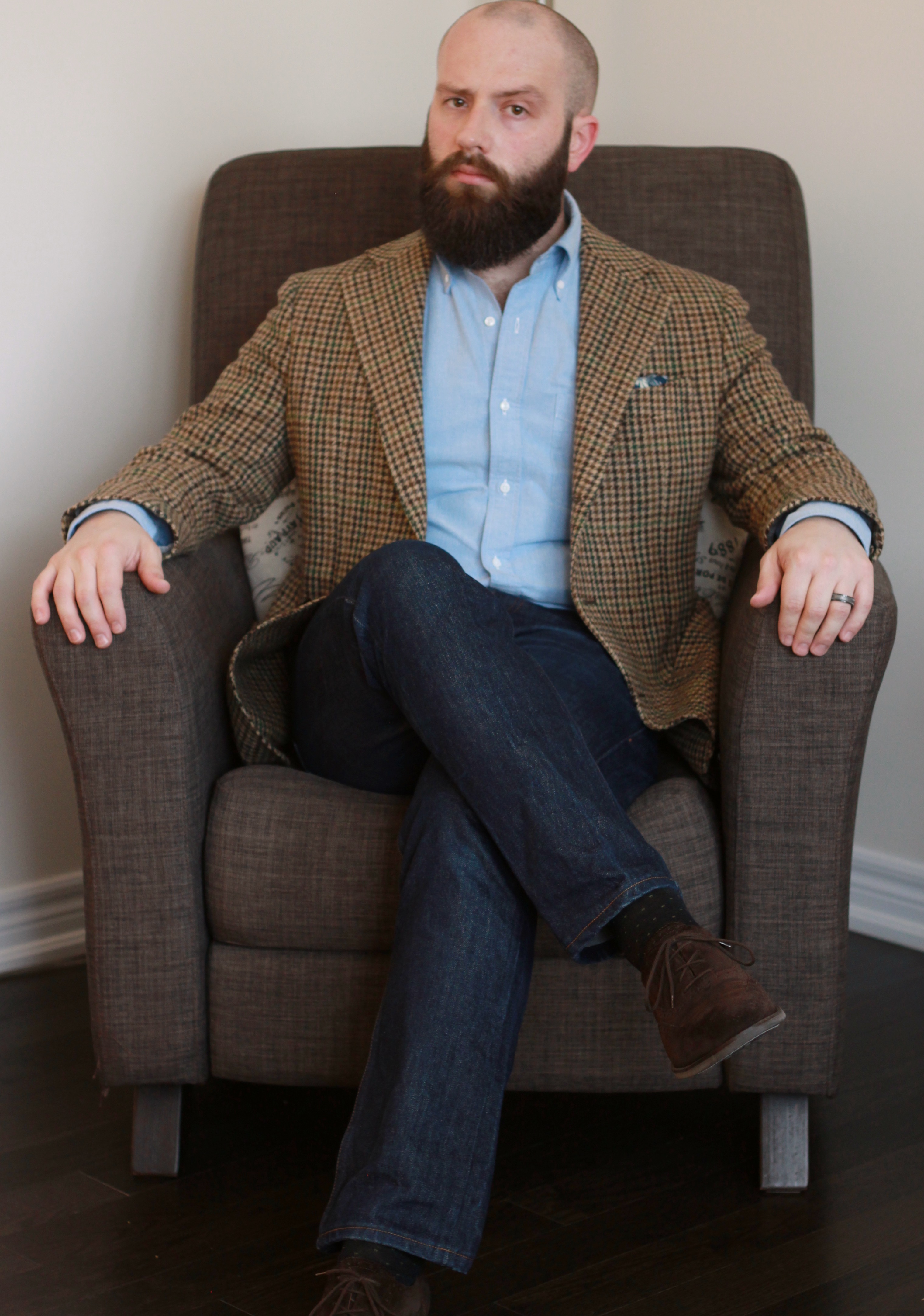 Same sport coat, different look. No tie. Denim. Still a good look, I think. For everything around the jacket, I stuck with blues: light blue OCBD, blue jeans, blue pocket square. The pocket square is really cool indigo patchwork pattern from General Knot & Co. that my sister gave me for Christmas. It's got varying shades of blue, and some creamy, grey highlights. The denim is from the Unbranded Brand, UB201 fit.
Donegal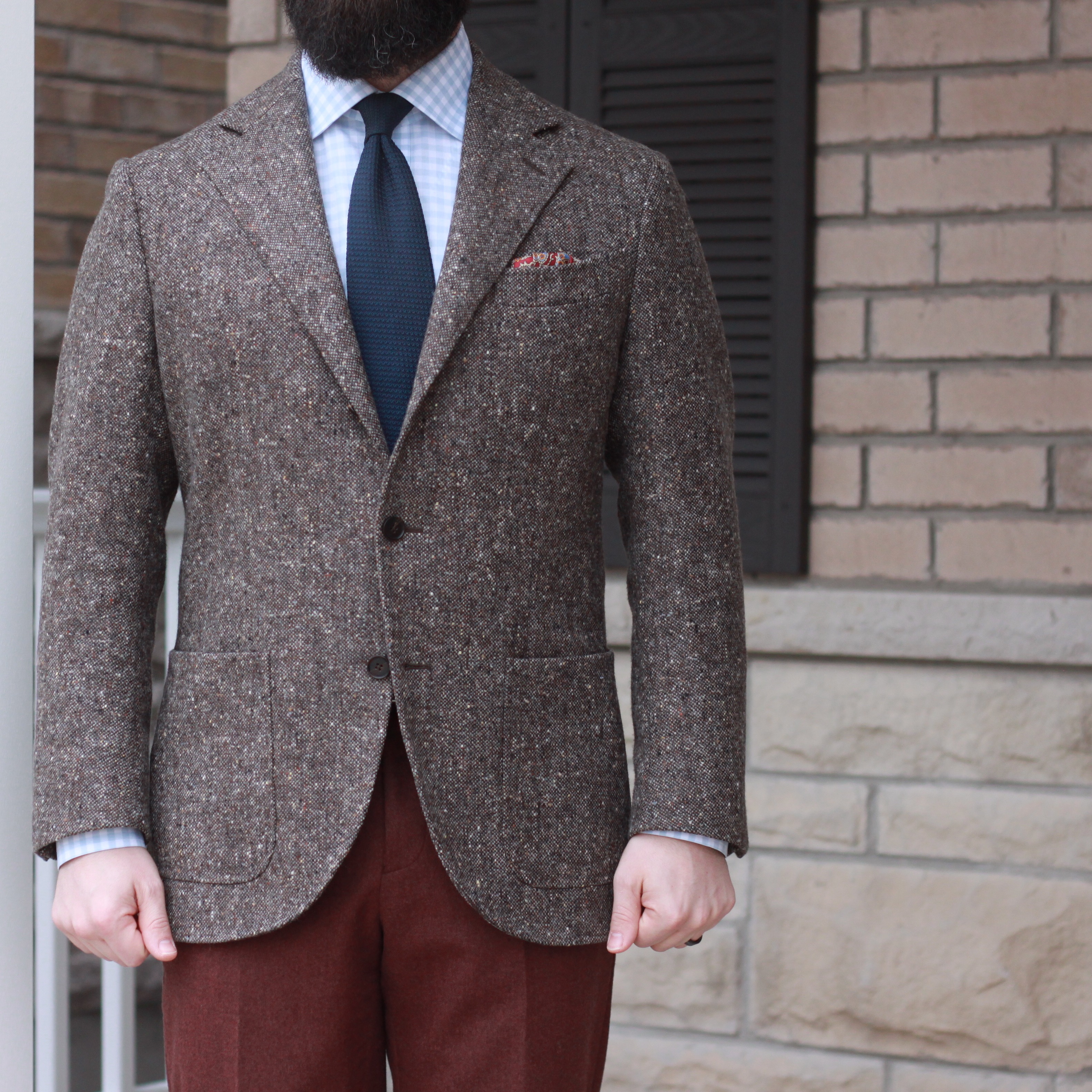 I think this look worked ok. I like the burgundy flannel trousers with this fawn coloured Donegal tweed from Abraham Moon & Sons, made up by Spier & Mackay. The soft mint gingham shirt fit in pretty well too. I think the weak point was the choice of navy grenadine tie. I wonder if this would have worked better had I stuck with something in the burgundy or brown family? I'll have to try in the fall, as it is warm enough out that I've put away my heavier fabrics for the season.
Merino Tweed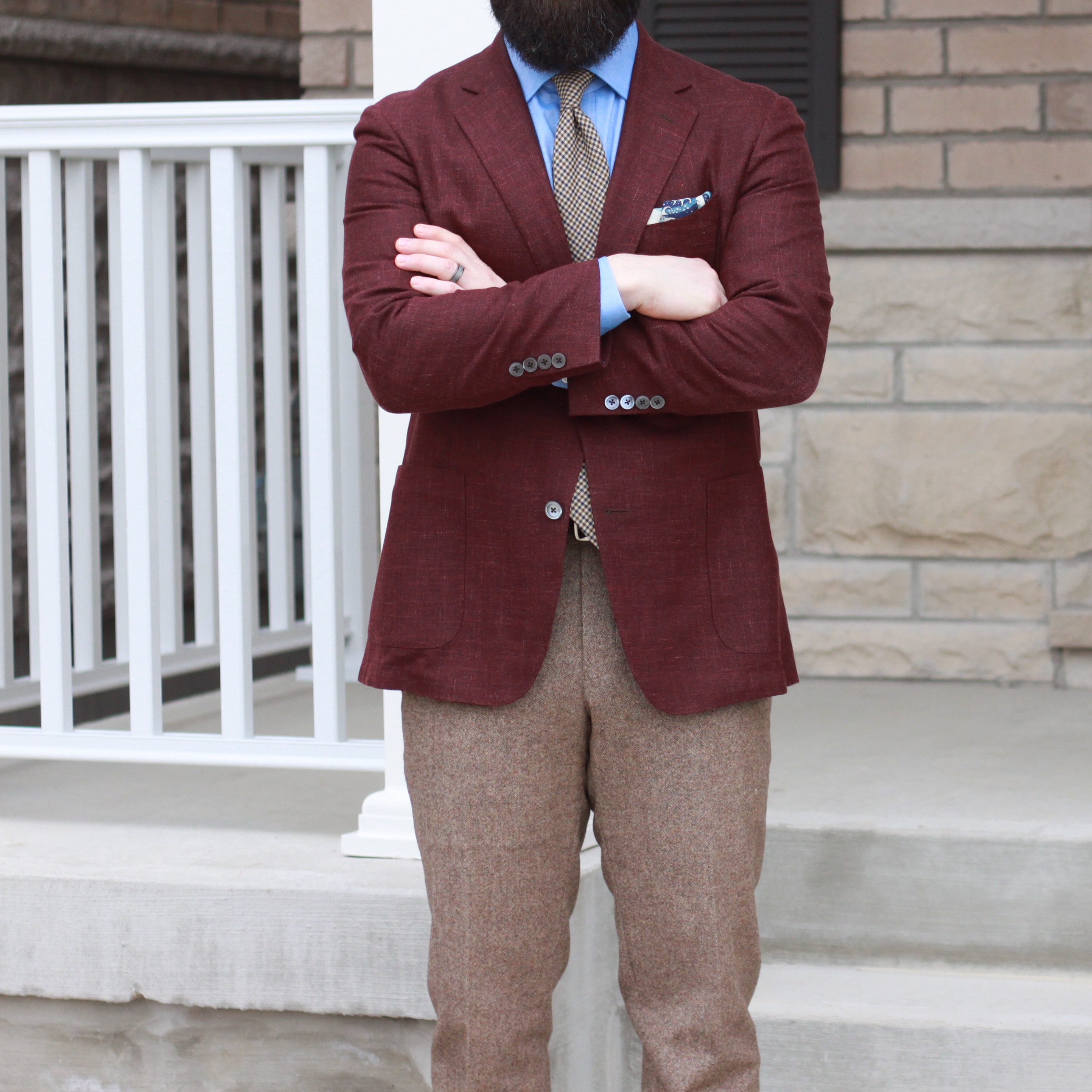 I really love these merino tweed trousers. I'm disappointed I missed out on a grey pair. I've tried this look before (burgundy jacket, brown tweed trousers), with mediocre results. I think this time it was a little bit more cohesive, but I think the tie was a little light. My thought process was to have the tie pair more closely with the trousers, letting the bold burgundy jacket be the focal point. What happened was maybe a little unbalanced. A darker, solid tie (navy grenadine) might have provided some additional visual weight to the upper half. Another option to consider would be a paler blue shirt – or at least less saturated than this dress chambray. As you can see I was enjoying the burgundy and brown combinations, as this and the previous fit were both from the same week.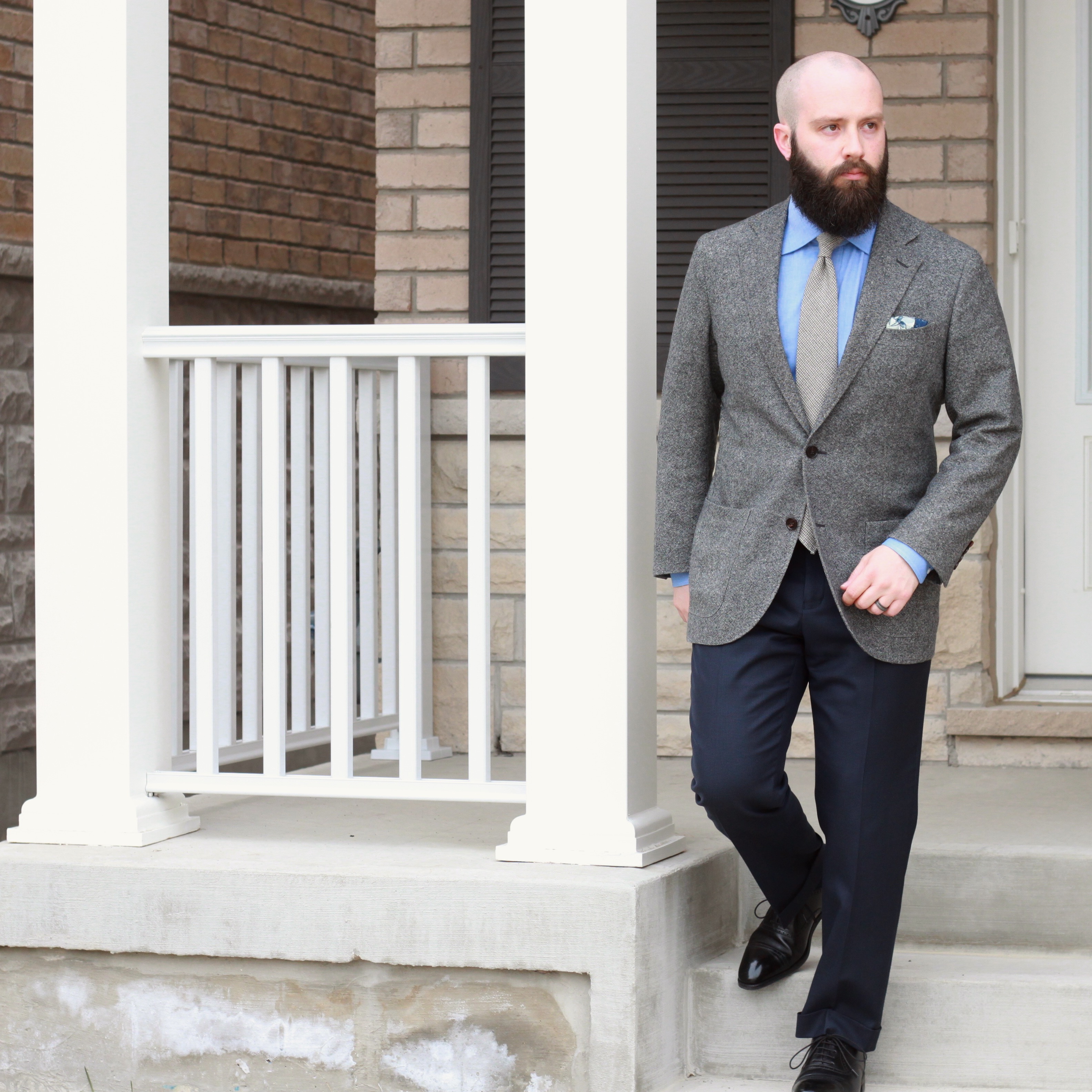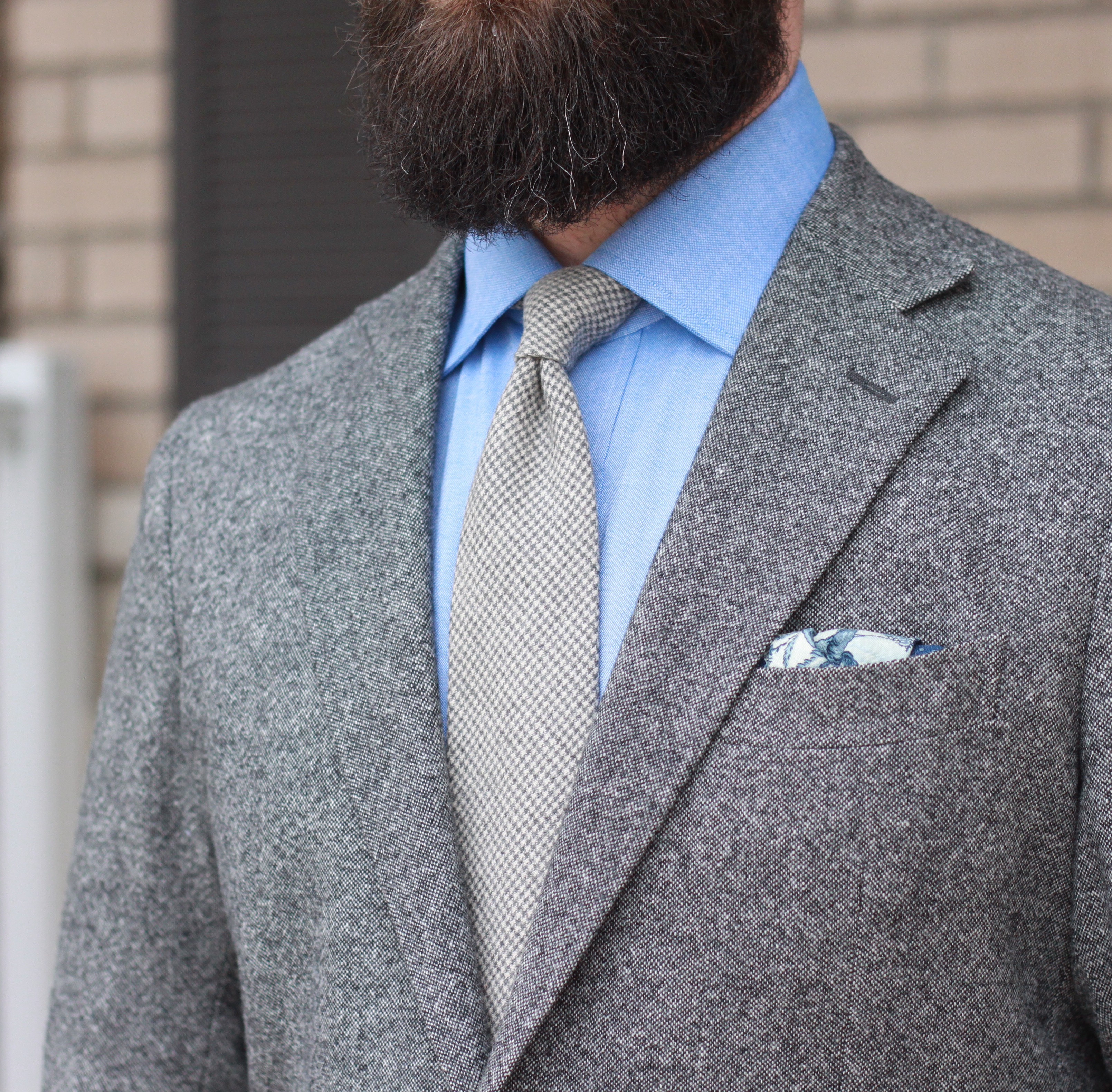 The close-up of this outfit, featuring my grey salt n pepper merino tweed sport coat looks better to me than the full shot above. Some how, the contrast got washed out in it. I think the navy trousers pair well with this sport coat, but the shirt is a bit too dark. It's funny, I've had a dress chambray shirt in my collection for quite a while, but I seem to be pushing up against some boundaries of how to use it effectively. I'm always interested in trying something out, but I think this time it didn't work quite as well as it did in my head. Alas, it is what I wore.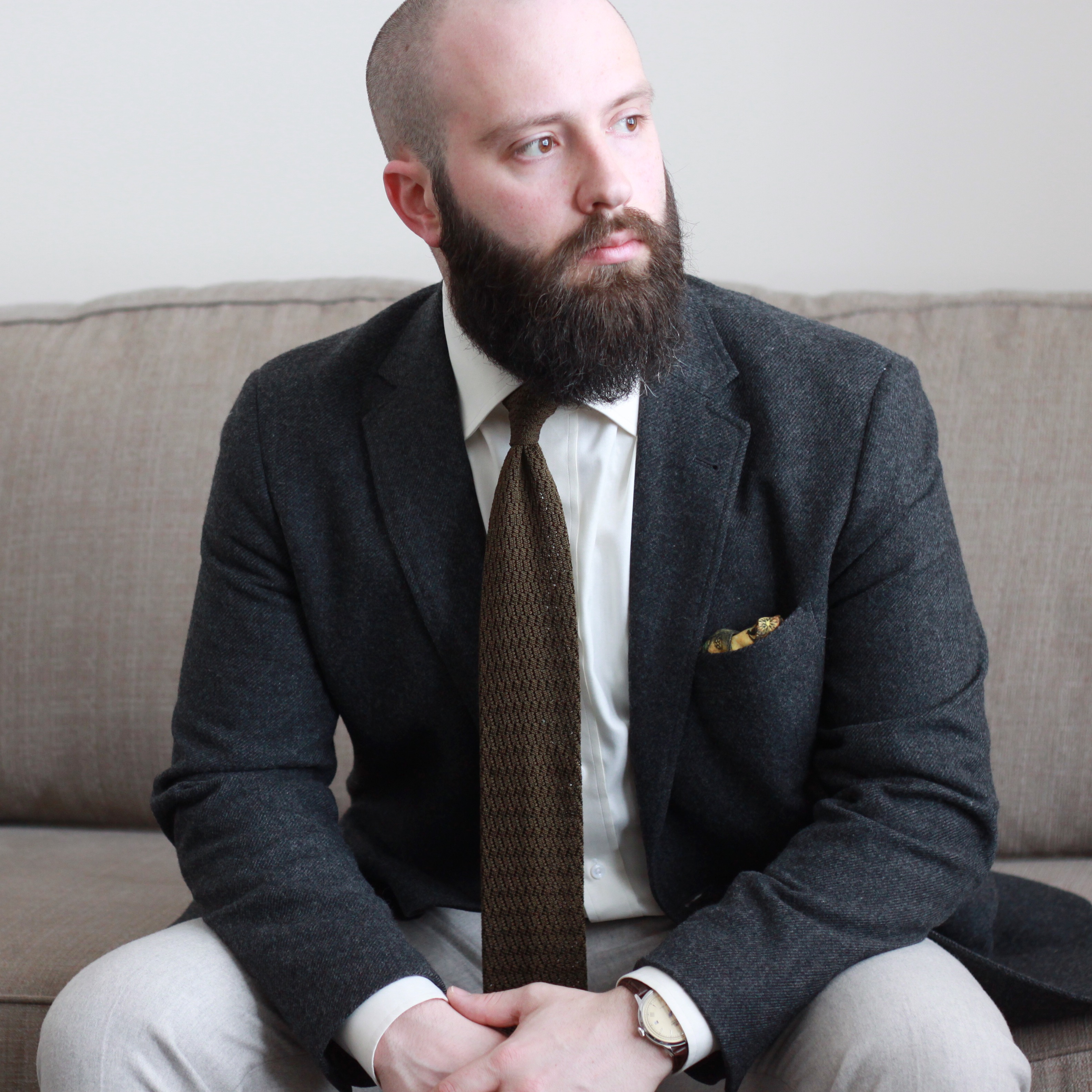 I think this was one of my best looks from the month of April. It was one I was unsure of, but looking back at some pictures after wearing it, I really like how it came together. Charcoal tweed twill jacket – fabric from Abraham Moon & Sons made up by Brooks Brothers. Ecru shirt. Light brown flannel trousers from Vitale Barberis Canonico made up by Spier & Mackay. Taurus Orion pocket square from Kent Wang. A favourite piece, this olive zig zag knit tie from Oxford Rowe to finish it all off. The sport coats plays neutrally, but picks up a touch of warmth from the rest of the pieces. I am really happy to find more and more uses for the ecru shirt. The colour of the tie is found in the square, but the overall gold and yellow tones add a pop of colour that is related to the rest of the outfit.
What I Wore: Not Tweed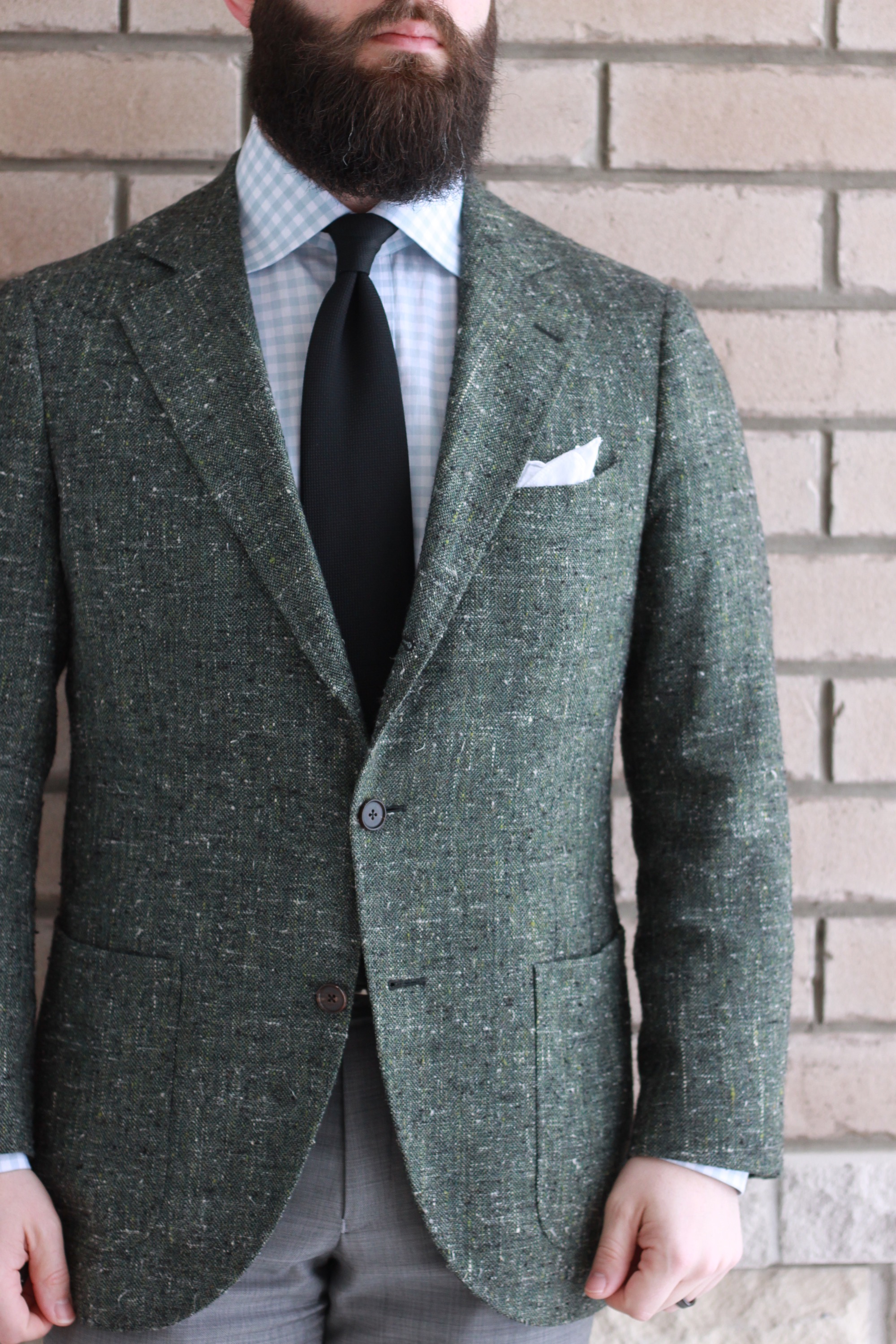 Since I've included more than the usual number of outfits, all revolving around a tweed of some kind or another, I thought I'd better include one that didn't. My lovely green slubby sport coat. I wanted to play a little bit with neutral components with this jacket, hence the light grey trousers, black (fake) grenadine, and the plain white pocket square. Adding just a hint of visual interest to help balance the texture of the jacket is the soft mint gingham shirt. It's a great colour. A little blue, a little green. Low contrast. Overall I really liked this look too.
What I Wore: April
This post, and the month of April, was a celebration of tweed. I'm glad it is warming up outside, but will miss all my tweed clothing for the next several months. Do you have some seasonal pieces that you're sad to put away? Let me know.
-Colin