What I Wore: February 2019
What I Wore: February 2019
Cold and Colder
Lots of layering this past month, as it was quite consistently and definitively below 0°C. February is always the beginning of the turning point in terms of my feelings toward the heavy winter fabrics I so enjoy. I begin to look forward to putting away the tweeds and flannels, seeking lighter wool and linen blends.
What I Wore – Blue, Burgundy and Tan
Almost a play on primary colours, this outfit features a sport coat with a dark blue base, and burgundy and gold windowpane. I decided to pair it with my denim dress shirt and burgundy trousers. A lighter colour tan v neck sweater helps to lighten the overall look by helping to separate the upper and lower halves. Opting for the denim shirt helps keep it casual. I chose one of my Amide Hadelin pocket squares to pull some burgundy tones up from the trousers and out of the windowpane. It also has blues and gold that add some pop.
I'm really pleased with the colours in this outfit, but I am not sure that this sport coat dresses down that well. It's a very soft wool/cashmere blend, but the very subtle windowpane pattern feels a tad more formal, and though the texture has a very slight nap, a la flannel, it doesn't have the visual interest a casual-leaning look like this would benefit from.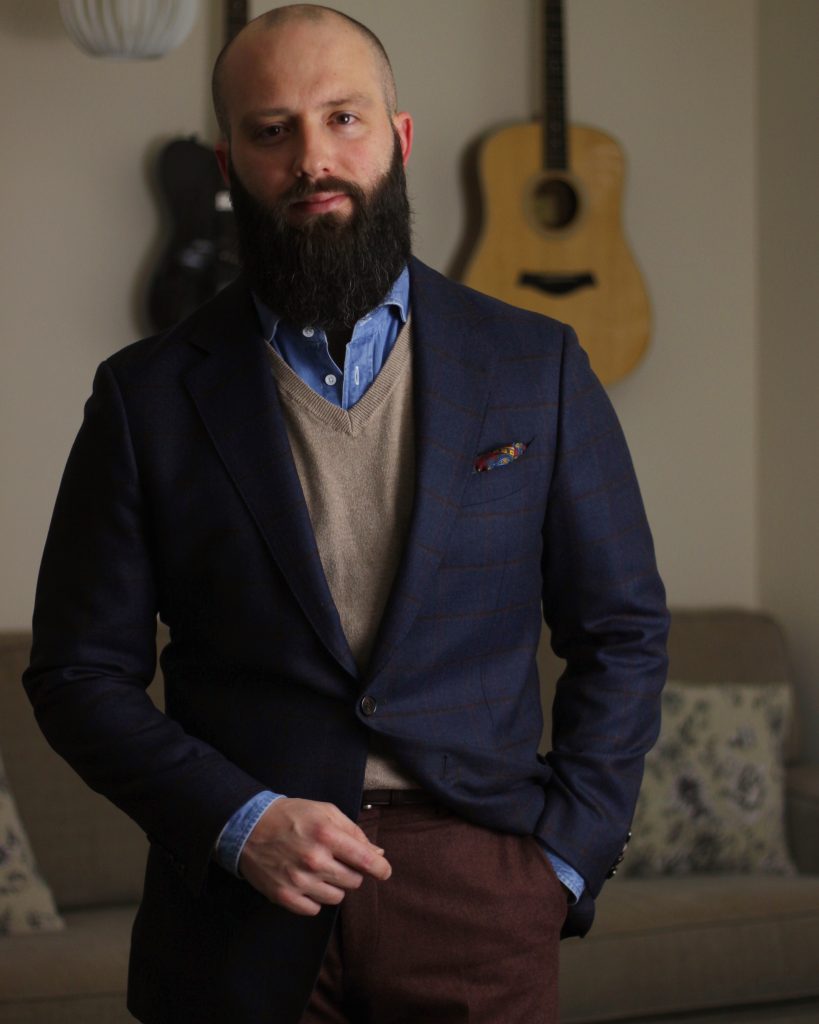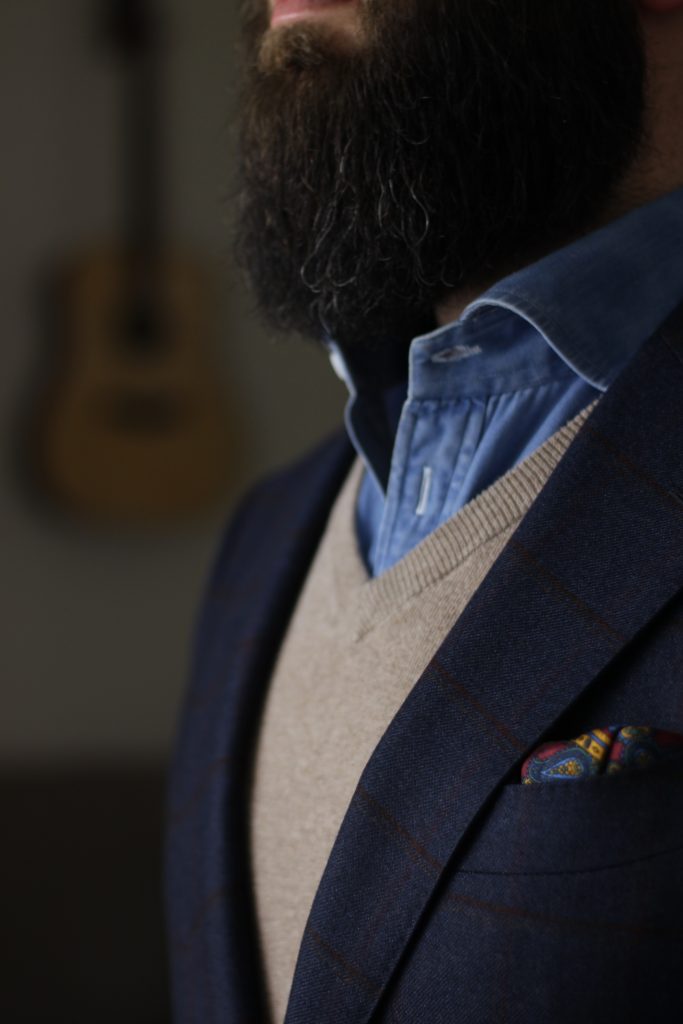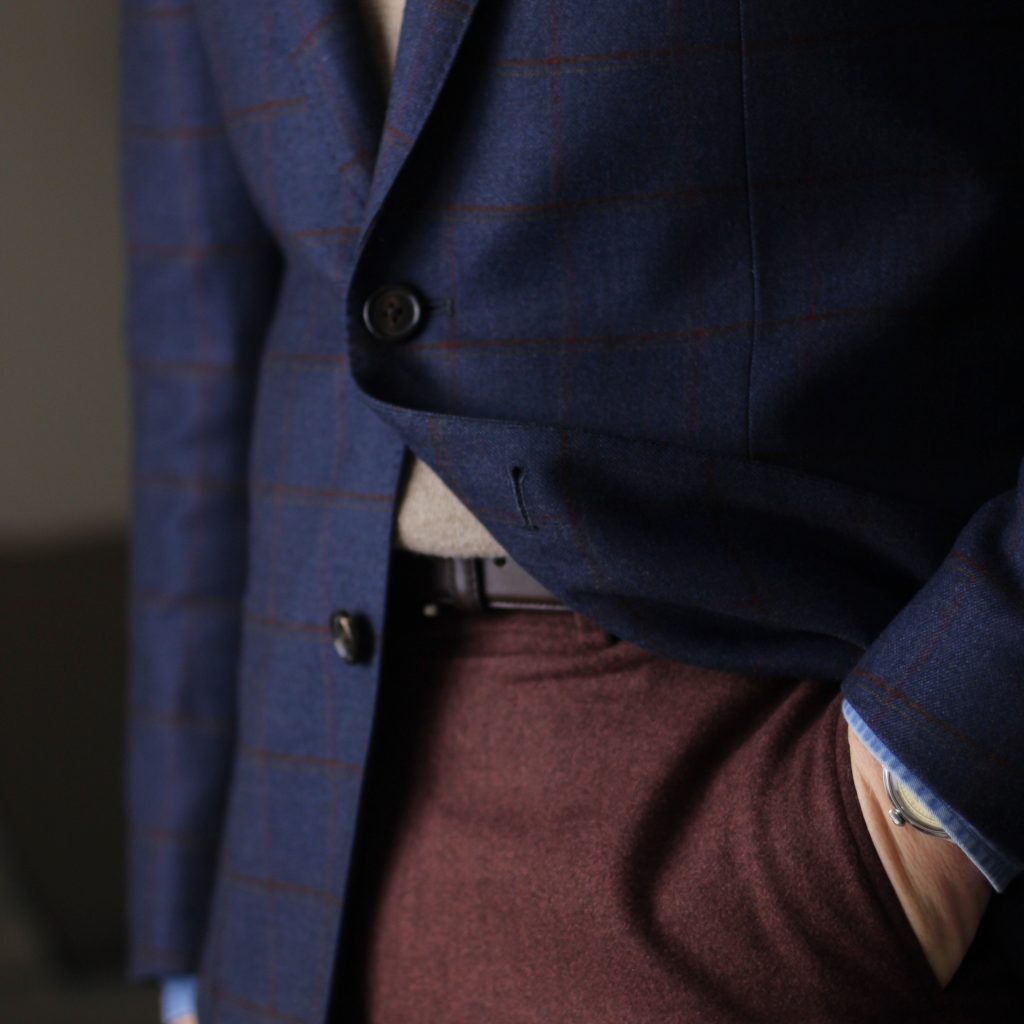 What I Wore – Brown, Grey and Green
Here's a look at an outfit that had a good balance of contrast and colours up top. Pale blue shirt, dark green tie, light grey cardigan and a brown gunclub checked sport coat. Pairing green and burgundy ties with this sport coat is always a pleasure, as the guncheck has subtle tones of both colours. Over the dark brown base, their vibrance is toned down until you use another piece to pull them out. Finishing off the look is my St. George and the Dragon pocket square from Rampley & Co.
The mid grey flannel trousers were hard to capture here. In brighter, natural light the did offer a modicum of contrast, but I think a lighter grey would have been nicer. I'd still stick with the black cap toes though.
What I Wore – Green, Blue and Orange
Inspired by my good friend Jesse, this was a really playful look. The green tweed sport coat (the very same one, in fact) from Spier & Mackay, orange tie (granola hopsack from Vanda) with a punchy blue cardigan form the base of the look. I chose to use a pale blue shirt, my Lod Mosaic pocket square from Kent Wang, and light brown flannel trousers to complete the outfit. Down below are my Morjas medium brown suede oxfords.
As fun as this look was, I felt a little conspicuous if I'm honest. I wouldn't normally wear such a bright and high contrast outfit. Or if I did, it wouldn't have quite so many different colours.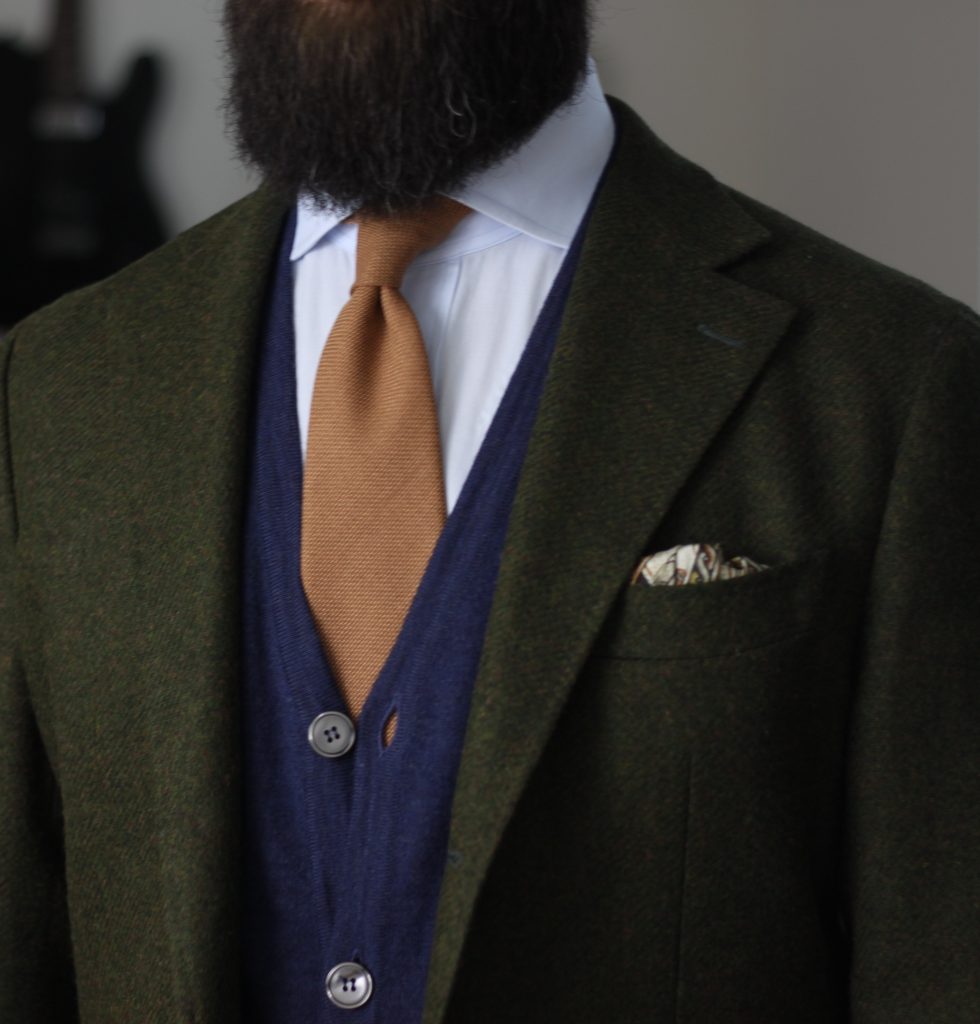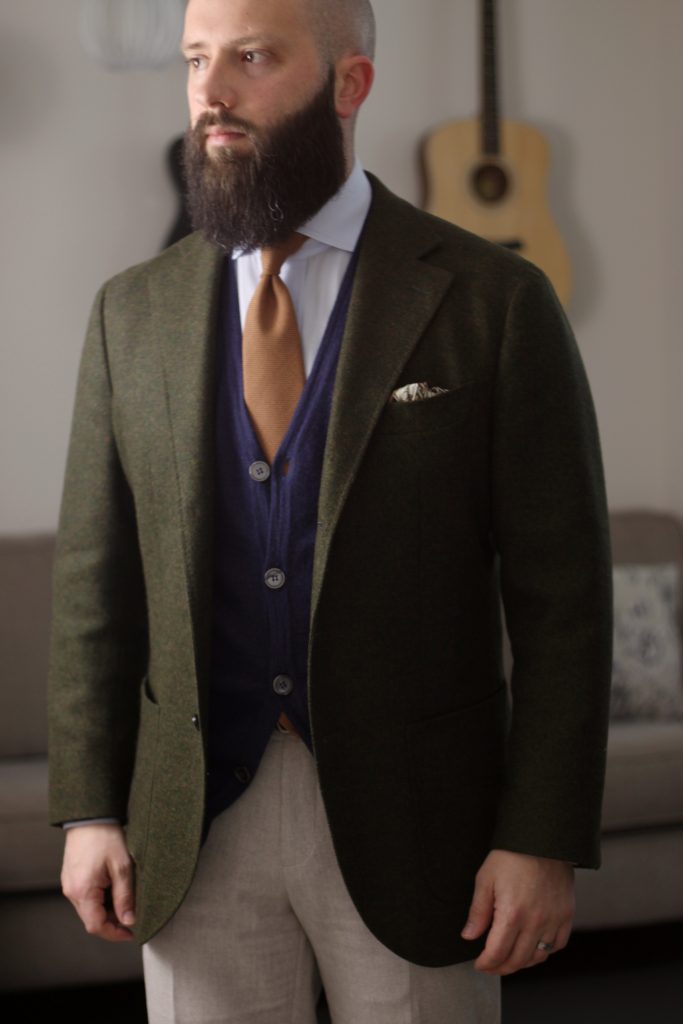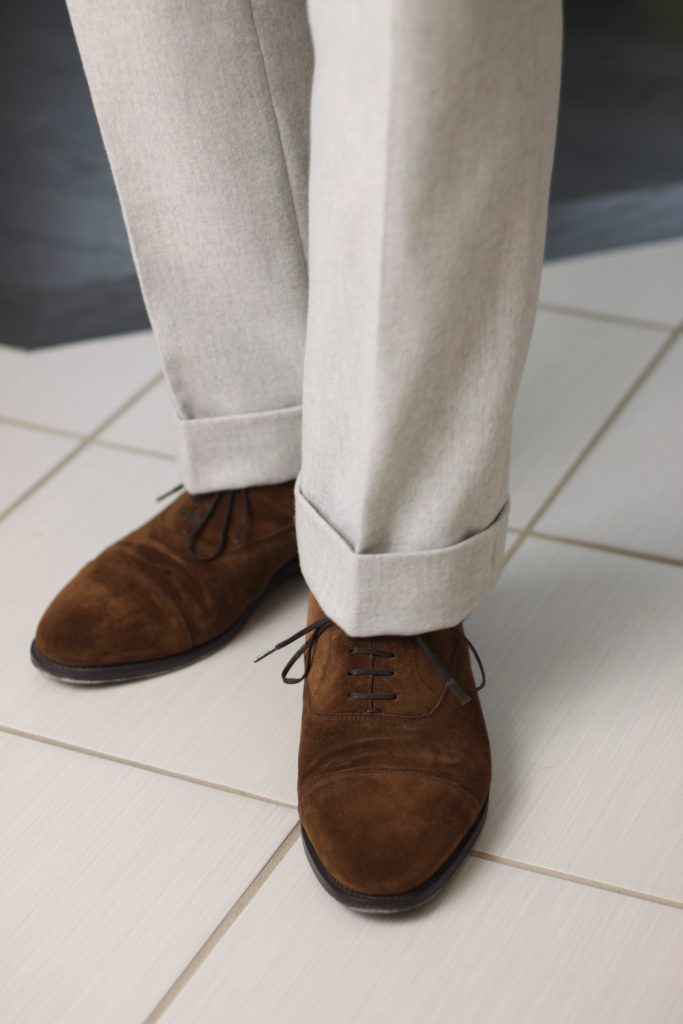 Here's Jesse's version:
What I Wore – Burgundy, Brown and Grey
One of my favourite looks from this past month. I've attempted pairing my burgundy trousers with this Donegal sport coat before, but I think this is by far the best execution. One of the components that I think is a big contributor to the success of this one is the choice of ecru shirt. Then, my charcoal houndstooth tie from Oxford Rowe. The look is tonally balanced, with no cool elements. Previous Donegal and burgundy flannel combos used a blue shirt, and I think the cool tone is what throws it off.
The plain white pocket square is simple, and the stark brightness picks up the lighter flecks in the jacket. There are off-white flecks that match well with the ecru shirt as well. The only part of this outfit I wasn't happy with was my choice of footwear – handgrade wholecuts from Kent Wang. A beautiful pair, but not enough contrast with the trousers.
Getting closer to Spring…
Being partway through March, I'm already getting excited for lighter fabrics. I'm also excited about some forthcoming MTM trousers from Spier & Mackay, as well as the launch of their online MTO program. Might have to try it out.
What do you think of these outfits? What are you looking forward to this spring? Let me know!
-Colin