Reviewed: Oxford Rowe Wool Ties
Reviewed: Oxford Rowe Wool Ties
Disclaimer: these ties were provided at no cost to me in exchange for an honest review
Almost a year ago I had the chance to check out a selection of knit ties from Oxford Rowe and came away impressed. This past season, Oxford Rowe has expanded their wool tie selection to include some lovely fabrics from the likes of Drago and Ermenegildo Zegna. When offered the chance to sample some pieces from this collection, I quite happily accepted. Here are the choices I made: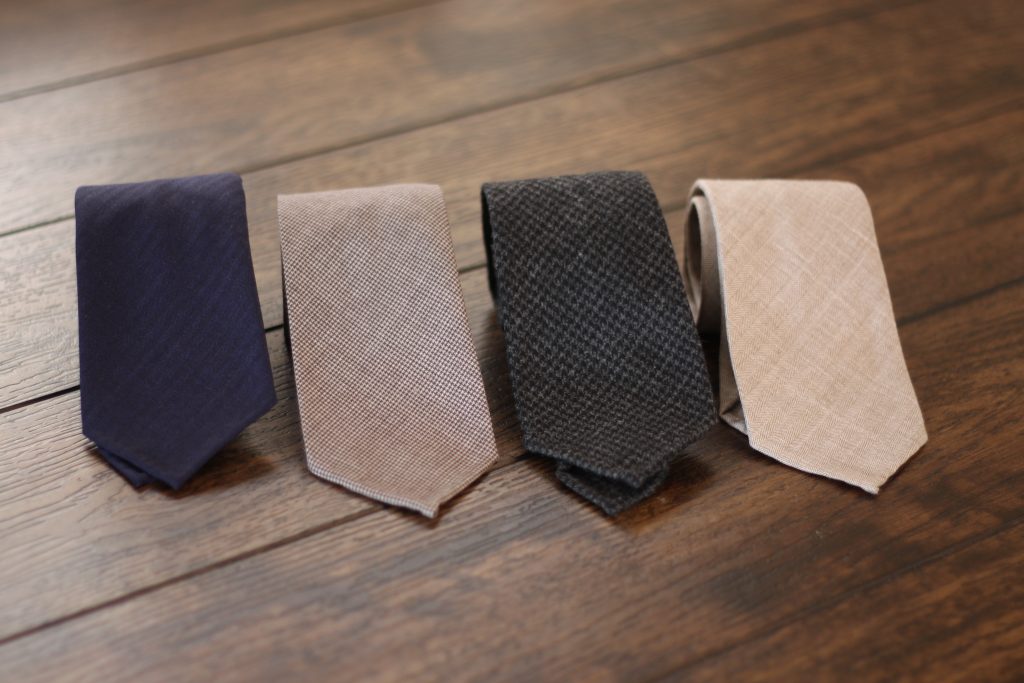 Shipping and Packaging
As expected based on my previous experience, everything arrived safely. The ties were packed carefully in boxes, wrapped in tissue paper. Shipping through USPS instead of UPS cost a little bit of time, but a whole lot less in duties and taxes! Just a reminder if you are ordering in Canada – request the USPS shipping option!
Construction and Quality
One of the first things I noticed when handling these ties is how light they are. The interlining is very soft and delicate, and combined with the worsted fabric the ties have an airy feel. Of course, I needed to try them out immediately. What I found was the knot produced was an excellent shape, and with a little finesse, produced a fine dimple. From there, the ties drape wonderfully.
Regarding the shape and width; I would like a little bit more width through the front blade, though the shape is nicely tapered. An 8.5 or 9 cm width would be perfect, but that's just my opinion. When arranging the knot and pinching as I tightened it to produce a dimple, I found I often needed to retie as one side of the dimple had slipped out creating more of an "S" shape than an "M" if that makes any sense. The hand-rolled tips are decent. A couple of the ties weren't as plump and tight as I've seen, but the finishing was neat and even on all of the ties.
Design and Styling
The range of choices in this collection is great. I'm really impressed with the thought that went into the selections. Having a penchant for textured solids (or near solids), I was happy to see a number of options available. Called a grey houndstooth, the first tie I chose is truly more of a charcoal. It's 100% wool, but has a hairy, almost tweed-like texture to it. I featured the light brown herringbone in my "wearing light ties" post earlier this month. It has a defined herringbone pattern up close, but from far away shows some really cool variegated texture that adds even more visual interest. The navy self-stripe is subtle in pattern, but the colour has a wonderful vibrancy in natural light. Finally, the brown puppytooth, the scale is perfect for a tie, and the brown over cream base is a really nice colourway.
Wearing Oxford Rowe
Much like their knits, I've found it really easy to wear these wool ties from Oxford Rowe. Some of this selection might be better paired with suits, but I'll continue to happily wear them all with my usual trouser and sport coat combinations. You can see in these photos what I meant about the shape of the front blade – it comes out of the knot at a nice angle, gradually widening to the full 8cm.
Oxford Rowe Wool Ties
A well curated selection of wool ties is a great compliment to the fantastic knit offerings. Oxford Rowe has found a real sweet spot in terms of fabric, construction and price. Head over to their site and have a look for yourself. As always, I'd love to hear from you in the comments.
-Colin