Insights: Charcoal tailoring is more versatile than you think
Insights: Charcoal tailoring is more versatile than you think
Google "mid grey trousers". You'll find lots of great articles that extol the virtues of mid grey (flannel especially) trousers. I agree with most of them. Mid grey is the ubiquitous choice when it comes to the basics of wearing odd jacket and trousers combinations. There's good reason – it's really, really difficult to screw up wearing grey trousers. Many articles may warn against charcoal tailoring, unless it is one of those "first suit colour" type posts.
Charcoal tailoring – but not a suit – can be a bit more challenging, and require a little more attention to successfully build into a cohesive outfit. Northern lights looks, where the jacket is lighter than the trousers do require more thought, as the darker colours on the lower half can draw the eye down, away from your intended focal point. Conversely, wearing a dark colour like charcoal as a jacket presents it's own visual challenges. Hopefully I can share some examples of what I feel are well balanced uses of odd pieces of charcoal tailoring – trousers, sport coats and ties.
Charcoal Tailoring – Trousers
One of the reasons mid-grey trousers work so well is they can offer contrast in both directions, lighter or darker, depending on your selection of other pieces. Charcoal can only be darker than the other elements of the outfit. It can be limiting, but in the right application can make for an interesting outfit.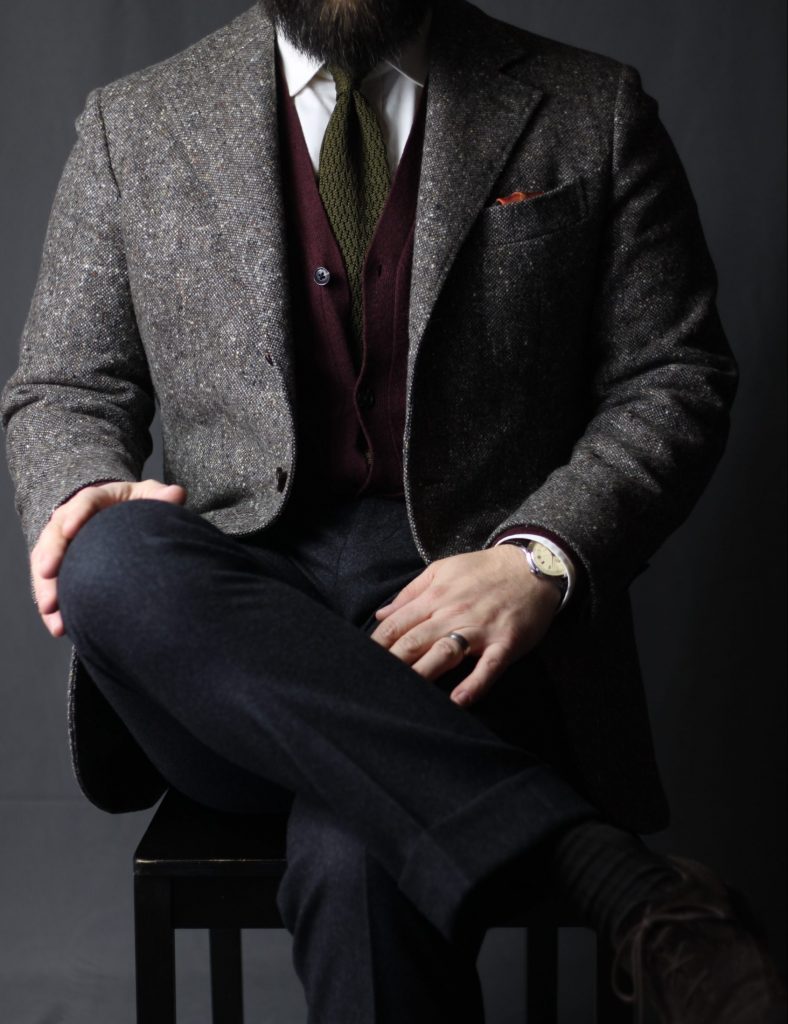 In this outfit, the charcoal tailoring element are the trousers, which are the darkest component of the outfit. The shirt is the lightest. The tie and cardigan lean to the darker side of what I'll call the "mid point" of the outfit, which is this Donegal sport coat. The jacket provides roughly equal contrast to both the trousers (darkest element) and shirt (lightest element). So what we end up with is an overall darker outfit, but with enough range of contrast across all the pieces that the result is fairly balanced.
This example skews dark again, and has a lower overall contrast. I would say this sport coat is a mid-grey, and when combined with this dark japanese denim shirt from Besnard keeps things interesting. Not only is there a nice amount of contrast to the charcoal trousers, but the blue is very saturated, especially next to the grey pieces that surround it.
The charcoal trousers here really serve as a foil to the deep, but vibrant shade of blue in this MTO sport coat from Spier & Mackay. There's contrast there, to be sure, but it's not derived entirely from dark vs light, if that makes sense. The contrast in the outfit is found further up with the pale blue shirt and selection of greys in the wool challis tie. A single bright point in the plain white pocket square is a bit stark, but balances out the lightness of the shirt.
Charcoal Tailoring – Sport Coats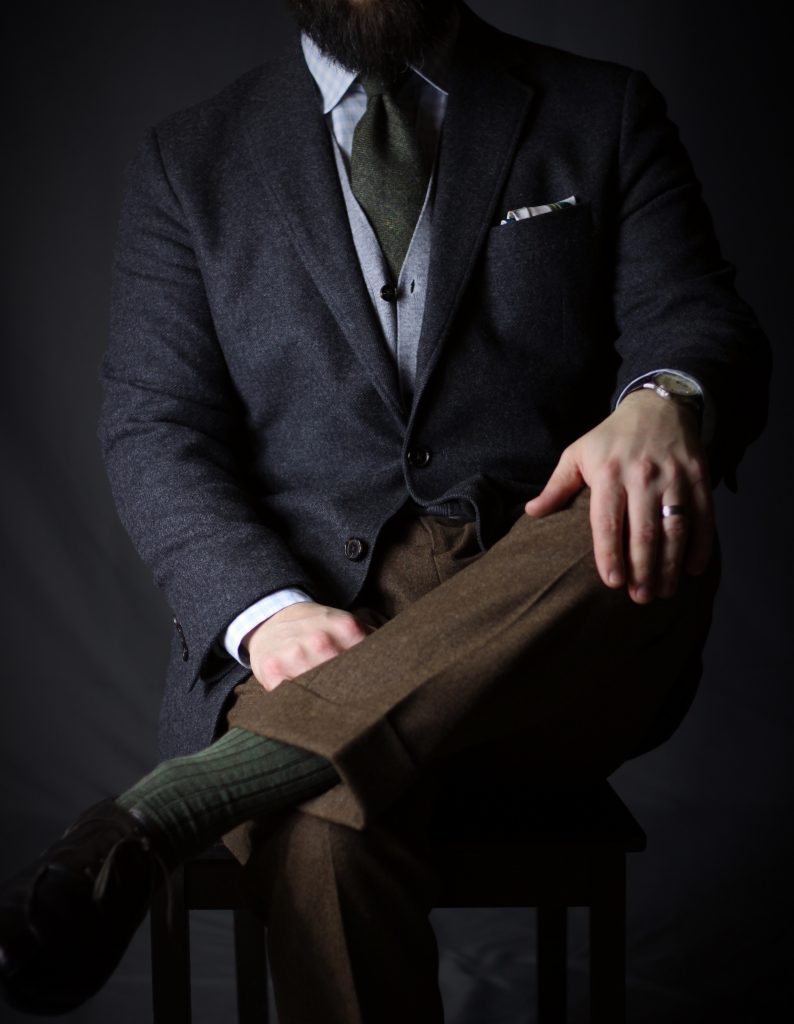 Greens and browns are a fun way to play with charcoal tailoring. In this outfit, I've used some different colour temperatures to change how the charcoal fits in. These trousers are a warm, rich medium brown flannel. The socks and tie are a warmer-toned shade of green. Introducing a couple of cooler elements can be tricky, but when pulled-off can be great. Here, the light grey cardigan and soft mint gingham checked shirt add that cool colour temp. When looking at the sum of the parts, we've got good contrast and a cohesive colour scheme.
A year or more between this outfit and the last. I swear I didn't reference it. Funny how as you learn and reflect on what works for you these types of common threads pop up. Different charcoal jacket – this one from Cavour in a killer herringbone tweed from Loro Piana (my Cavour sport coat review is here, if you're curious). Brown trousers – this time in a lighter, muted brown tweed. Different shirt – still a cool colour temp. Same tie – green tweed from Amide Hadelin. The result is much more muted. I think this one is one of the lower saturation levels of everything else I've shared here, which makes it quite interesting.
Charcoal absorbs the light, so highly saturated colours work well in adjacent positions as the charcoal really tones down the intensity. This subdued outfit is much more interesting to me. Arguably, it allows the charcoal sport coat to be the center piece, instead of being an anchor for the outfit. I keep learning more as I go.
Charcoal Tailoring – Ties
A tie is a much smaller component of an outfit, but is visually important to the overall outfit. I've written about wearing a black tie, and much of the same logic applies to charcoal. Here, I kept the colour palette limited, focusing on grey, blue and green. To date, this is one of my most liked Instagram posts, though it probably has more to do with the jacket than the tie choice.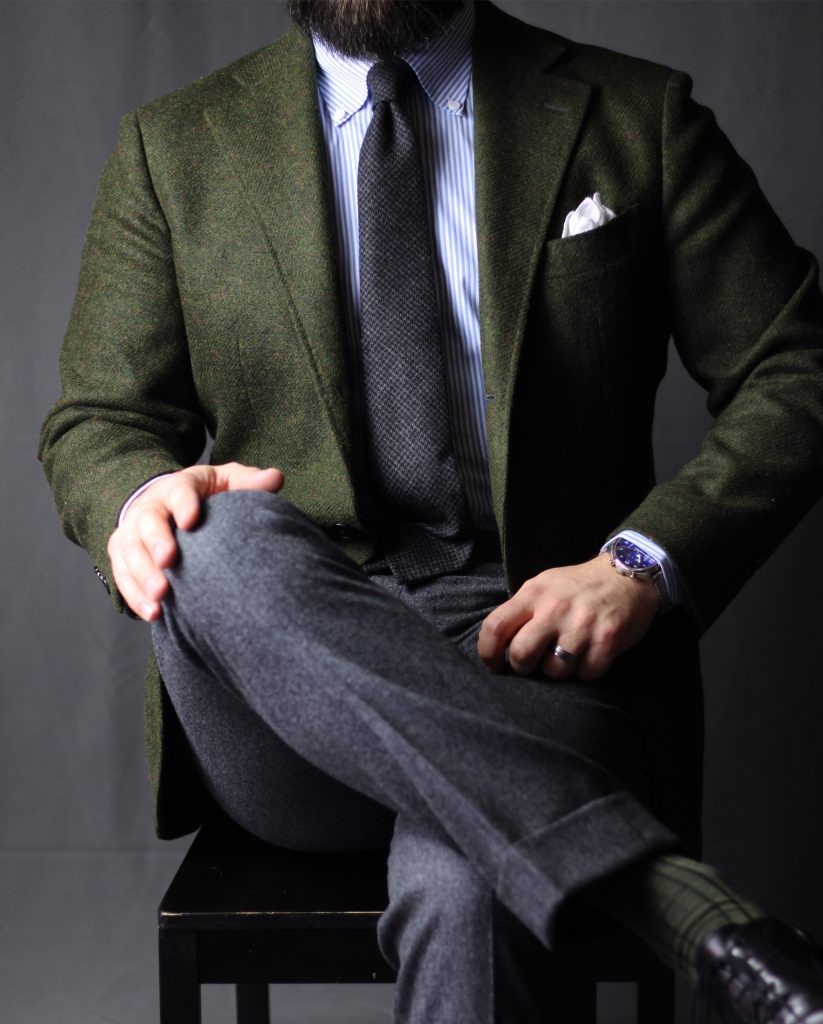 This outfit was a bit of a surprise to me. It is bold – saturated shirt, saturated sport coat, with a big pattern. Yet, the charcoal tie adds a sober element. It's also unexpected in terms of how everything works together. The houndstooth pattern in the tie mirrors the less intense glen check in the jacket. Trousers in mid-grey are close in shade to the tie. This approach of matching tie and trousers can be divisive for some, but in this instance helps contextualize both pieces. My solitary charcoal tie is from Oxford Rowe.
Charcoal Everything
In this final example, inspired by my friends at Cavour, I'm wearing two separate pieces of charcoal tailoring. There's the sport coat in that lovely Loro Piana herringbone. Down below are a pair of charcoal Crispaire trousers. A soft cashmere herringbone button-down shirt in white adds maximum contrast. Finally, that familiar wool challis tie introduces some mid-tones. I took a small detour from the harsh charcoal/white combination with my Vanda Cream Waves II square, which I think perfectly exemplifies why a cream square is so well suited to pairing with white shirts.
Wearing Charcoal Tailoring
Charcoal tailoring can be challenging to incorporate in an outfit, but with a little extra thought can be great. Do you own any charcoal items? How do you approach wearing them? Let me know in the comments, or tag me on Instagram!
-Colin