Reviewed: Cavour Sport Coats – Style, Value and Italian Charm
Reviewed: Cavour Sport Coats – Style, Value and Italian Charm
Disclaimer: These Cavour sport coats were provided at no cost to me in exchange for some photography for Instagram, and I've decided to write about them.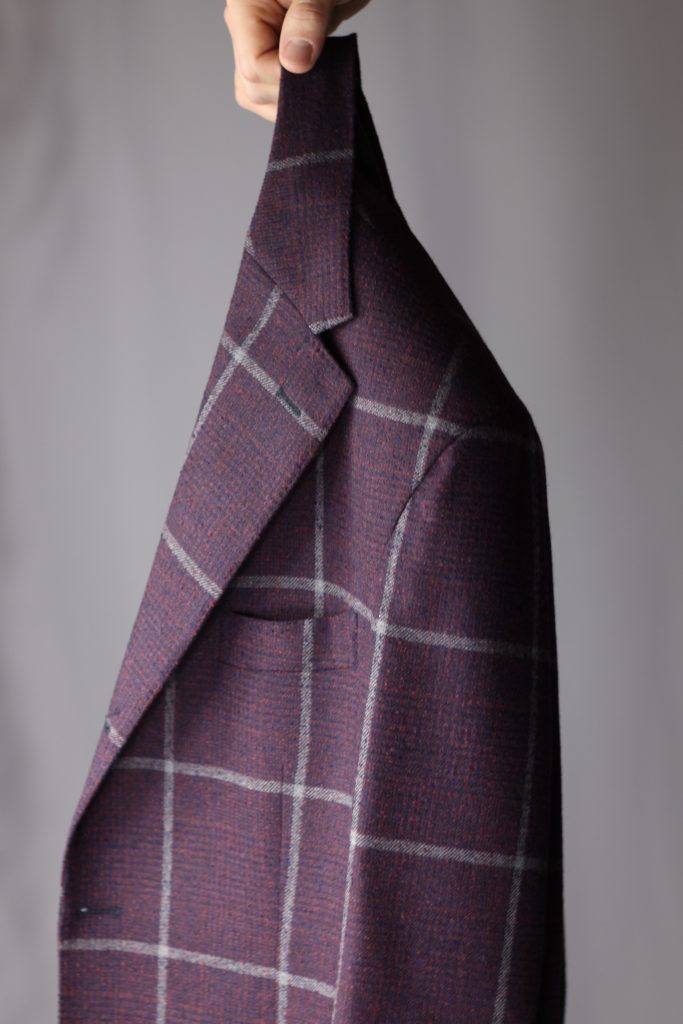 You may have seen Cavour around here before. That's because I've written about their ties (awesome) and their loafers (beautiful). Now I have the chance to write about their ready-to-wear tailoring, showcasing a few Cavour sport coats: this burgundy boucle sport coat from the FW19 collection, this beige checked silk number from the SS20 collection and this killer Loro Piana herringbone tweed from FW20.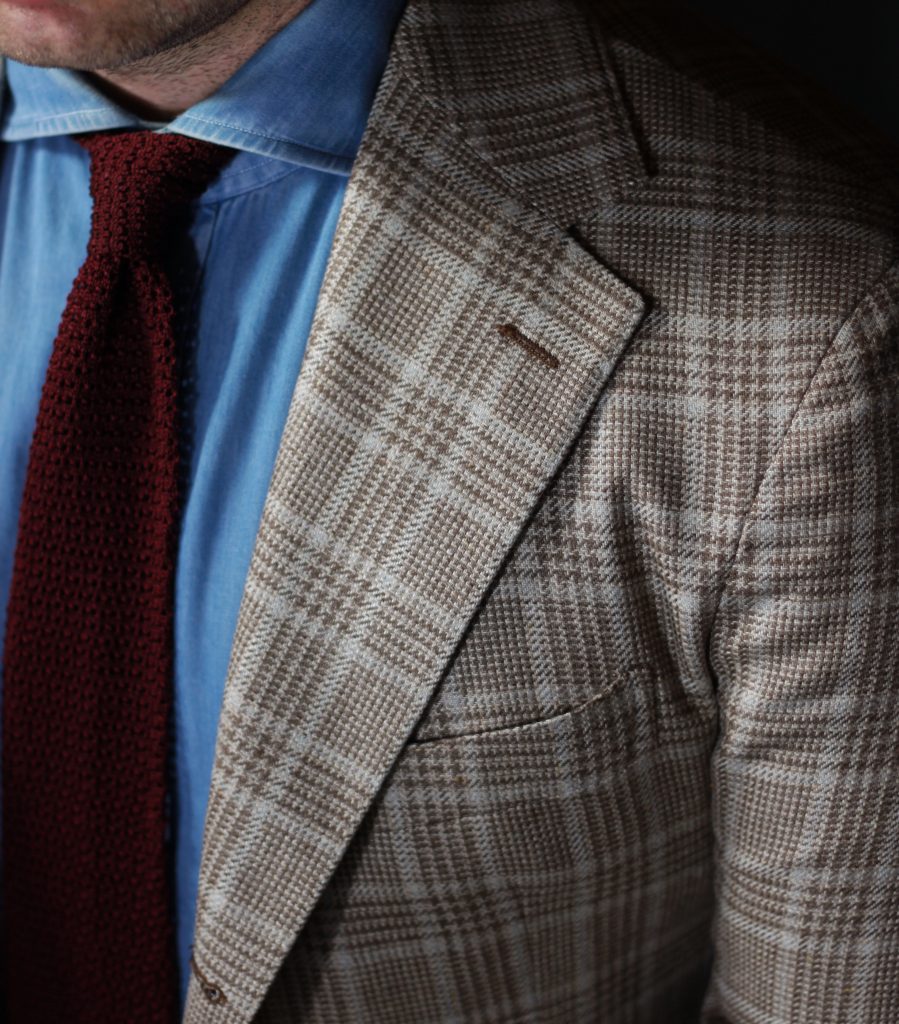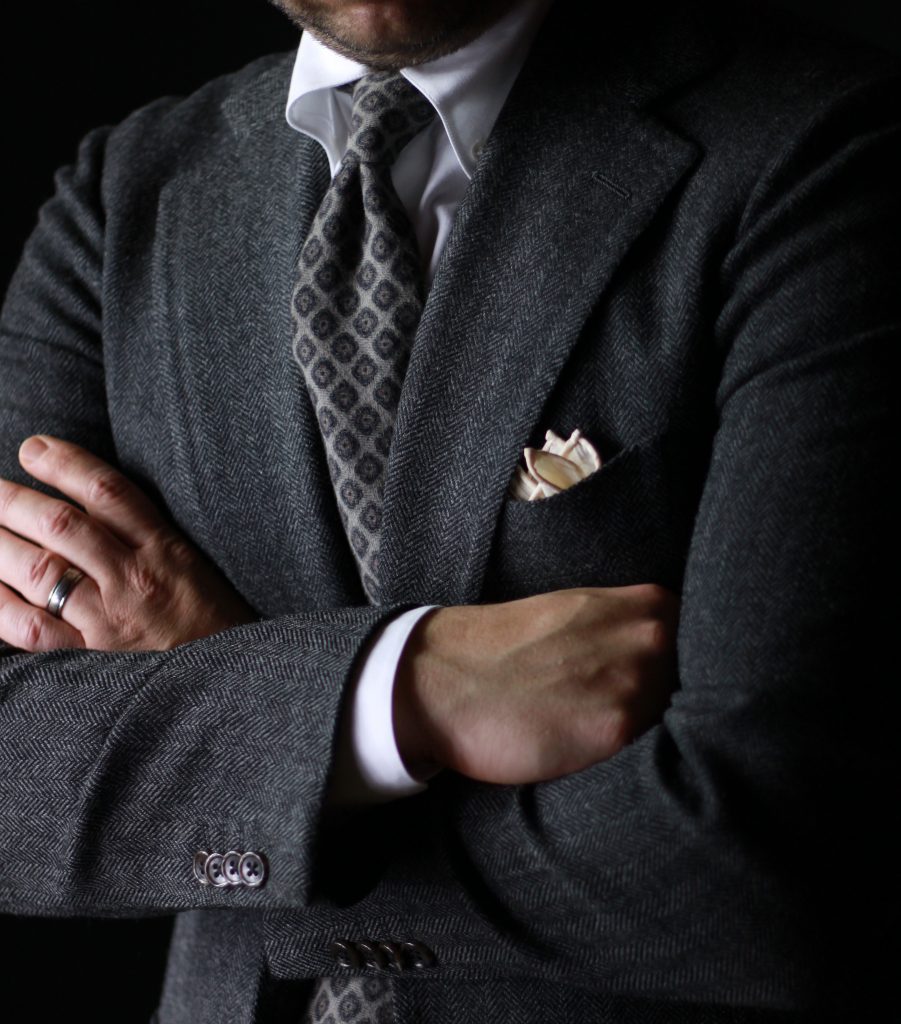 Shipping and Packaging
Everything I've ever received from Cavour has been carefully packaged and shipped through DHL. Each sport coat has come with a very high quality garment bag, which is great. The only drawback is there is a very strong chemical scent that the garment bag releases, and permeates the cloth while they are in a box together. Fortunately, after a day or so of "breathing" it doesn't seem to hang onto the sport coats. I wonder if this is something Cavour could address by unpackaging their garment bags from the plastic wrap when they receive them, which would help the smell dissipate before shipping alongside their beautiful tailoring.
Construction and Quality
Quality is obviously important to Cavour. For a ready to wear line of tailoring, they offer their sport coats in half-canvas, and suits in full-canvas. The finishing details on this jacket are quite nice, and you can see some of them as it is only half-lined. I'm quite impressed with the pattern matching on this jacket, as the bouclé fabric has quite a lot of detail – large windowpane and a smaller scale prince of Wales type pattern. Look at the shoulders to see how well this difficult fabric is matched.
Cavour's line of tailoring is produced in Italy. The two Mod 1 sport coats I have feature half-canvassed construction, and some handmade details. The Mod 2 is fully canvassed, and features increased handwork, including the collar attachment, sleeve attachment and lining, lapel buttonhole and double pick stitching.
Fit
Mod 1
Through the chest and body, the fit is exactly as expected for an off-the-rack sport coat. Cavour's Mod 1 cut does have a couple of details you should be aware of. One, the shoulders are slightly extended, about a half inch each side vs say a Spier & Mackay Neapolitan sport coat. I was initially a bit concerned about this, but putting the jacket on, I quite like the way it feels. The extension doesn't make anything baggy or out of proportion. Two, the length: This is about as short as I would go for a sport coat, with a 42R coming in at 29.5″ or about 75cm. As a result, the buttoning point lands a couple of cms above my natural waist. It doesn't look off in the full shots below, but in these cropped ones it definitely appears shorter and higher. When I first started wearing Cavour, I was hoping to see a drop in buttoning point with a corresponding length increase.
Mod 2
Apparently I wasn't alone in providing this feedback – Last year, Cavour introduced a new model of sport coat (and suit). Dubbed the "Mod 2", they have replaced the extended shoulders with spalla camicia, added a touch to the overall length and the appropriate adjustment to button stance. The Mod 2 features a similarly shaped lapel with beautiful roll.
Cavour doesn't yet offer long versions of their sport coats, so just be aware if you are on the taller end of the spectrum or have a longer torso, you will probably share the opinion that overall length is a tad short, and the buttoning point won't land at your natural waist.
Styling and Design
The Mod 1 lapels measure 4″ or 10cm, and are right in that classic sweet spot. Not overly large, and not anemic either. The gorge shape and position fit well with the proportions, resulting in a well balanced look in the upper half. The extended shoulders really have grown on me. The buttoning point is still a bit high for my tastes, and a touch more length would work well.
The Mod 2 has similarly sized lapels, coming in at 9.5cm or just shy of 4″. The spalla camicia is very well presented, but not exaggerated. Handmade button holes are neat and tight. The last new styling element with the Mod 2 is the curved patch hip pockets. Subtle, but yet another example of Cavour's attention to detail.
Both models come with faux button hole stitching on the sleeves for easy alterations. Cavour has absolutely nailed the fabric selections each season. They truly do a masterful job selecting unique fabrics for their off-the-rack offerings.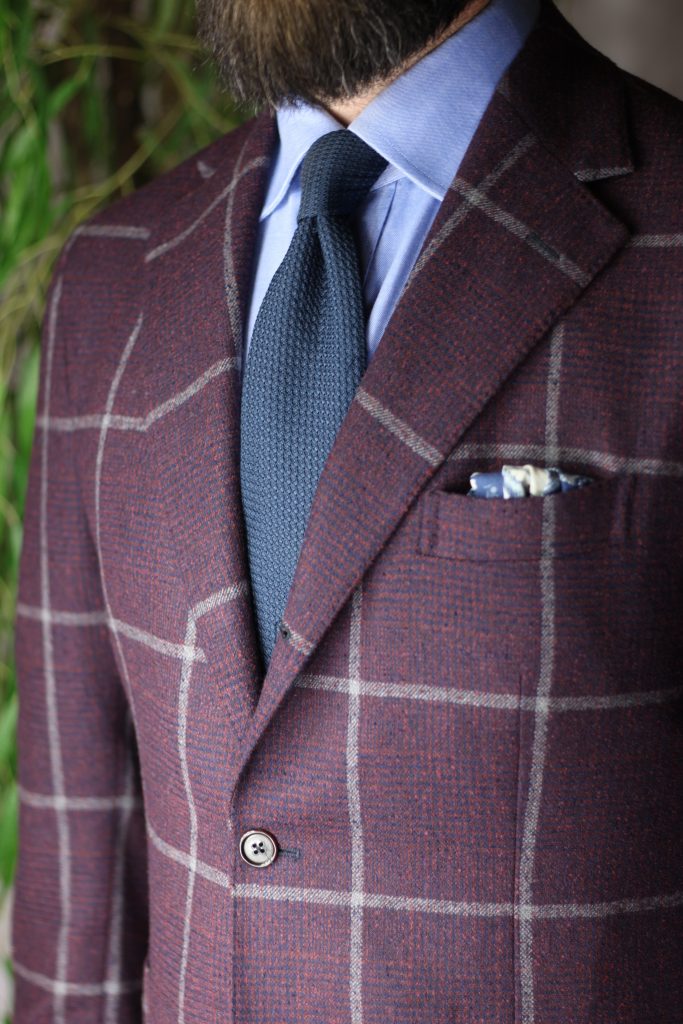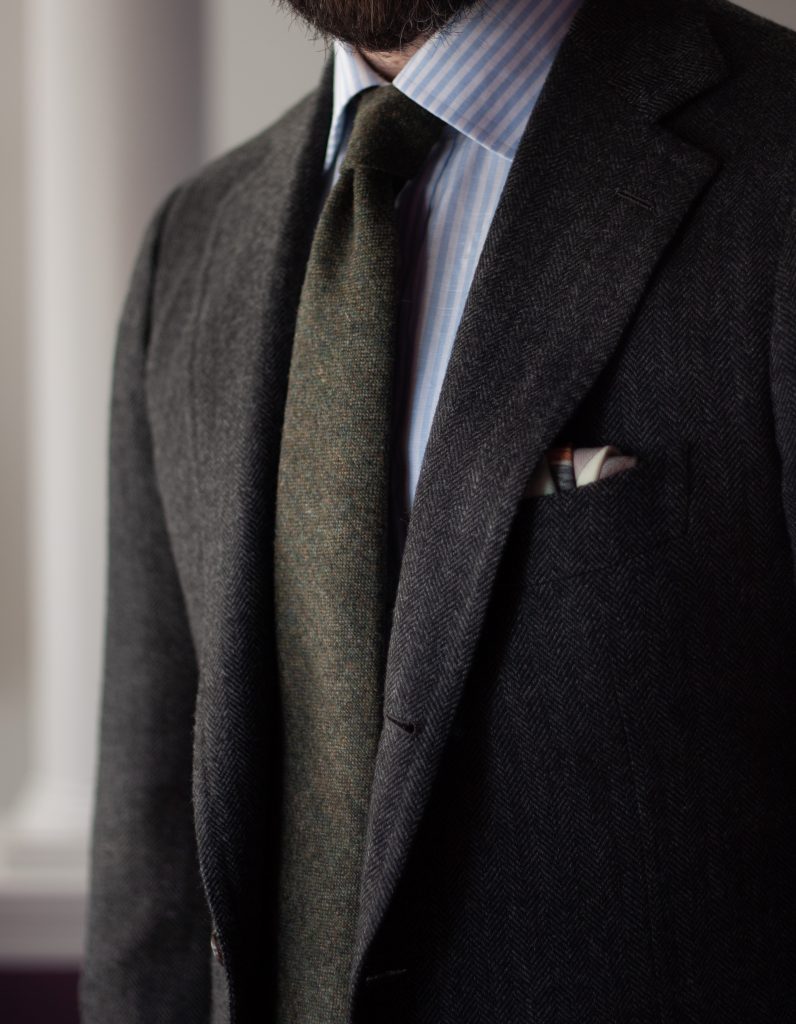 In these two images you can see the difference in lapel shape as influenced by the buttoning points. Note the distance and coverage of the barchetta breast pockets relative to the third (top) button hole. The Mod 2 also has ever so slightly narrower lapels – we're talking a half a centimeter here.
Price and Value
Most of Cavour's sport coats made up in the Mod 1 configuration are in and around $500 USD – fabric selections usually dictate any difference from this price point. Mod 2 Cavour sport coats are little bit more expensive, usually falling in the $6-800 USD range, but include the full canvassing and additional handmade details. For a well crafted garment like Cavour offers, the value is very good. Especially if the provenance means something to you – RTW made in Italy tailoring is more accessible than ever. So far everything I own from Cavour has held up well, and each season their selection of new products makes me want more!
Something to look forward to this year, especially if you are familiar with Cavour already – their Sartoria line is expanding to suits, sport coats and trousers, and will feature fully handmade construction. I'll be keeping an eye out for sure. Don't expect similar price points to Cavour's ready to wear tailoring, but I expect the relative value will be there.
Wearing Cavour Tailoring
Burgundy Boucle (Mod 1)
Let's have a look at how I've worn these jackets. I wouldn't recommend this particular one for beginners, or someone with a limited collection of sport coats. Being partial to burgundy, I've got lots of ideas how to wear this.
Beige Silk Check (Mod 1)
A light coloured tonal check like this should be a lot easier to pair, and has a place in even a limited collection of sport coats.
Charcoal Herringbone (Mod 2)
This pretty piece is a new favourite of all the Cavour sport coats I own. Recently, I wrote about my appreciation for charcoal tailoring, in which this Cavour sport coat featured. The herringbone tweed is a lovely fabric from Loro Piana. Go check out the charcoal tailoring post, and tell me this isn't a staple jacket. I dare you.
Cavour Mod 1 vs Mod 2
Both models of Cavour sport coats are produced with details to appreciate, but in order to help you out, I put the differences into a table. Here are the key Mod 1 vs Mod 2 details:
| | | |
| --- | --- | --- |
| Feature | Mod 1 | Mod 2 |
| Construction | Half canvas | Full canvas |
| Shoulders | Extended (~1″ total) | Spalla Camicia |
| Shoulder width | 49cm/19.3″ | 46cm/18.25″ |
| Length | 75cm/29.5″ | 77cm/30.3″ |
| Pockets | Rounded patch | Curved top/Rounded patch |
| Lapel Style | 3 roll 2 | 3 roll 2 |
| Lapel Width (perpendicular) | 10cm/4″ | 9.5cm/3.75″ |
| Buttoning Point (from bottom) | 35cm/13.8″ | 35cm/13.8″ |
| Gorge height | 7cm/2.75″ | 7cm/2.75″ |
| Handmade Details | Collar and lining attachment | Collar, lining and sleeve attachment, lapel button holes, pick stitching |
So, based on these measurements the bulk of the change is derived from the ~2cm of added length. But what a difference that little bit makes!
Here's a quick side by side shot with some crudely drawn lines to help highlight the key changes: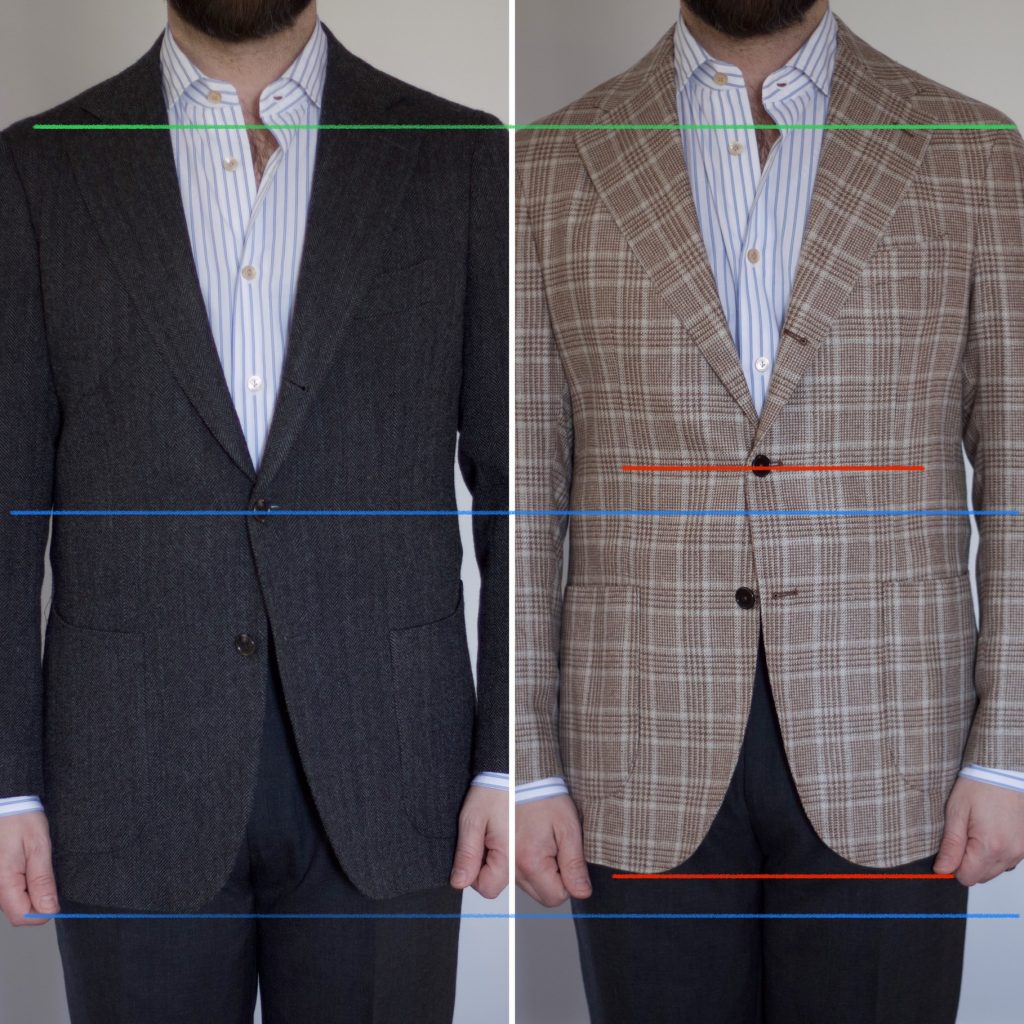 My final thoughts regarding Cavour sport coats
Two models offering notable design differences, coupled with fantastic construction and fabric choices, this review should make it clear that Cavour's house line of tailoring is absolutely worth investing in. The prices are quite attractive when you consider the sum of all the parts. You can tell that Cavour is run by a passionate team that is constantly seeking to improve their product. S/S21 is in full swing over at Cavour – go check it out!
-Colin