Insights: The launch of the Spier and Mackay online MTO
Insights: The launch of the Spier and Mackay online MTO
A long time coming for many fans of the brand, September saw a soft launch of the Spier and Mackay online MTO (Made-to-Order) service. In this post, we'll talk about some of the things you can and can't do through this online MTO. Hopefully this will help you decide if it's right for you.
Does Spier and Mackay fit you well off the rack, maybe needing simple alterations?
Do you see fabrics in their off the rack seasonal offerings and think, "man, I wish that was done up in the Neapolitan or high-rise cut"?
Did you miss out on something from a previous season that would make your life complete?
Have you concocted something in your mind, thinking, "how awesome would it be if Spier and Mackay made this"?
I'm too good for off the rack, I don't want to pay for bespoke or MTM, but I want to tell people my clothing is custom?
If you answered yes to one or more of those questions, then Spier & Mackay's online MTO might be for you. With prices starting below $600 CAD or about $450 USD for a two piece suit, it's worth reading on…
Spier and Mackay Online MTO – Definition
It's not quite off the rack, and it's not quite custom. The guiding philosophy behind this MTO program is essentially to offer free reign of the available fabrics, using their standard pattern blocks, and introducing the ability to make minor adjustments – something a tailor could do. Think: hemming trousers or sleeves, nipping the waist, tapering, etc. Things like wider lapels on a sport coat or adjusting front vs back rise balance on trousers necessitate a visit to the store for MTM services.
Spier and Mackay Online MTO – Available Products
All of the core tailoring pieces are available. Suits, waistcoats, trousers and sport coats. Within each of those are a the currently available patterns, with some freedom to mix and match. Would you like a Neapolitan cut sport coat, but with a patch chest pocket instead of barchetta? Go for it. High-rise, single pleat trousers without the extended waistband? Boom! Done. Super secret low-gorge Neapolitan? Just put it in the comments. Thank me later.
Spier and Mackay Online MTO – Process
Step 1: Fabric Selection
The fine folks at Spier and Mackay have been loading more and more fabric swatches up onto the site. Right now you can select from the likes of E.Thomas, Guabello, HMS/Minnis, VBC, Angelico and more. There are filters for pattern, texture, weight, mill, price and colour. Generally, they work ok, but I found the filters to be a bit finicky.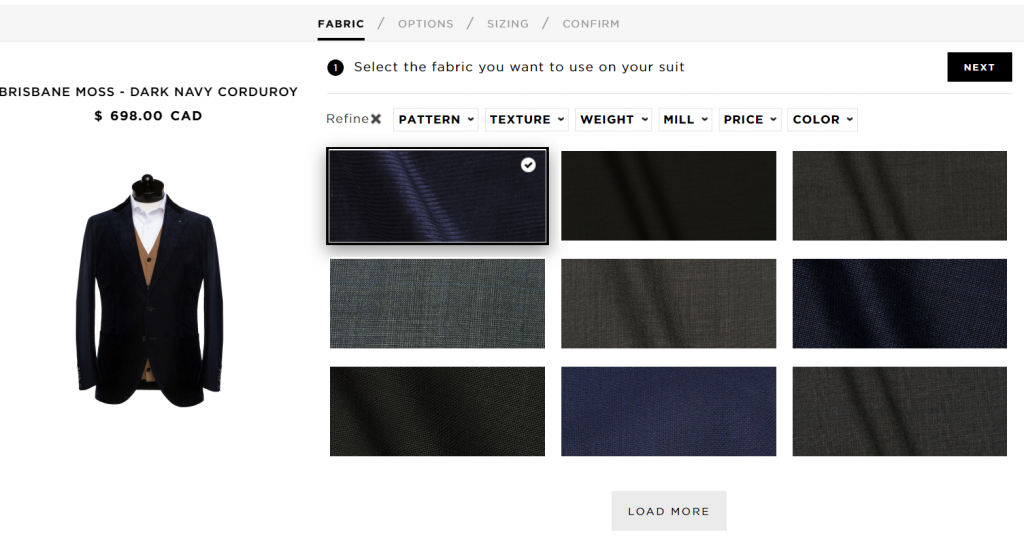 Step 2: Jacket Configuration
After fabric selection, you dive right in to configuring the pieces, starting with your choice of house style – standard single breasted with notch or peak, sport coat, Neapolitan, double breasted and peak tuxedo (extra charge). You can opt to upgrade to full canvas over half canvas for a $150 fee. Lining style and colour are the next choices – colours options are pretty limited right now, but might be expanded in the future. You can specify your pocket styles, mixing and matching patch, flap, ticket, and barchetta. Functioning cuffs is also an option, with no surcharge! Lastly, they offer either edge pick stitching, or 1/4″ pick stitching.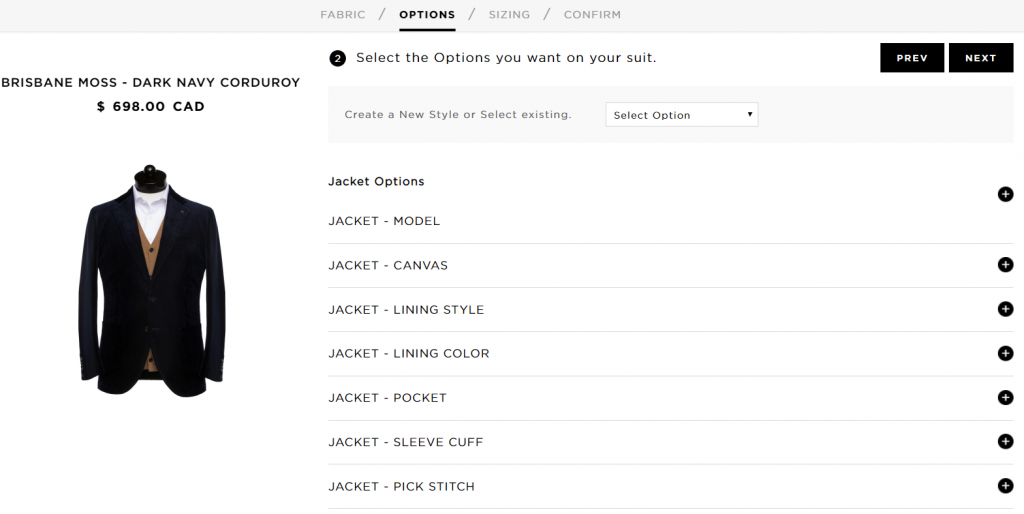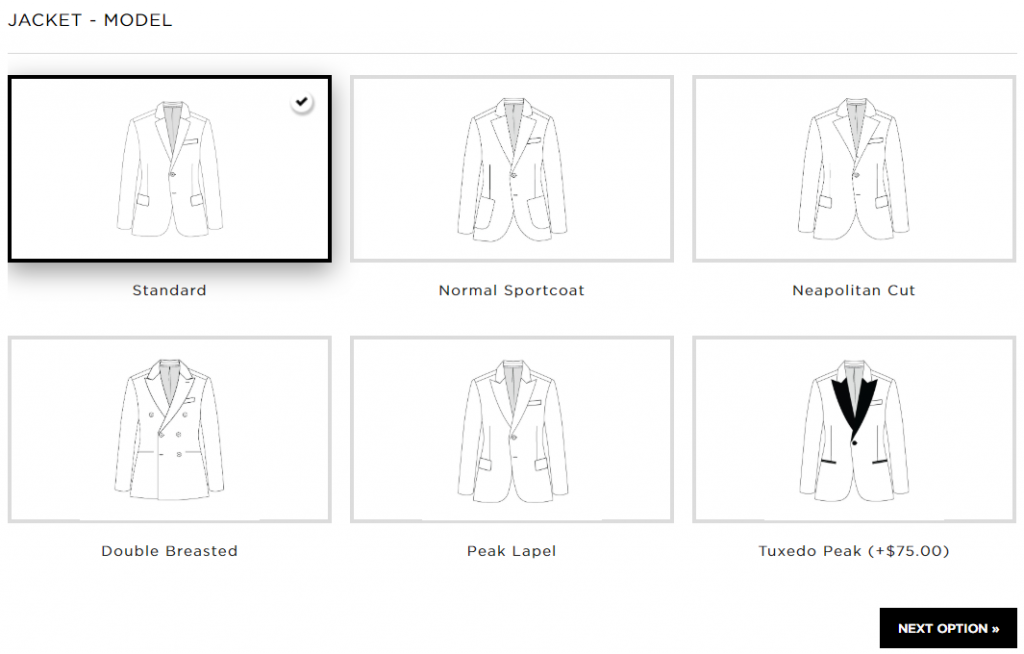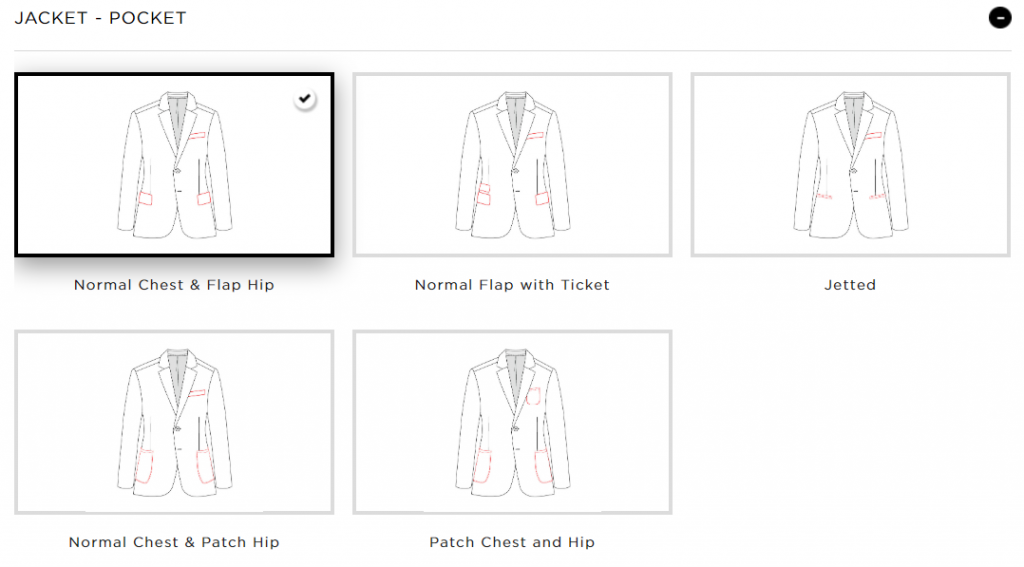 Step 3: Trouser Configuration
Fewer choices in the online MTO process here – pleats, waistband style, loops or side adjusters, and the style of hem you'd like. Finally, you can choose from a few different buttons.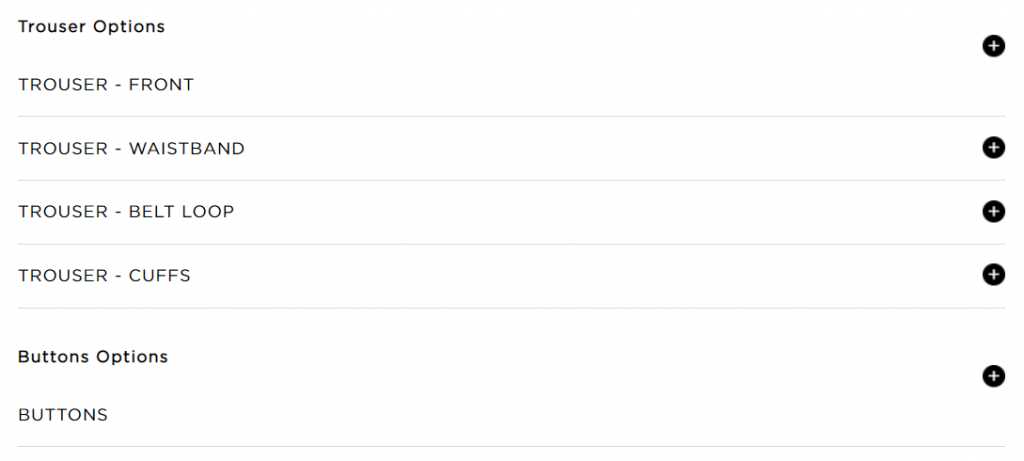 Step 4: Base Pattern Size Selection
Here is where you select the off-the-rack style of tailoring you plan to base the sizing off of. There are 4 basic categories, and then every size interval available – including ones not currently produced. Spier and Mackay has a pattern block that is can be scaled to a certain size. Here's where an understanding of how their stuff fits you is a big help. With an account on their site, you can save your configuration should you want to order something again, in a different fabric.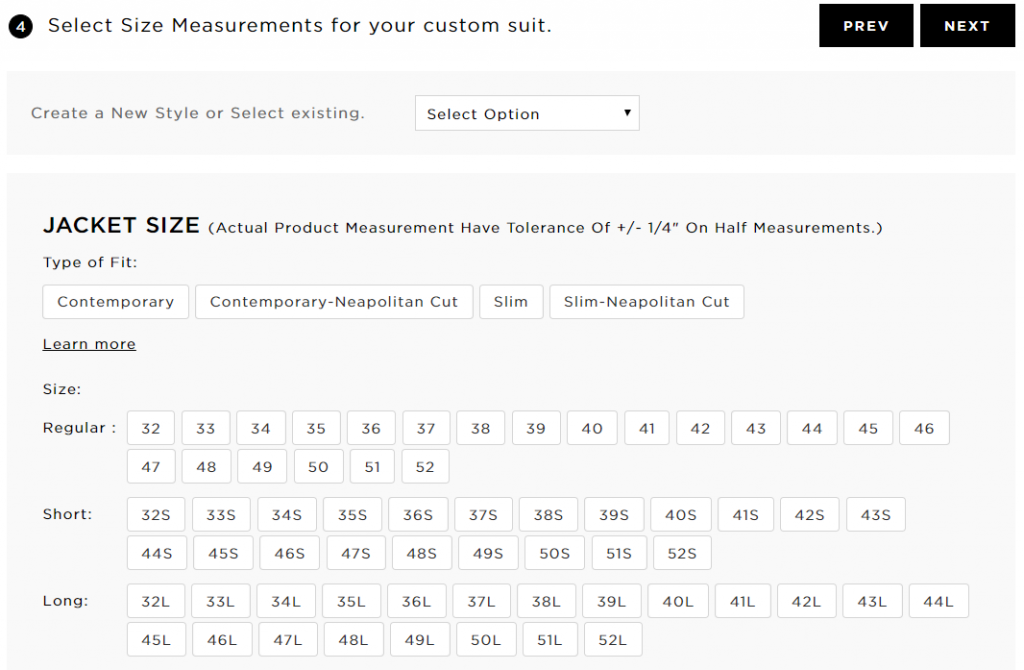 For online MTO jackets, the chest size is dictated by the, well, chest size you select from the image above. You can however adjust the following: sleeve length, jacket length, waist and shoulders. One thing I noticed here, was that the base measurements differ between regular cut and Neapolitan – which makes sense, they are different cuts. However, you can only adjust the measurements in quarter inch increments. So for example, on a regular cut, I can set the sleeve length to 24.25″, but on the Neapolitan base, I can only get it to 24.1″ or 24.35″. We're talking fractions of an inch here, but it's still a bit odd. I get why there isn't just a field where customers can type a number – seems like that would be prone to error. So you have to click the "+" or "-" decisively to get where you want to go.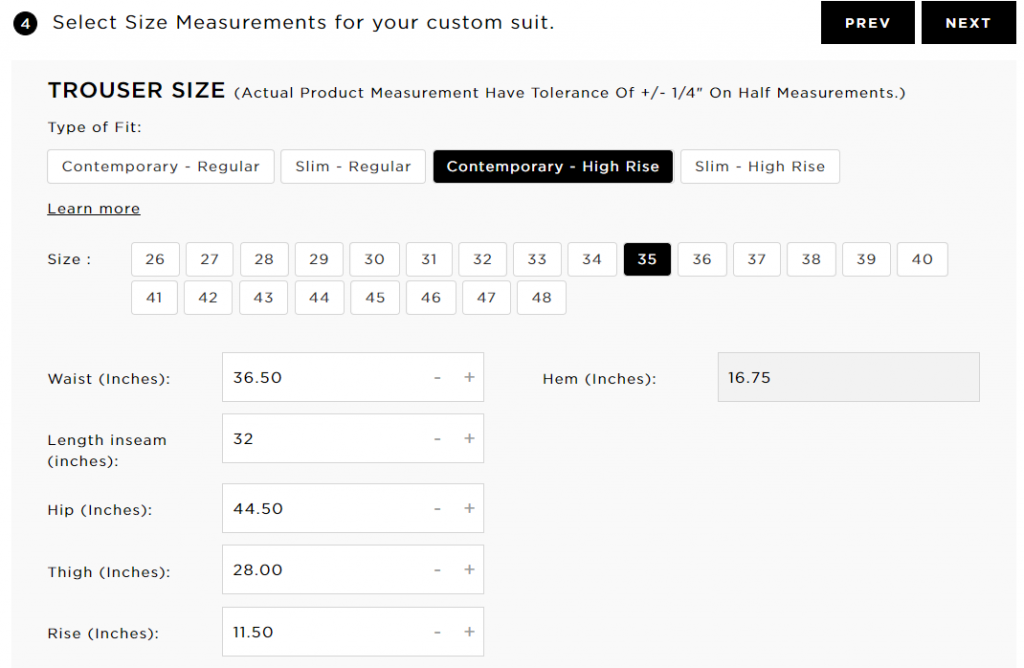 For online MTO trousers, the hem dictated by the waist size you select from the image above. What this is referring to is the width of the leg opening. Again, this is based on an existing pattern, scaled to the size you select, then adjusted from there. Off the rack trousers come with a 37″ unfinished seam, so the width of the leg opening will depend on where your inseam ends on that pattern. You are able to adjust the waist, inseam, hip, thigh (this is a big one for me!) and rise. The rise adjustment is applied to front and back – changing one individually is not available through online MTO.
Step 5: Review and Confirm
The final step is to review all the details, add the MTO order to your cart and check out! Note the timeframe at the bottom – 6-7 weeks from order confirmation, so a little longer than their shirt program.
Spier and Mackay Online MTO – Final Thoughts
I am really quite excited about this online MTO program. Spier and Mackay always has amazing off the rack offerings every season, this fall/winter being their best yet. The biggest benefit for me will be in the trousers. Last season, they made a small reduction to the back rise, which helps them hang much nicer. But with off the rack, I need to size up well beyond my waist size to get the hip and thigh room for good drape.
So, when this online MTO program launched, you know I placed an order for a sport coat and a pair of trousers. That was about six weeks ago at this point, so I am expecting them to show up in the coming weeks. I'll be sharing my thoughts in a review post when they do. Which I did HERE.
Any questions? Want to tell me what you ordered? As always, comments welcome down below.
-Colin