Reviewed: Morjas Shoes
Reviewed: Morjas Shoes
Medium Brown Suede Captoes
I've been eyeing a lighter brown suede pair of shoes for some time now. I decided to go with Morjas' medium brown captoes. A warm, lighter shade of brown was a colour missing from my collection. If you've been following along this blog, you know value is a part of how I approach my purchases, and Morjas falls into a comfortable price range. Here is my Morjas review: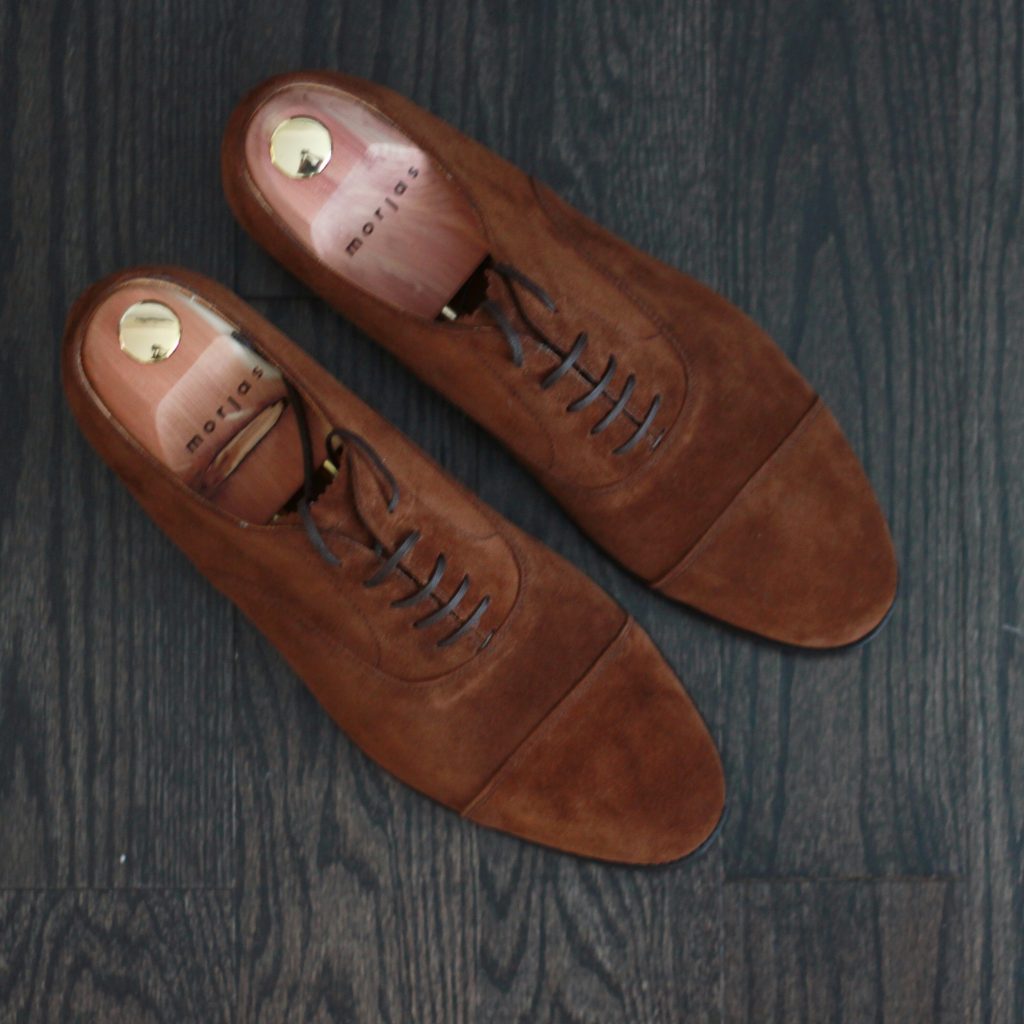 Shipping and Packaging
Morjas packed the shoes with a good amount of tissue paper to prevent them being too jostled en route. Each of the shoes were in a bag to keep the suede fresh. I enjoyed the warm musk of fresh leather product and the cedar trees upon opening. A note from Henrik (the owner) was also inside, asking me to say hi to Canada! I actually laughed out loud.
Quality and Construction
I was impressed with the suede immediately upon handling the shoes. It has a very close nap, but is also quite soft. The colour is fantastic. The stitching around the shoe is neat, and well executed. You can see that it is quite close to the edge of the cap toe, for example. An otherwise flat and simple sole has a stamped logo and size info on the bottom. Following the welt around the shoe, it has been trimmed quite close to the upper and finished nicely. The sole is open channel, so doesn't have the super clean look of a closed channel – but it's the bottom of the shoe. How often are you looking at the bottom of the shoes? After a half dozen wears the soles are holding up well, though they're a little worn on a few of the edges – some chipping and scuffing – which is my only disappointment. Fortunately, this is easily remedied with edge dressing.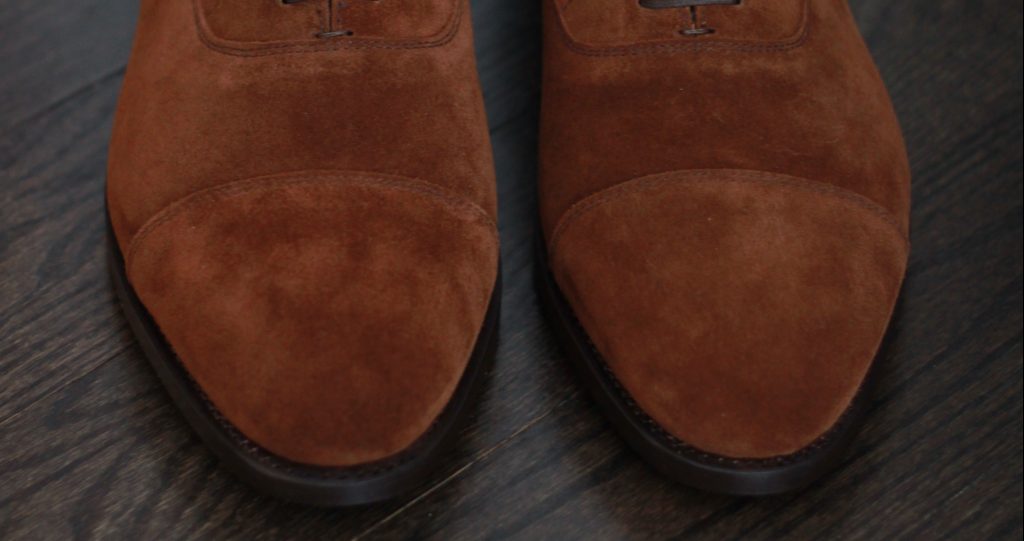 Sizing
For these Morjas shoes, Henrik advised size 9.5 UK, which is a half size up from what I would usually wear (10 US/9 UK). I'm glad he did, as they fit quite well. The instep is just right – not overly high or low, but I do have a bit of room across the vamp between the throat and the cap toe. Not a knock against the shoe at all, simply an observation. I think sizing down any more would have resulted in undesired tightness elsewhere.
Design and Styling
This oxford is on their 003 last, which they describe as medium width, rounded toe. An almond toe is my preferred toe shape at this point, and I'd say this shape is an interesting blend of the two. I wouldn't define these as a round-toe, but they don't have the asymmetrical, slightly pointed look of a almond shape either. However you might define the shape, it's a nice one. I like the clean transition from the toe to tapered waist. It isn't overt, but adds style to the overall look of the shoe.
Morjas Review
So far, I am really happy with this pair. I'm especially enjoying figuring out new combinations with a lighter coloured shoe. My collection is mostly made up of darker browns that require less thought. I've had success pairing with both light and dark trousers (well, I think I've been successful). In the gallery for this Morjas review, I wanted to include some examples. You can see pairings with charcoal flannel trousers and light brown flannel trousers, and in my opinion, the colour of the shoes looks awesome.
For a reasonably priced, goodyear welted shoe I would highly recommend checking out Morjas. Tell them "Hi!", from Canada.
-Colin