Inspiration: Burgundy Flannel Trousers
Inspiration: Burgundy Flannel Trousers
Burgundy has become a favourite colour for clothing. I've written about my burgundy sport coat, so I thought it was time to write about my burgundy flannel trousers. The flannel is from Botto Guiseppi, made up by Spier & Mackay two seasons ago, and has wonderfully deep mottling and variegated colour. This pair has to be one of the stand-outs in my trouser collection; bold and versatile. Let's have a look at some outfits.
With Grey Tweed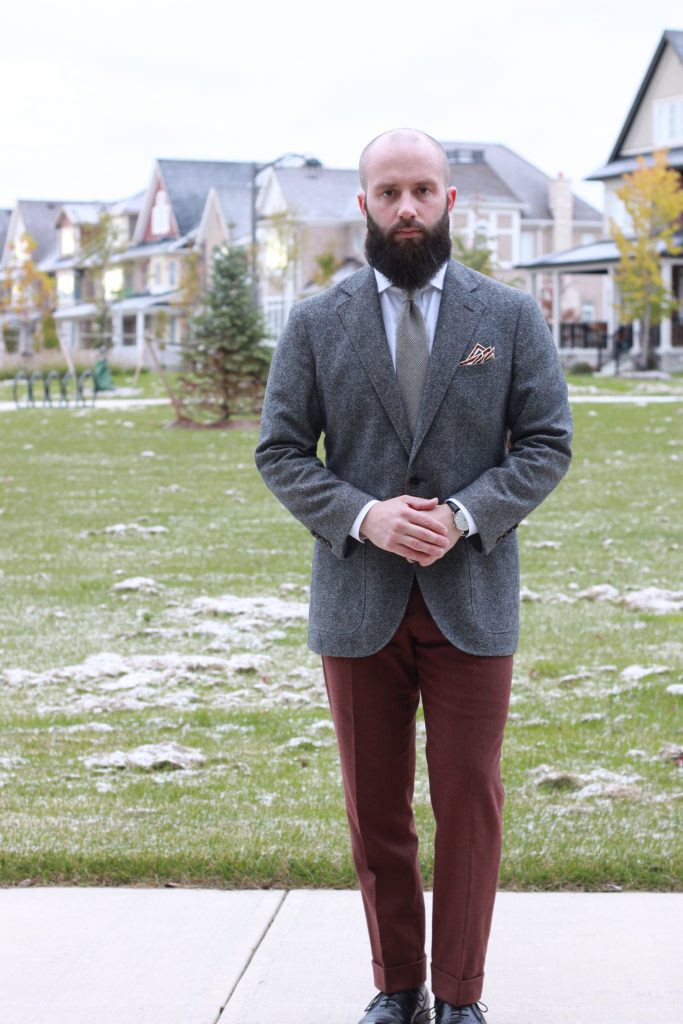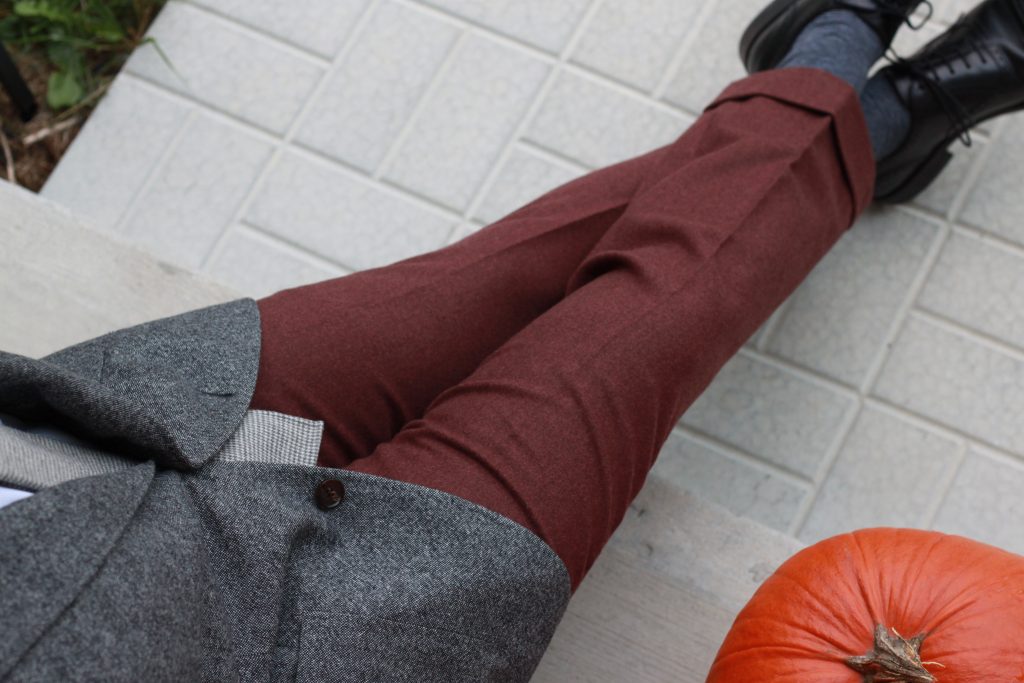 There was some discussion about this outfit needing a darker tie, preferably with some burgundy in it. I don't disagree, but I was hoping to let the burgundy flannel trousers be the main source of colour. I used my Rampley & Co. pocket square border to bring some colour up, but otherwise let the top half be grey. Overall, I feel like this was a good outfit to showcase these trousers, and I might try it again with a different tie.
With Blue Checks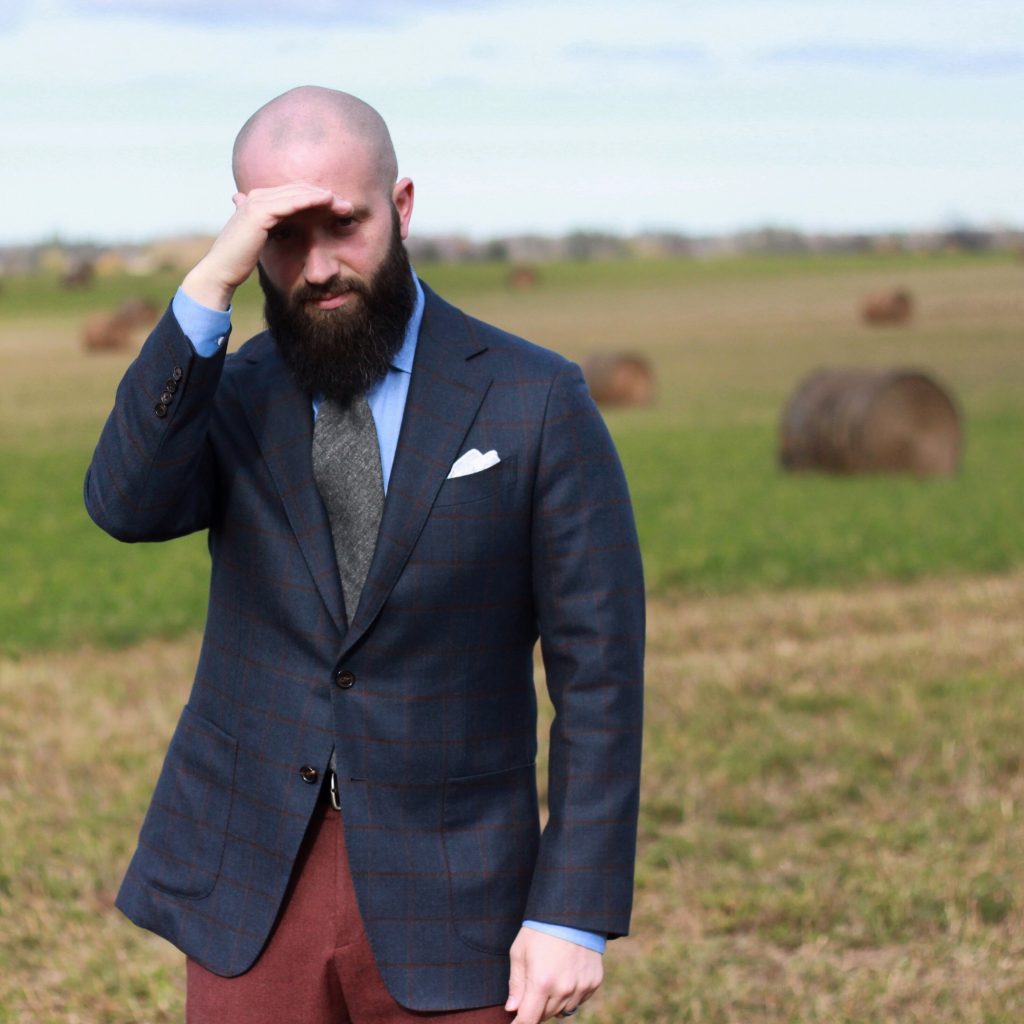 This one I featured in my What I Wore: November 2018 post. It was a bit out of my comfort zone. Not because of the burgundy flannel trousers, but because of the choice of tie and shirt in the context of the jacket and trousers. Not much about the tie choice seems to fit with the colour palette of the rest of the outfit, aside from the plain white pocket square. Yet, somehow I think it works. Adding neutral accessories seemed to let everything else be the focal point.
With Donegal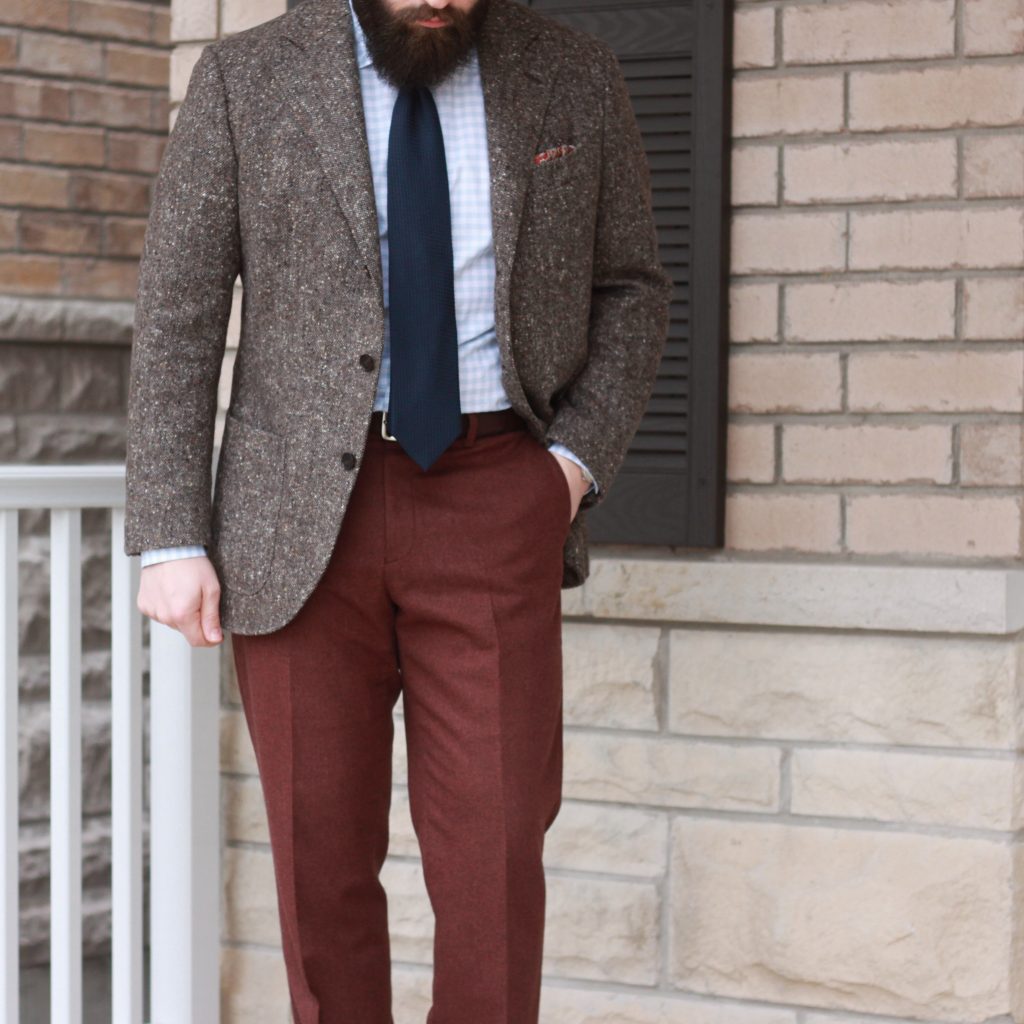 I love the way the jacket and trousers look together. Because this Donegal sport coat has a neutral-leaning brown tone, it pairs very well with the warmth of the burgundy flannel trousers. Brown and burgundy can be challenging to pair, but when the colour tones work well together, it's a very pleasing combo. In this outfit, I went with my soft mint gingham shirt and my Kent Wang navy grenadine. Something about this shirt and tie combo doesn't quite work for me here, but I am having a hard time placing just what it is. Perhaps I will try this again with my ecru shirt and brown cashmere tie from Kent Wang. I usually try to pick a pocket square with burgundy in it, like this one from Vanda, but I'm not sure it adds anything here.
With Navy Moleskin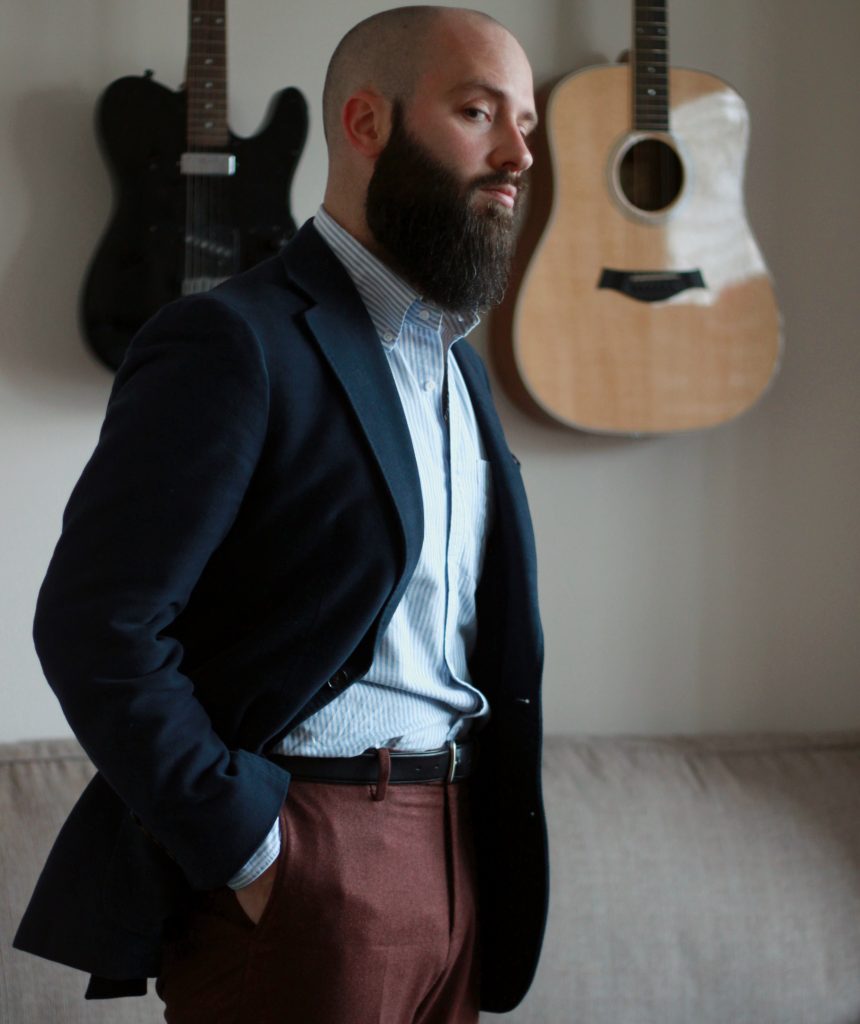 A relatively simple combo here: burgundy flannel trousers, navy moleskin sport coat and a blue university striped OCBD. Here, it's all about giving the burgundy trousers some room to be the boldest part of the outfit. I find these trousers work best in less busy outfits (see my thoughts on the previous two). Often, I reach for a black belt and shoes with them, but I'm interested in trying them with my new medium brown suede Morjas shoes.
Burgundy Trouser Ranking
I wrote about my trouser collection before, and a burgundy pair is a good one to have in yours. I'd suggest that after a light and mid-grey, and a brown, burgundy would make a great addition. I'd even rank them higher than navy. Maybe.
What are your thoughts on burgundy trousers? Let me know.
-Colin