Reviewed: Cavour Ties
Reviewed: Cavour Ties
Wool for Winter
There is something really wonderful about wool ties. Especially these wool Cavour ties. I've written about seasonality in your wardrobe, focused mostly on sport coats and trousers. One of the places I was lacking a good mix was in my tie collection. Enter Cavour: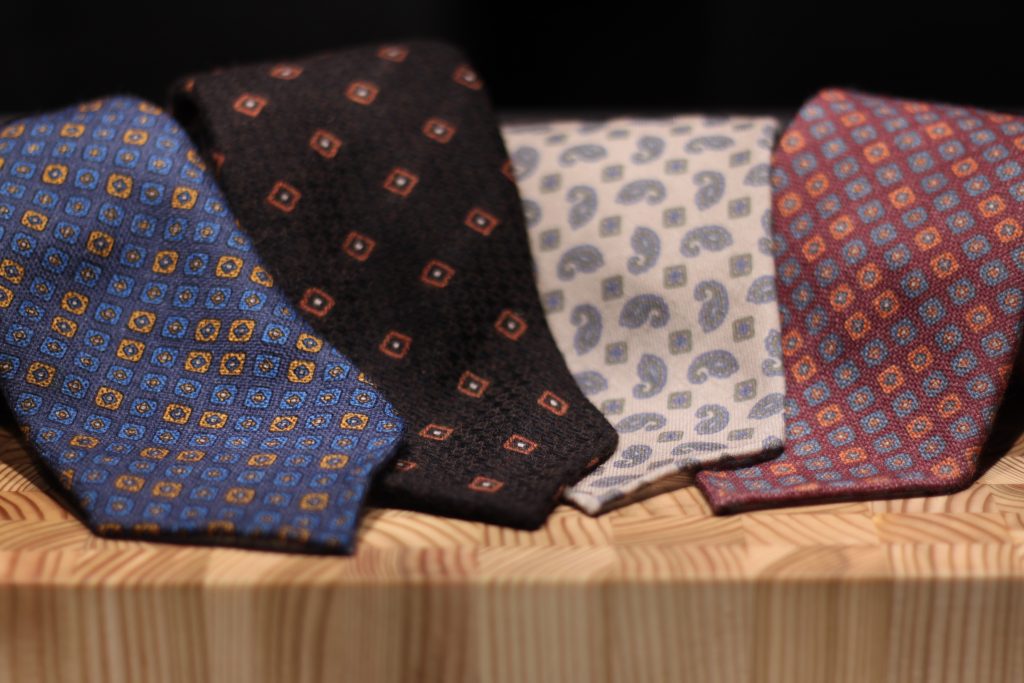 Shipping and Packaging
I received everything in a single package. Cavour had plastic sheaths for each tie, and all were free of damage. There did seem to be a lot of lint and stray threads on the ties, which are particularly "grabby" due to the composition. Everything brushed off easily.
Construction and Quality
Starting with the fabrics. There is something about the depth of colour a wool tie has. Many of my favourite pocket squares are of a wool/silk blend for just that reason. The less than smooth texture adds depth. These Cavour ties are made up in a robust wool, but it is really the patterns that appeal to me.
The interlining on these Cavour ties are perfect. Drape is excellent, and there is a good amount of dimple memory (that's when you get the knot just right, and from then on it almost ties itself). I have noticed on the dark brown one that the interlining seems to shift when I tie the knot, which skews the blade just enough to notice. Not a massive issue at all, but it bugs me a bit when I notice it. The hand-rolled edges are very well done. Tight and even. After a couple of wears each, I'm not seeing any signs of adverse wear.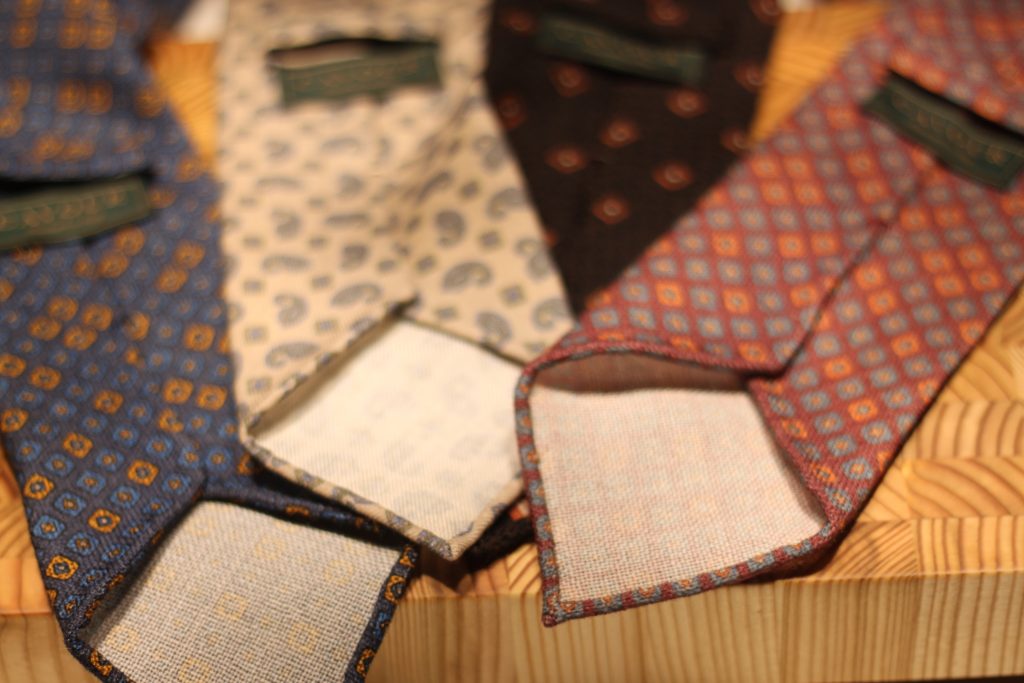 Design and Styling
First, let's look at the two that share a pattern. It's an interesting blend of being a neat, and a plaid. I wrote a little about the pattern in my What I Wore – December 2018 post. "An Acute Style" on StyleForum pointed out the dual nature of the pattern on the tie – small repeating squares and the plaid-like visual created by the alternating colours of squares and the space between. The colour schemes on both ties are quite appealing; blue, light blue and gold on one, burgundy, light blue and orange on the other.
Next we can look at the paisley tie. When I first journeyed into the world of menswear, I had an irrational affinity for paisley ties. Large scale, small scale, abstract. Whatever. Fortunately, I didn't acquire many. At this point, this one from Cavour is the only one in my rotation. The cream base is adorned with paisleys and squares in a light blue and pale green. A very unique colour scheme.
Lastly, the dark brown jacquard with orange diamonds. I'm not sure, but this wool fabric feels different. Maybe a hint of cashmere? It's weightier and spongier for sure, and you can see the different weave characteristics clearly as all these ties are un-tipped. I really quite enjoy this dark shade of brown, and the orange diamonds with white dots are just delicate enough to add some visual punch.
Here's a selection of combinations from when I did "Cavour week", wearing one of my Cavour ties each day. It was kind of nice to plan out the week like this. I may need to do it again.
Wearing Cavour
All in all, I am quite impressed with Cavour's neckwear. They are currently having a sale of 30% off all of these ties! If you need a little more inspiration, here's how I wore them.
If you haven't already left to go check out Cavour's site, bear with me for another moment. Neckties aren't the main product. Cavour has a few brick and mortar stores in Norway, where they carry a broad range of tailoring, accessories and footwear. Everything from Canali, 100 Hands, Edward Green and Ring Jacket (to name a few). The really cool pieces are Cavour's own tailoring. Full and half canvas availalbe, well-proportioned lapels, stylish cut, excellent fabrics. Here are a couple of their sport coats that caught my eye.
Back to the Ties…
Whether you are looking for ties, scarfs, sweaters, trousers, tailoring or outerwear, I've got to say that Cavour makes a pretty compelling case. At regular prices, I'd say they offer a pretty good value. With the sale going on now, it's amazing. If you did want to start small, I would highly recommend their ties.
-Colin