Reviewed: Expressive Neapolitan Style, Classic Spier & Mackay Value
Reviewed: Expressive Neapolitan Style, Classic Spier & Mackay Value
Neapolitan style from Spier & Mackay
The Neapolitan cut has become the signature piece from Spier & Mackay. These jackets feature wider lapels that have a concavity to them, sometimes referred to as negative belly. Continuing the curve of the lapels down through the open quarters presents an unbroken line. The sport coats all feature patch pockets with a nice shape, while the suit jackets have larger flap pockets. The shoulders are natural with no padding, and the sleeve head is attached in the spalla camicia style – the "waterfall" style. It's a method that adds shirring, or a delicate bunching of the fabric. It's a nice, subtle detail you wouldn't usually see on off the rack tailoring in this price point.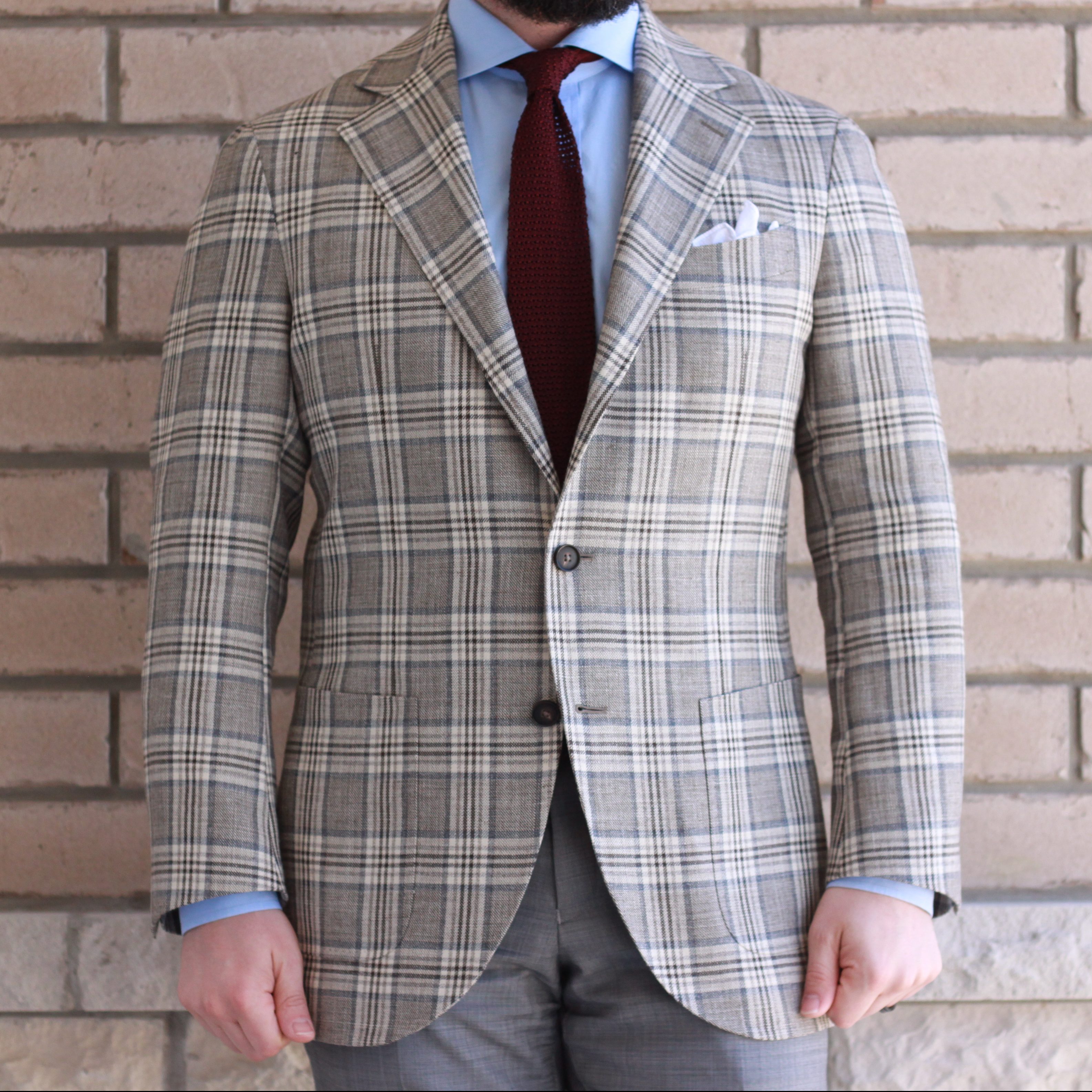 Currently, a large portion of my sport coats are the Spier & Mackay Neapolitan cut. One of my five suits is as well. I've found this cut to be ideal for outfits that are more casual, like with jeans. But it can easily be dressed up as well. It's a flattering cut, with a little extra length and style.
Evolution of the Spier & Mackay Neapolitan Cut
Neapolitan Version 1
When it was first released, the Neapolitan cut was a nice departure from Spier & Mackay's standard cut. It was developed with input they gathered in their affiliate thread on StyleForum. This style is definitely inspired by the Eidos cut that used to be offered at No Man Walks Alone. Wider lapels with a higher gorge that have a defined curve that flows down to the open quarters. On this first version, the gorge was quite high, adding to the drama of the wide, curved lapels. If my memory serves, the shoulders were lightly padded, and the canvas used was on the heavier side.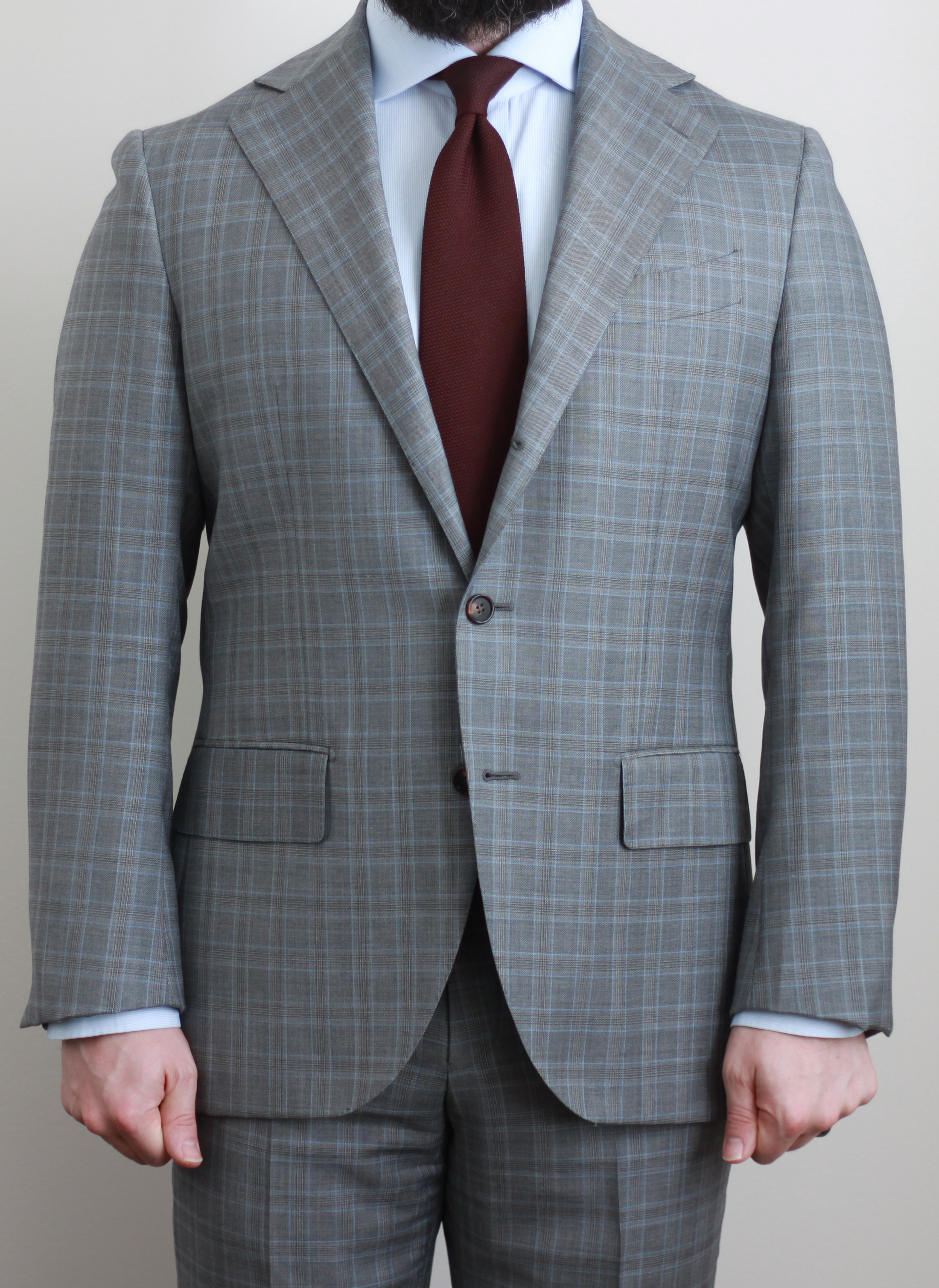 As you can see from my original review (of a suit), I had some fit issues. First off, the front/back balance was off a bit. The jacket tends to lean back on my shoulders. This causes some bowing of the lapels and general wonky-ness in the chest. As a result, the quarters appear a bit unbalanced as they are pulled closed, marring the unbroken curve that starts at the lapels. You can see it in the picture as the pattern kinks upwards at the buttoning point. All in all, it was a good first effort at developing a new cut, and it has lead to some pretty great pieces.
Neapolitan Version 2
For version 2 of the Spier & Mackay Neapolitan cut, there were some great revisions made. The gorge was dropped a couple of cm so that it would no longer sit on top of the shoulders. The canvas used was noticeably lighter – this helps with how the jacket wears. It also improved the shoulder fit for me. I have sloping shoulders, and the v1 were definitely better for a more square-shouldered gent. They tweaked how the collar was attached, aiming to help improve that front/back balance issue that many customers encountered. It isn't perfect on me as I usually have to tug the jacket down by the lapels to get it to sit properly on my shoulders, but again it was a step in the right direction. There was also a change to the shape of the quarters, making them a bit more rounded and swept away.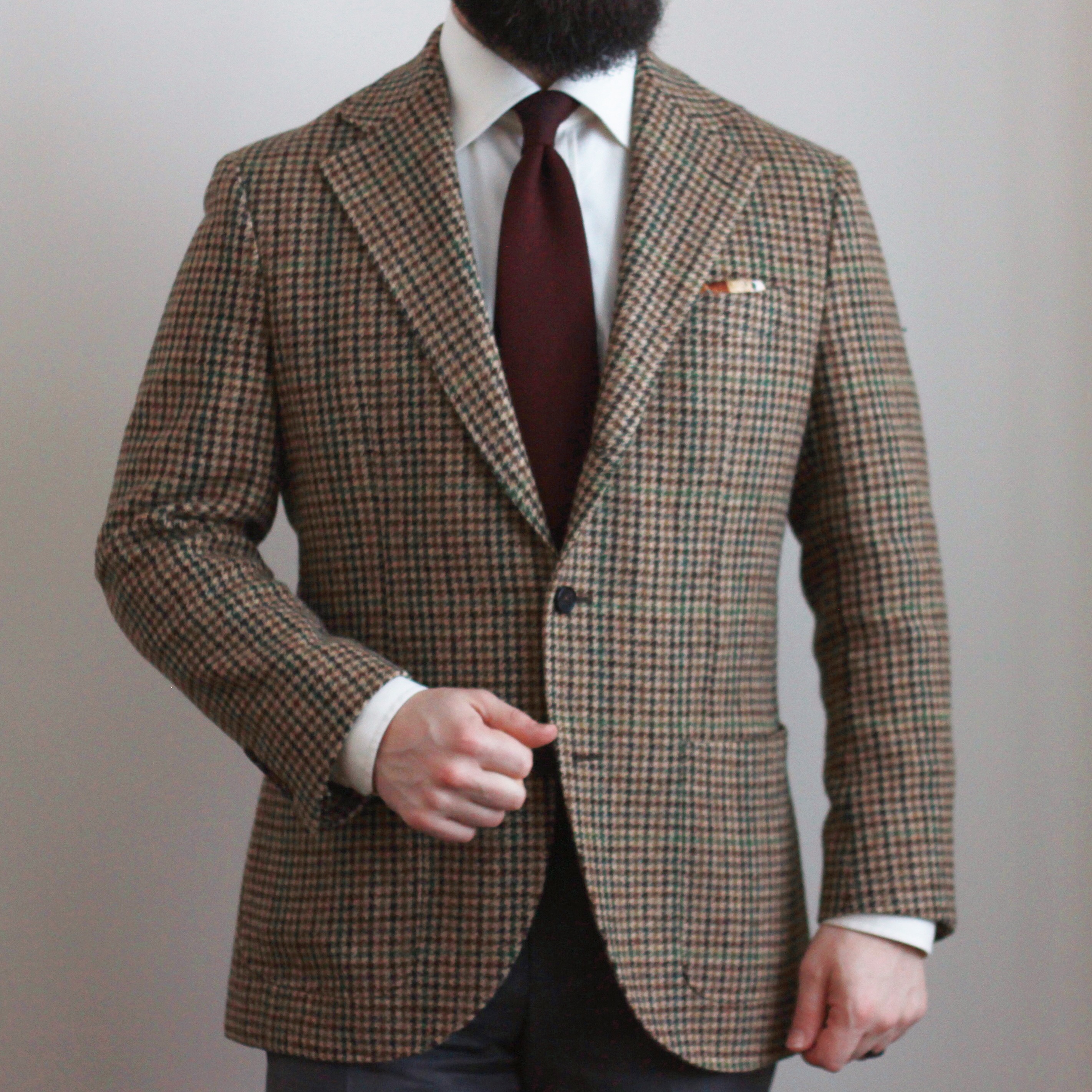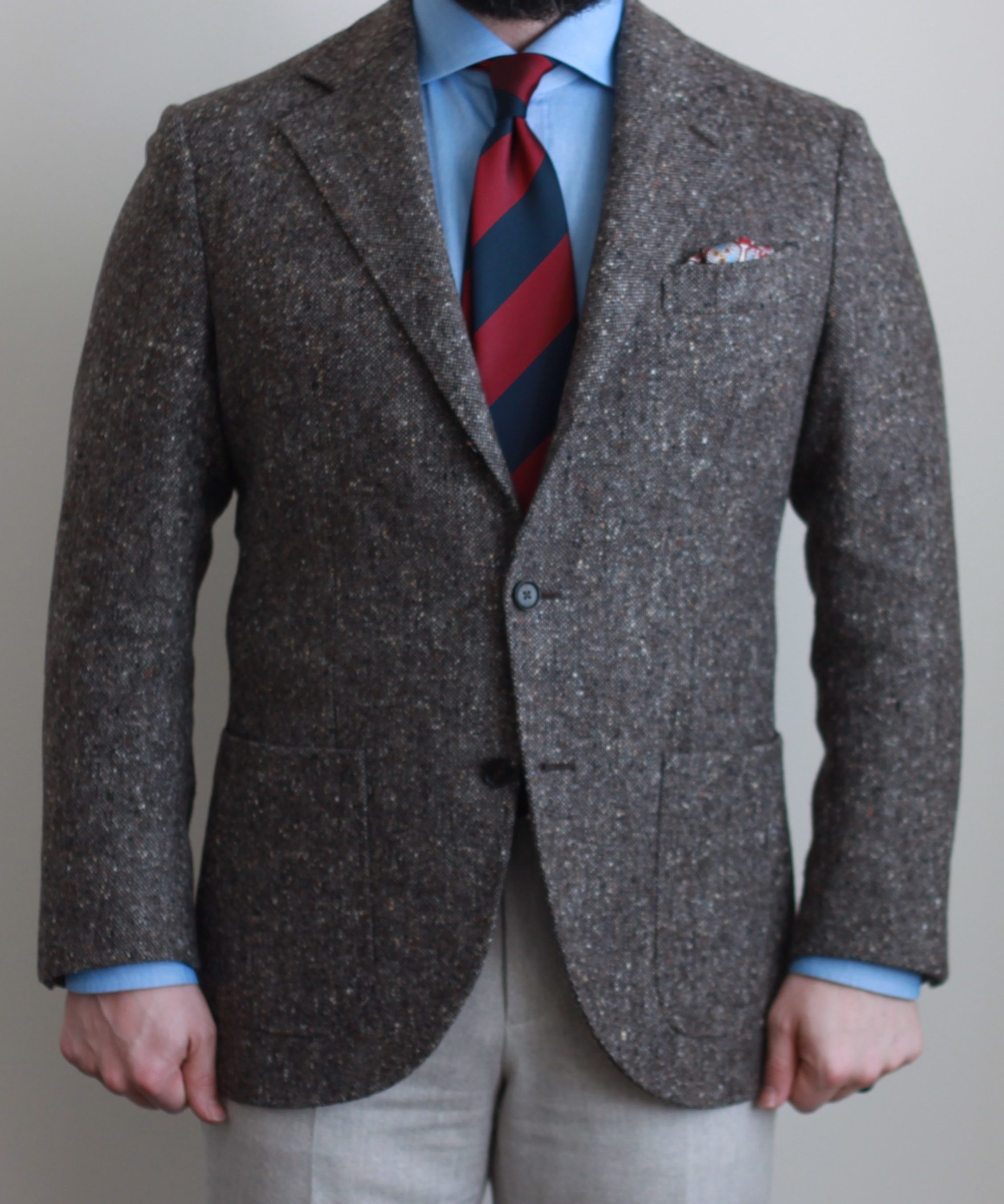 By the time the v2 was released, I was no longer wearing suits frequently. I picked up two heavy tweed sport coats in the fall: a lovely fawn coloured Donegal and a beige, brown and green gun check Shetland tweed, both fabrics from Abraham Moon & Sons. I get some slight divots in the shoulders, but they have improved as I've worn the jackets more. The lighter canvas works better for me as it seems to be more moldable.
Neapolitan Version 3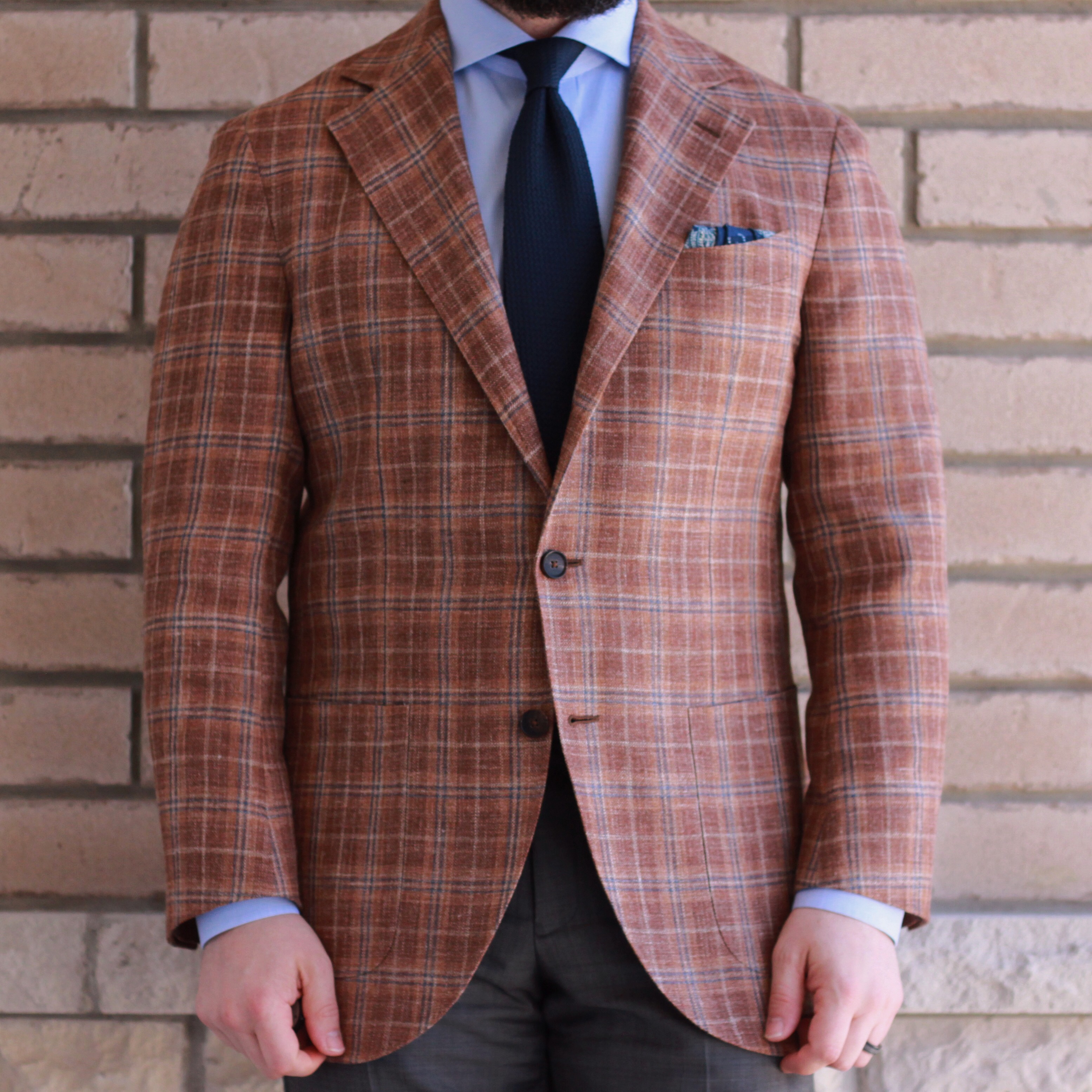 Spier & Mackay have almost perfected the off the rack fit for me with the v3 Neapolitan sport coats. The key revisions addressed the few remaining fit issues I was experiencing. A couple of cm of fabric was removed from the top of the back, below the collar, and replaced at the bottom. This improved the front/back balance and added just enough length. The shape of the arm hole was shortened at the top, raised at the bottom, and widened which has all but eliminated the divots. If I was truly particular about it, I could have it addressed by getting a tailor to pull in the top of the sleeve head just a bit. There's an example that someone provided on StyleForum in their affiliate thread.
Spier & Mackay Neapolitan Fit
I'm quite happy with this latest round of sport coats. It would be hard to find any off the rack tailoring that fits better. All I have to do is get the sleeves shortened. Spier & Mackay has launched an online MTO service that allows for this type of adjustment. Basically, you can select any of their standard fits and cuts, provide your sleeve and hem measurements, and select any fabric that they offer. Obviously, the biggest part of the cost will be dictated by the fabric you choose. Since their standard sizing fits me so well, I have had some great successes with this MTO service.
But since we're talking about the evolution of this awesome cut, let's look at a side by side comparison of the improvements in fit from v1 to v3: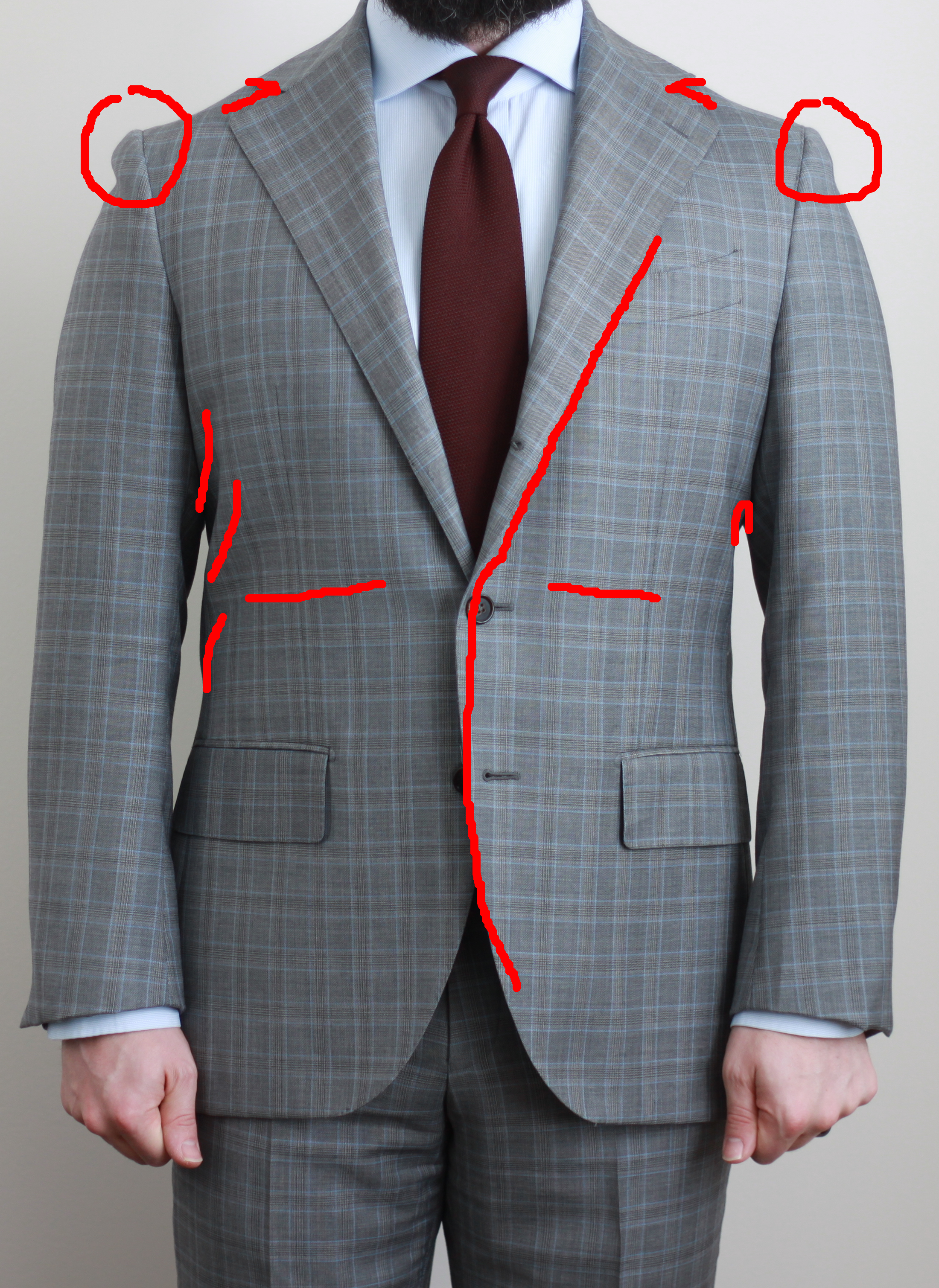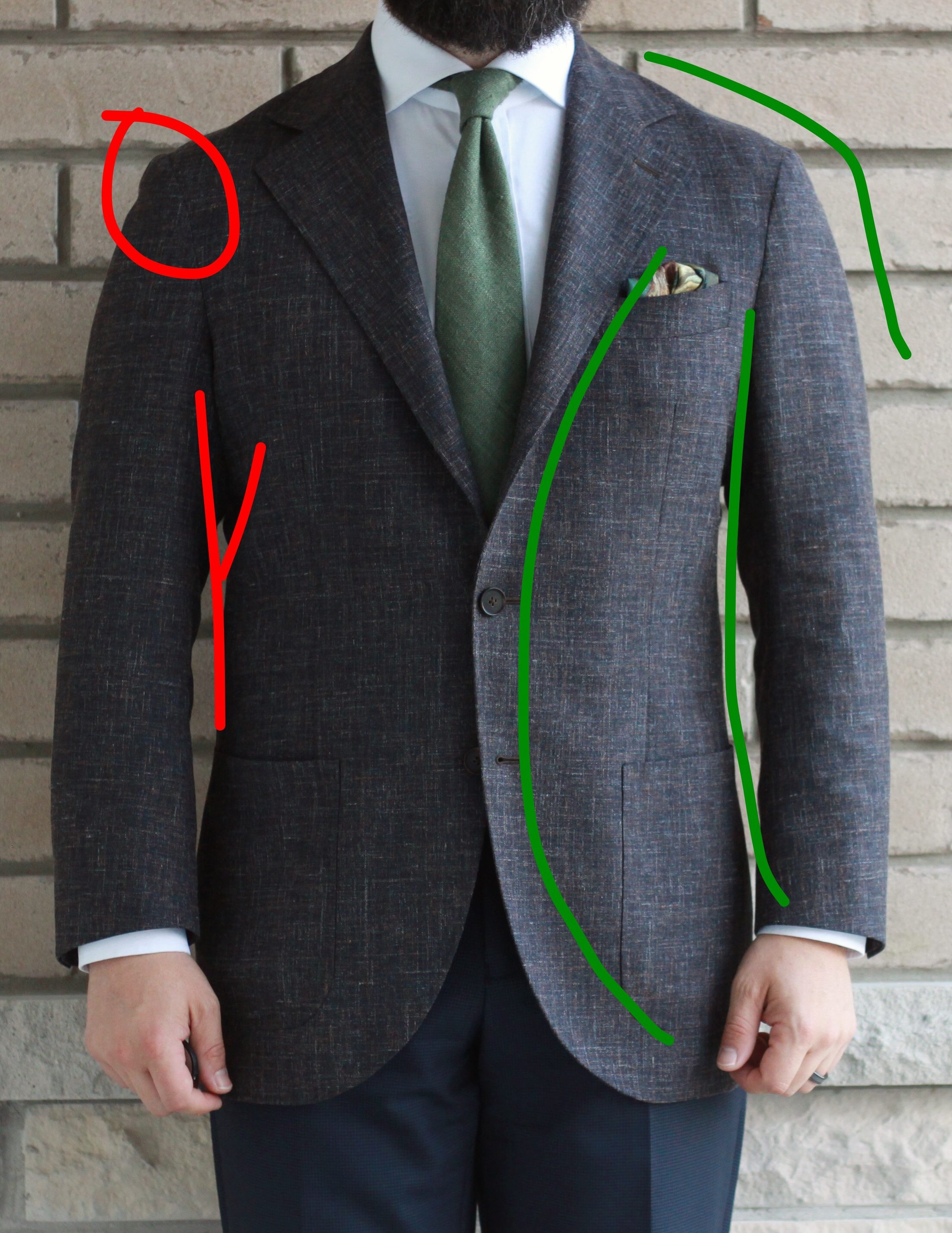 The red lines I drew on this brown slub sport coat aren't too big of a concern. This was my second time wearing, and I have found that hitting the jacket with a bit of steam where the canvas is (chest and shoulders) will help how it sits on me. I plan to take care of that today.
Neapolitan cuts get all the cool fabrics
Let's start with this brown summer slub. The fabric is from Vitale Barberis Canonico and is a 80% wool / 20% linen blend. I'm a big fan of linen blends in sport coats. It adds a nice variegation in the colours, and adds a great, dry texture. In this case, the base colour is a dark brown, with threads of light grey and a copper/rust for some visual interest.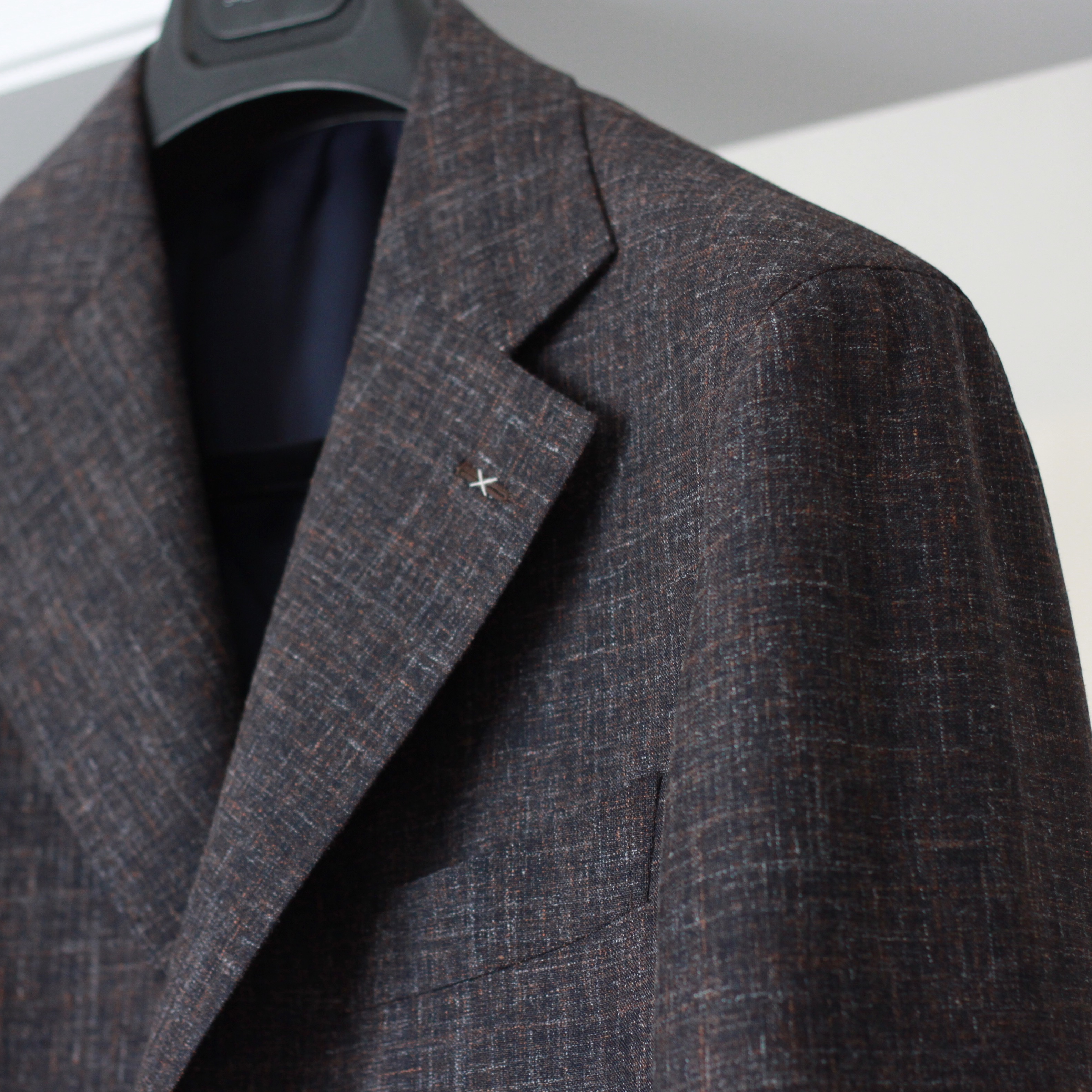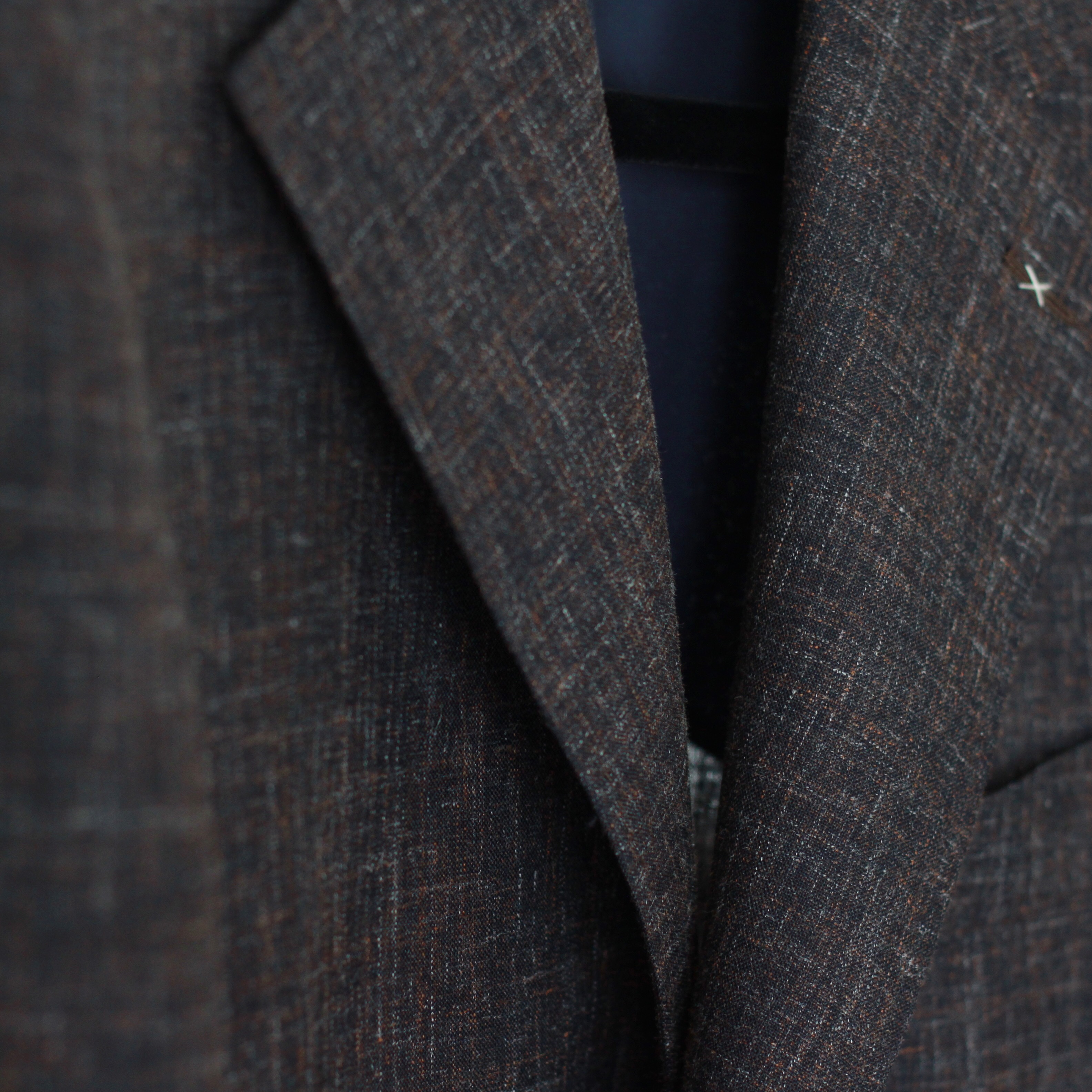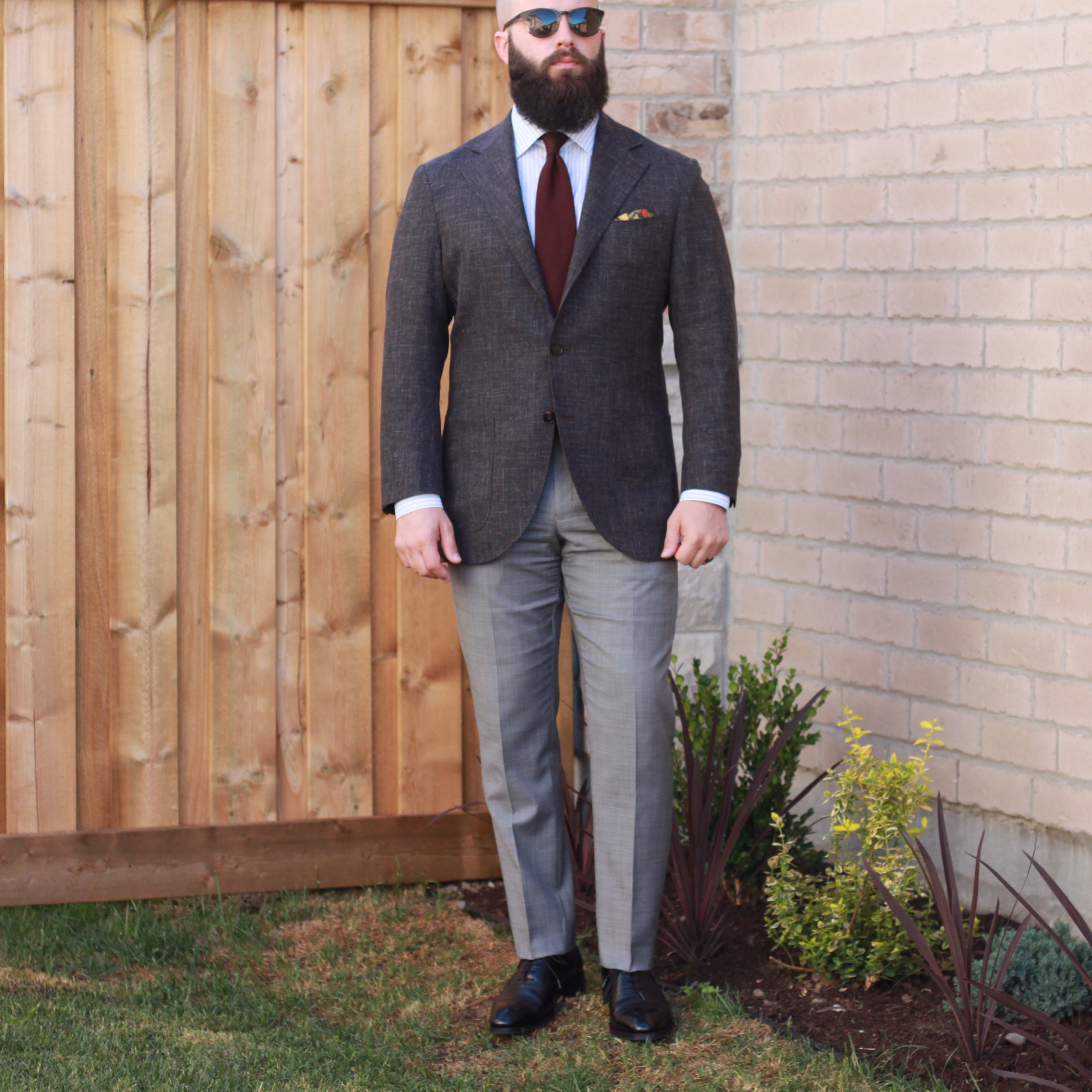 These next two sport coats both feature wool/silk/linen blends from E. Thomas. I featured both in my post about Spring/Summer wants, and I'm still really happy I picked them both up. The rusty check has some really interesting brown, red and orange tones that are balanced by the cream and blue in the check. The taupe and brown check is great. I'm really starting to enjoy having a few lighter sport coats, and this one is perfect to wear with light and dark trousers, and pairs really well with jeans.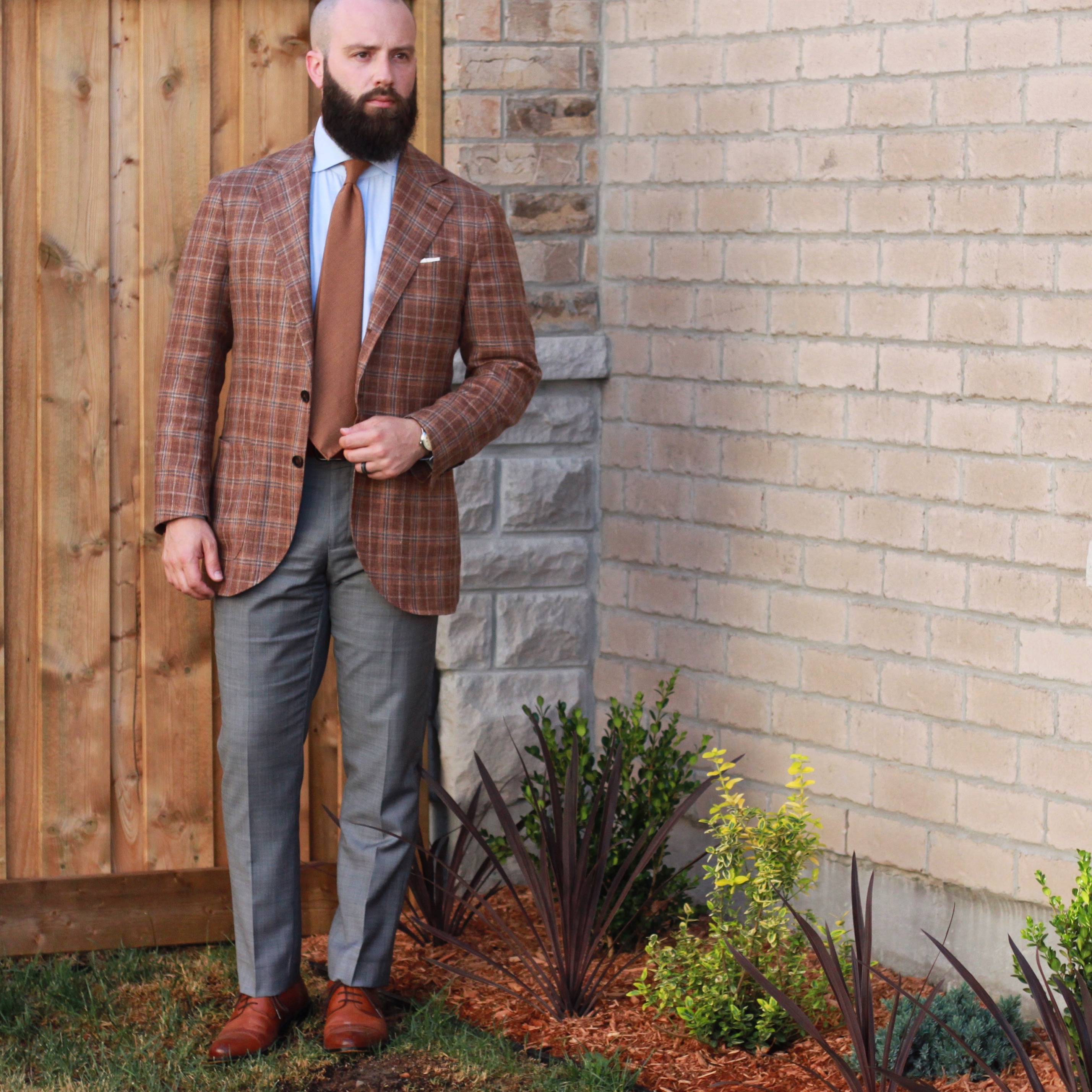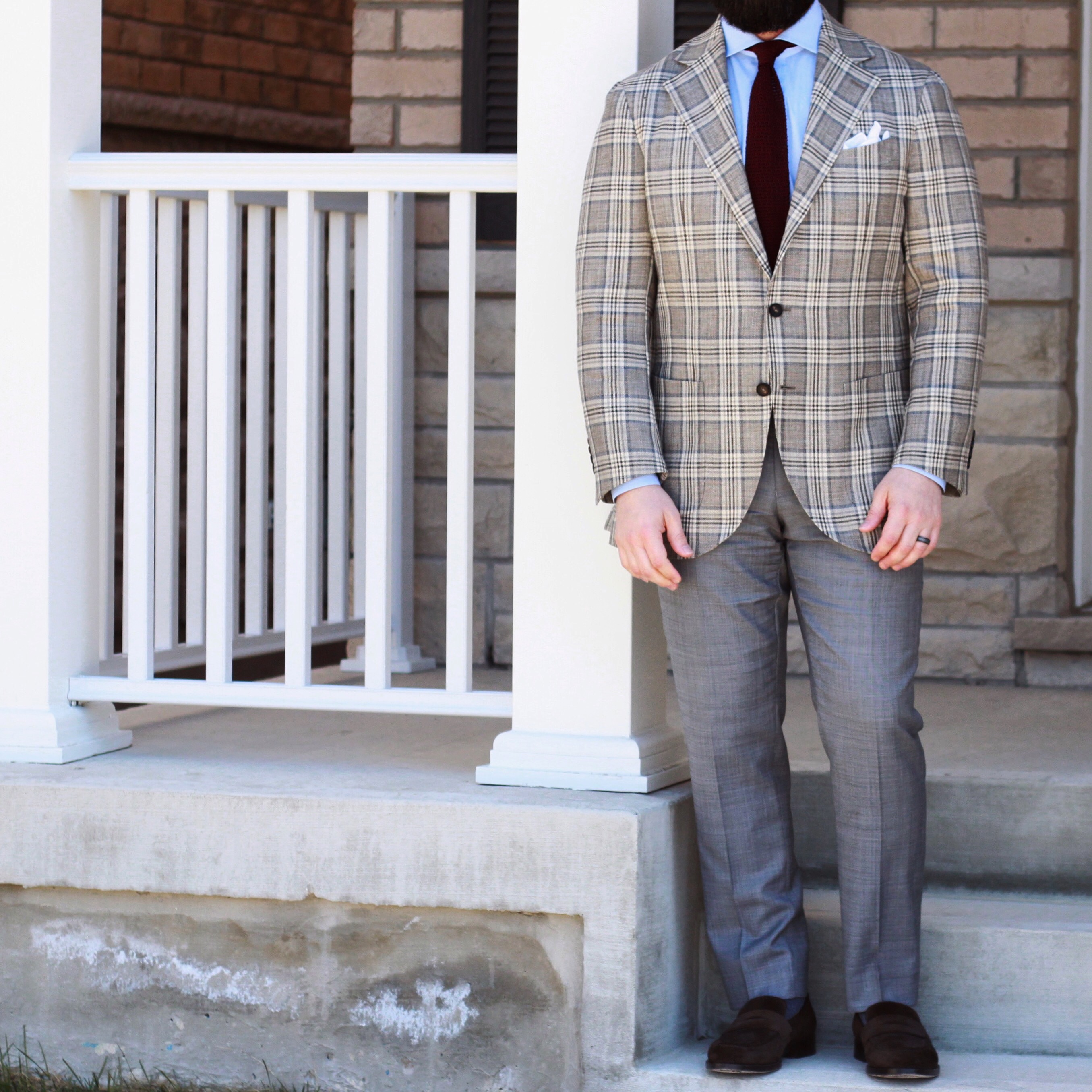 I think Spier and Mackay are taking the right approach with their Neapolitan cut. More exclusive fabrics, for the sartorially inclined. Not every customer is looking for (or knows) what spalla camicia is, or wide concave lapels. But for those that do, they've got you covered.
Final Thoughts
If for whatever reason you've been waiting to check out a Spier & Mackay Neapolitan cut, wait no longer. The cut has matured very well, with each iteration bringing meaningful improvements to style, construction and cut. The fabric selections this season are amazing – each one has a place in a well-rounded wardrobe. I'm already saving my money for some crazy awesome pieces coming in the Fall/Winter collection.
If you have any questions, let me know! Otherwise, head over to Spier & Mackay to check out their offerings in the Neapolitan cut.
-Colin