Inspiration: A Case for Navy Trousers
Inspiration: A Case for Navy Trousers
The Navy Trouser Conundrum
Frequenting StyleForum for a few years now, I've noticed a topic that crops up with some regularity; Navy trousers. It seems to be a divisive issue, with groups on both sides staunchly supporting and defending their view point and railing against the other. The argument supporting their use is often reduced to an acknowledgement that they aren't as versatile as a shade of grey. In contrast, the opposition will admit to the existence of outliers, or cases where navy trousers work. This will usually be accompanied by some variation of, "but they aren't optimal – grey would be better." I often enjoy the discourse, but in each instance it ends in a stalemate.
As an owner of a pair of navy trousers, I can see both sides. Wearing them requires just a bit more thought than a pair of grey trousers. I have gone through cycles of heavy influence from StyleForum "rules" and then wanting to push back against them. The position I am taking more and more is that small, measured risks make dressing more interesting. I may not always make the "optimal" choice, but that's kind of the point. Within the constraints of my wardrobe, I want to find combinations that work. They shouldn't always be easy!
Navy and Grey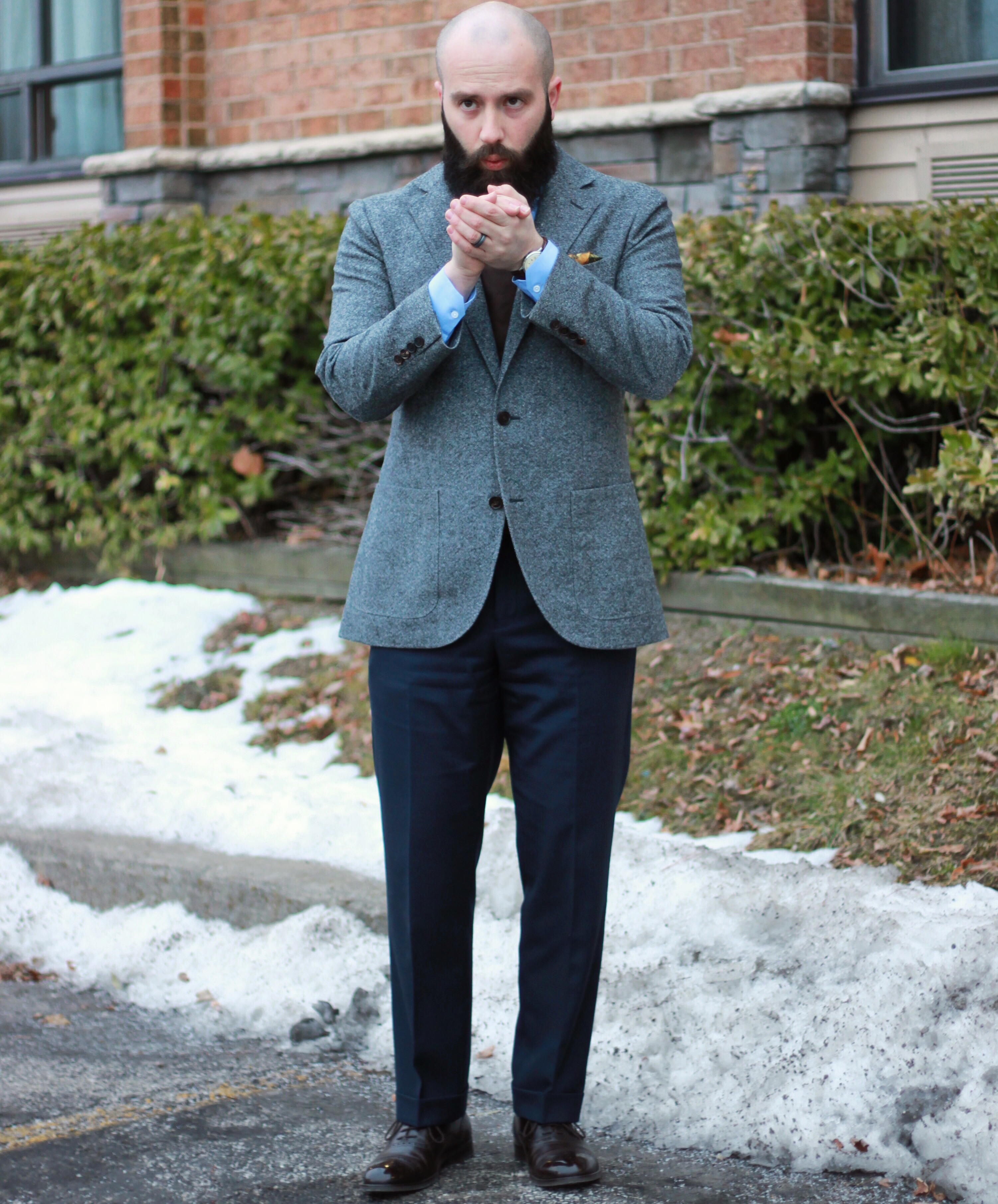 This outfit takes a pretty traditional colour scheme – blue, brown and grey – but flips the top and bottom blocks. The navy trousers combined with the dark brown shoes does have the effect of weighing down the bottom half of the fit. I like the grey tweed up top, but it might have had a bit better balance if it was more of a mid- than light-grey. The brown tie and saturated blue shirt to help add some visual heft. Was this the optimal choice? Maybe, maybe not. With this shade of grey sport coat, the navy trousers add good contrast. Charcoal trousers would have worked well, but they are often the subject of a similar debate.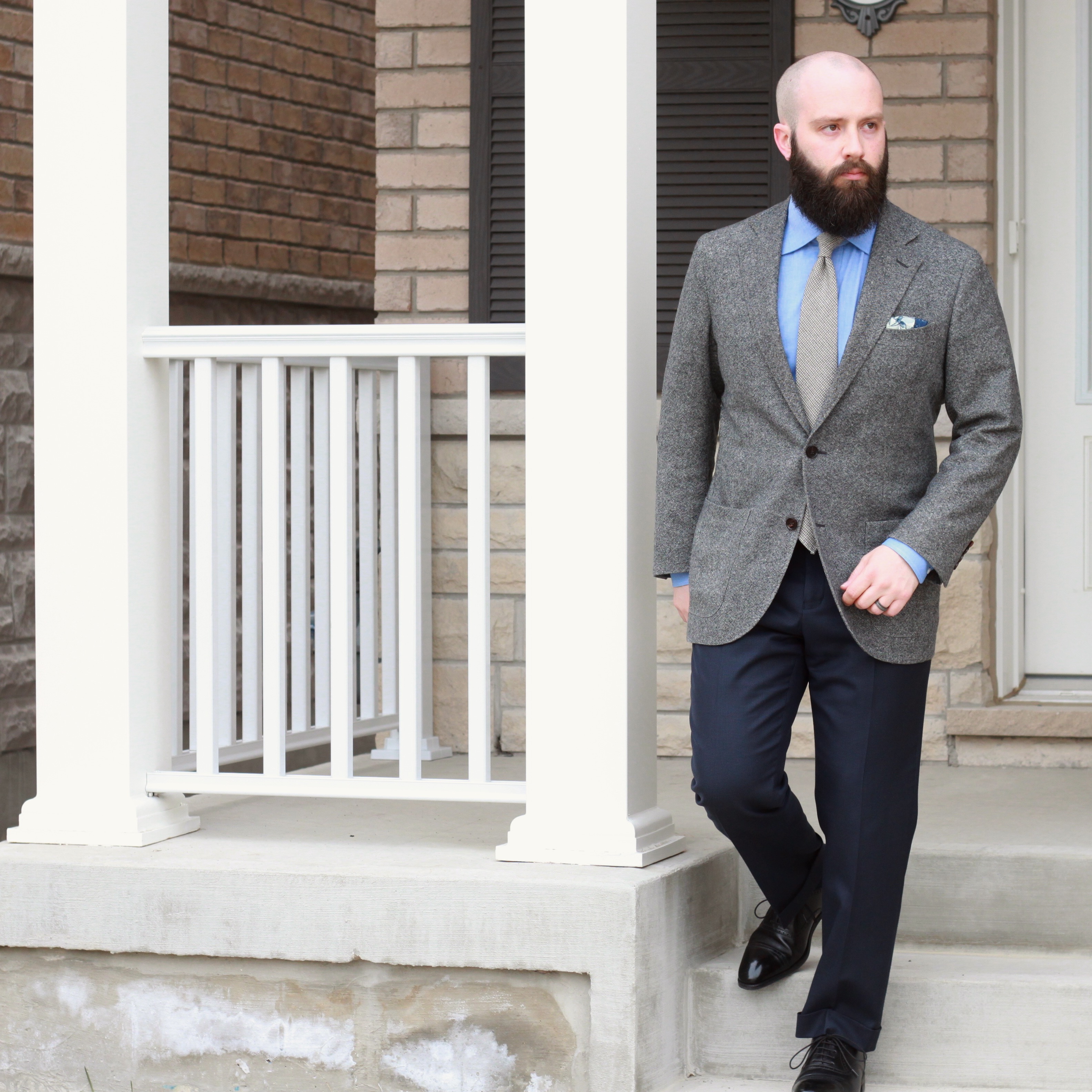 Leaning into the high contrast idea of this outfit, I chose a light grey tie and a saturated blue chambray shirt to wear with the navy trousers and the same grey tweed sport coat. Again, my shoe choice really keeps the bottom half dark. The effect is bottom heavy, but I think with dark trousers – especially navy – a lighter shoe choice would be too much. It would draw the eye down and away from the top block. One of the cases where it would detract from the overall fit. Reviewing the tie and shirt choice, I think a less saturated blue shirt would have been better. Wearing this chambray introduced one too many layers of contrast. My initial thought had been to balance out the contrast, but I think a lighter shirt (even a white one) would have been more cohesive.
Navy and Tan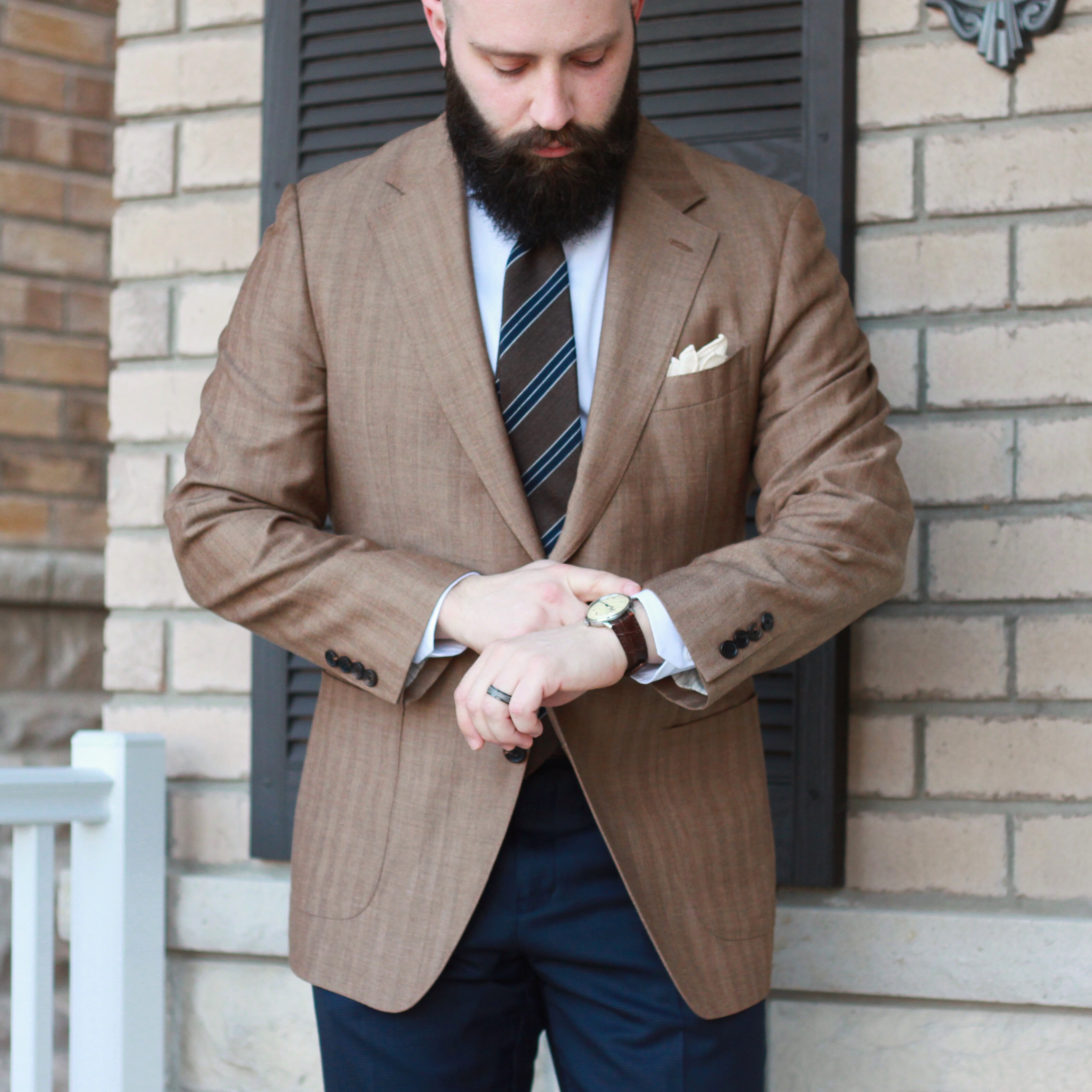 Brown and navy is another classic colour combination. In this case the tan herringbone jacket warms up the navy trousers, and seems to bring out more blue. Since there is a high level of contrast between trouser and jacket, I chose a darker tie and a white dress shirt. I think this is much more balanced than the approach of a more saturated shirt and lighter tie that I was going for in the second grey tweed/navy trouser combination above. This example might draw more attention with the choice of white dress shirt. Surely, a light blue dress shirt would be more "optimal"?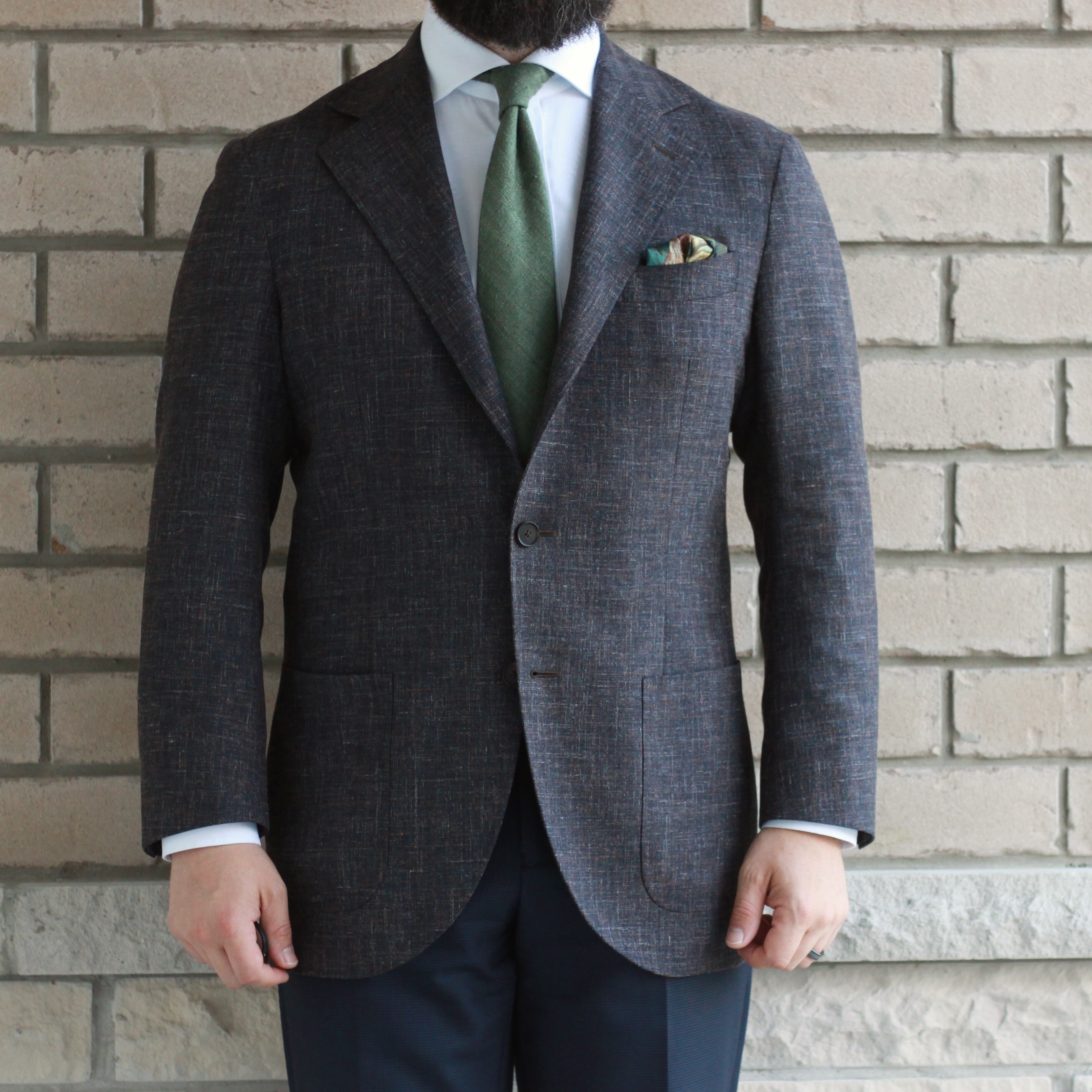 This is an example of where the navy trouser was not only non-optimal, but the wrong choice. There is not enough contrast for one, and the shade of brown is too greyish to pair well with the blue. Under the incandescent lights in my closet, it seemed to be ok. I knew it wouldn't provide much distinction between the top and bottom halves, but thought I would try it. The choice of a white dress shirt (again!) worked nicely in between the tie (chive matka, one of my favourites from Vanda) and the jacket. The Rampley & Co pocket square was a nice finishing touch.
Looking at these two combinations, I am seeing a gap in my sport coat collection. A mid-brown, maybe a tobacco shade, would split the difference between these two. Darker than the tan for a bit less contrast, and lighter than this dark brown VBC slub for a bit more contrast. I noticed that at the time of writing this, Spier & Mackay have at least one tobacco fresco jacket left in stock in my size… Hmm.
Navy and Green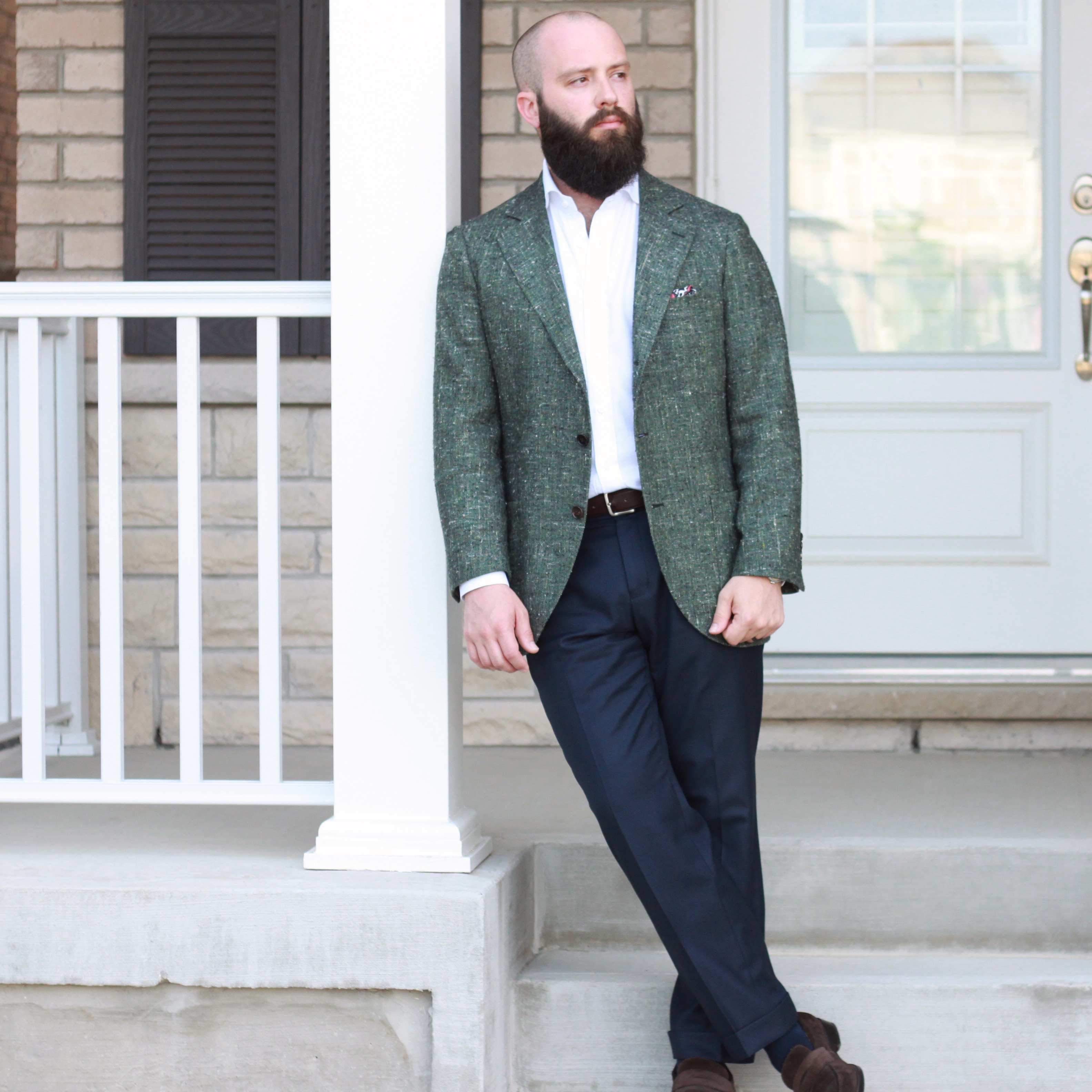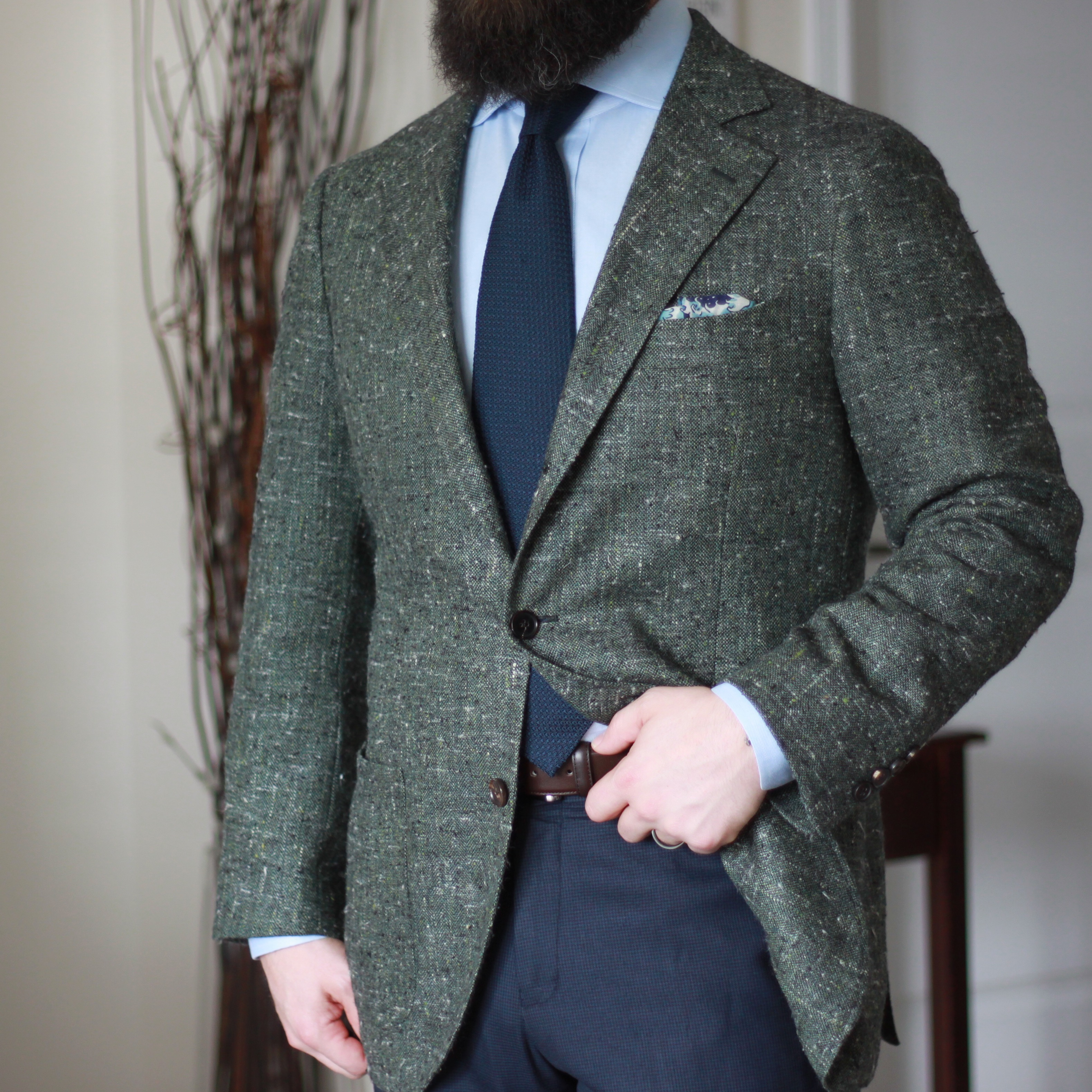 I really like this slubby green sport coat with the navy trousers. I think there is just enough contrast, and the tone and vibrancy of both pieces compliment each other. My choice of the navy grenadine tie might have been a bit much in the second one, but I liked the idea of everything in the outfit besides the sport coat to be blue. The thought being the green would be the standout piece. Overall, I think navy trousers are a great choice to pair with green.
Navy and Burgundy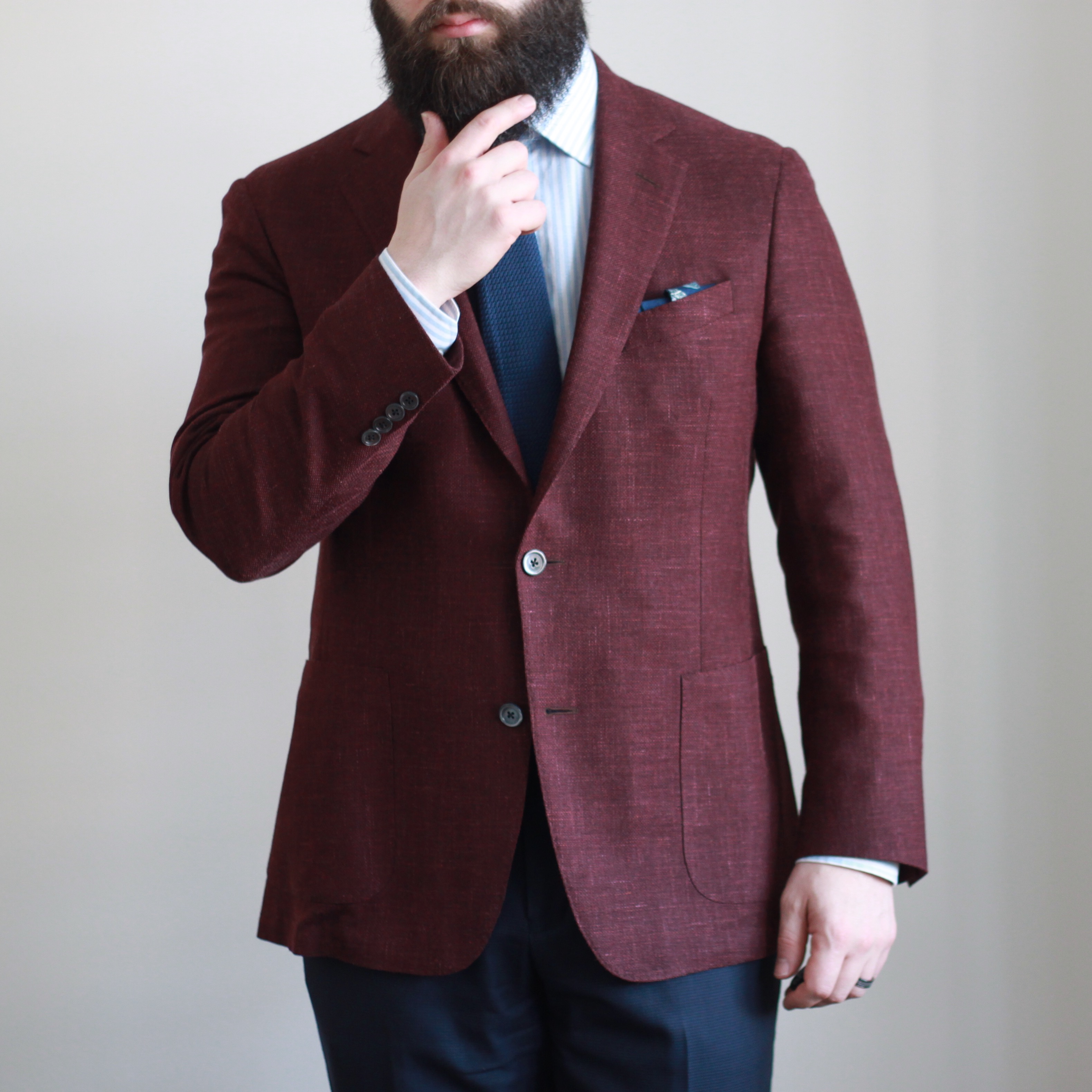 In this outfit I took the same approach as the second green jacket pic posted above. All blue – trousers, shirt, tie and pocket square. While the colours do work together, I think this outfit suffered from too much colour with too much saturation. This jacket is bold. I find that it pairs better with more neutral pieces to not over do it. With no neutrals in this combination, the effect is a bit cartoonish. For instance, the "optimal" choice would have been light- or mid-grey trousers. In that context, the top half – burgundy sport coat, light blue striped shirt and navy tie and pocket square – make a nicely balanced look.
Navy, Brown and Grey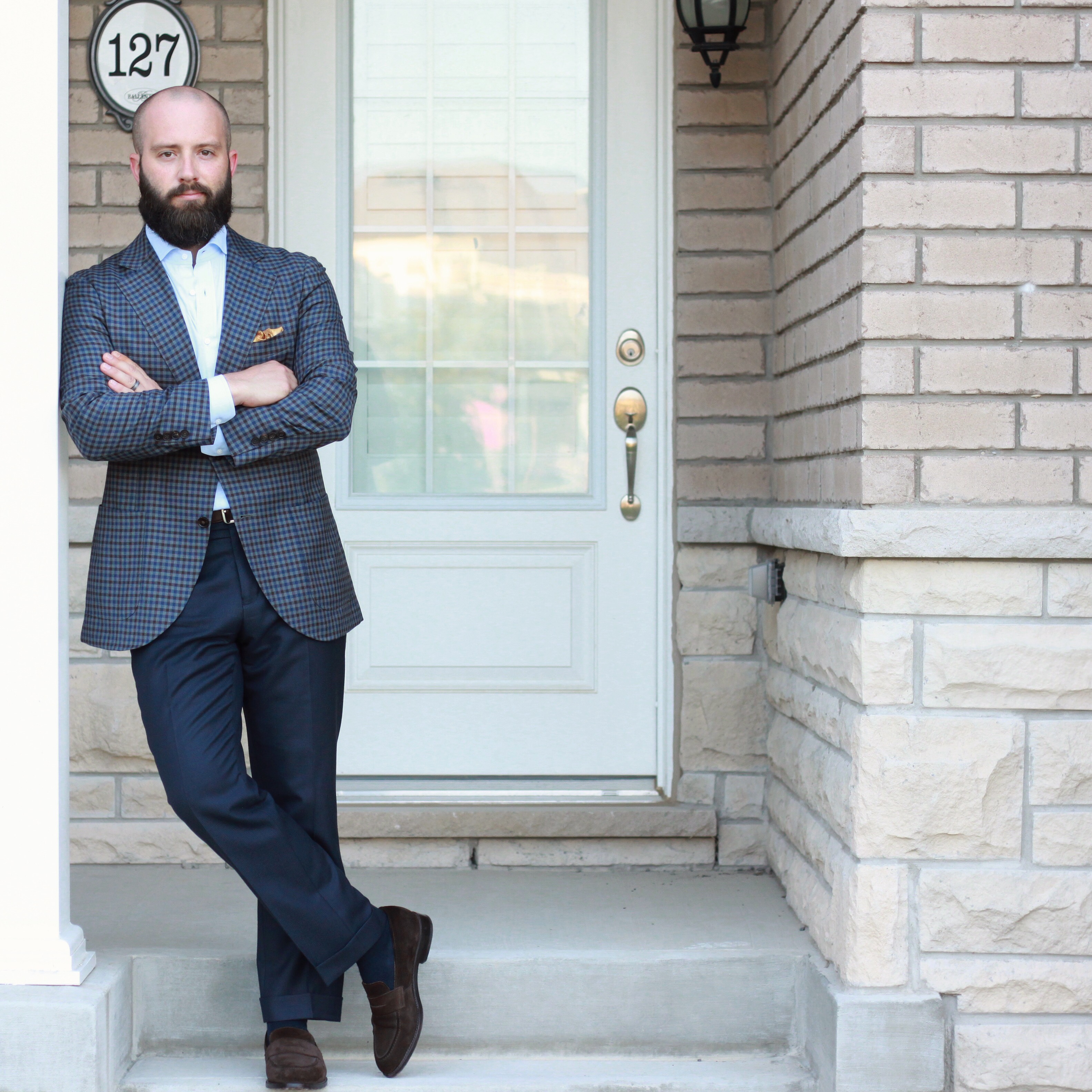 This pairing was an easy one. The jacket falls roughly in the middle of the spectrum from light to dark, and is comprised of a combination of blue, brown and grey. I frequently pair it with grey trousers, so wearing it with navy trousers was done with intention. I knew it would work in theory, but wanted to see it in practice. Slightly lighter shoes might have been a nice choice here – my Paul Evans NY loafers maybe. Either that, or a different pocket square. It is a bit of a beacon of light in the otherwise darker outfit.
Wearing Navy Trousers
If I have convinced you of anything, I hope it is that while they may not always be the "optimal" choice for an outfit, navy trousers are reasonably versatile (despite what you may have heard). I would say they have a place in a well-rounded wardrobe, behind a few shades of grey. Thanks for reading. For any questions or discussion, please leave a comment. All the best!
-Colin