Reviewed: Customization with the Spier and Mackay MTO Program
Reviewed: Customization with the Spier and Mackay MTO Program
A couple of months ago, Spier & Mackay launched their online MTO program for suits, sport coats, trousers and waistcoats. I wrote a bit of a walkthrough of the process to help explain what can and can't be done. When it launched, I placed an order for a sport coat and a pair of trousers, knowing that their off-the-rack fits me quite well: sport coats I really just need to shorten the sleeves, and for trousers I generally need to size up for thigh room, but then need the waist taken in. Add the cost of hemming the trousers, and the cost of MTO is almost equal to the cost of buying off-the-rack + alterations.
Here are my thoughts on the finished pieces…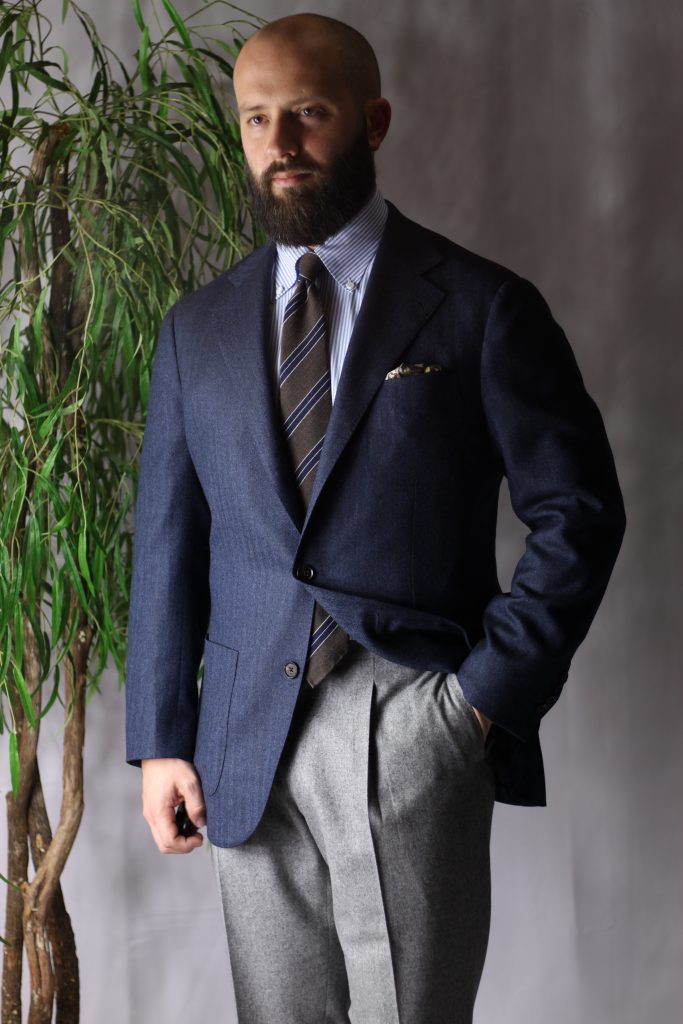 Spier and Mackay MTO Sport Coat
Fabric
For the sport coat, I wanted to go with a reasonably priced fabric for my first go around. Looking through the available options, I settled on this dark blue wool/cashmere herringbone fabric. Made by Dino Filarte, this was offered off-the-rack a few years ago, and I remember it having a really soft hand.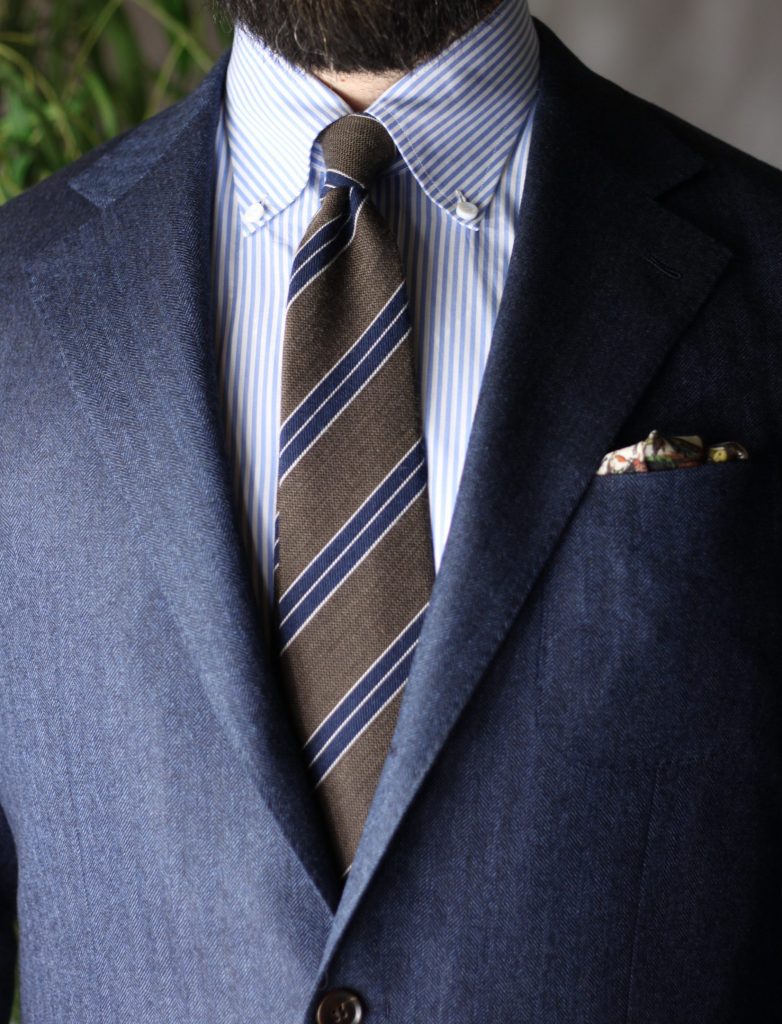 Design Configuration
Configuring a MTO jacket is a simple, step by step process with Spier and Mackay. First you choose the fabric, then the model, then the details. Having chosen my fabric, I went with the Neapolitan cut, which fits me really well. I decided to try a triple patch pocket configuration instead of the usual barchetta + patch combo. Full canvas seemed like a good option for only an extra +$150 CDN. 1/4 butterfly lining and functioning sleeve buttons finish off the configuration.
Sizing
Knowing how well Spier & Mackay's 42R contemporary fits me off-the-rack, I started there for sizing. Then, a couple small adjustments – adding 1/4″ to the shoulder, 1/2″ to the waist, and setting the sleeve length to where I need it. These small adjustments should help clean up this piece vs their standard fit.
Finished Product
Absolutely nailed it. The small adjustments to shoulder and waist really allow the jacket to drape well, as does the fully canvassed body. Enjoy some fit pics: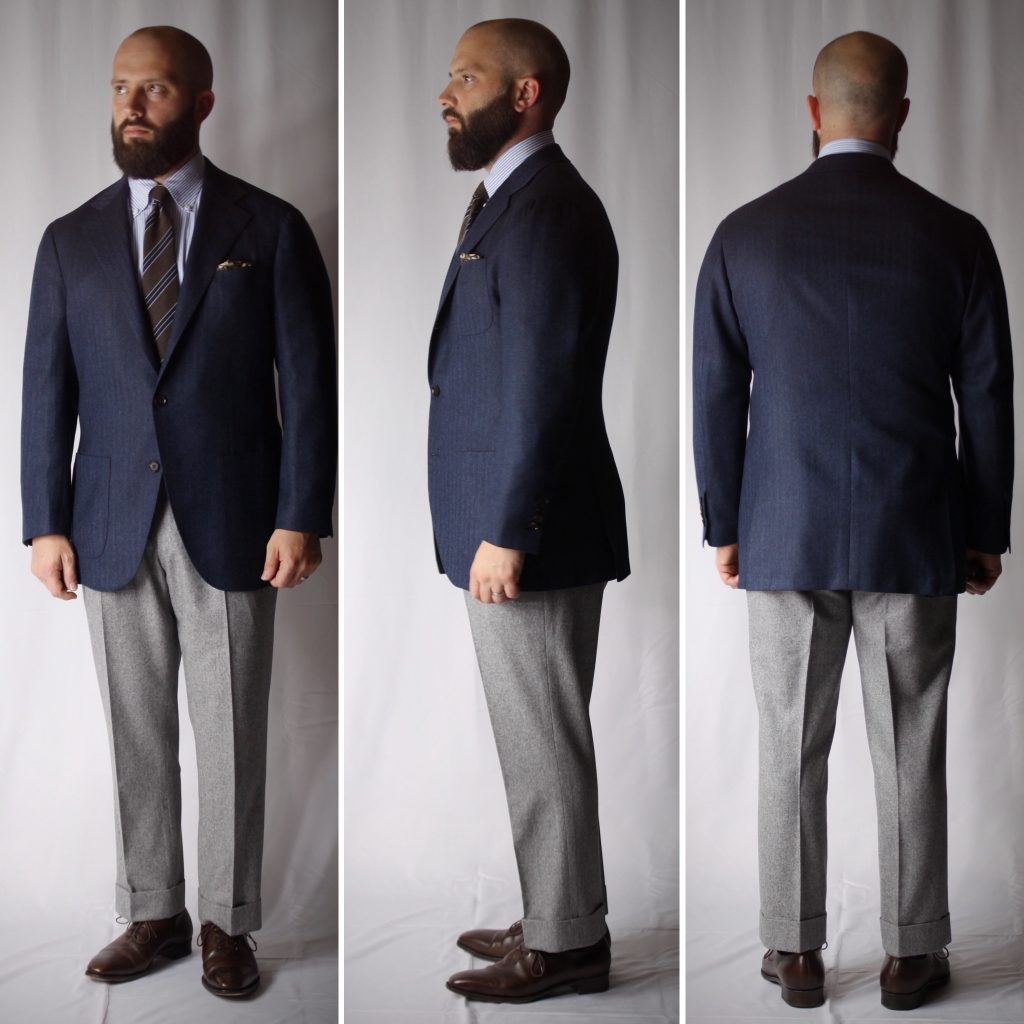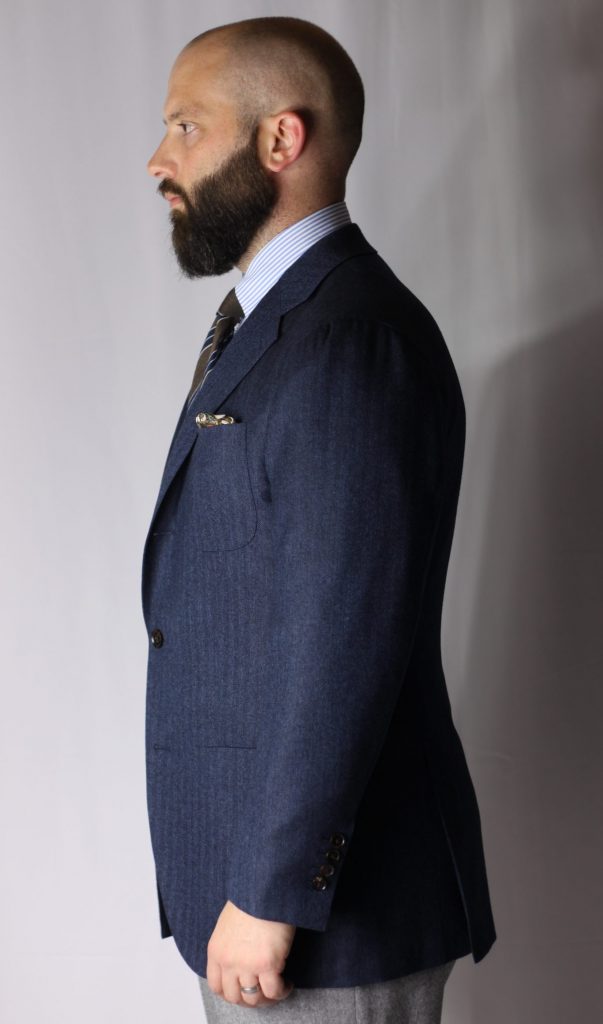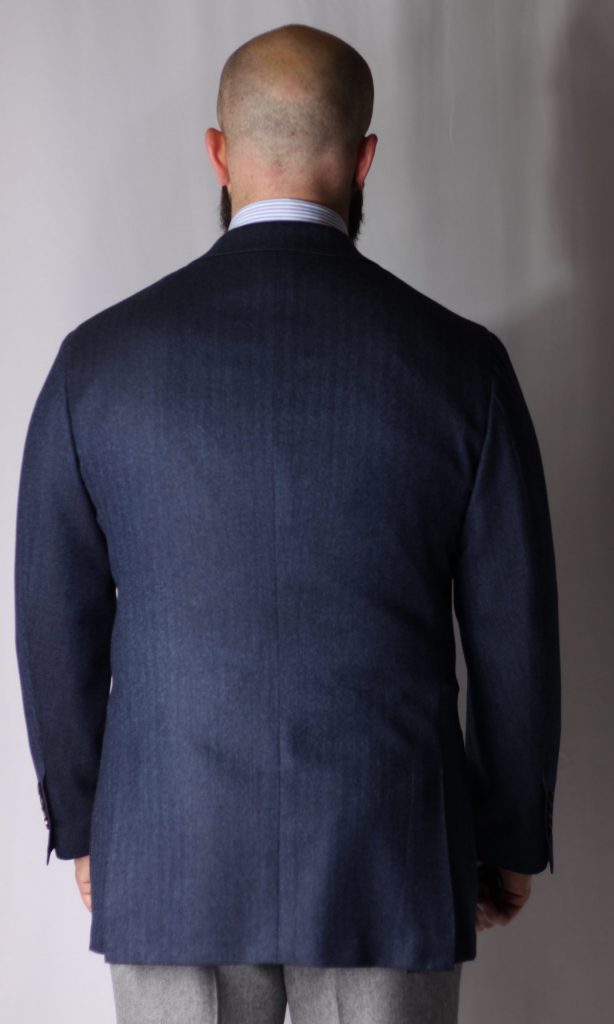 Spier and Mackay MTO Trousers
Fabric
Knowing the flannels from VBC are pretty legit, I went with the light grey option. Good base colour – not too warm or too cool in tone. Nice variation and heathering in the weave. I already own their medium grey and charcoal flannels, so it seemed right to complete the trifecta of grey trousers within the same fabric family.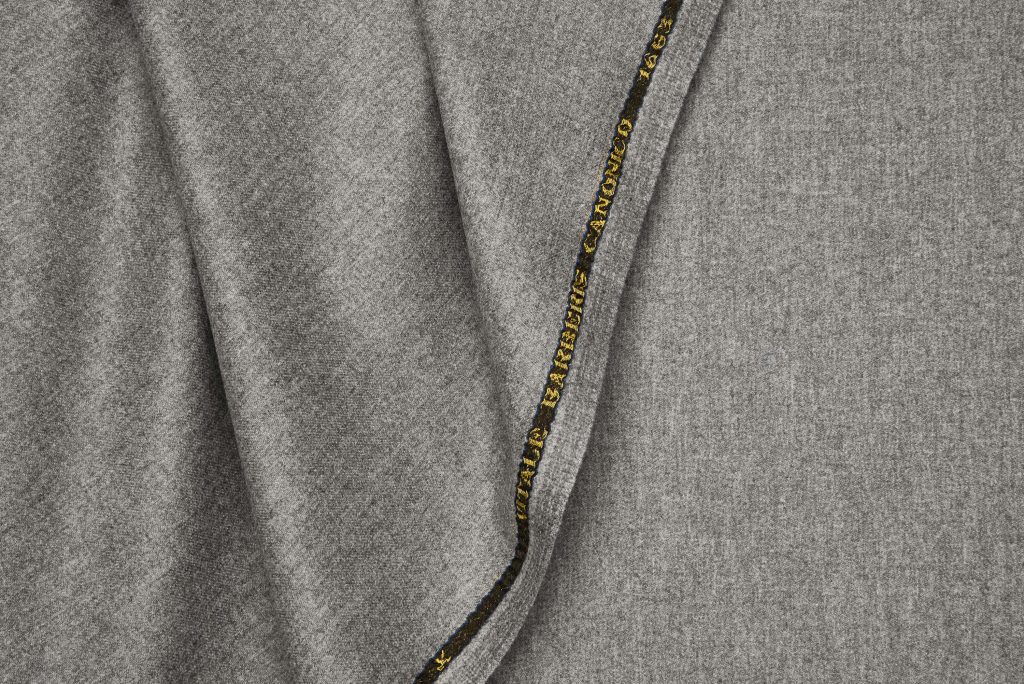 Design Configuration
High-waisted contemporary fit is where its at for me. For some, the off-the-rack fit isn't quite as "high rise" as people would like, I find that it allows me to wear my trousers at my natural waist. Taking this as a starting point, I went with a single reverse pleat, side adjusters and extended waist band. Final touch was to request 2″ cuffs.
Sizing
When shopping their ready to wear pieces, I usually size up to a 35 waist to get the hip and thigh room I need. When I do this, I either need to use the side adjusters to take in the waist as much as possible, or actually get them altered. I hoped to get the fit I need in the hips and thighs, and be able to wear the trousers on my waist without worry of them slipping down through the day.
For these, I actually started with a 36 contemporary as the base size. Then, reduced the waist, added 1.5″ to the hips, and 1″ to the thigh room, and set the inseam.
Finished Product
Not quite the success the jacket was, but with some small adjustments I think I will have my Spier and Mackay MTO trousers specs dialed in. I wish I'd adjusted the rise to be a little higher. After wearing them a few times now, I've noticed that if I wear them at my natural waist, they are quite *ahem* form fitting in the seat area. This is surprising to me, considering it's not an issue I have with off-the-rack trousers. I wondered if it is a by-product of how the pattern was adjusted to take the waist in, but I feel like that should have been more than offset by the hip adjustments. The inseam is a touch short, a number-entry mistake on my part.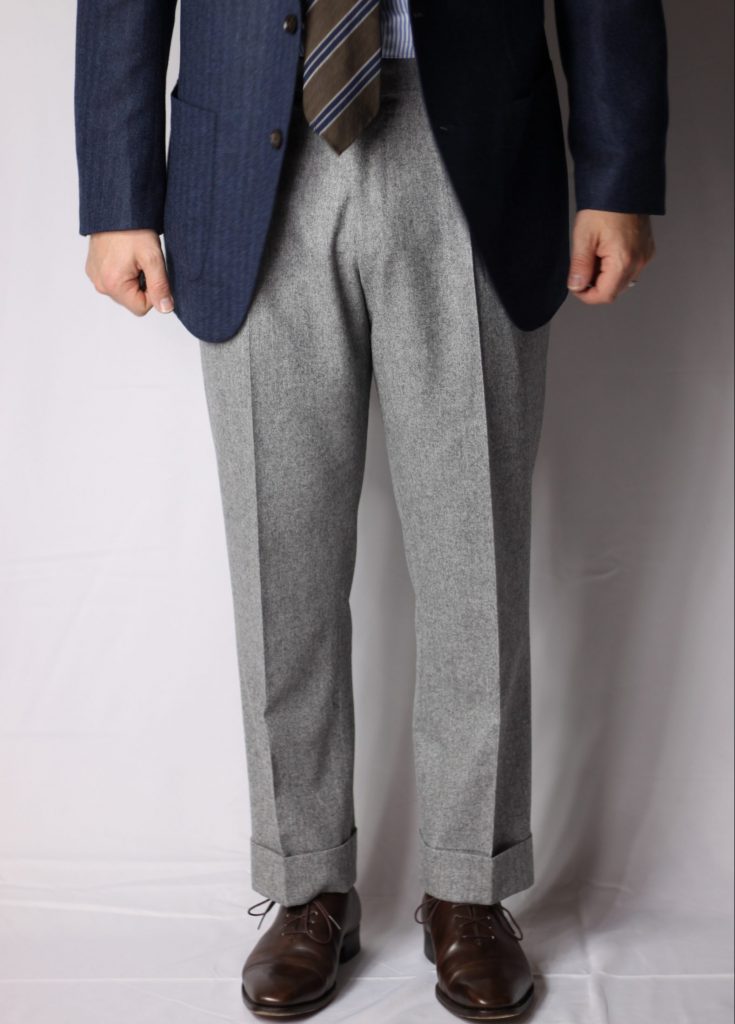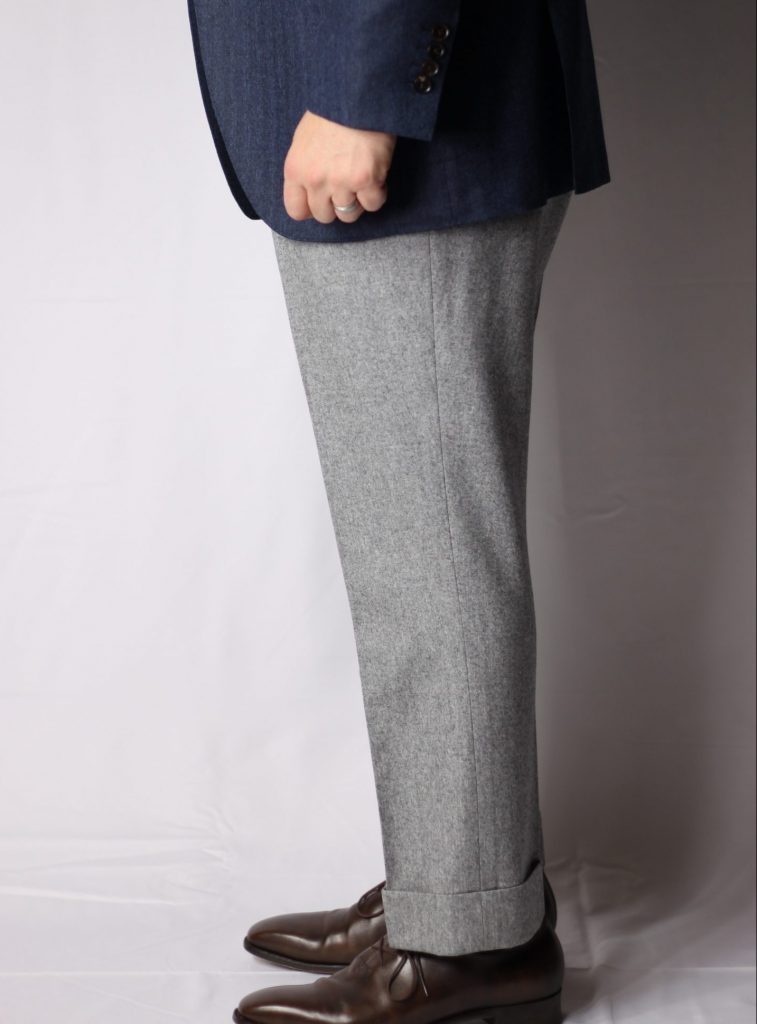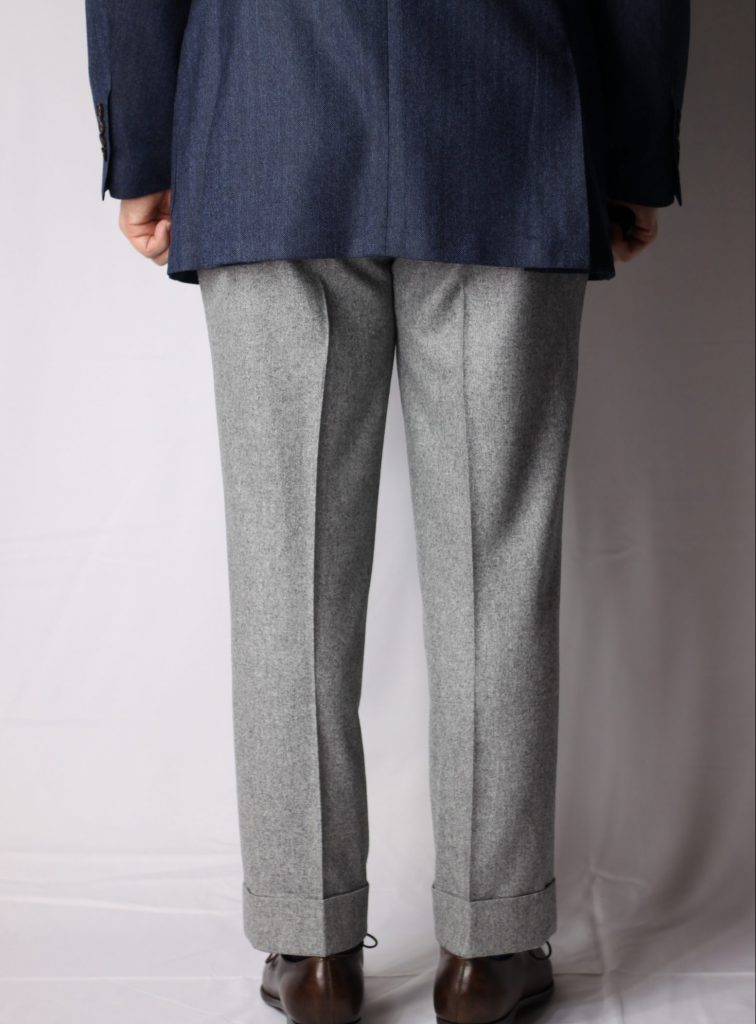 Final Thoughts
I am thrilled with the sport coat from Spier and Mackay MTO. It's exactly the outcome anyone would hope for. The trousers I'm less thrilled with, but you can't expect perfection on the first go around! I have some ideas of what adjustments I need to make on the next round which should improve the fit substantially. All in all, they are very comfortable and the way they drape is pretty decent.
If you're ready, here are the links to the Spier and Mackay MTO program:
I'm looking forward to my next project! Have you tried the Spier and Mackay MTO program? How did it work for you? Let me know.
-Colin
My Latest Spier and Mackay MTO Sport Coats
I've added two more sport coats to my collection using the MTO program. First one was a bit of a grail item for me, which was just about a year ago when Spier and Mackay collaborated with Derek from Die! Workwear to release a run of Summer Tweed (which is actually a slubby wool/silk blend).
Here are a couple shots:
The second sport coat I picked up was this great washed out gun check from Guabello. With this one, I decided to try Spier and Mackay's low gorge version of the Neapolitan cut. As of now (March 2021), this option still isn't a standalone sport coat configuration in the MTO section. So if you like it, simply put in the notes that you want the "low gorge" model. On this one, the gorge is lowered approx 5 cm, with a resulting adjustment to the breast pocket placement. I quite like how the fabric and lowered gorge work together on this one. Hoping for some warm weather to arrive so that I can break these bad boys out again!
There are some gorgeous new fabrics up from the likes of Marling & Evans, Lanificio Di Pray and Fox Brothers. Definitely worth a look. Please let me know if you have any questions about the Spier and Mackay MTO program. Having ordered a number of things now, I'd be happy to share any insights!
Custom Shirt Orders ONLY – if it's your first order from Spier and Mackay, use my referral code: 3QY9EP. It's good for 20% off, and nets me $20 towards my inevitable purchases.
-Colin