Reviewed: Spier and Mackay Suit Review – Plenty of Style and Quality
Reviewed: Spier and Mackay Suit Review – Plenty of Style and Quality
Me, Spier and Mackay
Before diving into my Spier and Mackay suit review – I'll start with an admission: They are the foundation of an awfully big portion of my wardrobe. I'm quite lucky that their clothing fits me pretty well off the rack – all I usually need to do is get the sleeves and pants hemmed. Even better for me is the fact that their suits are sold as separates, which means they can swap out the pants for the waist size I need. I wear a 42R jacket, and need a 33 waist pants. Not many places can accommodate a drop 9 size like that off the rack.
The first suit I bought from them was a light grey flannel, in what would later be labeled as their "Model 1" cut. Trendier slim lapels, and a higher buttoning point differentiates from the more recent "Model 2" cut. The fabric was decent, as was the price. As with the rest of my menswear learnings, Style Forum has played a huge part. Rick Khanna, the owner of Spier & Mackay, is active on the forum in his affiliate thread. Through this kind of engagement he's managed to cultivate a community of supporters and enthusiasts (I consider myself one) by seeking out feedback on existing products, and sharing some of his future product developments with us to make sure he's making what people are looking for.
Spier and Mackay Suit Review – Available Styles
They generally have two tiers of fabric offered:
standard fabrics (Dino Filarte provides the majority I believe)
premium fabrics (Guabello, Hardy Minnis, Fox Bros, etc are now available)
A selection of cuts or styles:
Standard
Neapolitan
Double breasted
Peak Lapel
English (new for 2021)
They also have some variations within these styles:
Standard with patch pockets
Neapolitan full canvas
Peak lapel tuxedo
Standard Suits
This cut is your basic, go-to, classically proportioned cut. Standard flap pockets, barchetta breast pocket (barchetta is apparently Italian for little boat; I read that on the internet and have not fact-checked, but it sounds good to me), and lapels that approach the centre point between collar and shoulder. Some variations include unpadded shoulders featuring spalla camicia – this is the shirring or bunching of the top of the sleeve head where it attaches to the body of the jacket. Some also include patch pockets. These slight changes allow the wearer to lean a litte more casual, and opens up the possibility to wear as separates. The lapels are the standard shape and size, and are scale in proportion to jacket size.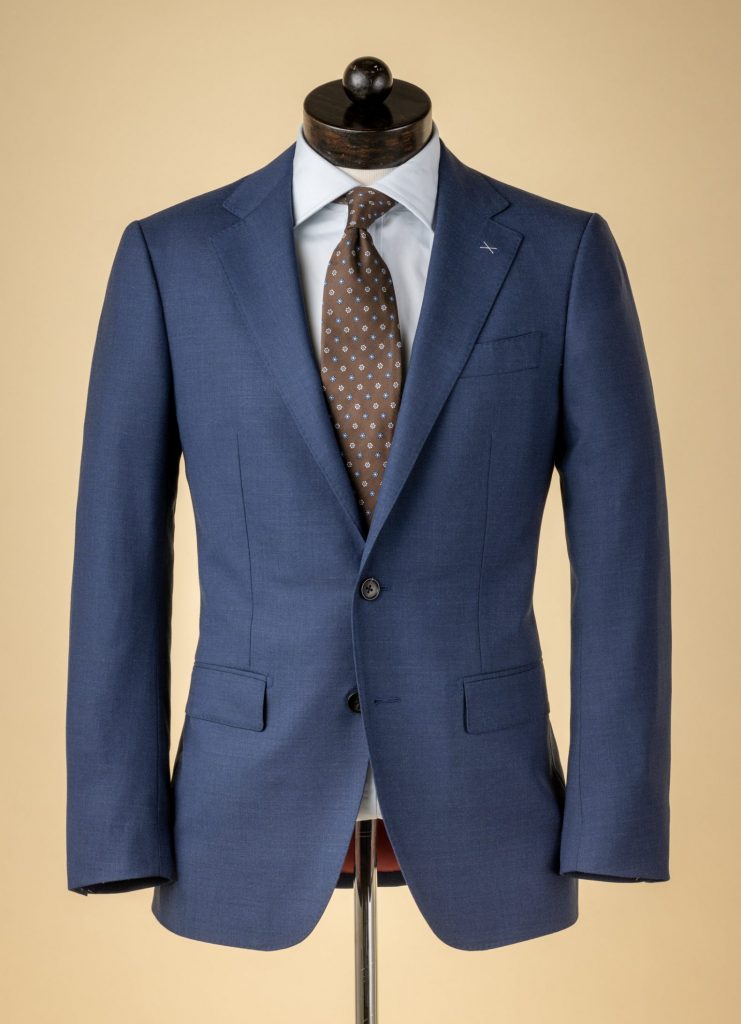 Neapolitan Suits
The latest versions of the Neapolitan cut have dialed in gorge placement and the shape of the lapels tweaked just a bit for a gentle curve. You'll notice the more open, rounded quarters and the wider lapels that have a very subtle negative belly (this refers to the slightly concave shape – as opposed to straight – that starts at the gorge and forms a fairly consistent curve down the lapel and through the quarters to the bottom of the jacket. These Neapolitan cuts often get to showcase to really cool fabrics.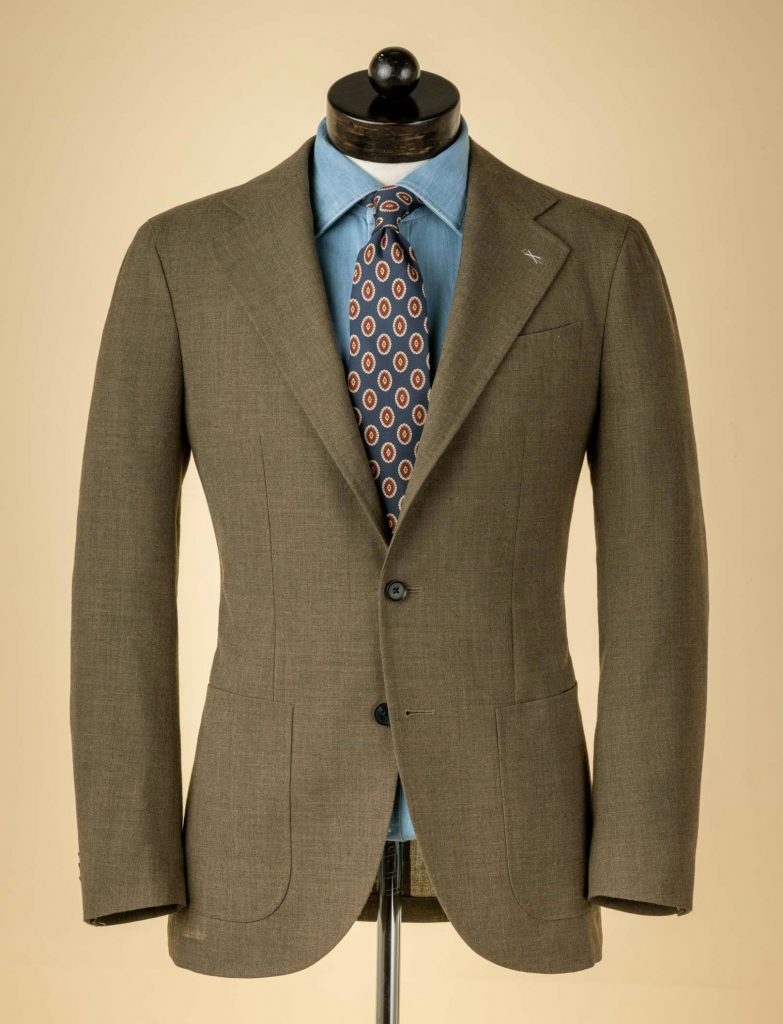 Double Breasted Suits
I'm on the fence about double breasted suits. Sometimes I like the look and think I should take the plunge, but other times I can't shake the feeling that it will feel like I'm putting on a bit of a costume. Spier and Mackay has done a nice job with their double breasted cut – well proportioned and shaped lapels being a key consideration. Done up as a 6×2 which means six buttons total, buttoning at the second row; these are as classic as it gets.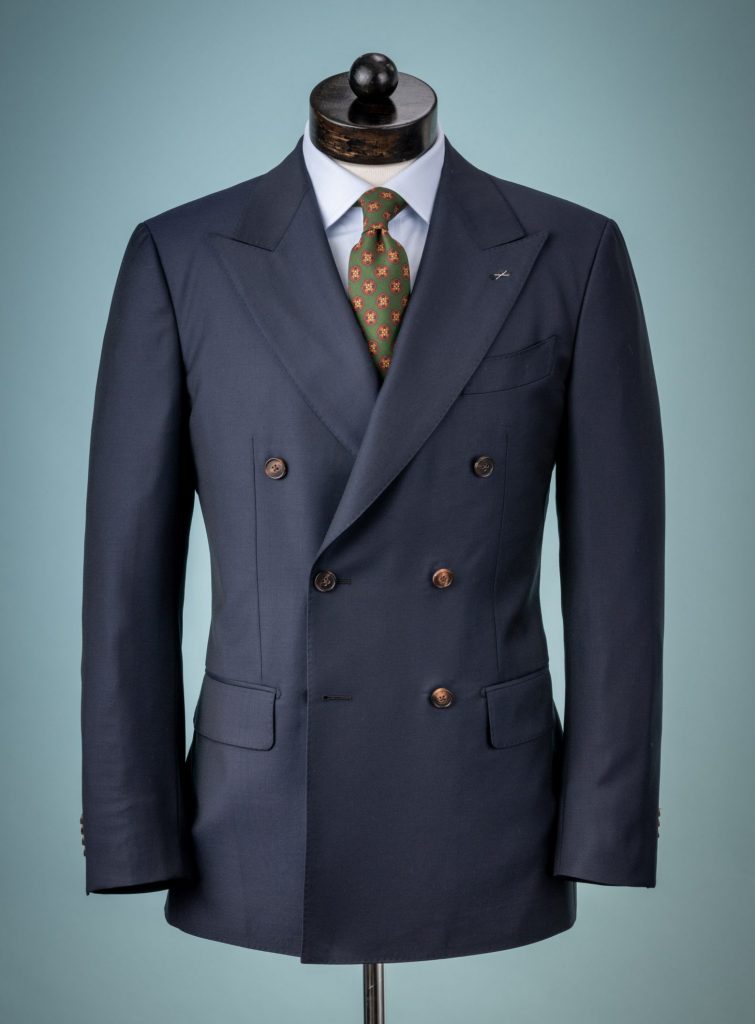 Full Canvas Suits
A year or so ago, Spier and Mackay added a pair of full canvas, off the rack suits to their lineup. Using some classic navy and grey worsted wool suiting from John Cavendish, they were produced in the ever-popular Neapolitan cut (the latest iteration, of course). Featuring a full floating canvas, and a Milanese button hole finished by hand and completely unfinished sleeves – should you want working cuffs – these suits are a cut above! The trousers came in their high rise cut, with a single reverse pleat. I don't own one of these suits (yet) but they will likely be what I replace my current navy suit with.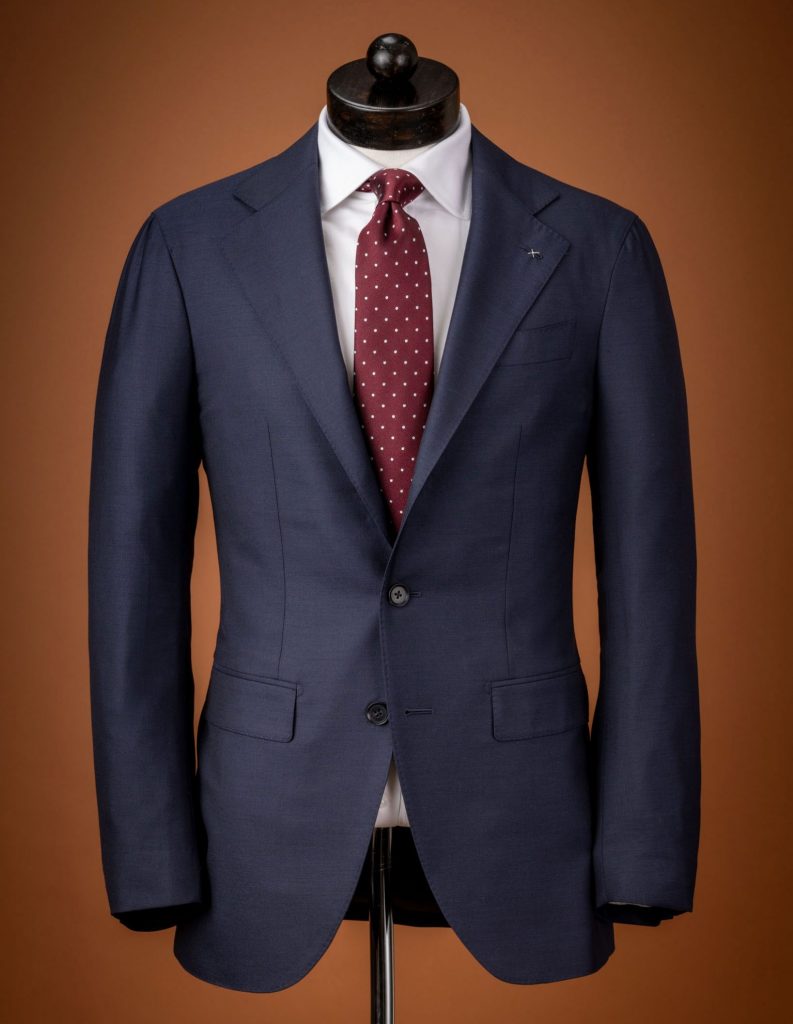 English Cut Suits
New for this year is an English inspired cut. An extra layer of canvas, nipped waist and roped shoulders. There's definitely been a market trend towards soft tailoring – lightly constructed, soft or unpadded shoulders. But for those that are seeking a more structured "suit of armor" style of suiting, Spier and Mackay now has you covered. These suits also feature open quarters and and slanted, flapped pockets; including a ticket pocket.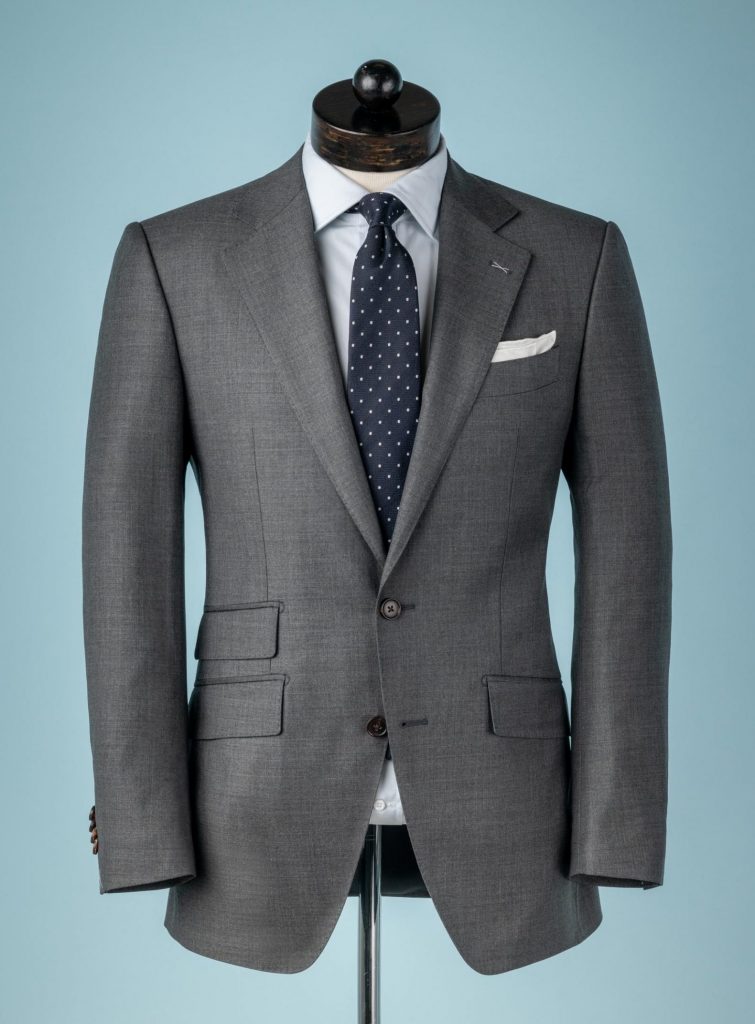 Peak Lapel Suits
Not for me these ones, but in the interest of a full Spier and Mackay suit review I'd better include them. Definitely a bold choice, these are not your usual anemic looking lapels. Broad, bellied and pointy, they will grab attention. The addition of the ticket pocket makes them too busy to my eye. But hey, you do you!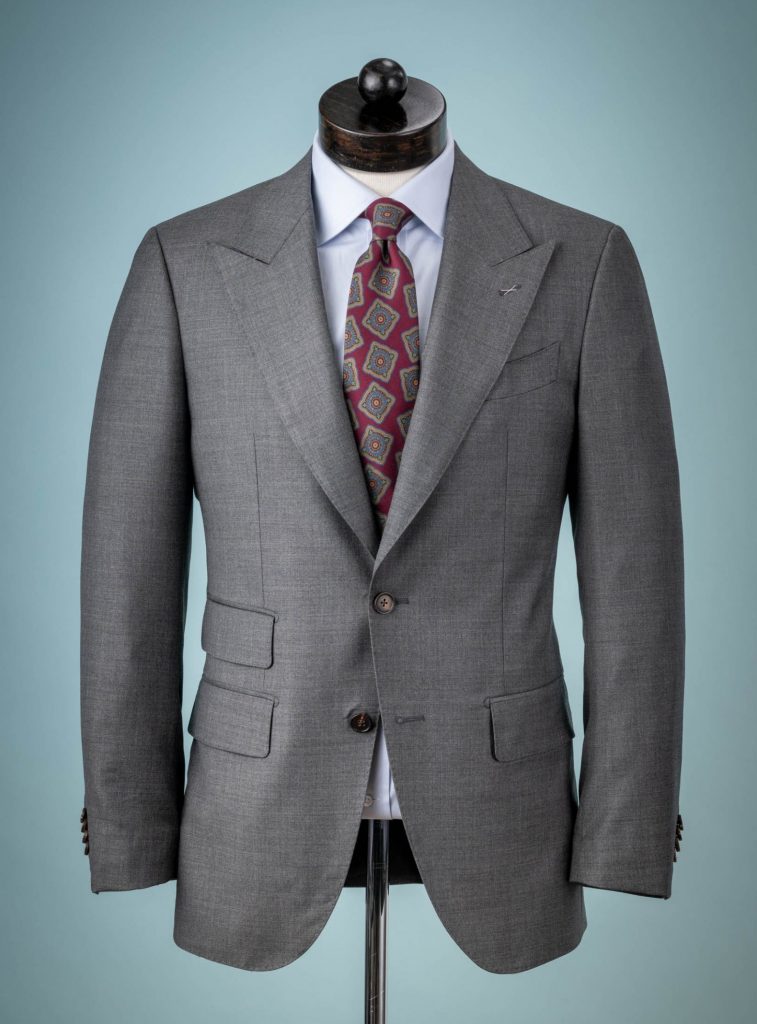 Spier and Mackay Suit Review – Fit Analysis
Standard Suits
Aside from the slight sleeve pitch issue that appeared in this picture (but doesn't show itself any other time) The fit is quite good. The sleeves are a little looser and the arm holes are a big bigger than I'd like, but as far as off the rack options – especially at this price point – I'm happy. You can see this jacket is a touch longer than the 42R sizes that I currently wear.
Looking at the unpadded jacket, for off the rack this fit is pretty decent. However, there is something about the shoulders than doesn't quite fit as well as the standard Model 2. My supposition is that the shape of the arm hole in conjunction with the lack of padding in the shoulders has created some slight divots at the top of each sleeve head. There is also a little bit of rippling at the right side of my chest (left side on the pic) that may or may not be due to how I was standing. For the picture, the jacket would have benefited from a tug on the lapels to seat it better on my neck/shoulders. It's extra apparent due to the pattern of the fabric as you can see the horizontal lines of the windowpane aren't quite parallel to the floor as they approach the button.
Neapolitan (version 1)
I find there are a couple of fit issues with this first version of the Neapolitan cut for me. The canvas that goes up through the shoulder causes some issues – you can see even more pronounced rippling in the right chest area, and seems to make the collar sit a bit weird on me. I find I have to really give the jacket a tug so that it sits properly. At some point I think I need to take it to my tailor to have the upper back opened up a bit, as this shape causes the lapels to bow slightly, and affects the jacket balance. You might be able to see that the darts don't lie perfectly perpendicular to the floor which ends up closing the lovely open quarters just a bit. I find the arm holes are noticeably larger on this cut than the other suits I own from Spier & Mackay. It's not as apparent with my arms down, but in movement it can create some signs of pulling elsewhere in the jacket.
Other Fit Notes
Manufacturing tolerances are tight, with about a cm of give vs the specs. I've seen some people frustrated with a perceived lack of consistency, and even some that expect an off the rack garment to fit them perfectly every time. Whenever you purchase ready to wear tailoring it should come with a reasonable expectation of some alterations required to get that perfect fit.
Spier and Mackay Suit Review – Quality
Spier & Mackay's sweet spot exists squarely in the realm of value. Solid overall construction. Classic, but not boxy cuts. A couple of styles to choose from. They have a great selection of core fabrics, as well as some less conservative patterns and textures. Recently, they've added a number of premium fabrics from mills like Vitale Barberis Canonico, Guabello, E. Thomas, and Abraham Moon & Sons. These suits have held up really well for me, some being 6 years old with near weekly wear. One suit had a button thread come loose, but I have no other complaints about quality. The pick stitching is clean and even, the lining is true bemberg, and I haven't noticed any other construction issues. I don't attribute the fit issues outlined above with poor construction, but more to do with them being earlier iterations. Since wearing a suit isn't as regular an occurrence for me any more, I can't comment on the most recent ones, but all of my sport coat purchases have been of excellent quality.
Final Thoughts on Spier and Mackay Suits
As I've mentioned elsewhere, these guys make up the majority of my closet. I'm not at a stage where I'm picky enough (affluent enough) to not wear these suits because of the minor fit issues. I do feel like their more recent sport coat offerings do fit me best, and fortunately for me that's what I wear most frequently. I'll post a similar review of those. I've heard really good things about their MTM services, and at some point will try that to address these things – especially as I really like the aesthetic of the Neapolitan cut, but there are a few fit issues with the v1 that would prevent my from buying that model off the rack again. I'm looking forward to the v3 coming which will be produced with slightly higher arm holes.
I would highly recommend Spier & Mackay. Beyond suits, they have sport coats, shirts (custom and off the rack), knitwear, dress pants, chinos, accessories and outerwear. This year should see them bring a new polo shirt and even some dress shoes! It's amazing what they've been able to accomplish in the last couple of years.
-Colin