Insights: My Wardrobe – Sport Coats
Insights: My Wardrobe – Sport Coats
My Wardrobe of Sport Coats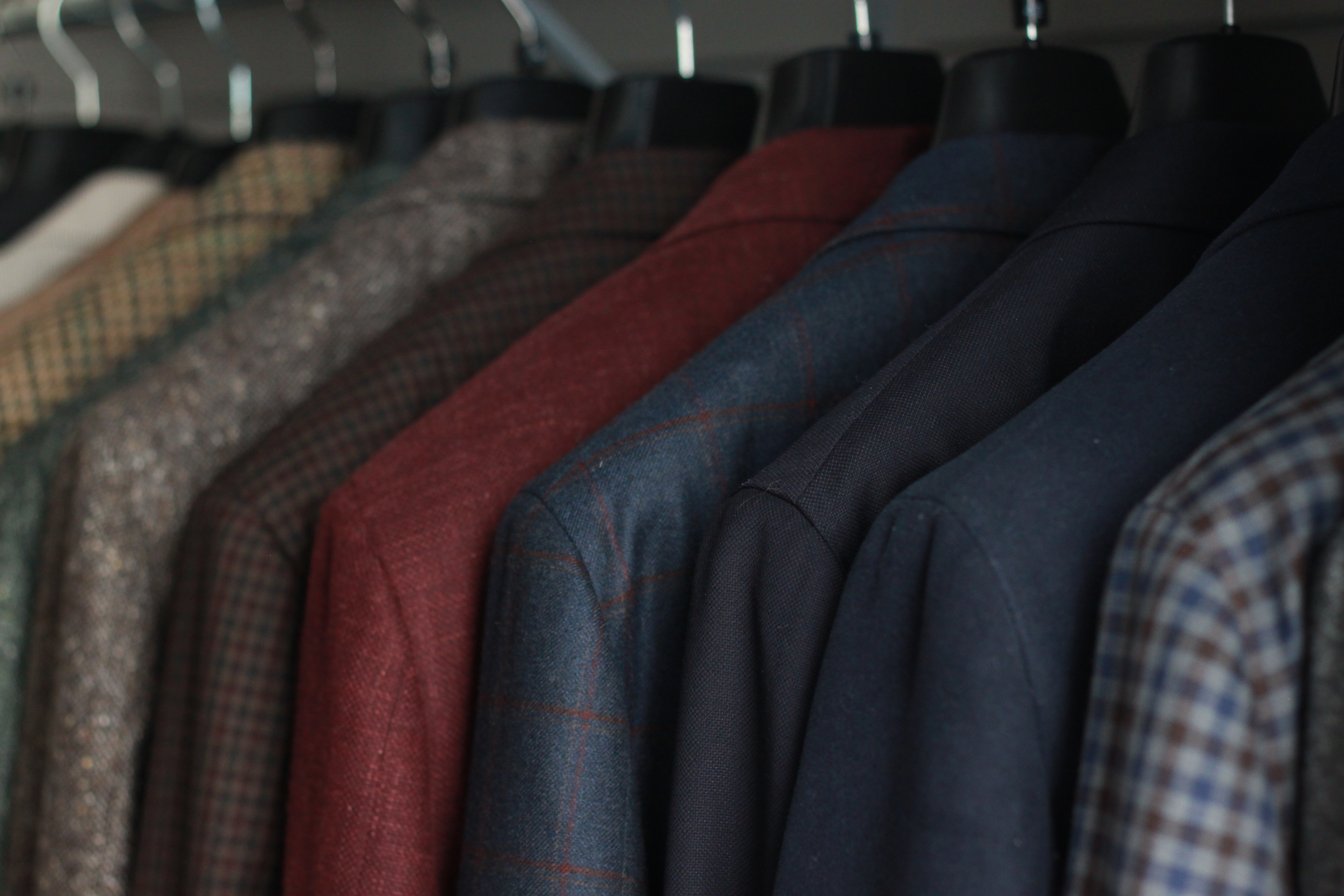 No longer needing to wear a suit regularly, I've been expanding my collection of sport coats. Currently in my closet is a baker's dozen of staple and reasonably versatile pieces. Despite my ever-growing wish list, I think before I make any more purchases I need to audit my closet. I've shared insights on putting together an outfit, pairing dress shirts (white, ecru), and what I think makes up a complete dress shirt collection. It's time to do the same for my sport coats.
Itemizing my Sport Coats
The picture above shows my arrangement. Here's a list of details from left to right:
Olive and cream striped – Pal Zileri
Tan herringbone – Spier & Mackay
Abraham Moon Shetland tweed check in oatmeal, green and brown – Spier & Mackay
E. Thomas green slub – Spier & Mackay
Fawn Donegal tweed – Spier & Mackay
Brown gun check – Spier & Mackay
Ermenegildo Zegna burgundy cross-ply – Samuelsohn
Blue windowpane – Spier & Mackay
Navy hopsack – Spier & Mackay
Brisbane Moss navy moleskin – Spier & Mackay
Angelico blue, brown and grey gun check – Spier & Mackay
Abraham Moon merino tweed in grey – Spier & Mackay
Abraham Moon twill tweed in charcoal – Brooks Brothers
Organizing my Sport Coats
Typing this all out, it's pretty clear where I go to get my fix for sport coats. I've written about why I like Spier & Mackay's so much, so let's have a look at the organization. Starting from the left, I've organized my sport coats by colour – looking first at the base and then at secondary elements. First up are the sport coats in tan colours. The bold Shetland tweed has browns and greens over an oatmeal base. This places it right of the lighter tan jackets, and the green overcheck puts it before the green slub. Moving from there to the fawn Donegal was a bit more arbitrary, but also natural. The brown gun check has burgundy in the pattern, so it sits between the Donegal and the burgundy jacket from Samuelsohn. The blue windowpane also has burgundy in the check, so it became the bridge into the blue section. A couple of plain navy sport coats, and we arrive at the Angelico checked jacket with a grey base and blue and brown pattern. Finally, we arrive at my solid grey and charcoal tweed jackets.
What I like about this arrangement is that not only is my collection sorted by colour, but also from lighter to darker sport coats!
Sport Coat Seasonality
Someday I will have a fully stocked, seasonally appropriate collection of sport coats. Today is not that day. If I were to break out the sport coats by season, I have: 3 spring/summer, 6 fall/winter, and 4 all-season. Lets have a look. In the photos below, I started with a set each of spring/summer and fall/winter sport coats, but then ended up with a couple sets of the jackets basically in order of hanging.
Spring/Summer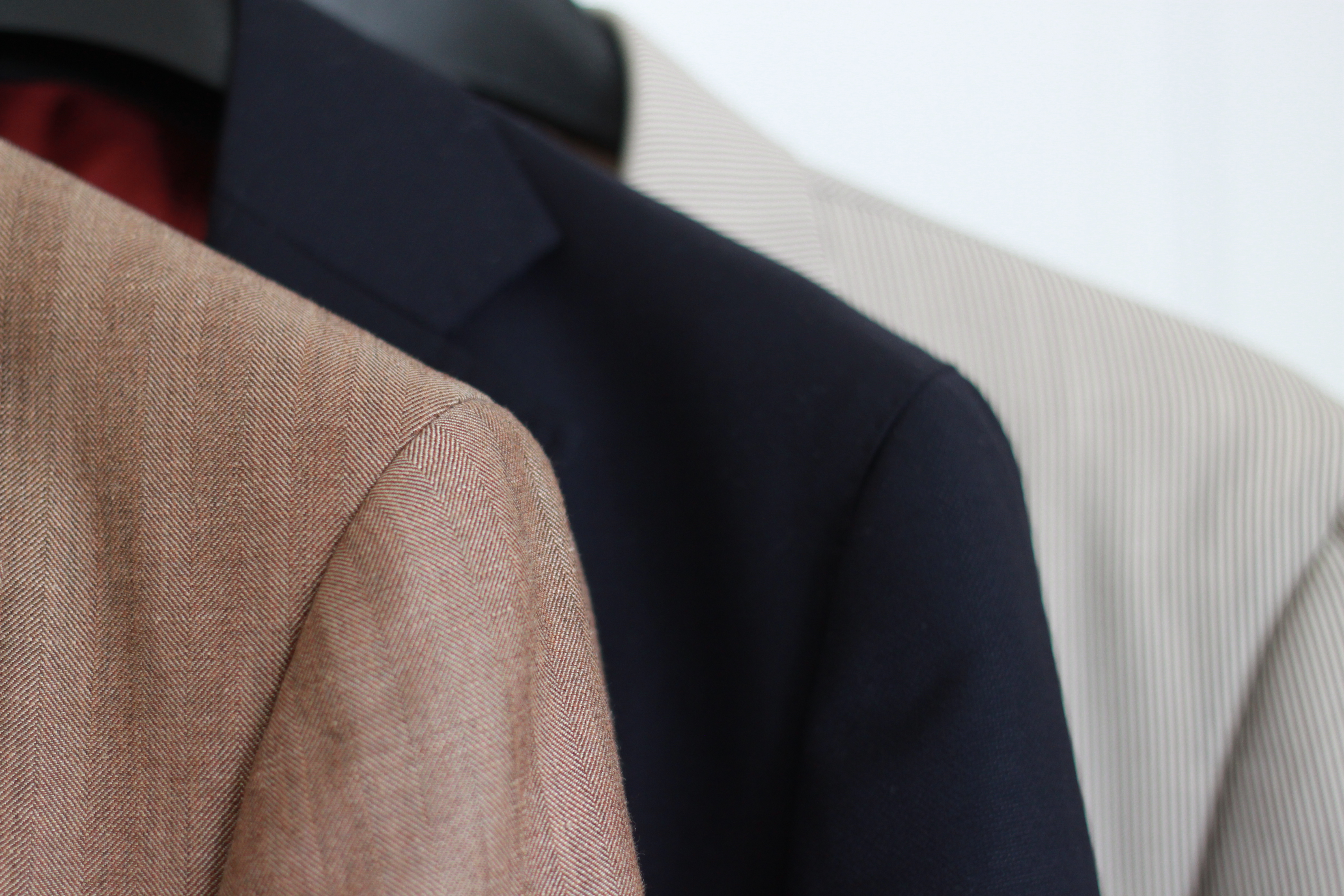 Dedicated spring and summer wearing sport coats are the weakest part of my collection. Technically, my Pal Zileri olive/cream stripe and the tan herringbone and navy hopsack from Spier & Mackay are the only three I own. A number of the other sport coats in my wardrobe are light weight fabric and unlined and see year-round use. However, most are fall/winter in terms of colour. I've got the brown gun check, burgundy cross-ply and the grey, brown and blue Angelico gun check that all fall into this category. The green slub probably falls into this area too, but it definitely leans more fall/winter in texture as well. The fabric is soft and fuzzy – a wool, silk and cashmere blend from E. Thomas.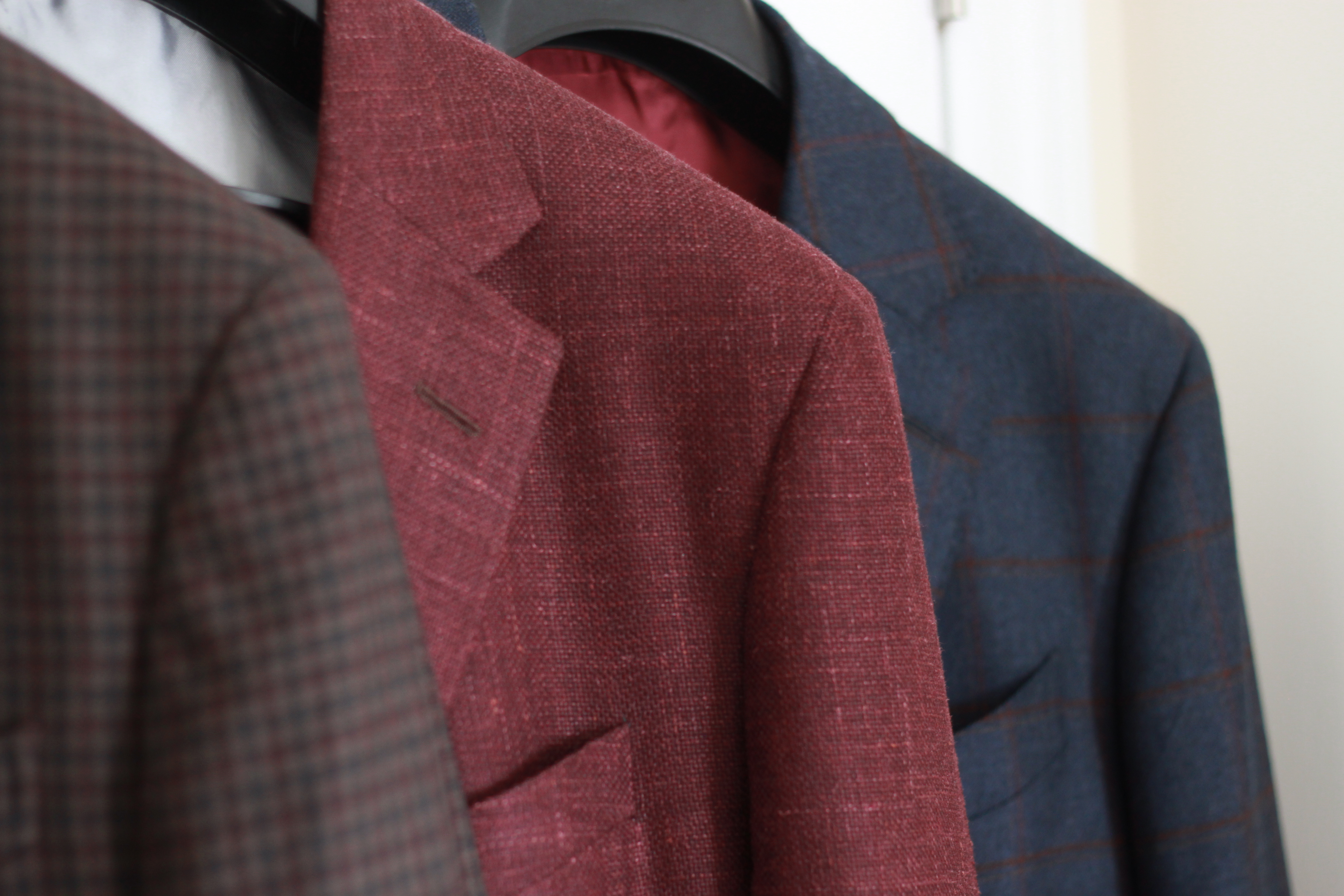 Fall/Winter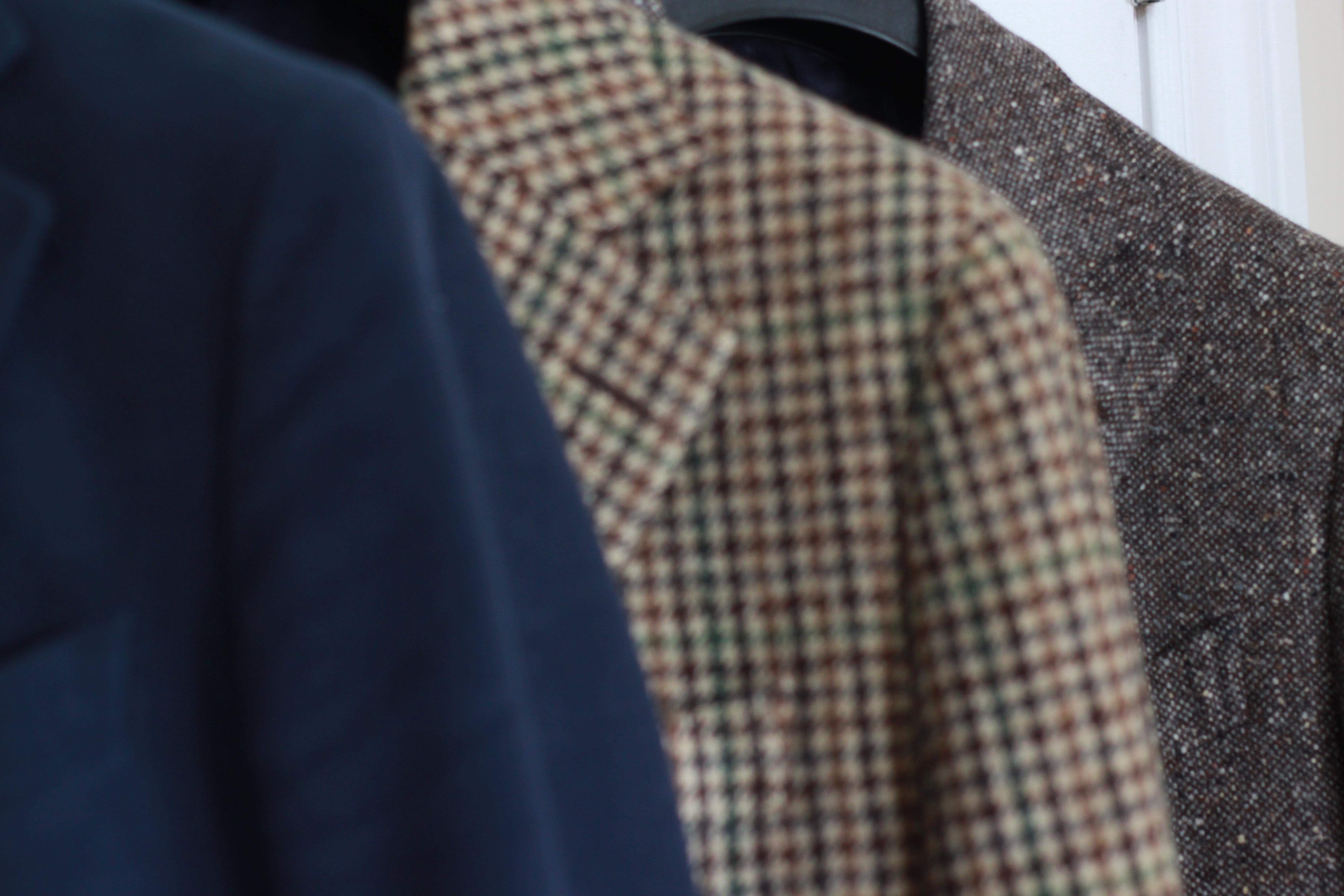 During the fall and winter months, I find that I will wear pretty much anything in my closet. The lighter, unlined jackets can be worn over layering pieces like sweaters and cardigans. I also make good use of my brushed oxford cloth button down shirts that wear a bit warmer. I am pretty happy with my selection of fall/winter specific sport coats. The checked Shetland and fawn Donegal are my heavy hitters. Then, I've got a medium grey merino tweed, and a mid-weight charcoal tweed. My blue windowpane is a favourite, featuring a red, rust and gold pattern in a wool and cashmere blend fabric. Rounding out the warm stuff is a staple, seasonally appropriate navy sport coat in wonderfully soft moleskin fabric.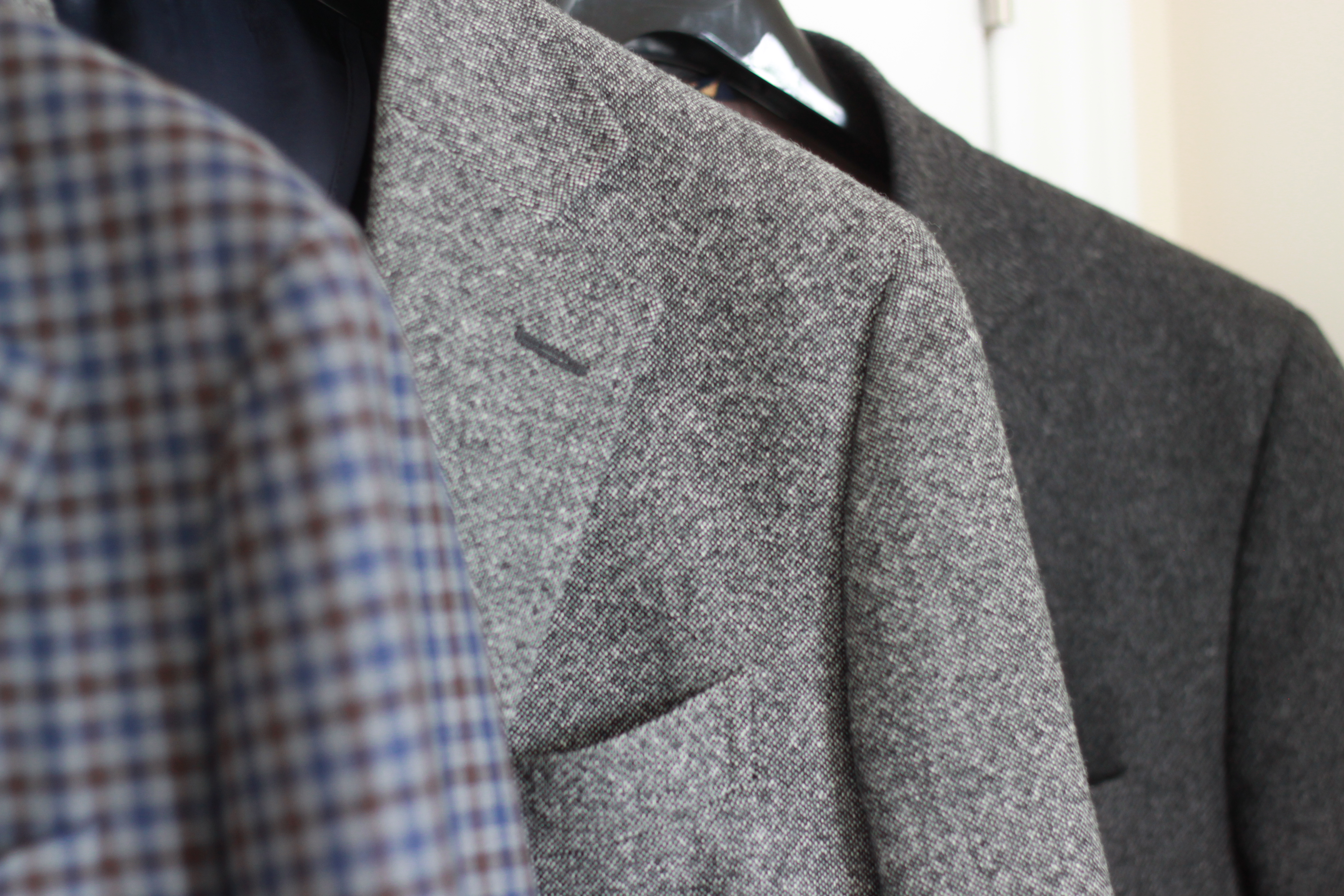 Colour and Pattern Analysis
Colour
Next, let's group by colour – and we'll go with the predominant colour, or what the jacket resolves to at a distance – to further catalogue my collection. Remember, I want some information to help me plan my next purchases.
Tan – 3 sport coats

olive/cream stripe, tan herringbone, Shetland tweed

Brown – 2 sport coats
Green – 1 sport coat

green wool/silk/cashmere slub

Burgundy – 1 sport coat

burgundy cross-ply linen blend

Blue – 3 sport coats

moleskin, hopsack, windowpane

Grey – 3 sport coats

guncheck, merino tweed, charcoal tweed
Patterns and Textures
At a high level, blue and brown are under-represented. I think that at this point, these are the colours I should be focusing on for my next purchases. Next, I'd like to look at textures and patterns.
Guncheck – 3 sport coats

Shetland tweed, brown guncheck, grey guncheck

Windowpane – 1 sport coat
Stripes – 1 sport coat
Solid (textured) – 5 sport coats

tan herringbone, green slub, Donegal, burgundy cross-ply, grey merino tweed

Solid (plain) – 3 sport coats

navy hopsack, navy moleskin, charcoal tweed
I've made some arbitrary assignments for these groups. For example, I didn't count the moleskin jacket as textured, even though moleskin has a wonderful texture. It just appears soft and smooth. Same with the hopsack. For it to count as textured, the fabric needs visual heft. Look at the close-up of the burgundy cross-ply or Donegal tweed as examples. The grey merino tweed counted as textured, although it is relatively smooth for tweed there is a lot of variation to it and it never truly resolves to a solid at a distance.
It's safe to say that solids (and textured solids) represent a large portion of my collection of sport coats. Based on the sample size, I have enough guncheck patterns. I like these patterns as they have a smaller scale, and are a pretty classic for sport coats. Windowpane is maybe under-represented as well. However, as nice as it is, there is a family of checked patterns totally missing from my collection of sport coats…
I need some plaid in my life...
Finding the right plaid pattern might be a challenge. I'm looking for something in a larger scale since I have a few smaller scale check patterns already. Here are a couple of shots from Instagram that give a general idea of what I'm looking for. I realize these are all fall/winter fabrics – its more the colour and scale of the pattern that I'm interested in. Also, I've narrowed it down to something in brown and/or blue, as those colours are both under-represented in my collection of sport coats.
I know Spier & Mackay have a couple of checked fabrics coming for spring/summer featuring fabrics from E. Thomas in their awesome Neapolitan cut. Maybe one of them will fit the bill?
What are your thoughts? Any fabric suggestions? Let me know!
-Colin