Inspiration: Photography for Instagram
Inspiration: Photography for Instagram
Instagram Photography
How many ways can you pose when taking #menswear photography for Instagram? I'm not sure, but there are definitely some different approaches:
full shots
3/4 shots
cropped shots
shoe shots
flat lay shots
Then within each of these are lots of variations if you're willing to have a little fun with it.
Photography Equipment
I shoot with a Canon T3i, and a 5omm lens. I like this setup, as the lens is closest to the human eye and doesn't have much distortion around the edge of the frame. A professional I am not. Learning about f-stop, ISO, shutter speed and the meaning of the settings beyond "Auto" has really helped improve the quality of the pictures. Sometimes, it's still a bit of trial and error to get it right, but a better understanding of the relationship between these settings is developing, if slowly. Photography is a fun little hobby.
Occasionally, you might see an Instagram story that uses my iPhone camera. In my feed, you won't. As good as iPhone cameras are becoming, next to images shot with my Canon + 50mm lens they look out of place. I've invested in a decent tripod and remote for the Canon, which is how I accomplish 99% of my photography. A little bit of tinkering with the settings, snap some shots, and then I'm off (usually to work). It's a mix of auto-focus and manual focus. If I'm looking for a variety of shots – up close textures, 3/4 and full shots, I'll use auto-focus. When I have a specific shot in mind, I'll sometimes use something as a stand-in to focus on manually, or get it close with auto-focus and tweak from there.
Full Shots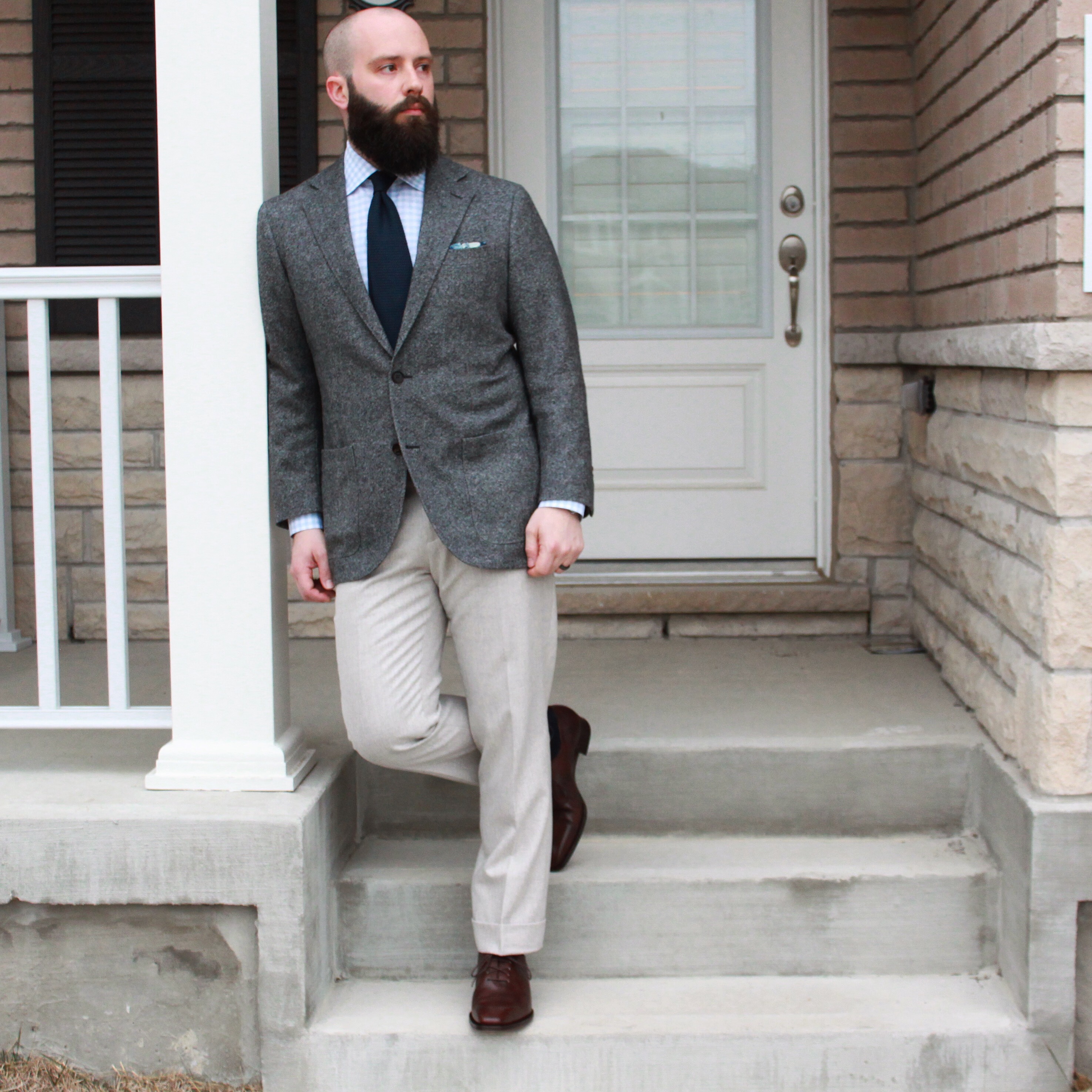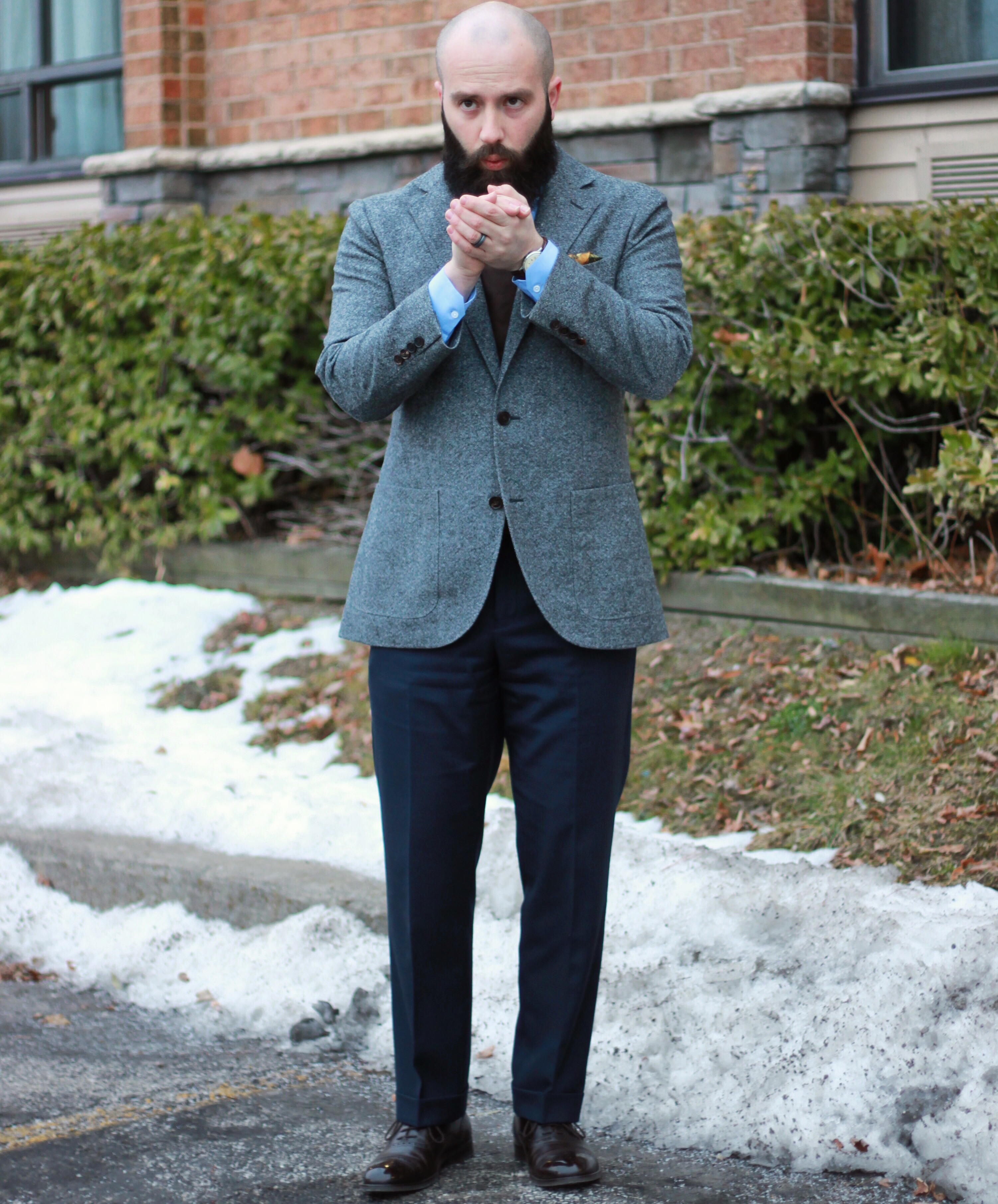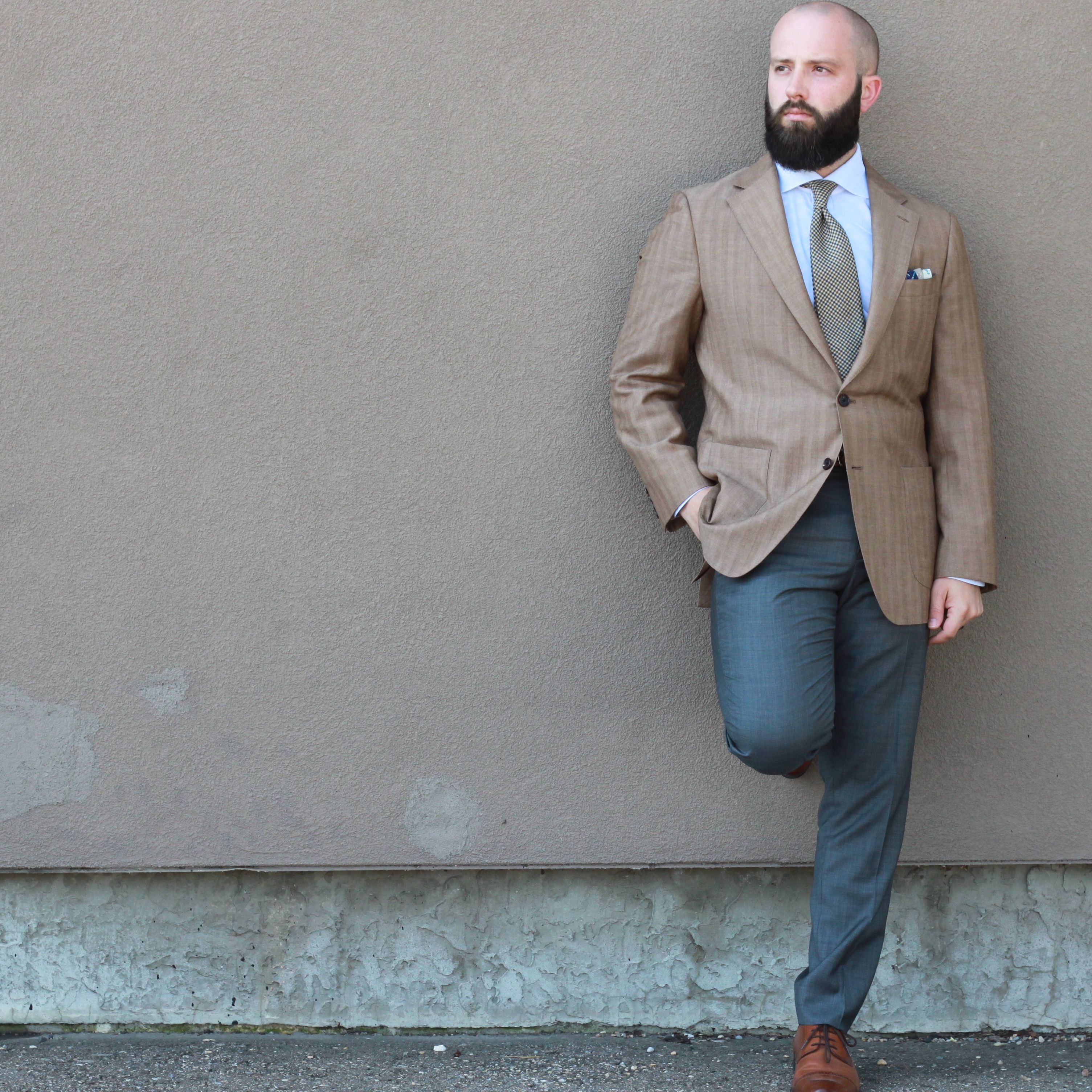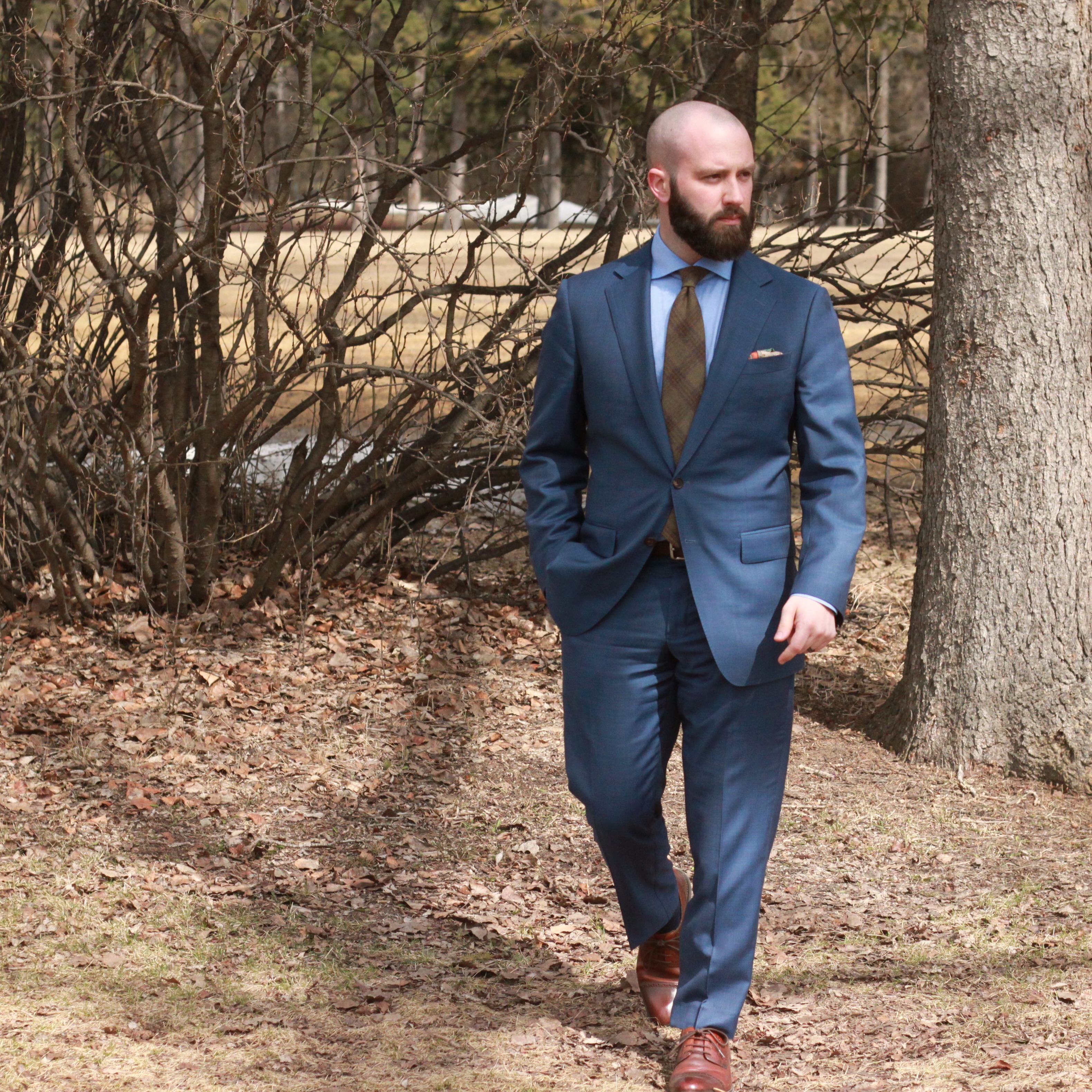 I don't shoot full shots all that often. Usually I am time constrained to get it done and head to work. Full shots are more challenging to get all the settings right. This kind of photography really needs a person behind the camera to work well. Another reason I rarely do a full shot is that I usually take my pictures in the morning before I go to work. I'm not at a point where it's reasonable to go scout a location to do a shoot. I think with full shot photography like this, you have a lot more to consider regarding composition.
For instance, I think the pose is ok in the first photo – you get a good sense of the textures and how everything drapes. But it wasn't perfectly in focus, and my front porch isn't all that interesting of a backdrop. The second photograph was pretty good, managed a nice depth of field, texture of the clothing is clearly represented and in focus, and the backdrop is visually interesting. White balance might have been off a touch. I like the third photo. Composition on this one is more interesting – blank, textured wall and me off to the right. Shame the wall isn't a different colour, as there isn't much contrast with the jacket. The last one I'm off centre again, and the trees in the park made for a nice environment. Photography in direct sunlight is a bit tricky, and I try to avoid it where I can.
3/4 Shots
For the purpose of this article, I'm defining 3/4 shots as basically anything from the knees up. Sometimes I will include my head, but most often I don't. After a while, I got pretty tired of doing the same old pose in my photography. I think it is important to have a little fun with it. There's no reason to take it to seriously – I mean it is posting photography of my clothes on the internet… I touched on this in my #menswear post a while ago.
If you're feeling the same, here are some ideas for you:
Oh, come on...
I think the first one, "Oh, come on…" is a great pose for me as my beard isn't obscuring the beautiful collar roll on the OCBD from Spier & Mackay. It's also contextually appropriate as it was taken during the first real snow of last winter.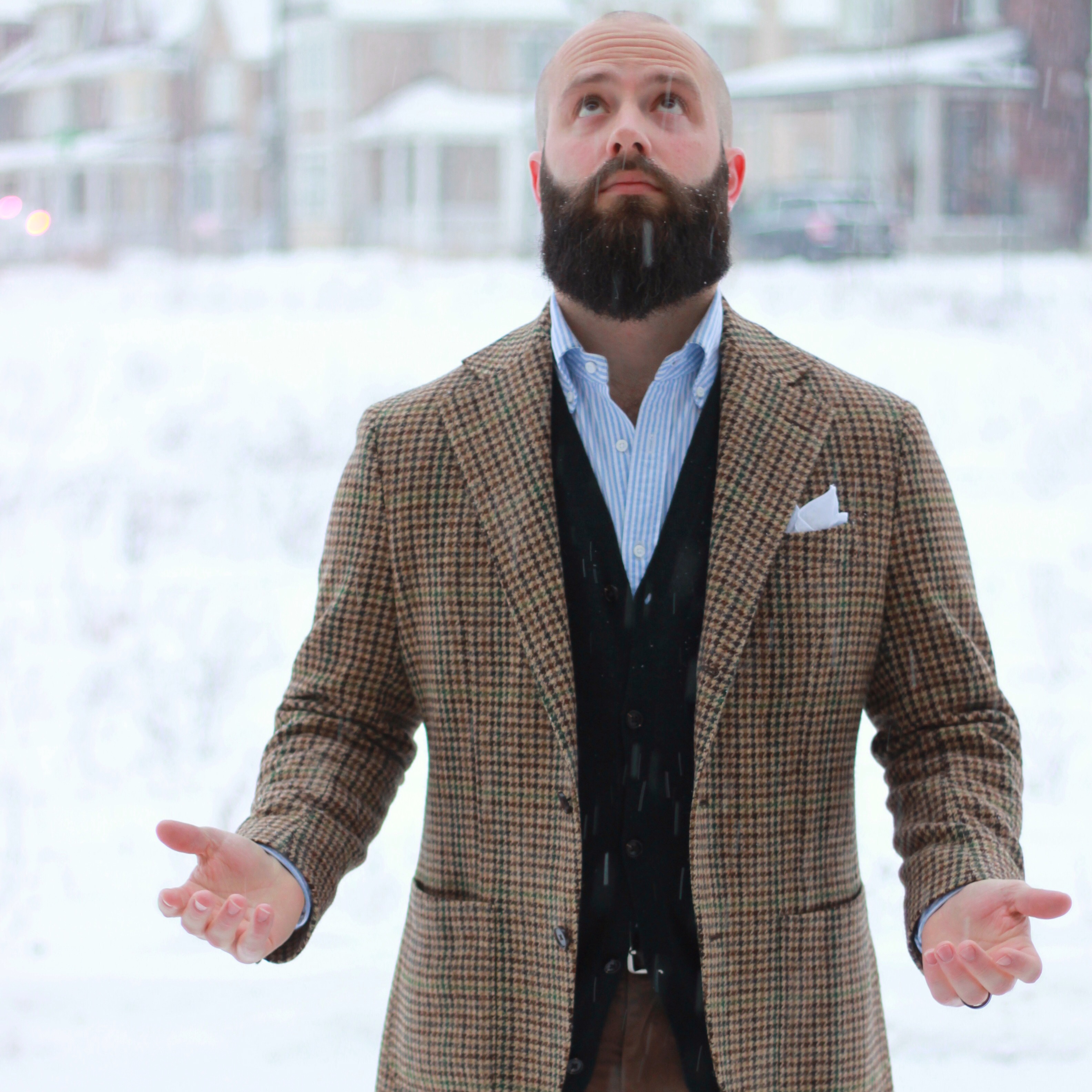 The Thoughtful Beard
In the second shot, "the Thoughtful Beard" I get to feature the only hair I can grow on my head, while still showing off the texture of the burgundy jacket in cross-ply fabric from Ermenegildo Zenga made up by Samuelsohn, and the navy grenadine tie from Kent Wang.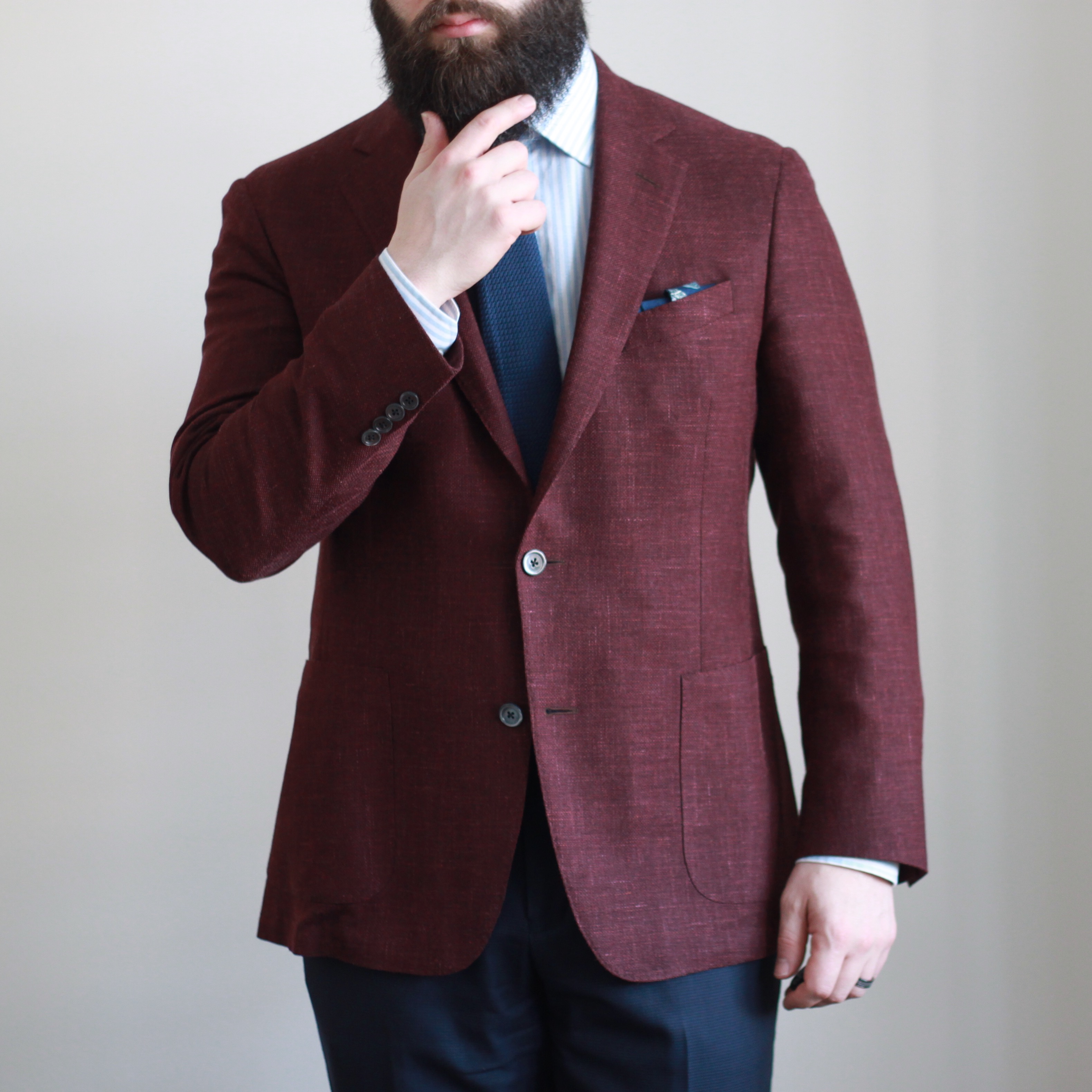 The Seated Claghorn.
"The Seated Claghorn" is a reference to the StyleForum username of Alex, aka @bluebrownandgrey, who I've drawn lots of inspiration from. You'll see his favourite pose for his photography is a seated one, similar to this. But better.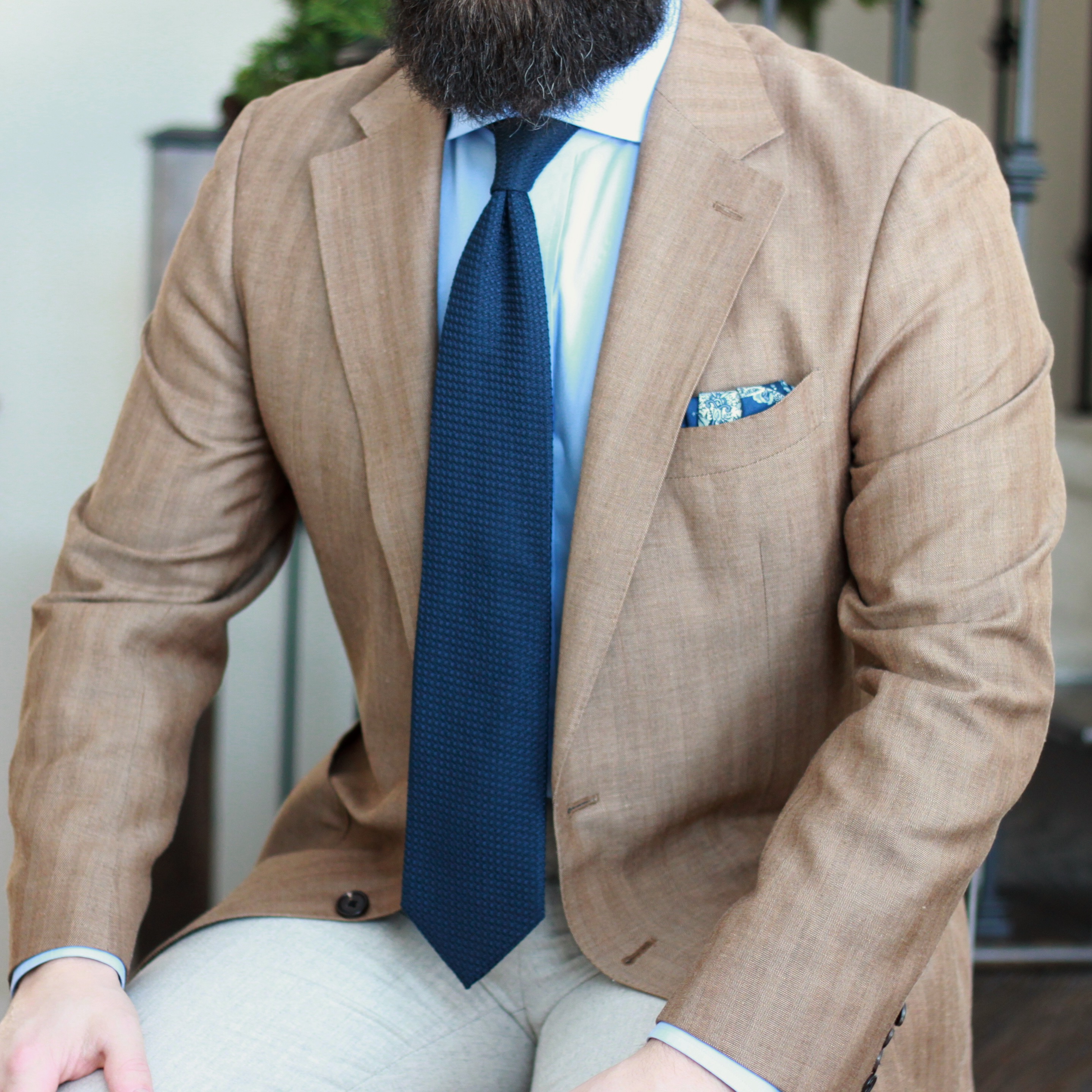 Holdup
The fouth pose, titled "Holdup" is just a fun use of depth of field in the photography. I think when I originally posted on Instagram, I was looking for a high five.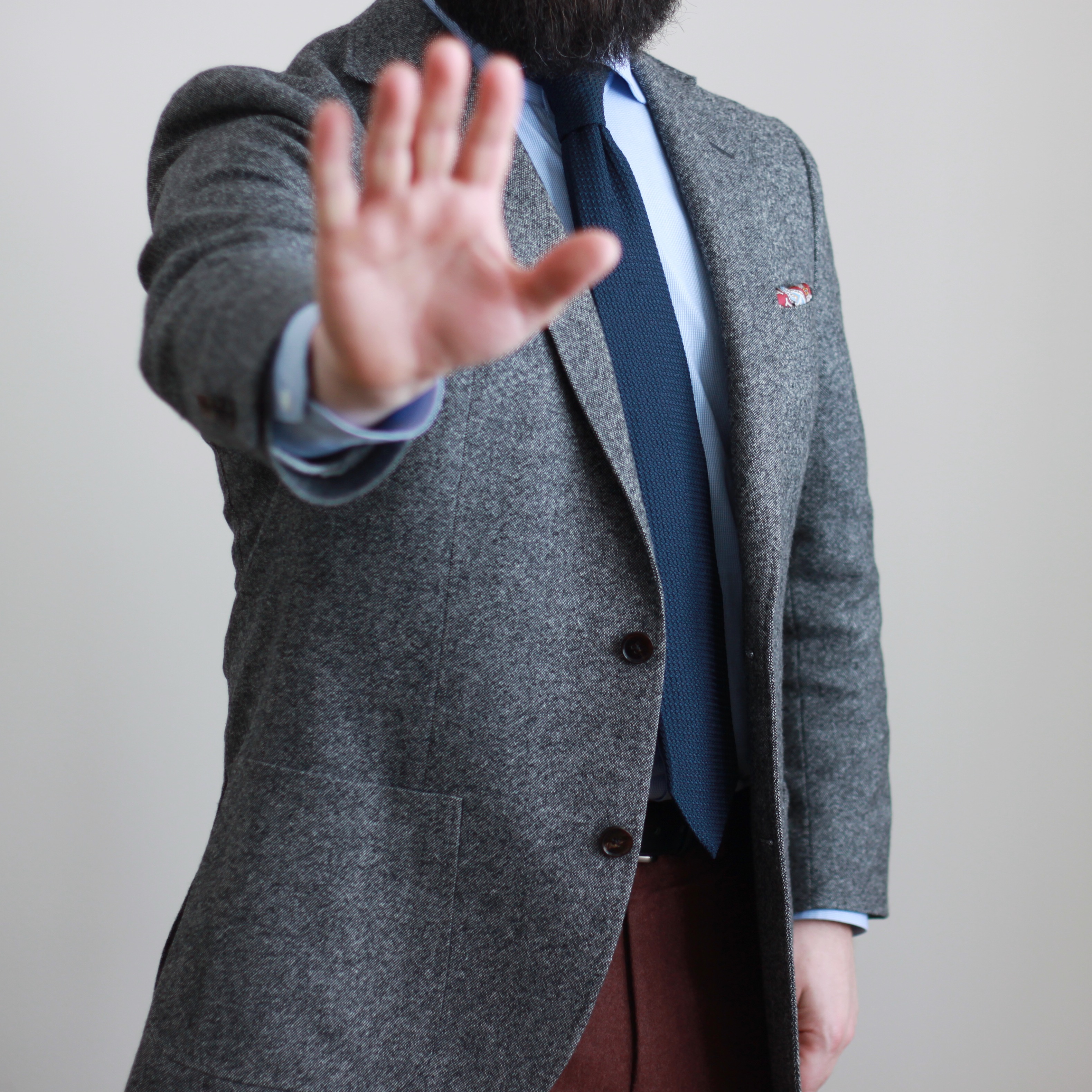 I don't know what to do with my hands
"I don't know what to do with my hands" – Ricky Bobby. A quote that inspired this photo. The pose was borne of the need to come up with something less mundane. As I mentioned before, it gets a little repetitive sometimes posing the same way in every picture. Also, I don't like to take myself to seriously, so why not?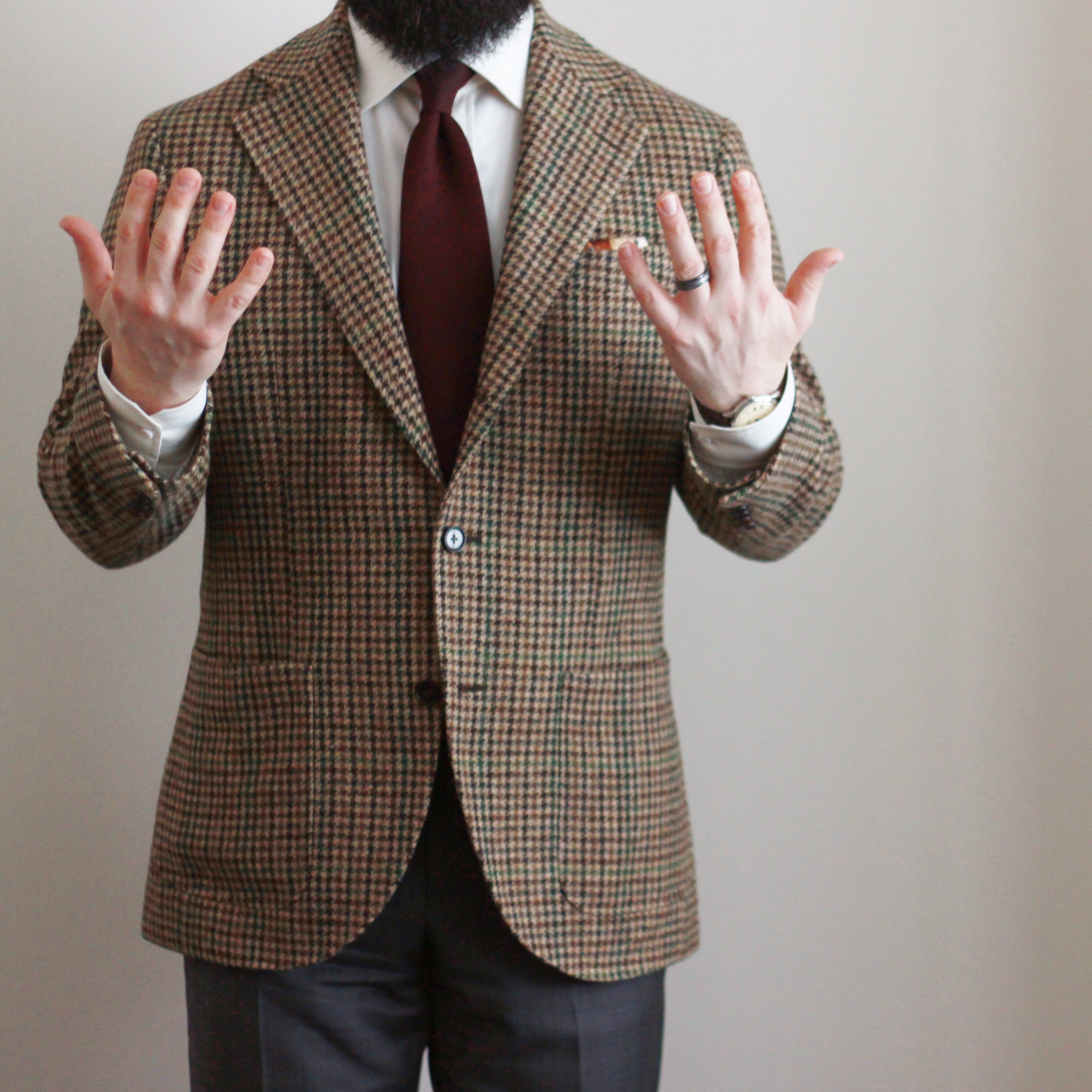 F yeah, it's Friday!
Again, looking for a little different flavour. This one actually worked out well – you get to see some nice details of this jacket from Spier & Mackay. The soft shoulders, the open quarters and the lovely guncheck fabric.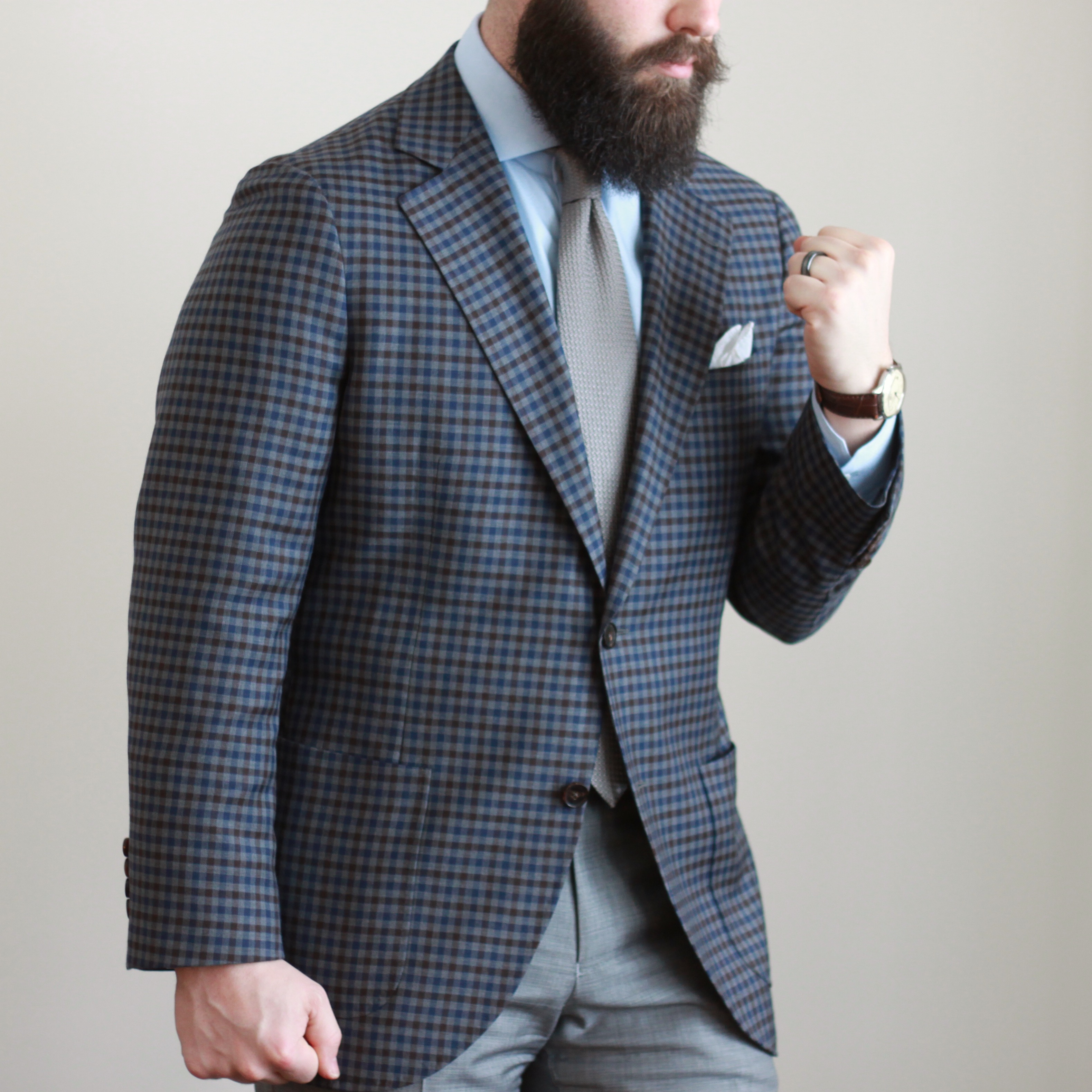 I'm definitely, really looking at something on my phone
I can't control my camera from my phone. This is purely staging for the photography. Again, gotta change it up every now and then. There was absolutely nothing on the screen. I hadn't even unlocked it.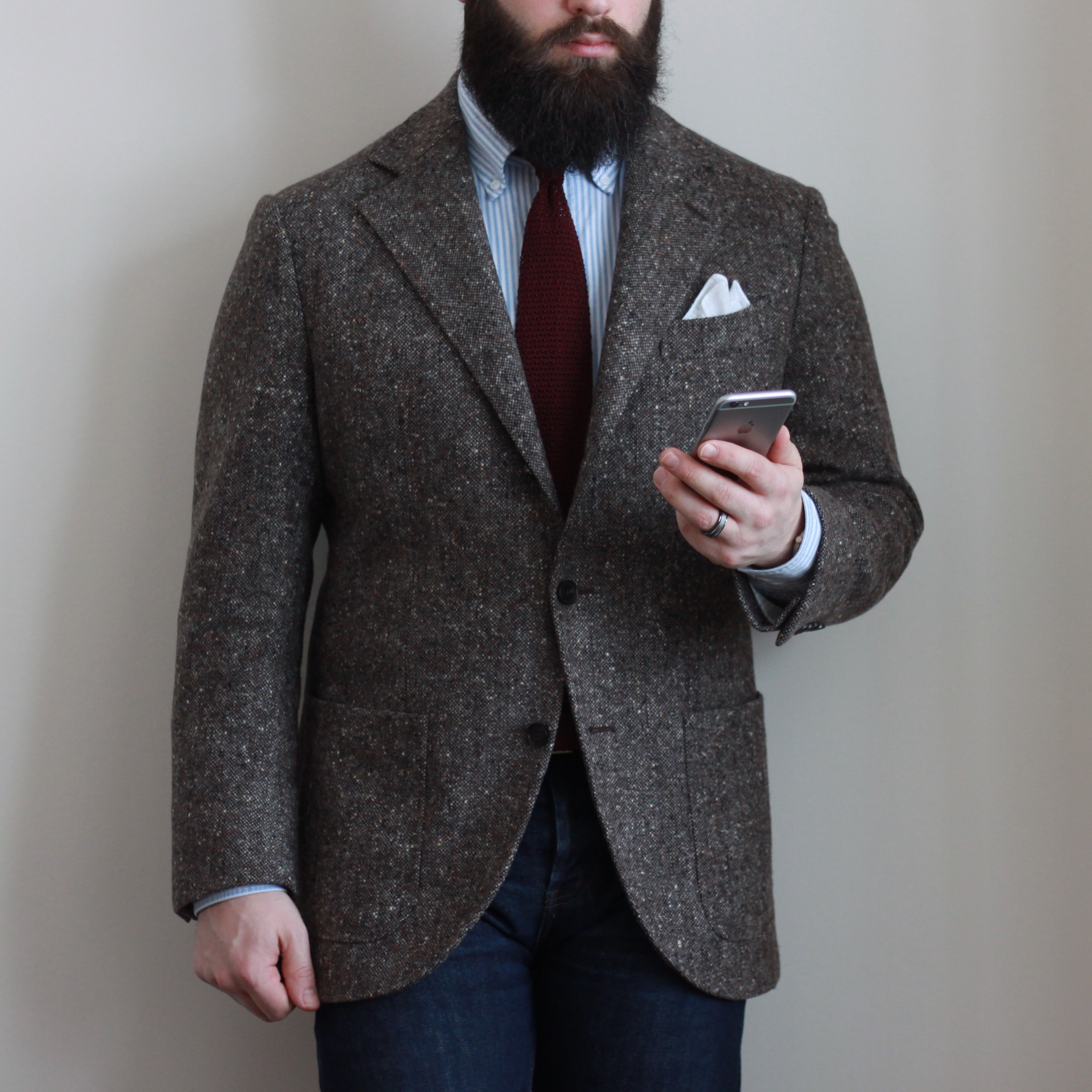 Buttoning my jacket
The endless search for what to do with my hands continues. Button, meet buttonhole.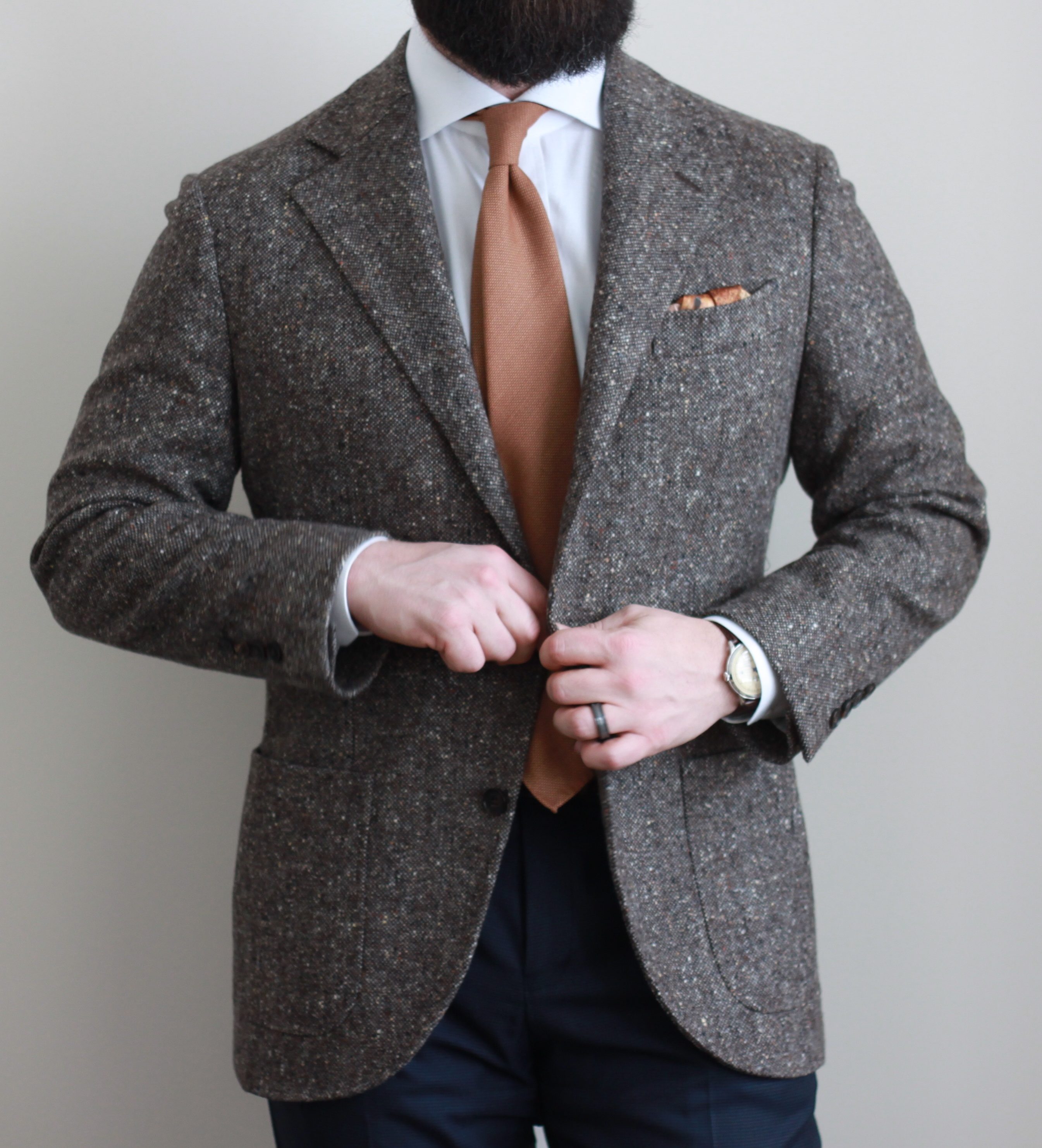 Serious Business
The crossed arms. Serious stuff. That's how you know I mean business. Serious business.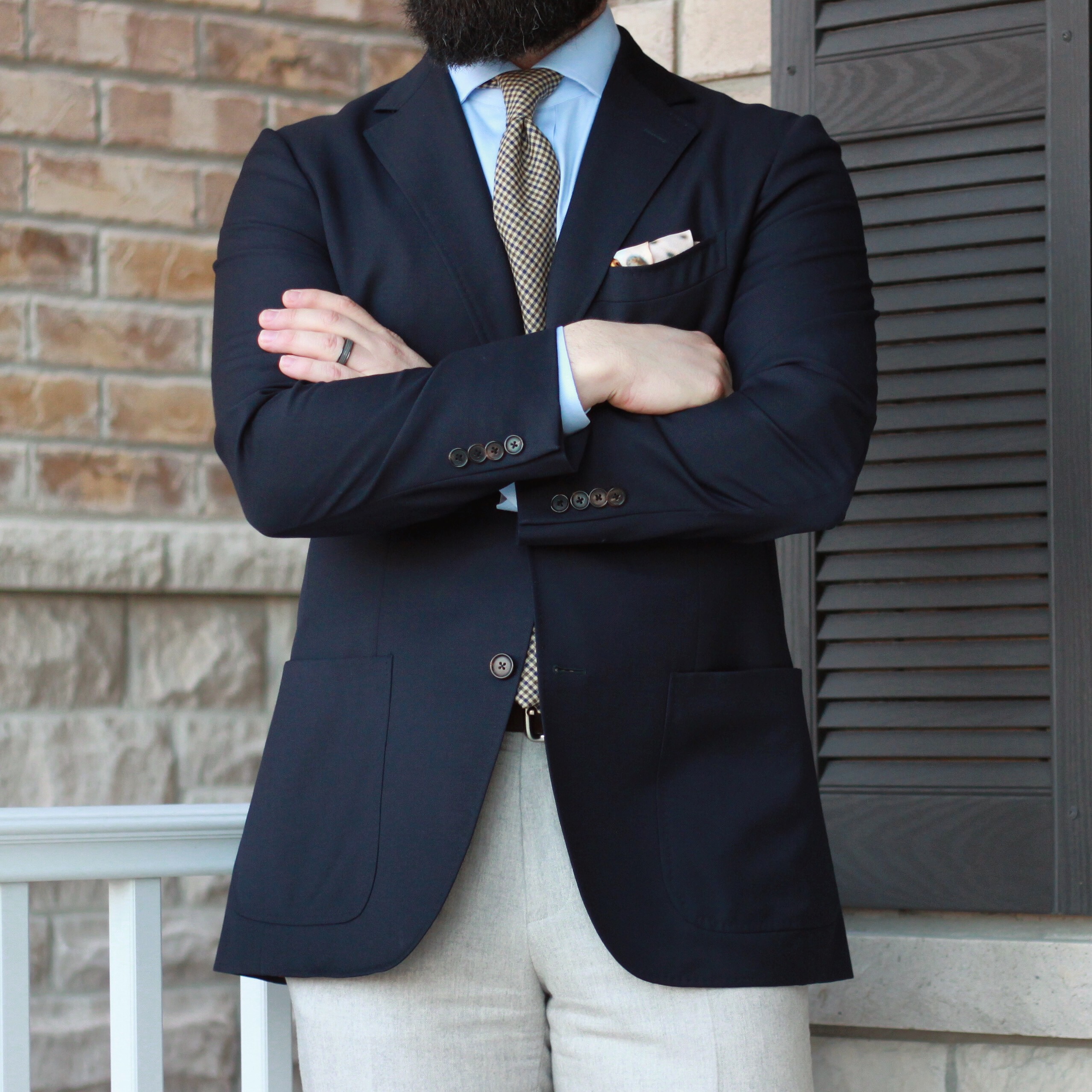 Clasped Hands
A bit more interesting than your typical arms at the side pose, this one also allows me to easily hide the remote for the camera. Function AND form.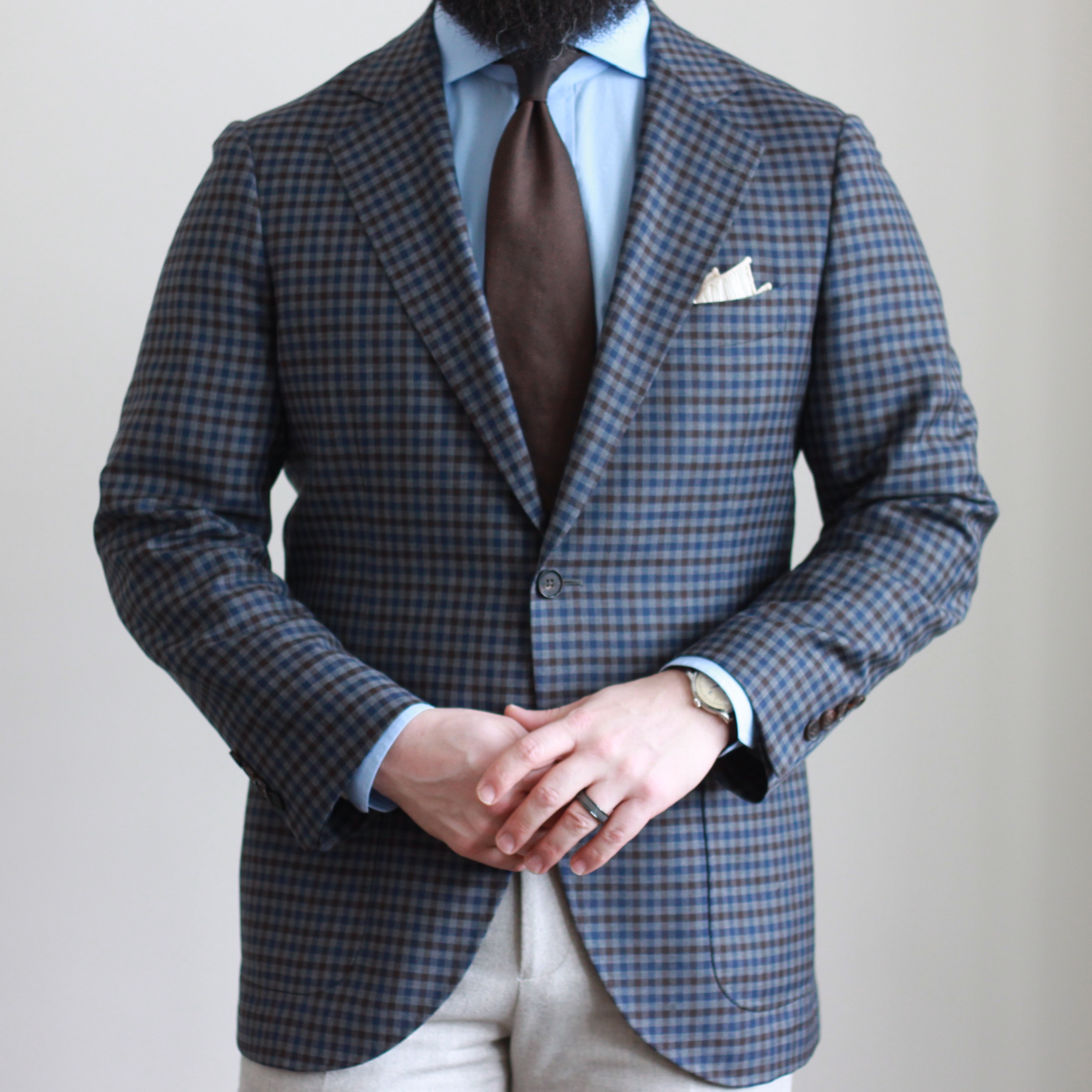 Evil villain hands
This one works especially well with the bold jacket. I feel like a Bond villain… "I've been expecting you, Mr. Bond." Even better if your photography is staged in a hollowed out volcano or moon base.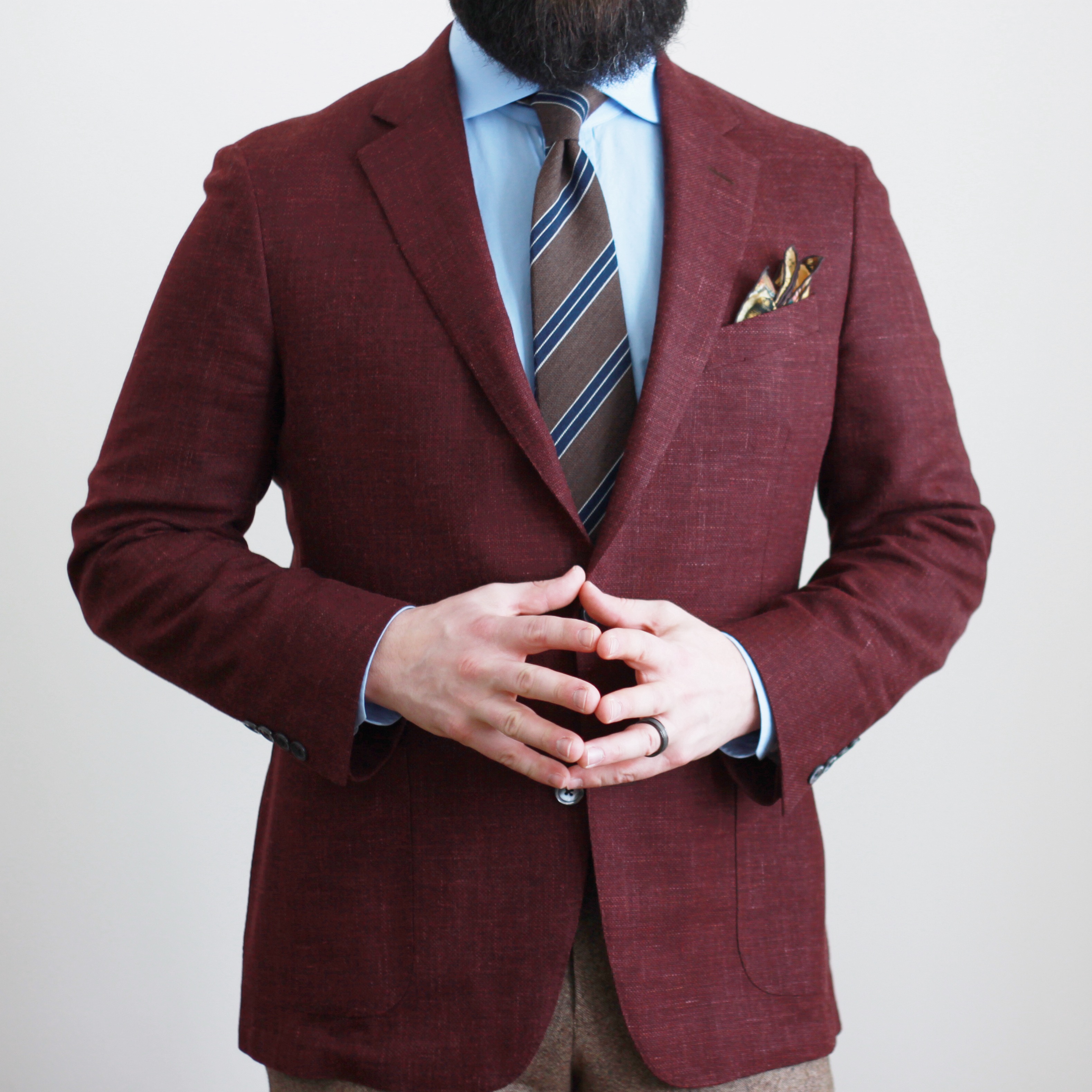 The Stern Father
My buddy Jesse (BurzanBlog – check him out on Instagram or at his blog www.burzanblog.com) came up with the name.. It's his signature pose, so I won't steal the pose AND the name without credit.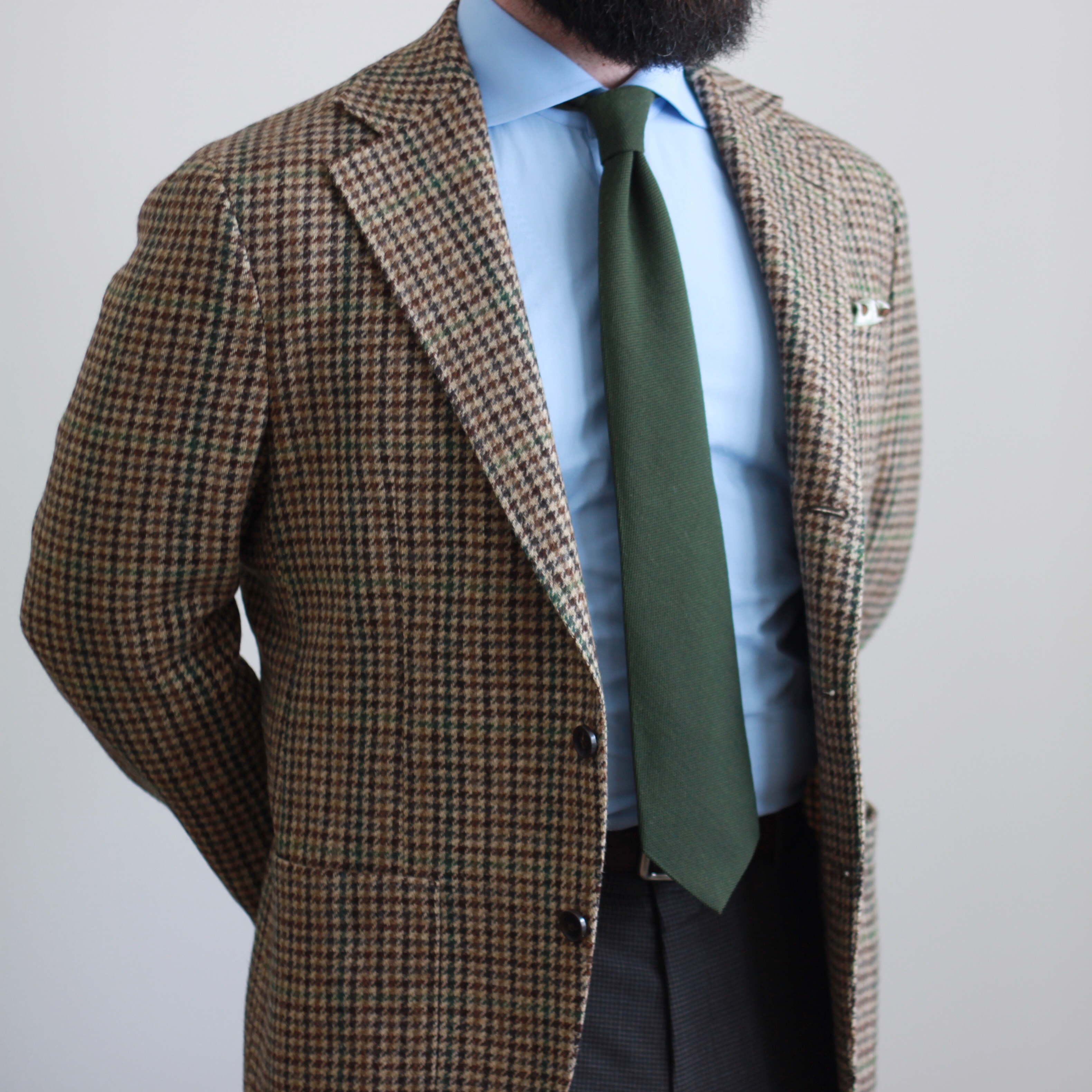 Adjusting my shirt sleeve
Adjusting my shirt sleeve. I have a few shirts that have shrunk just enough so that I need to tug down on the sleeve a bit to keep enough cuff showing. This is one of these shirts. It ends up being a subtler way to show off a jacket's fabric.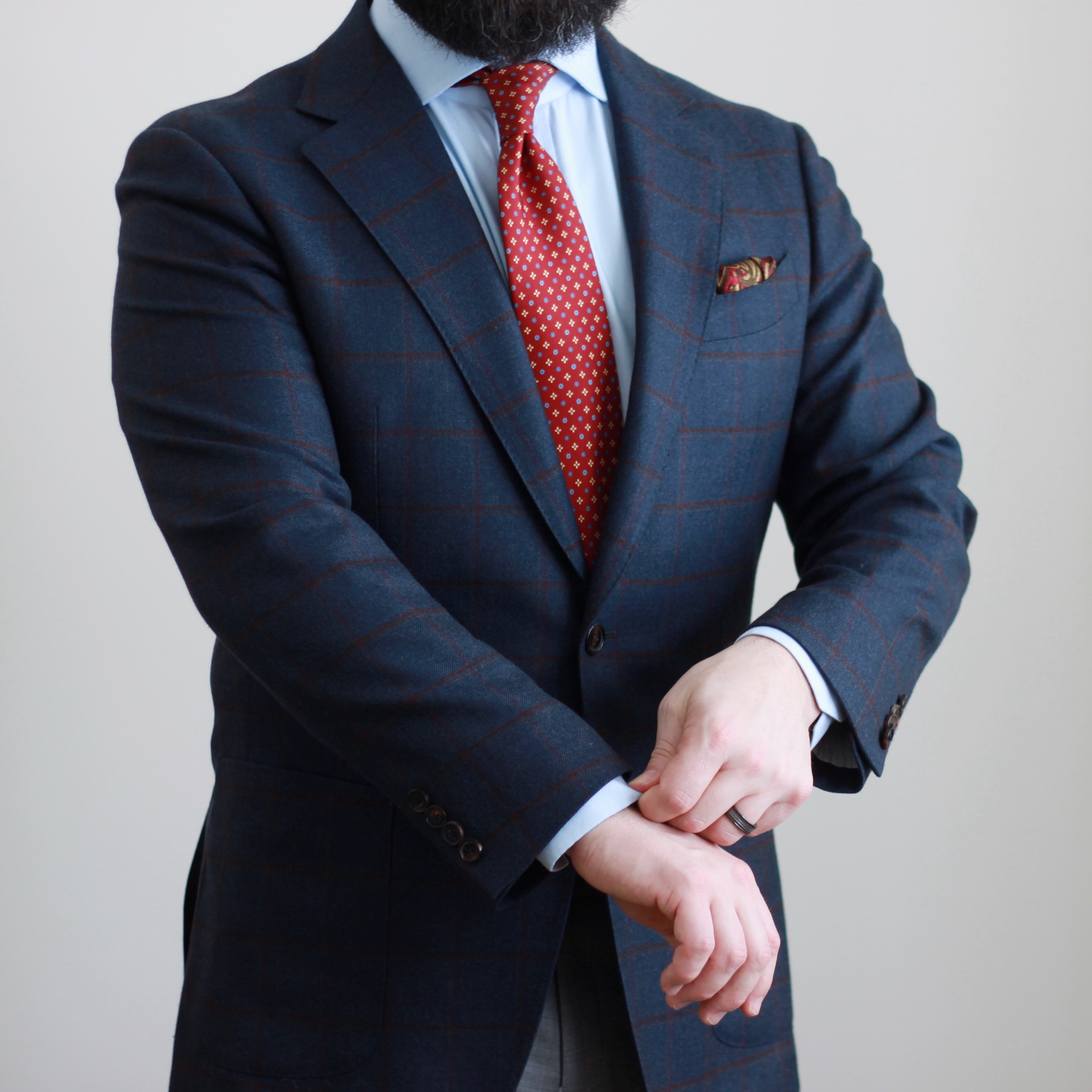 The Alannis Morissette
Cuz I've got one hand in my pocket… Get it?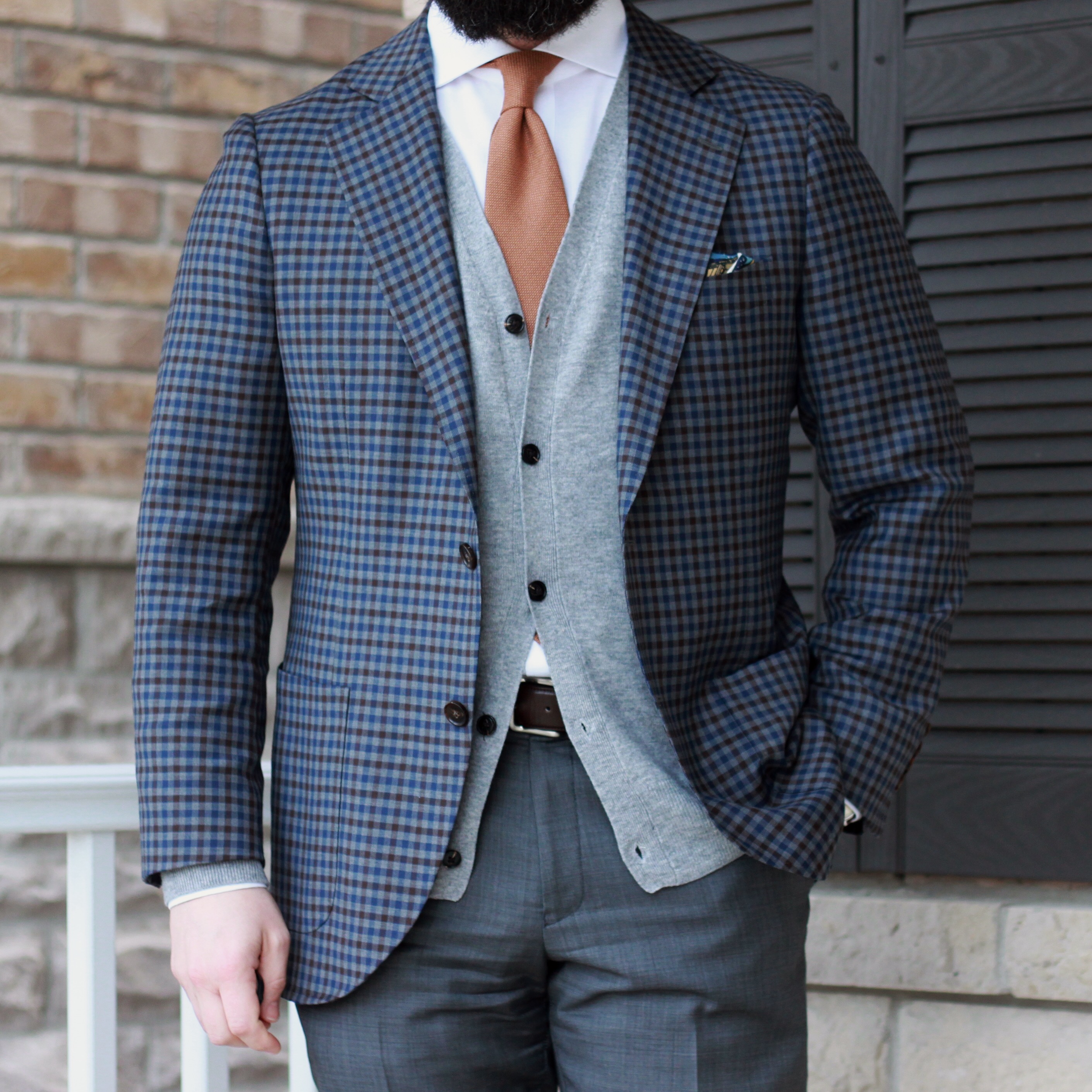 What time is it?
Wearing a watch? Why not look at it? It's something to do I guess. Why you'd take a picture of it is another matter. Could be a way to show off your nice timepiece.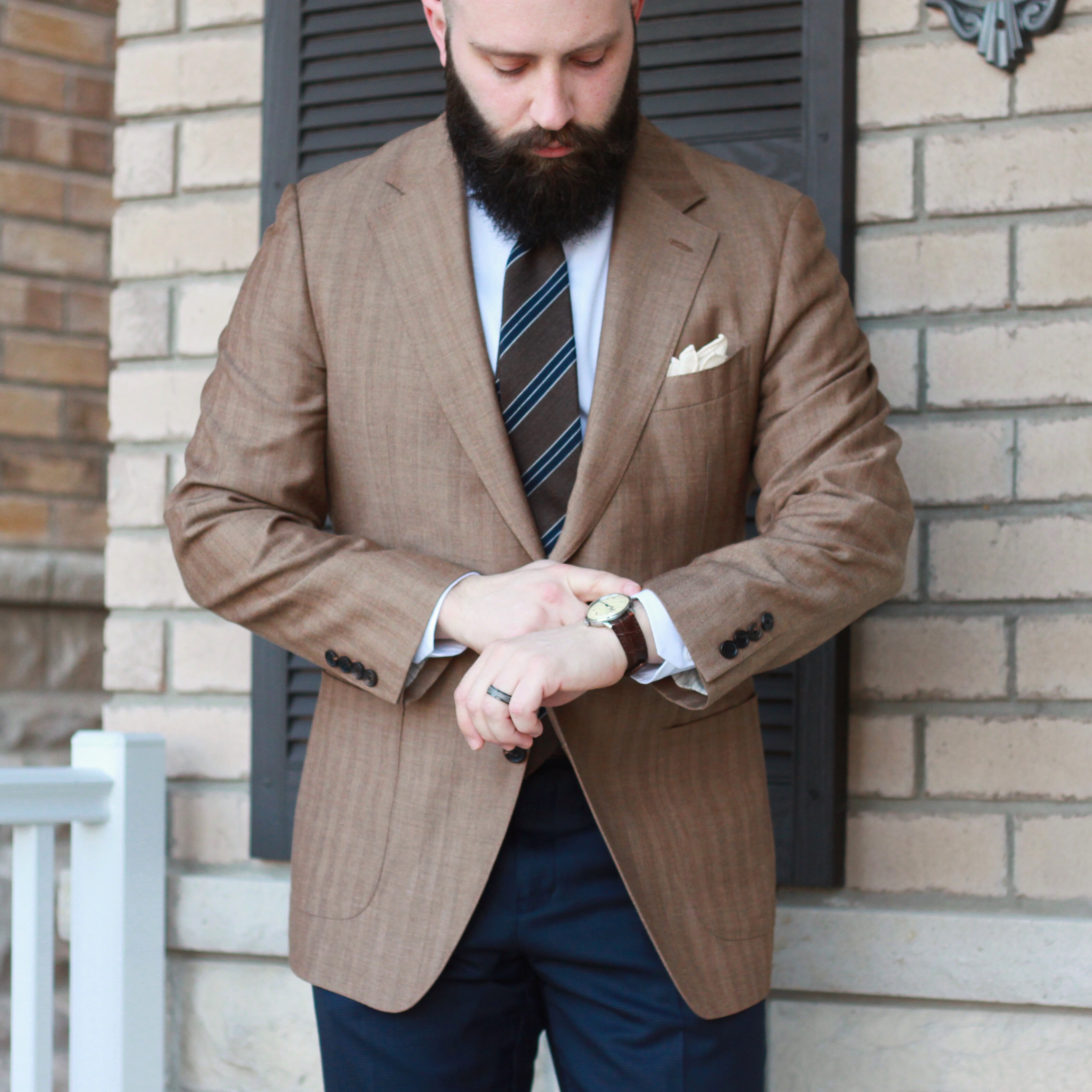 Cropped Shots
These close up shots are a great way to play with dramatic lighting, composition and depth of field. They are also a way to convey the texture of the pieces. These shots generally do pretty well for me in terms of engagement on Instagram. I think it's easier to catch peoples' eye with shots like these vs some of the 3/4 shots I posted above. You get the chance to be a bit creative with the cropping in this kind of photography.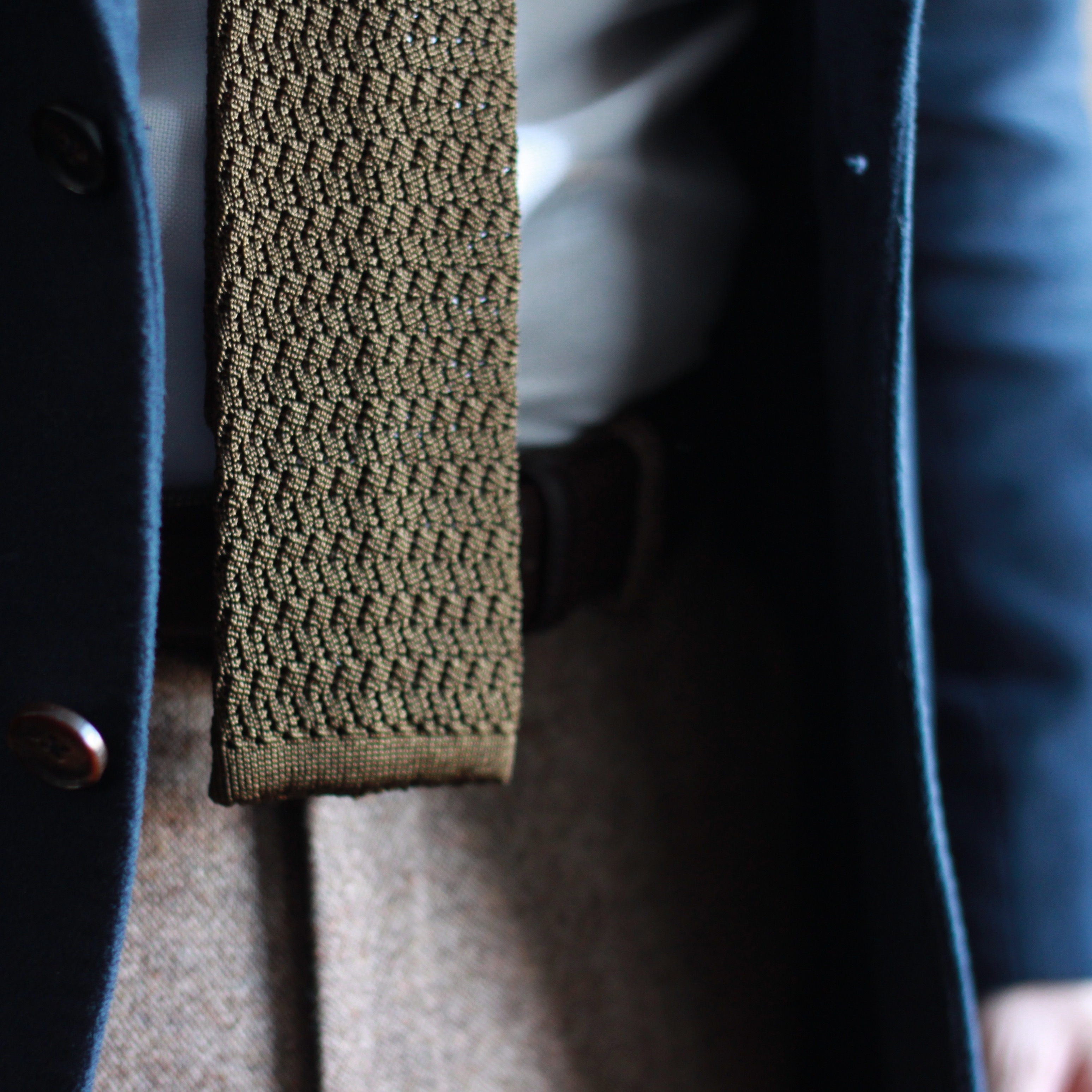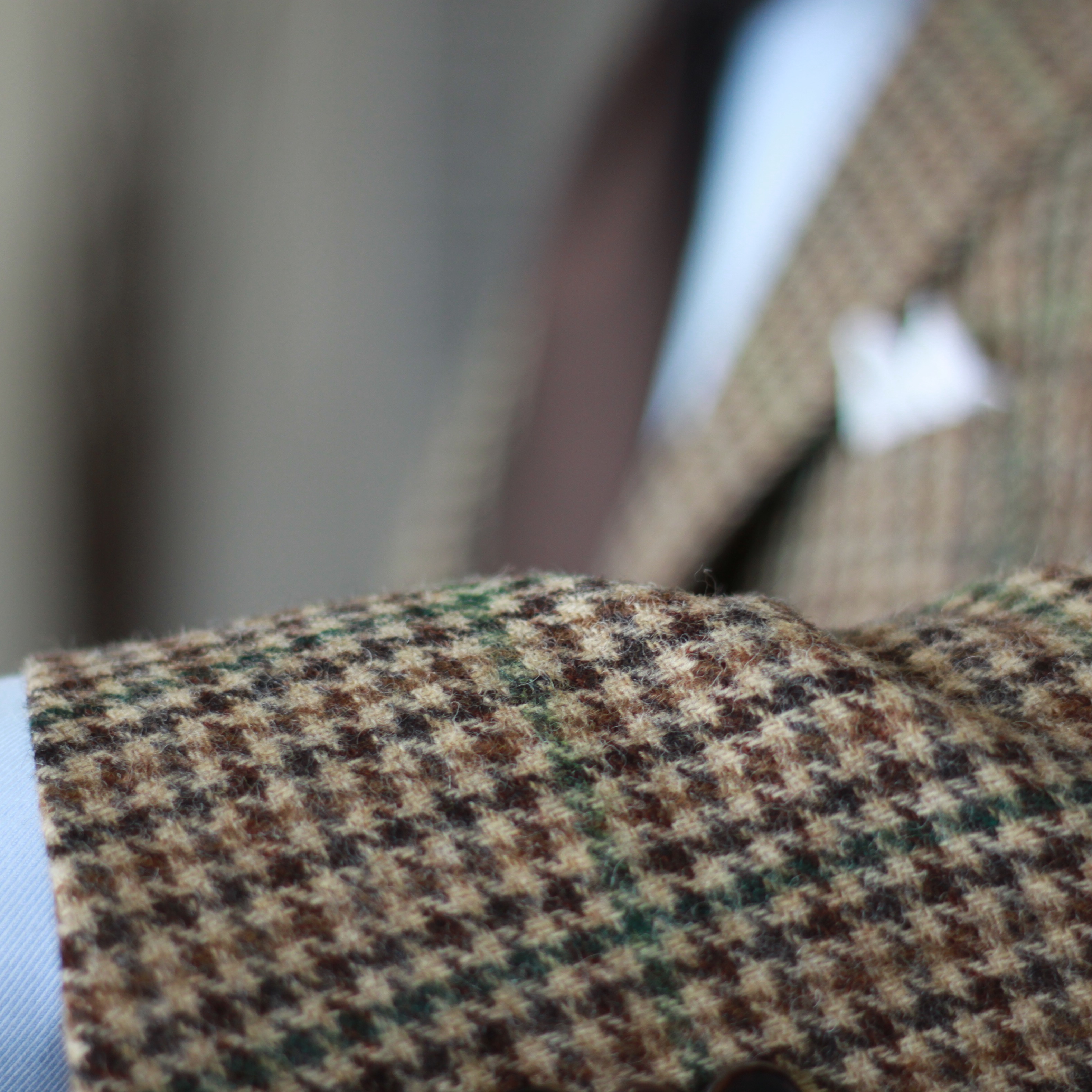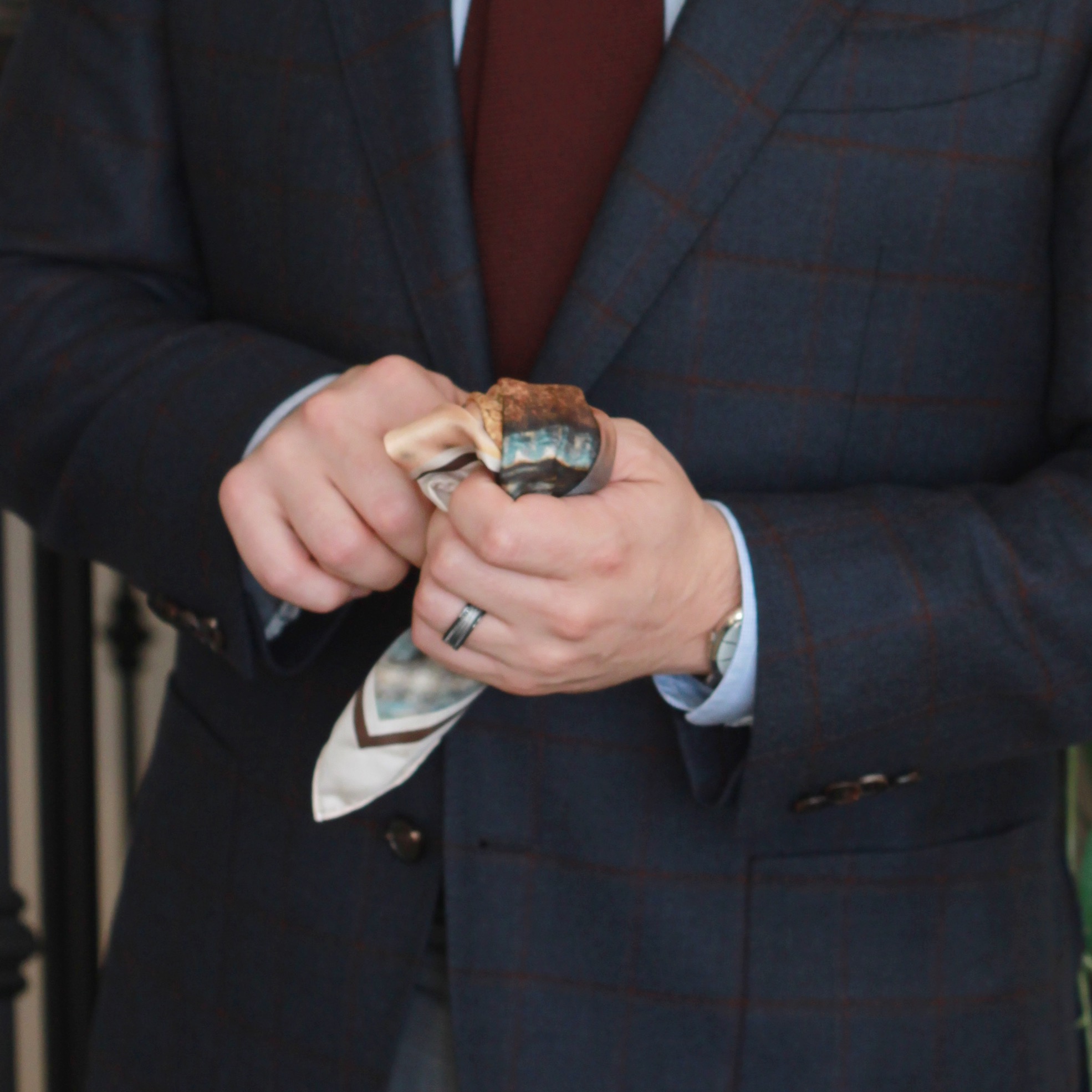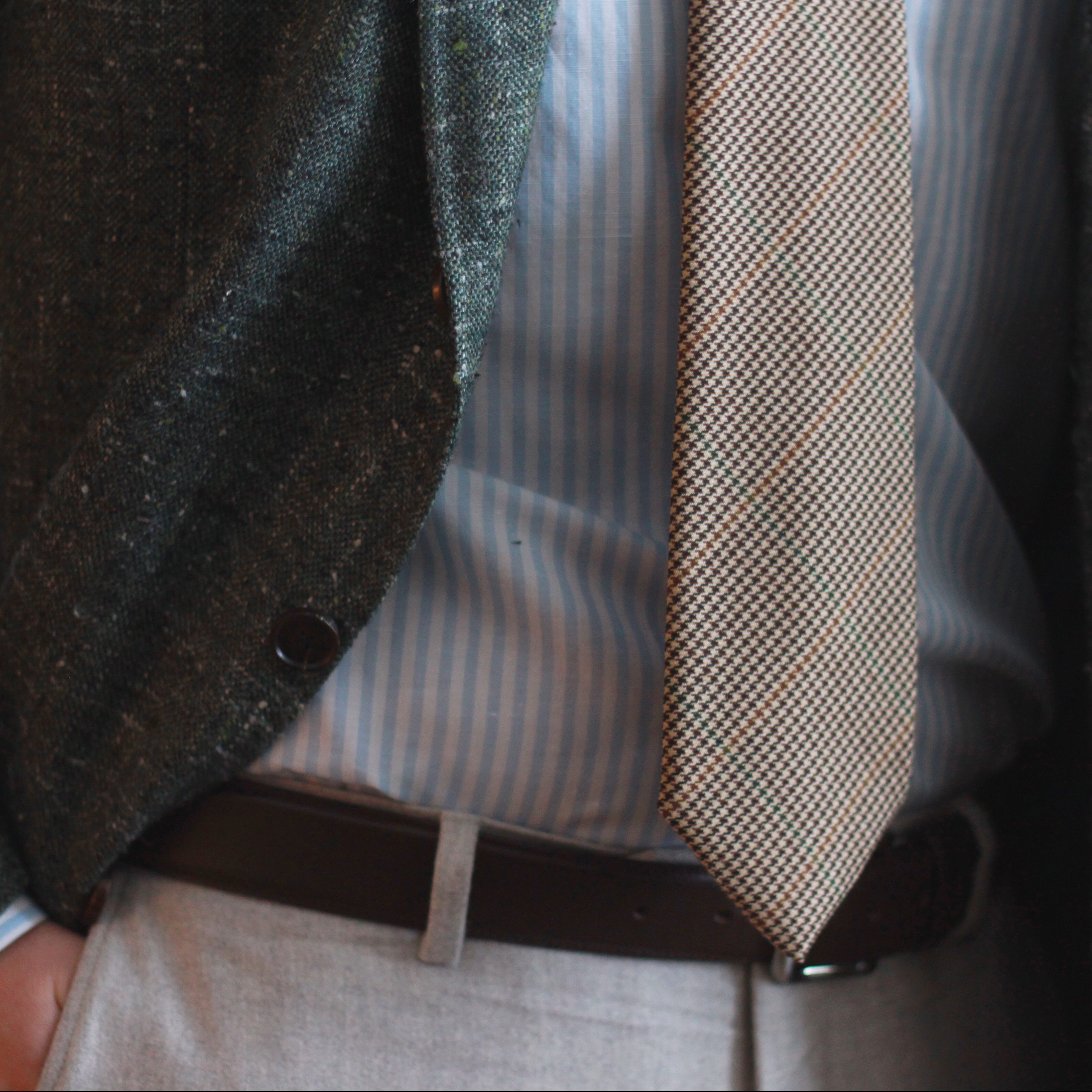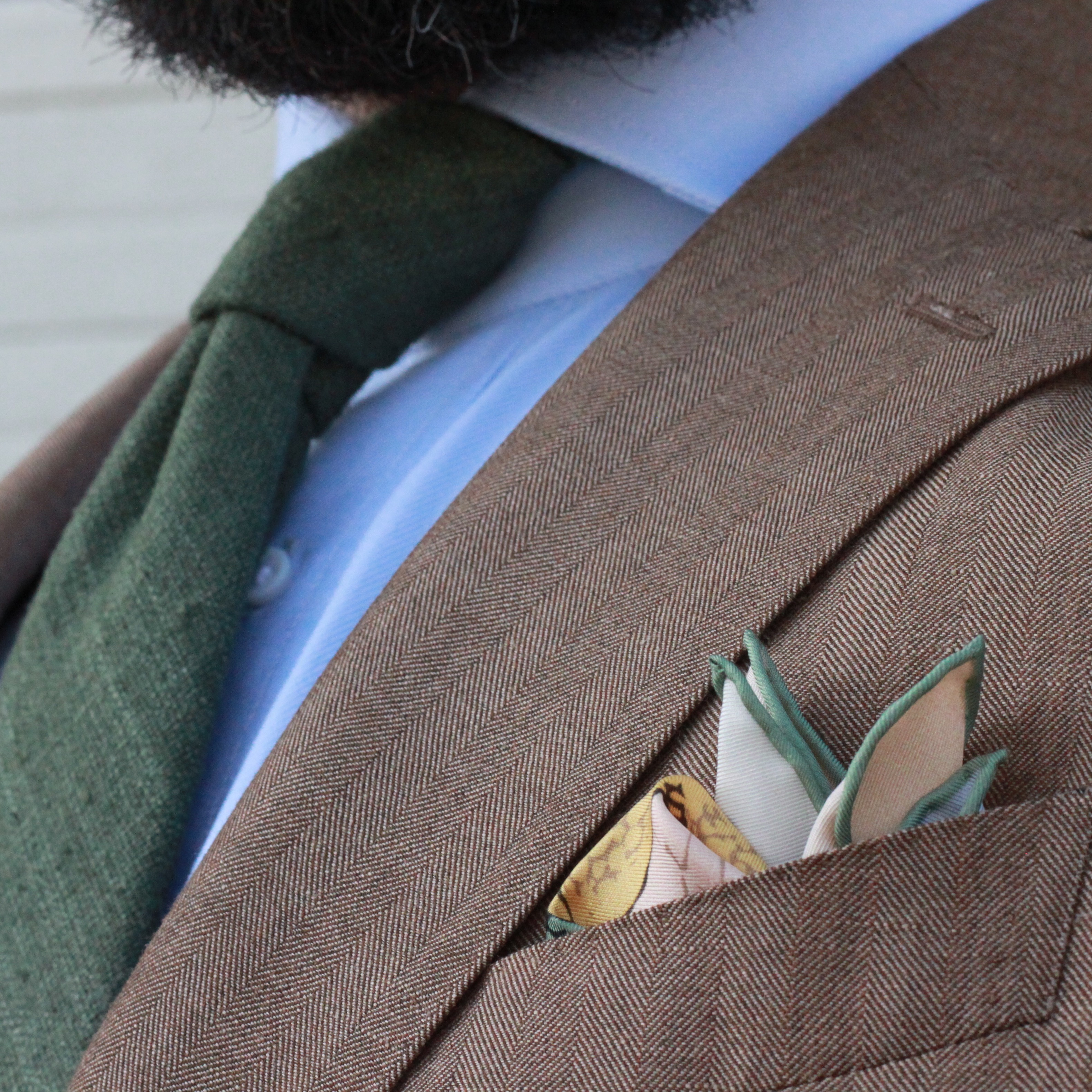 Shoe Photography
There are some pretty well established photography styles related to shoes on Instagram. A couple of my favourites are the #burzanhands (created by Jesse, who I mentioned above) and the #mdunhoffpose (created by another inspiration, Martin Dunhoff). Here are some examples:
#burzanhands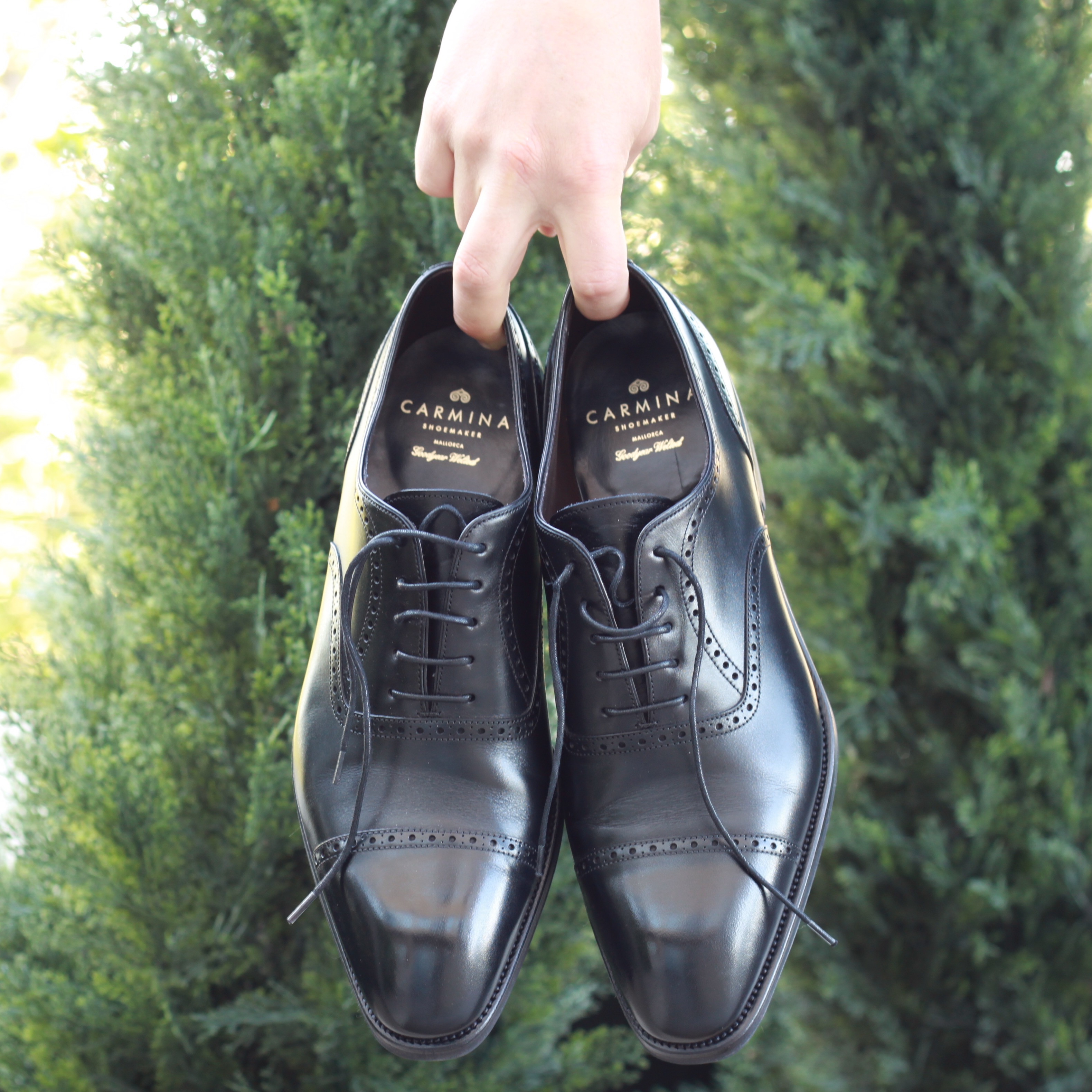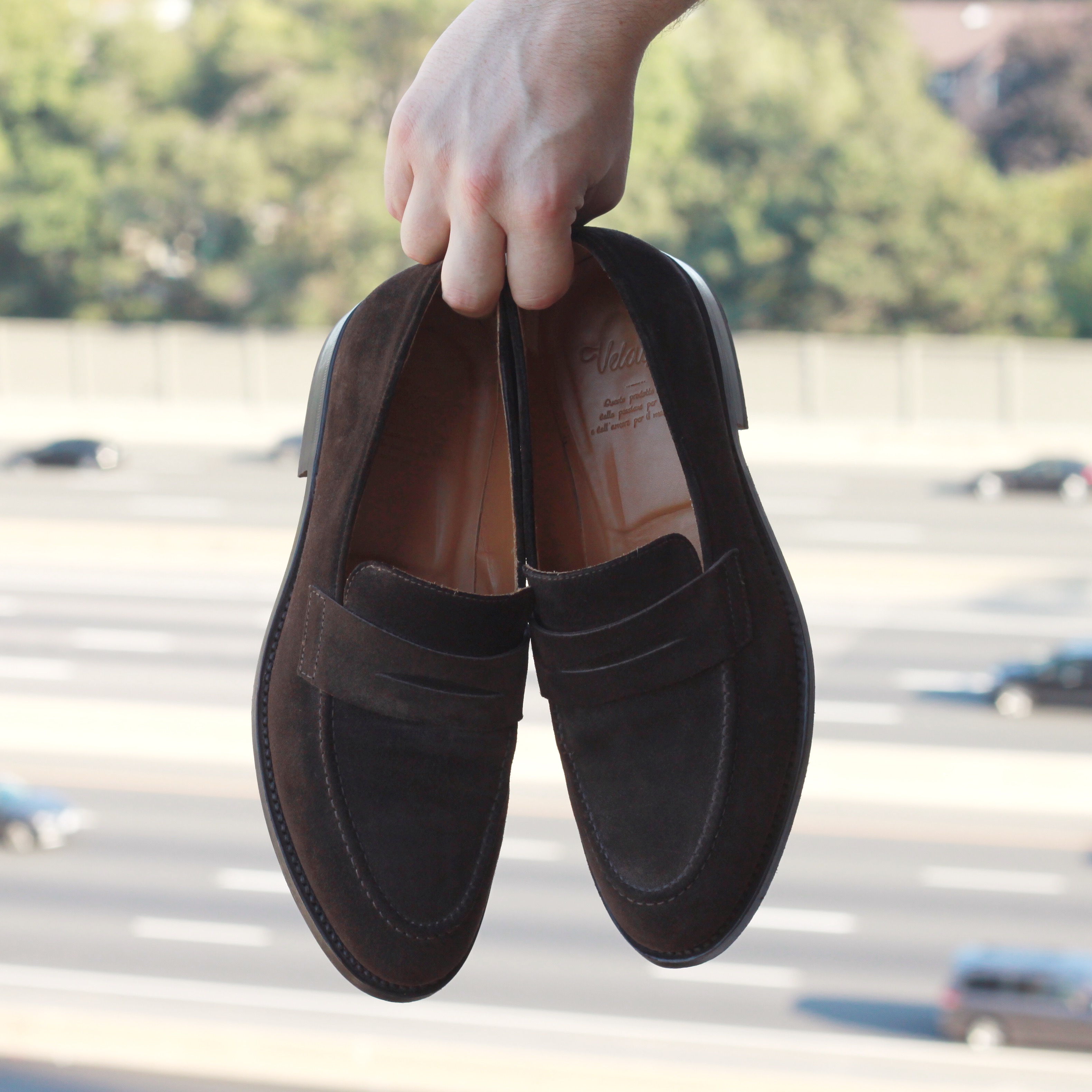 #mdunhoffpose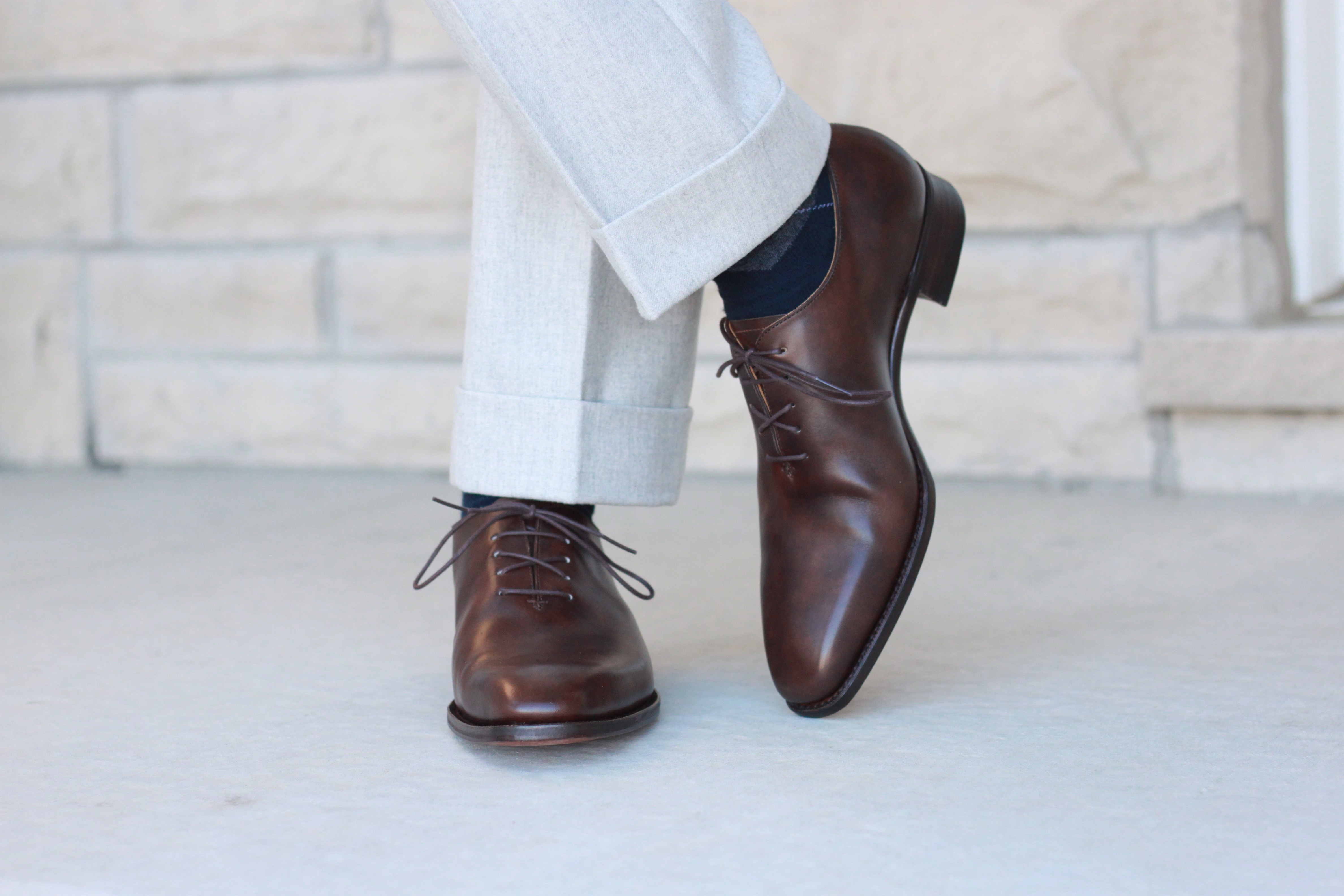 Other shoe shots
Here are some other examples. The first is inspired by @hormaestrecha, aka John, who I also follow on Instagram. The rest are just some other shots I've taken and liked.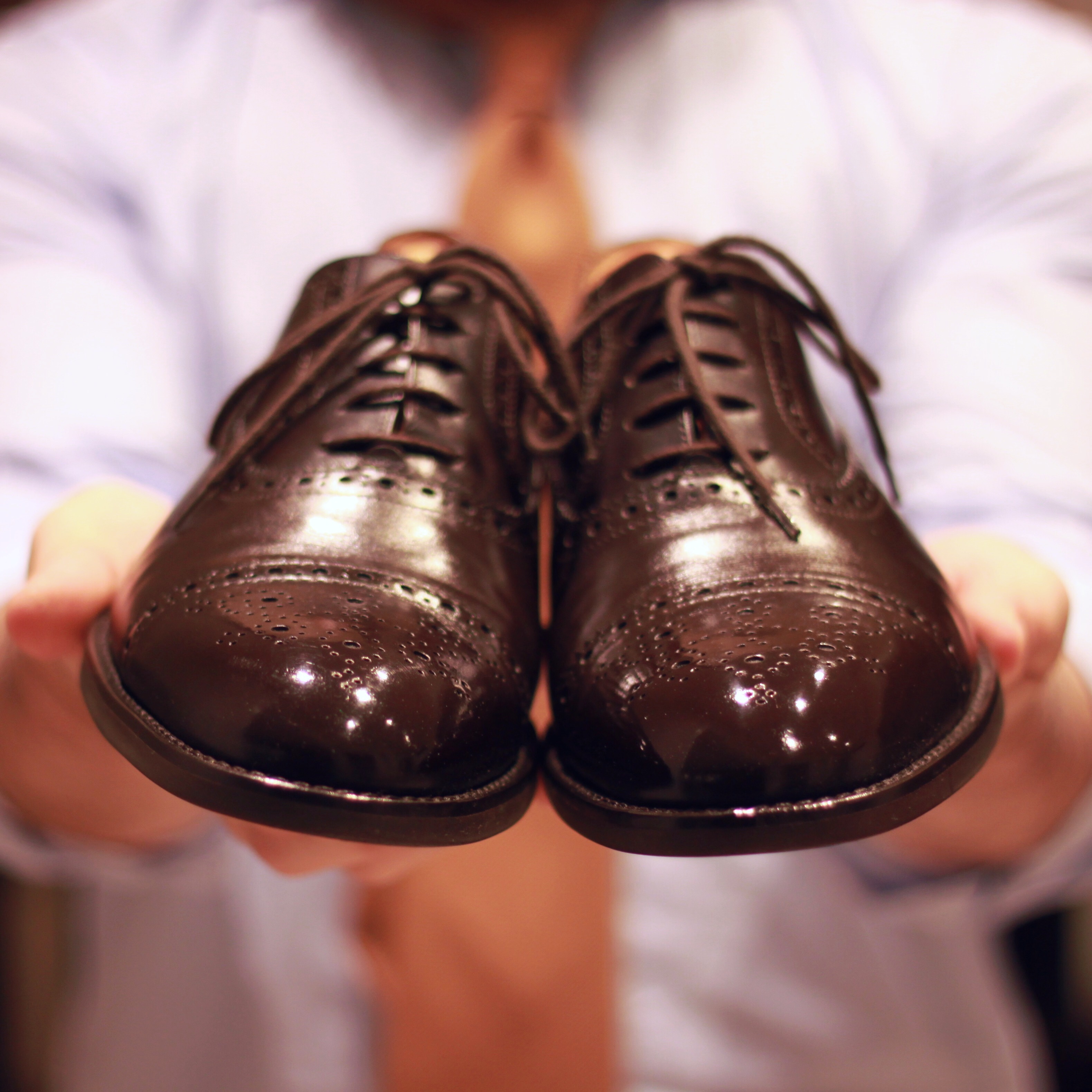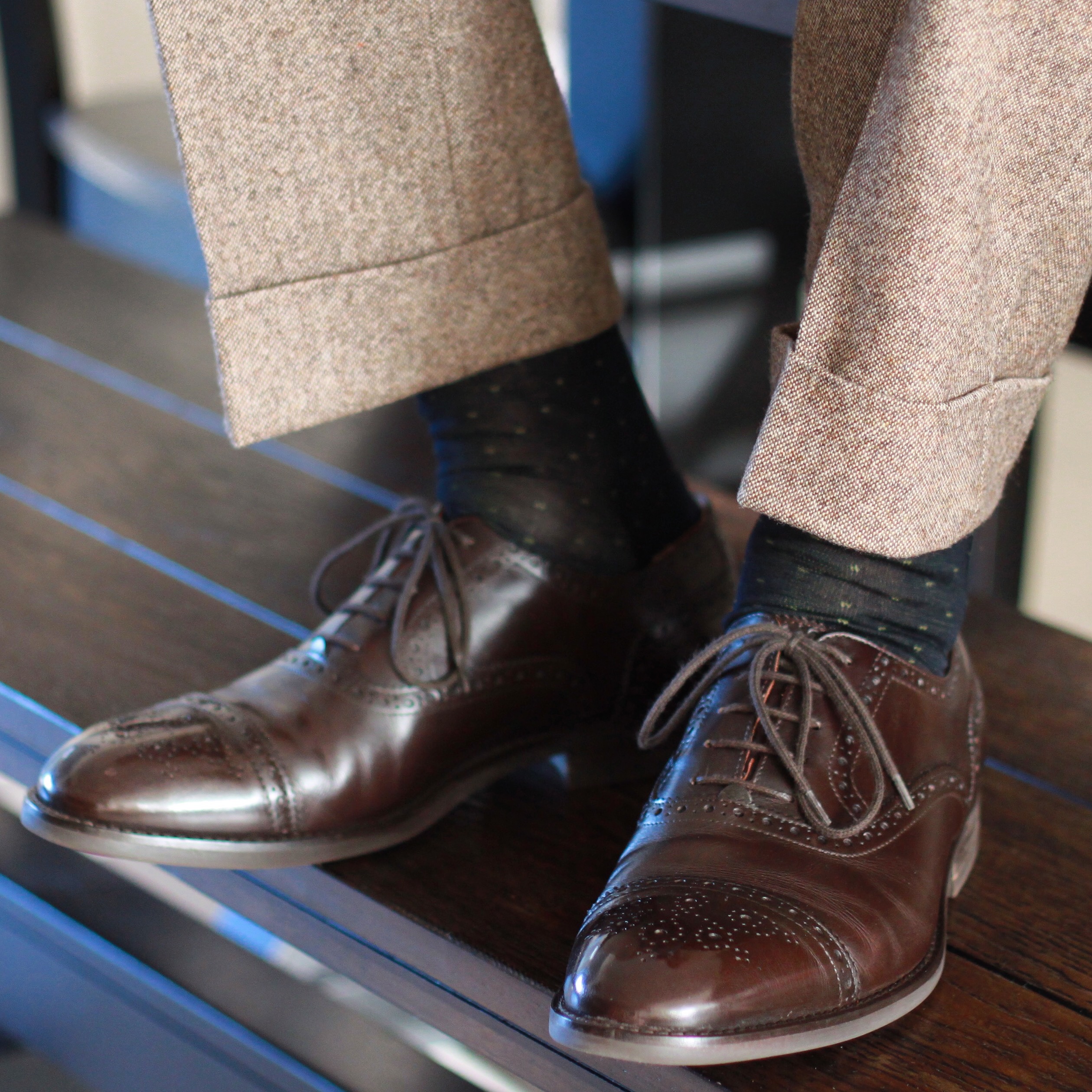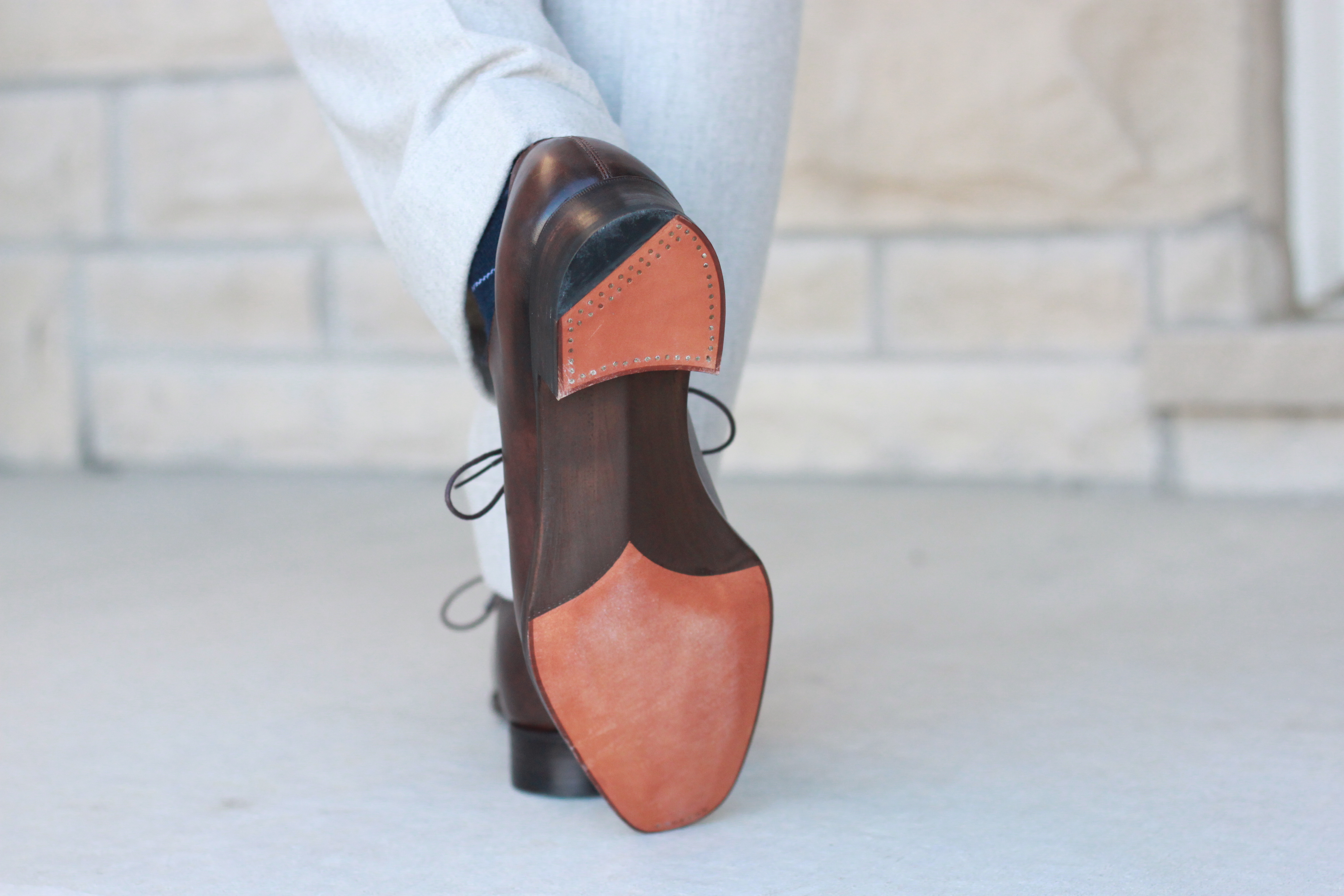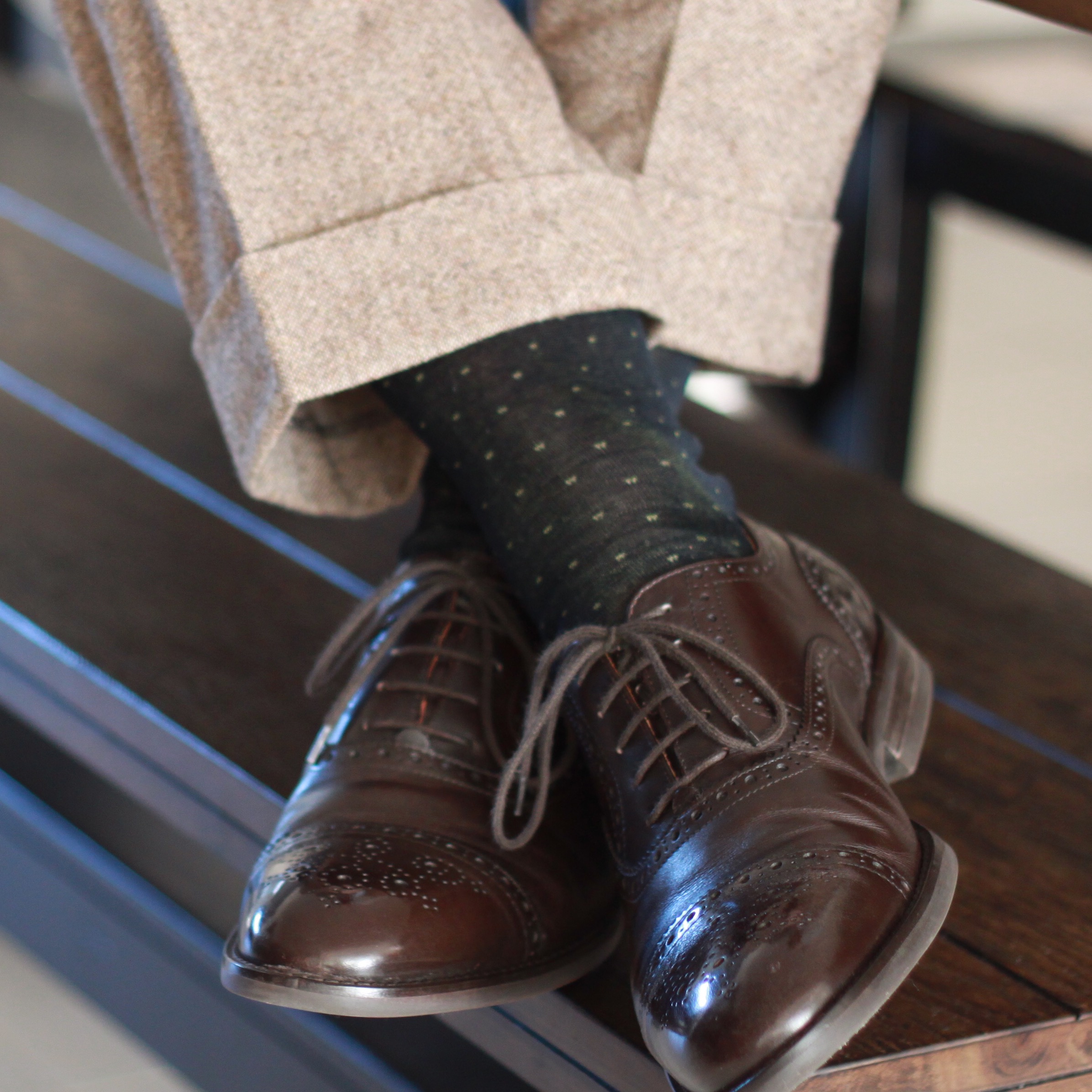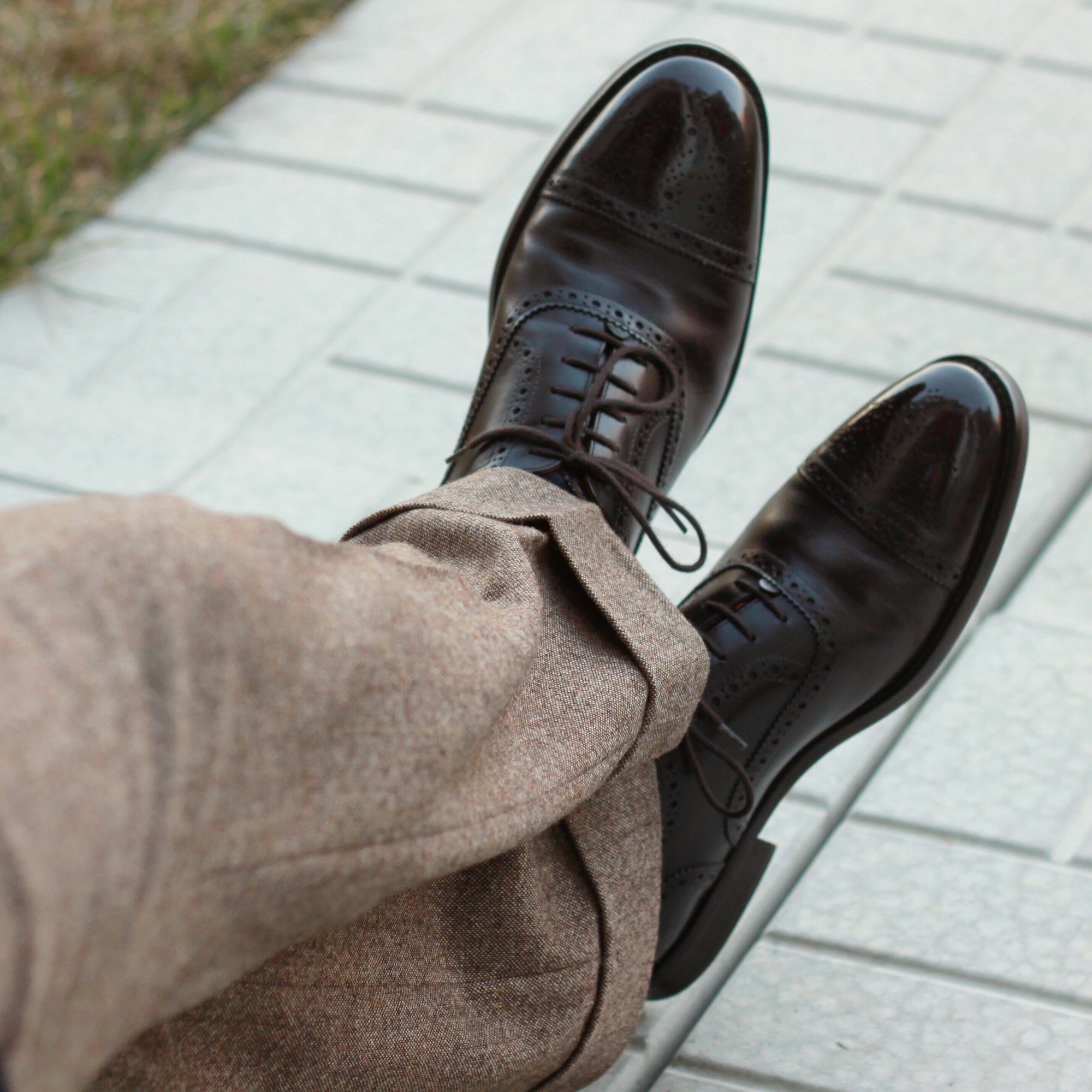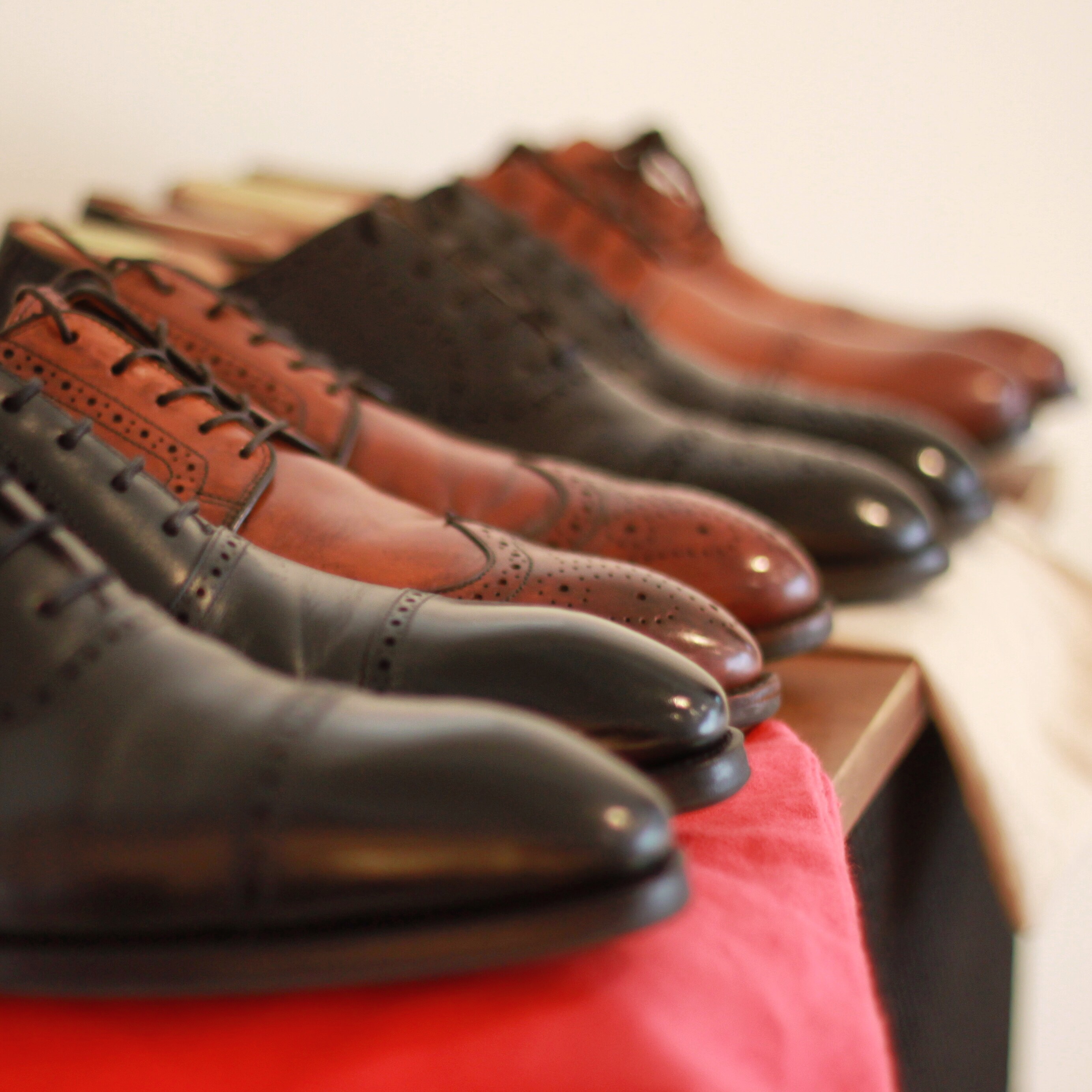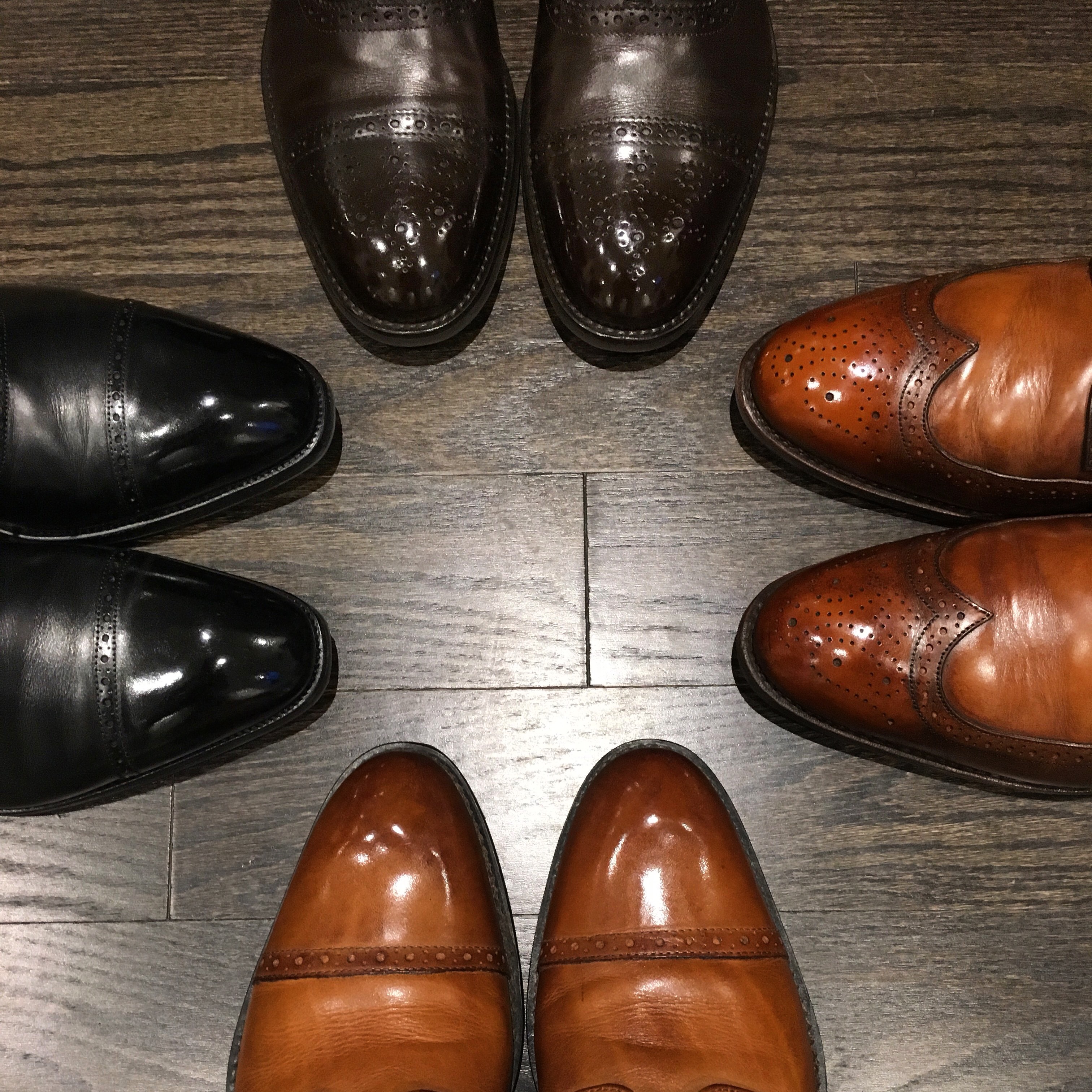 Well, that about sums up my photography inspiration. Did I miss anything? What would you like to see more of? I'd love to hear from you.
-Colin