Insights: Buying my first nice ties
Insights: Buying my first nice ties
Tie one on
How have I not written about ties yet?
When I first started my classic menswear journey, ties were not a big focus. I put them on the same lower level of importance as shoes, which I wrote about earlier. I had some ties that had hung in my closet since high school, and one or two I'd bought for friends' weddings. These ties were either from Winners or Moore's, and many were of the shiny silk variety. Mostly ugly striped or checked patterns, and one really bad large scale paisley in grey and purple. One might have even been a Donald Trump collection tie.
First tie purchases
eBay
Anyhow, I knew that I needed to add some ties to my collection, and where better to start than eBay? In this regard, I approached this wardrobe gap a bit smarter than I did when buying my first suits. I was able to make some purchases at prices that were relatively low risk. I don't actually own any of those ties any more… but at $5-10 a piece, I'm not going to lose any sleep over the cost of learning. Finding reasonably reputable brand name ties on eBay is easy, but what I had a hard time with was the quality. Many of the ties had a very thin interlining, and tied terrible knots. Either they would turn out long and skinny, or would be so small.
I did have some success buying from Luxeswap. In fact, all the ties I have purchased from them are still in active rotation. Here are some examples of my better purchases from eBay.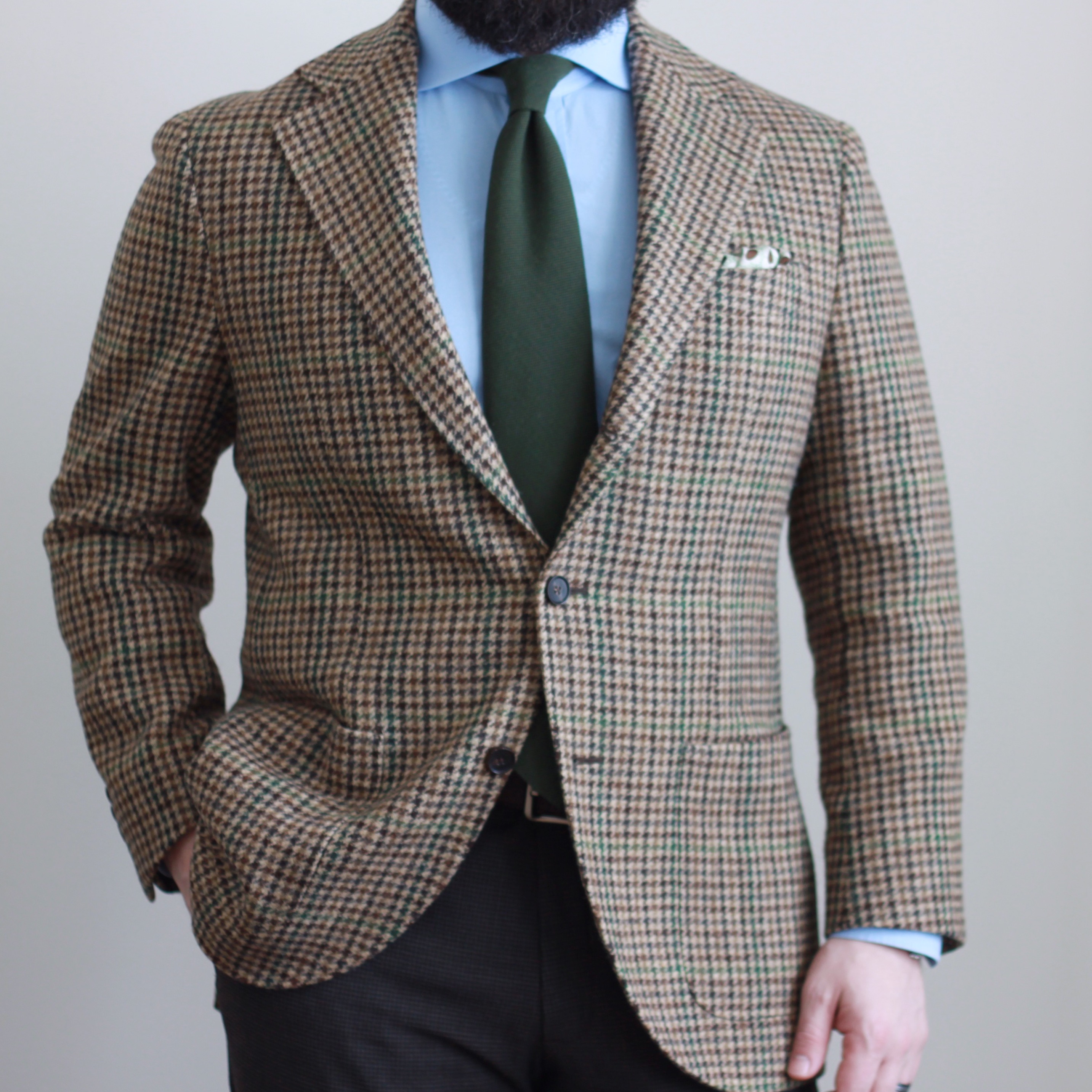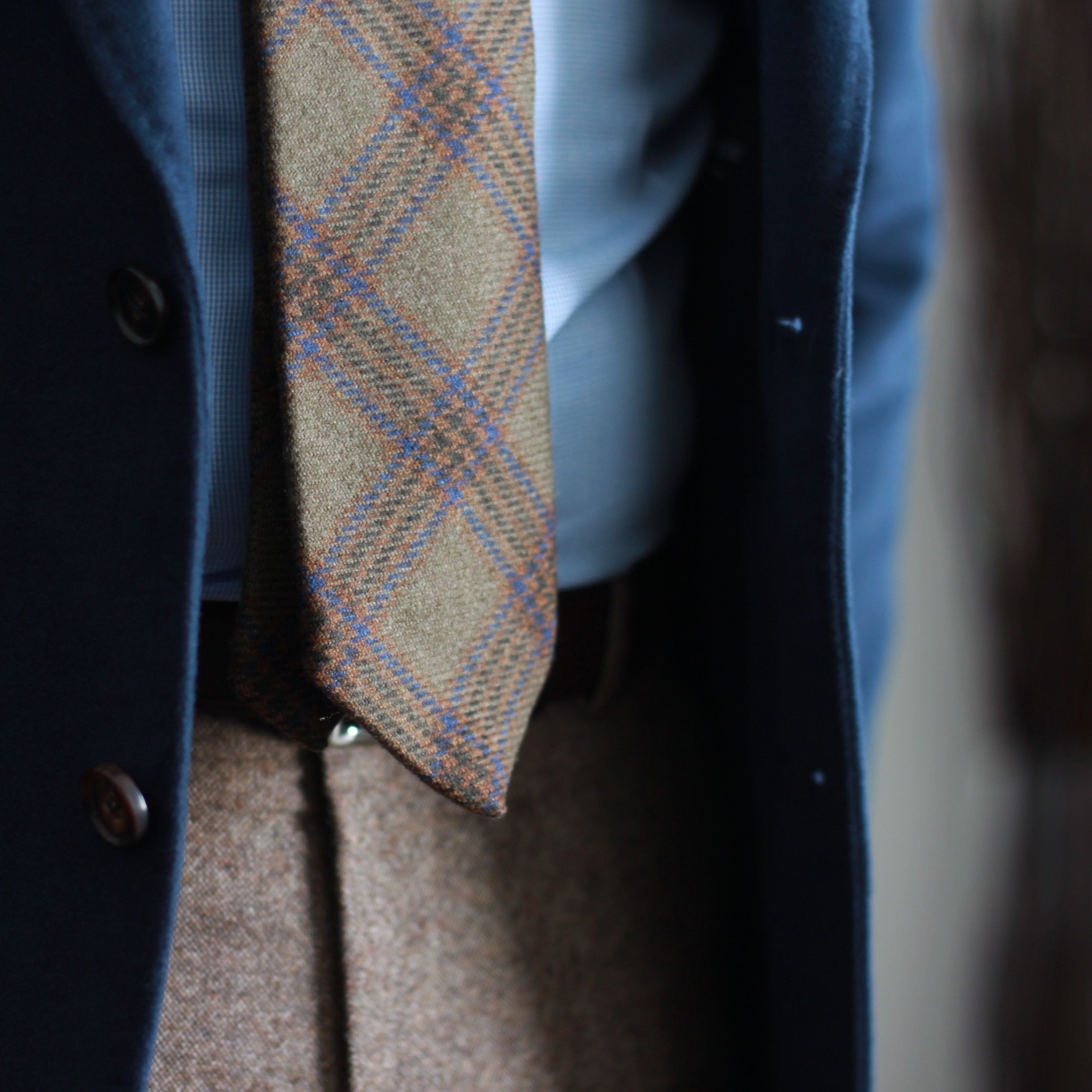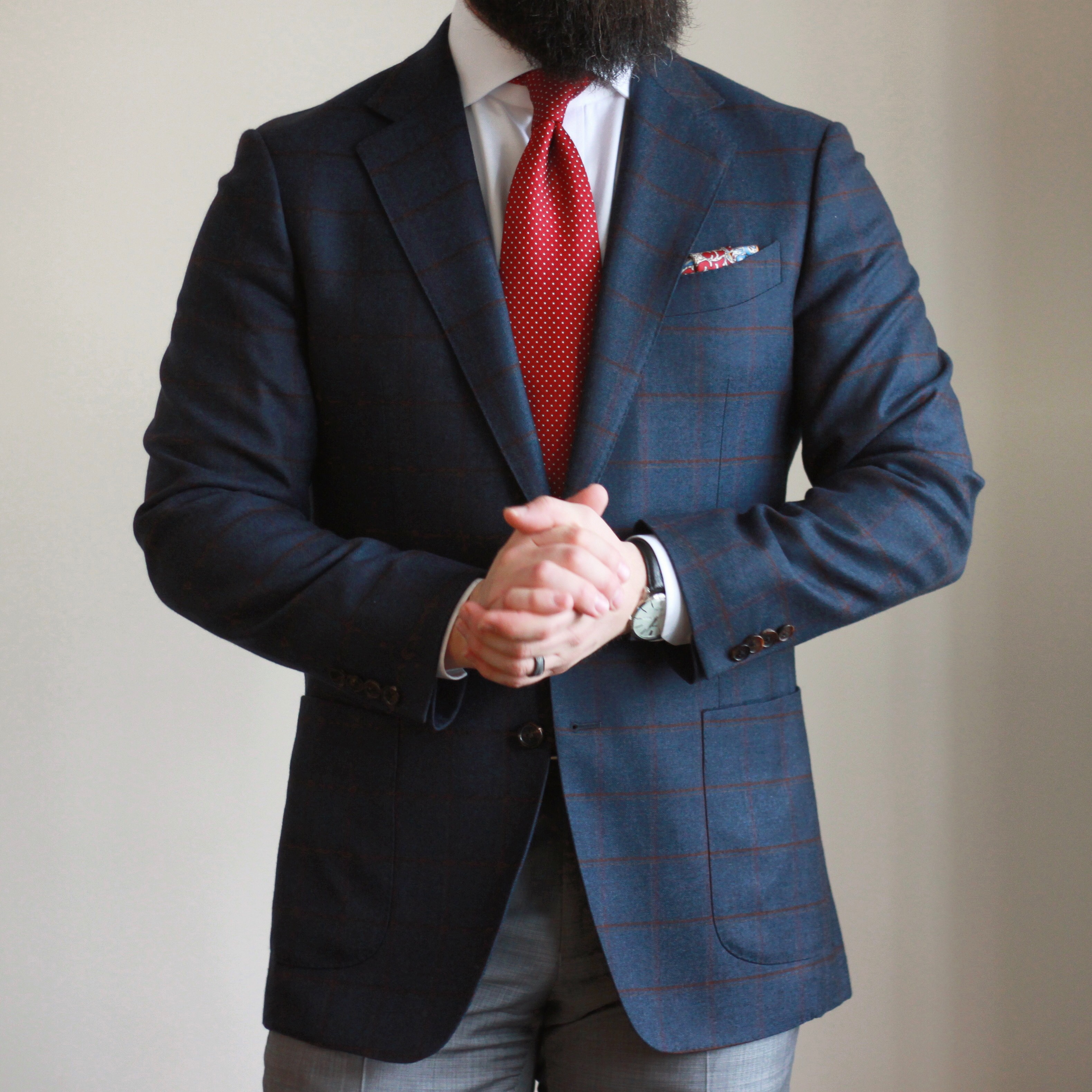 The Tie Bar
My second resource when looking to quickly stock up on some ties was the Tie Bar. Now, these are very inexpensive ties, and I knew that going in. I was pleasantly surprised to find that they tie a pretty decent knot! The fabrics are nothing special, but to get a few basics without a big hit to your wallet… Hard to beat. There is one left in active rotation – a grey PoW – but the rest have been upgraded. I only ever ordered once, as the duties and taxes calculated basically doubled the price.
StyleForum Buy & Sell
The Buy & Sell section of StyleForum is a great place to look. The current format is a little bit less intuitive than the old platform, but if you can spend some time with it there are a lot more filters. This makes it easier to sift through the many listings. Scoring gems there takes some effort, as you really need to check it regularly. I picked up two beauties that I wear regularly.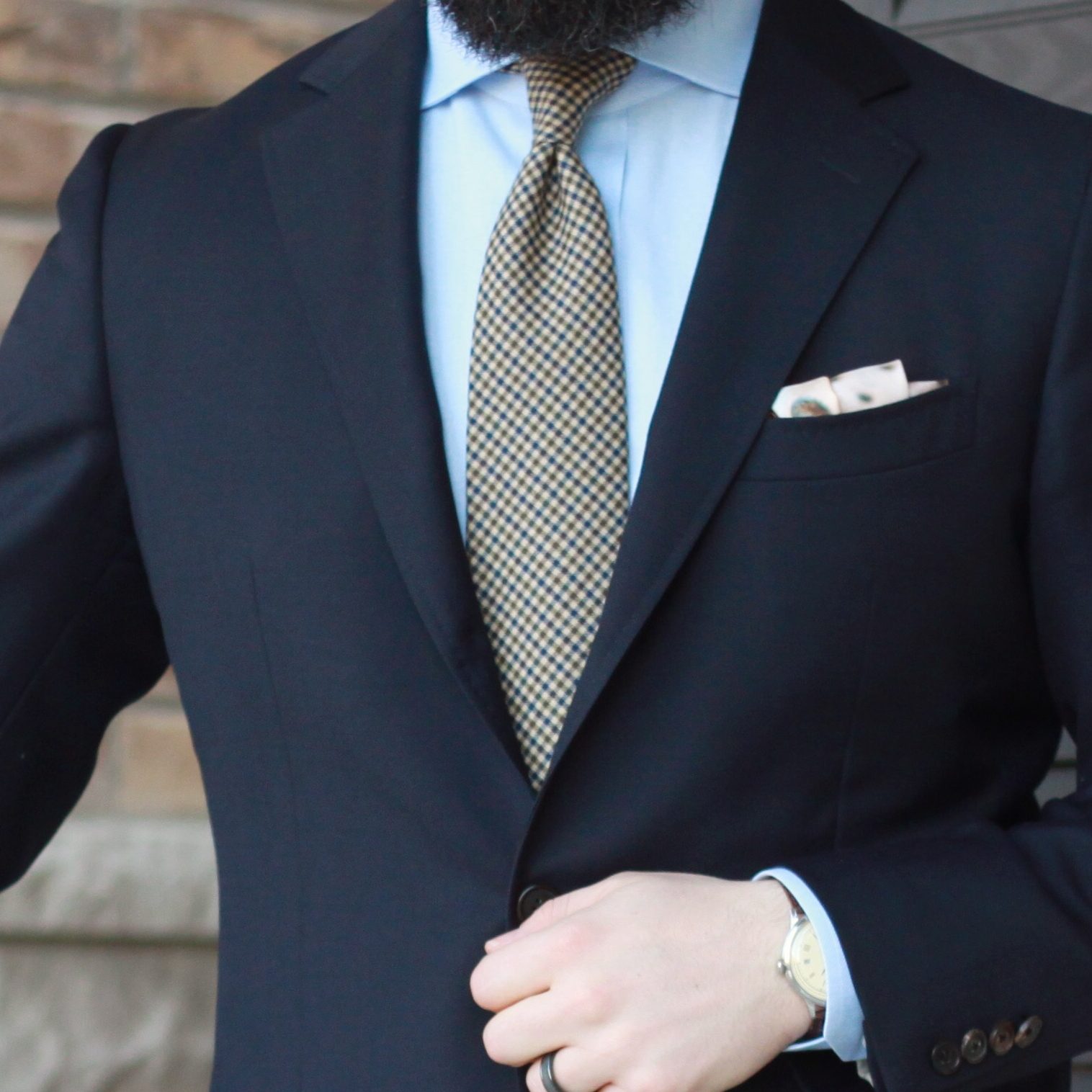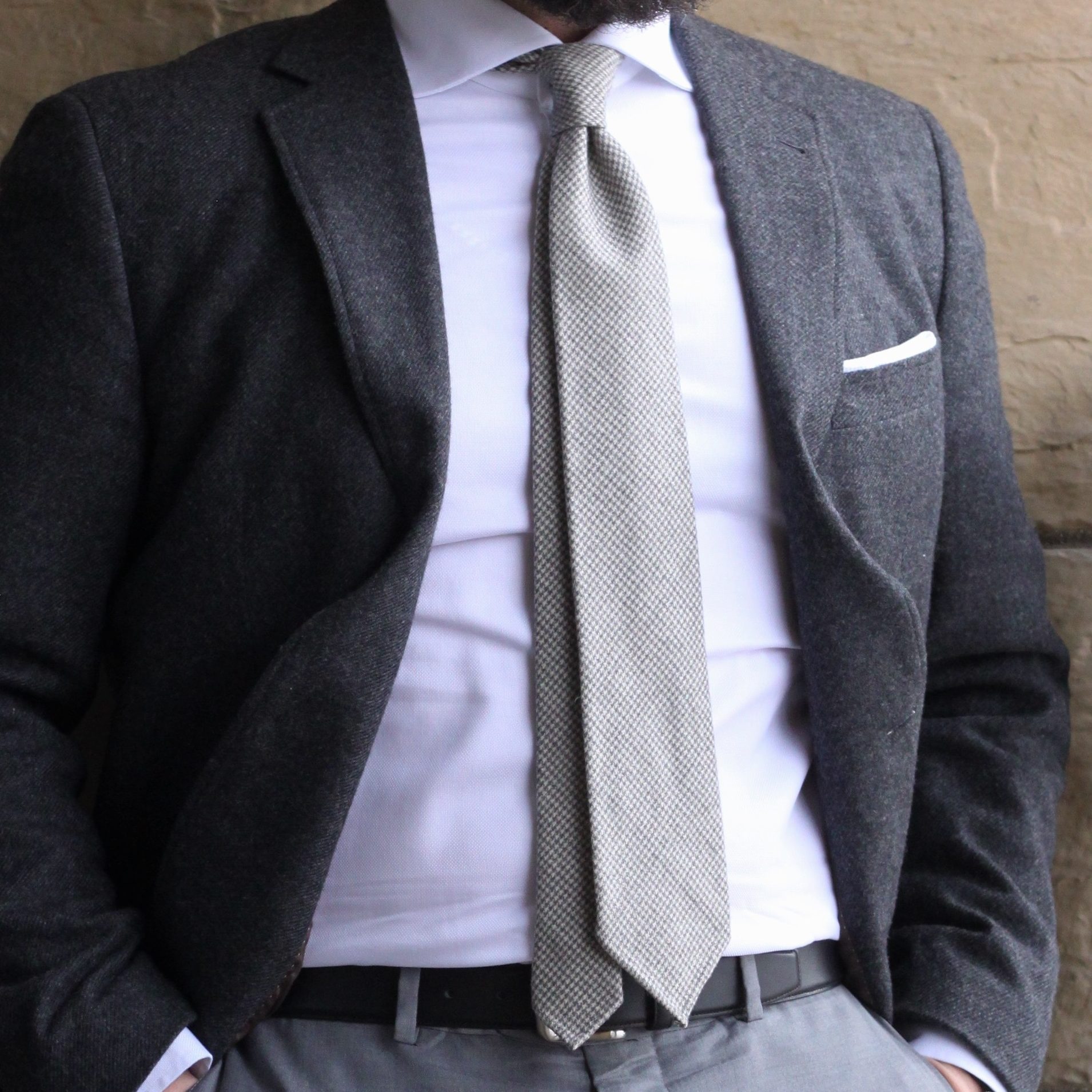 Vanda Fine Clothing
Seeing a number of the people I draw inspiration from on StyleForum wearing Vanda, I spent a lot of time perusing their website. I have about 100+ ties on my wishlist at any given time. The selections of fabric that Vanda offers are some of the best around. Construction is amazing, and they produce a beautiful knot. Last spring I made my first purchases: the chive matka, the brown and blue wool stripe, and the granola hopsack.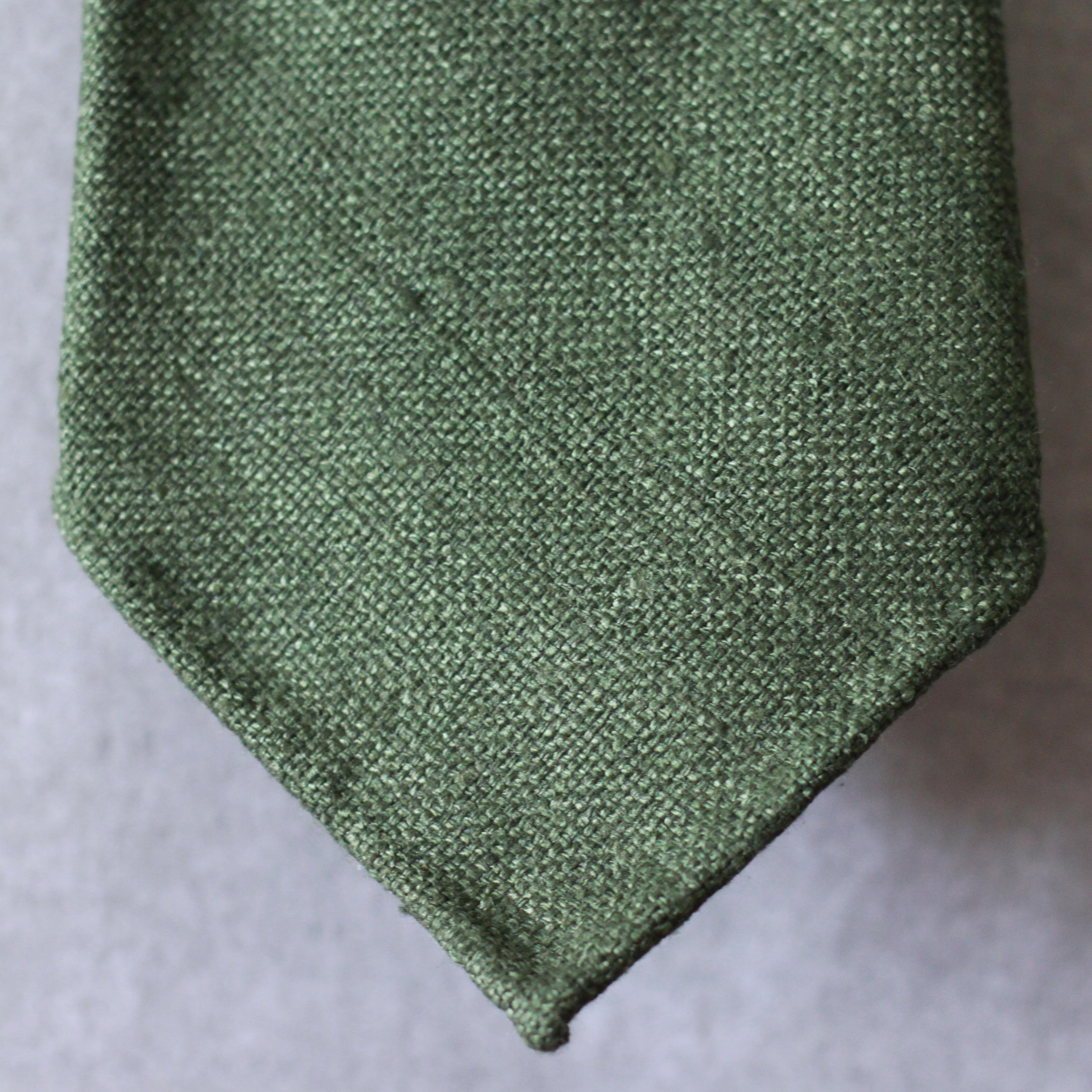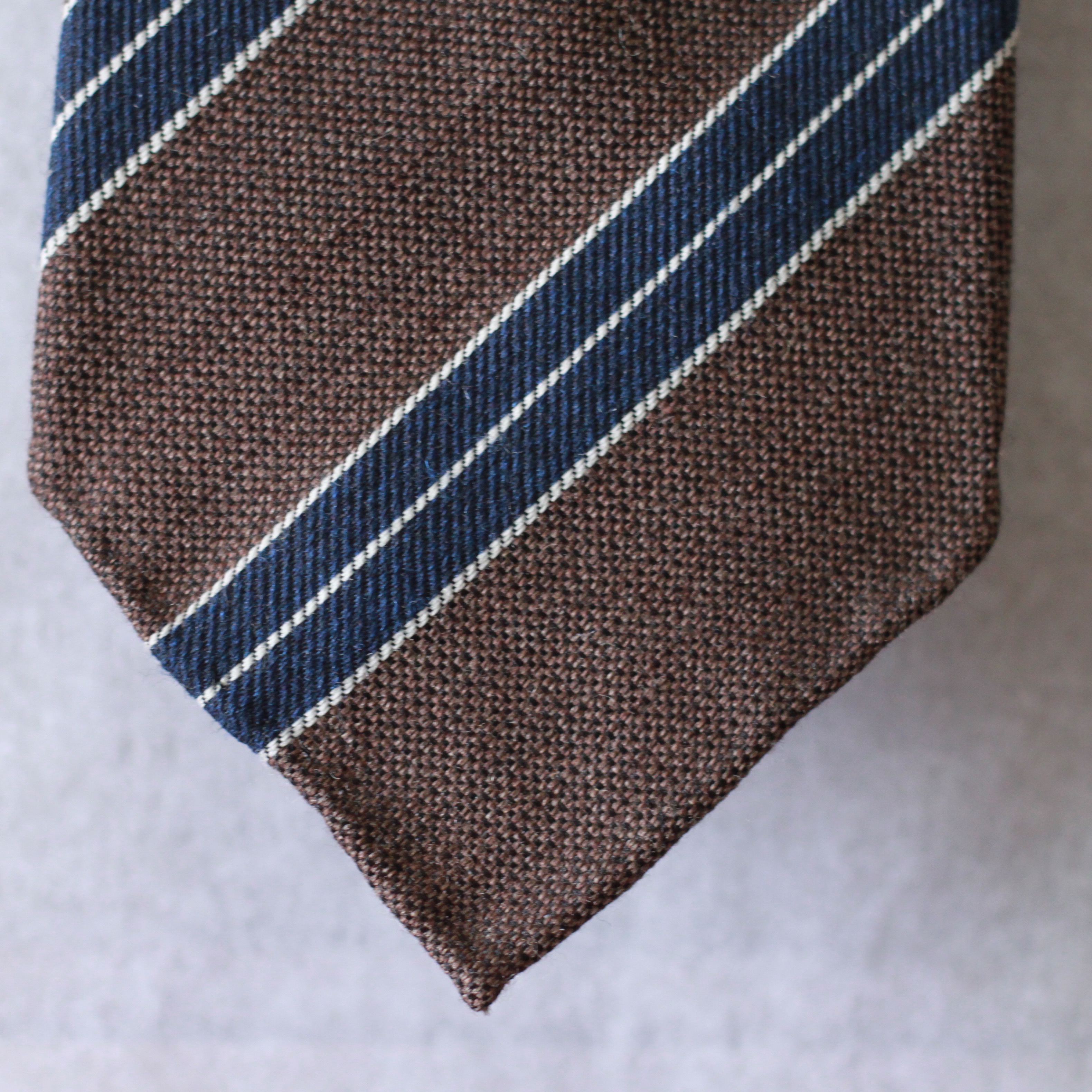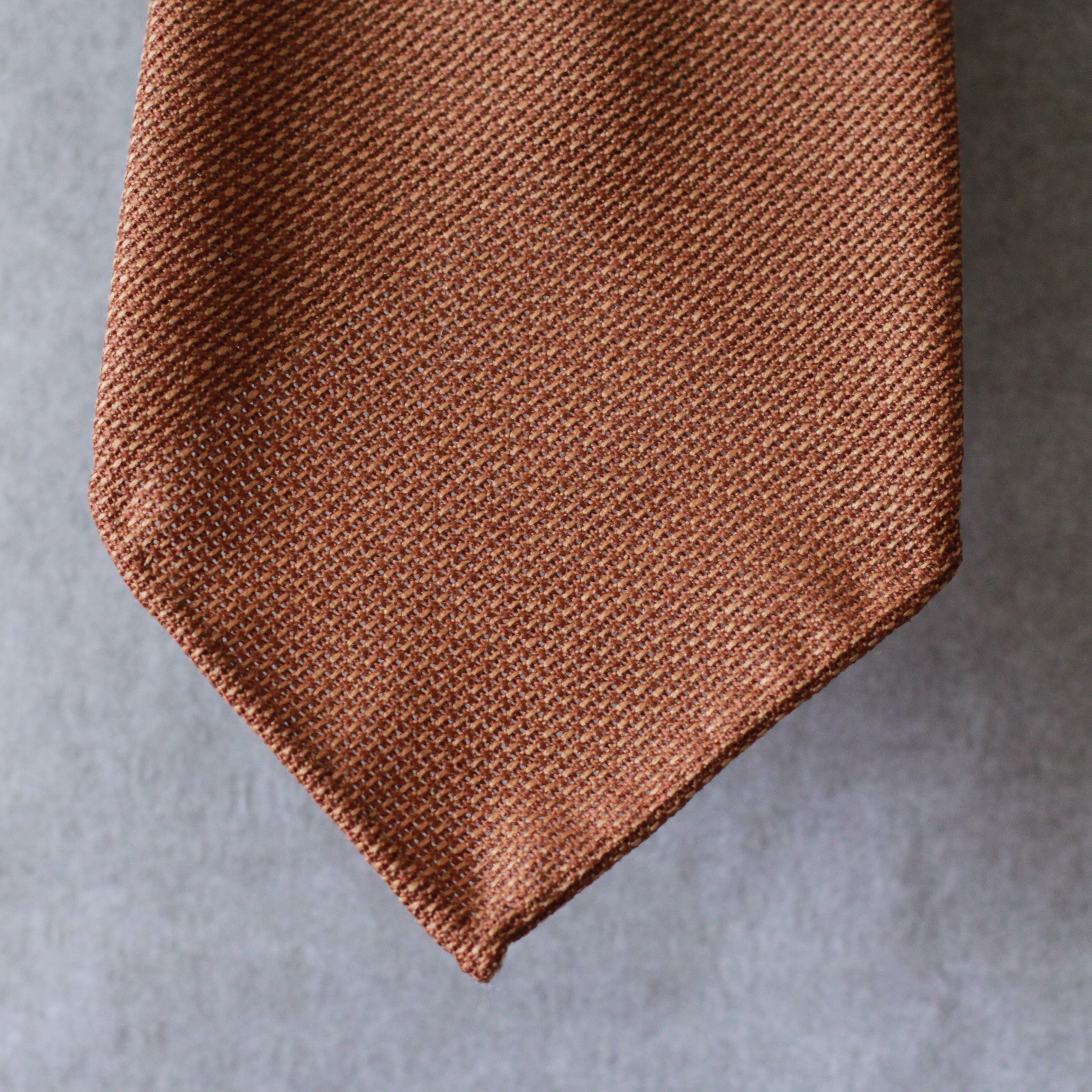 A pretty large portion of my wardrobe overall is textured solids – ties, sport coats, suits, trousers. Vanda offers some truly excellent options. Specifically the matkas and hopsacks. I don't think I could choose a favourite if I had to. Both of them offer just the right amount of texture for visual interest, and are available in a breadth of colours. For the matkas, this season has brought some excellent options – coconut, sakura and oat are my favourites. As far as hopsack options, it's pretty much unlimited. I like the grey and light blue in particular. There used to be a selection of any hopsack that VBC (Vitale Barberis Canonico) offered, but I couldn't find when writing this post. Shortly after ordering my first round, I placed an order for another three: rhubarb matka, brick red silk print and a brown/white cotton-linen blend.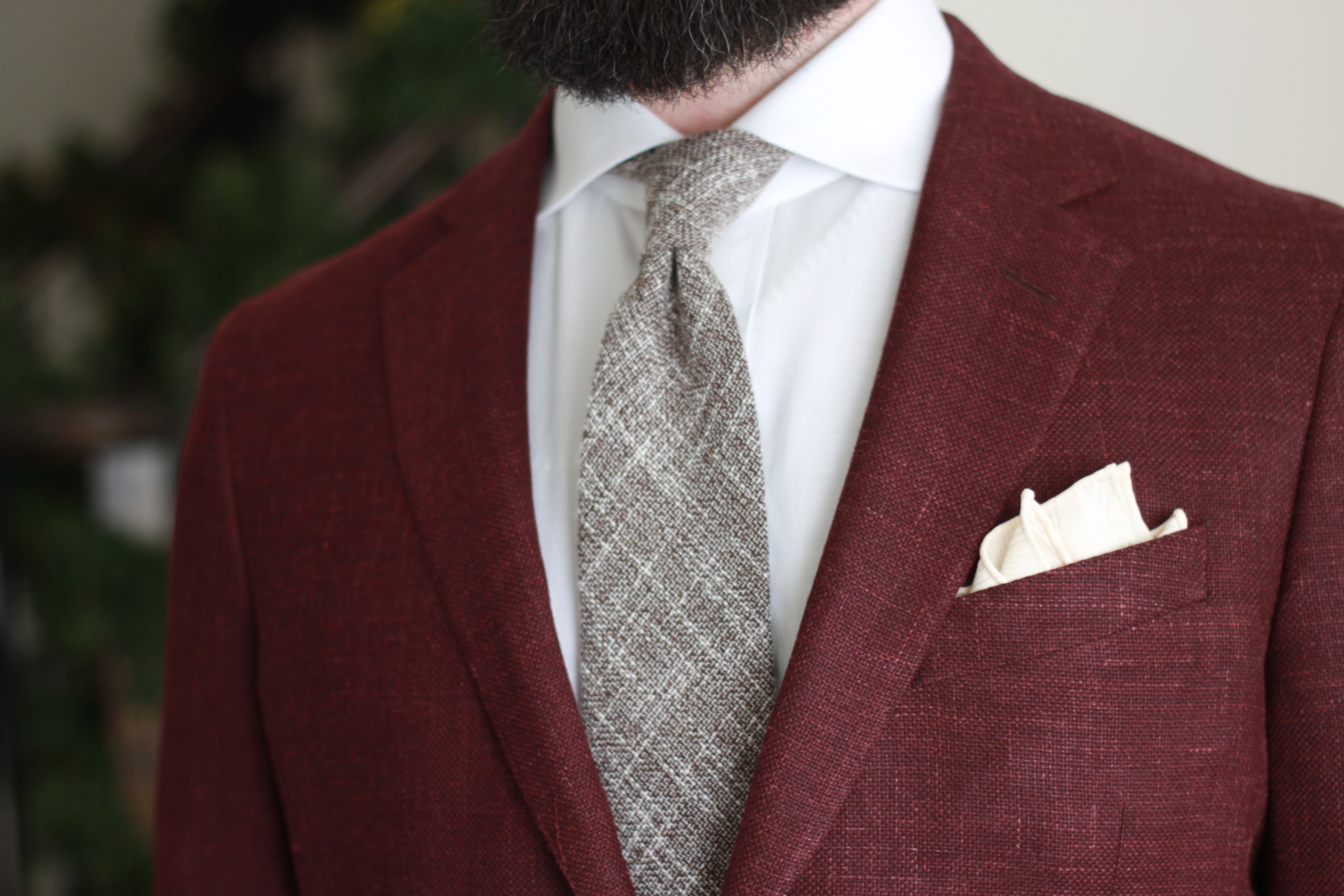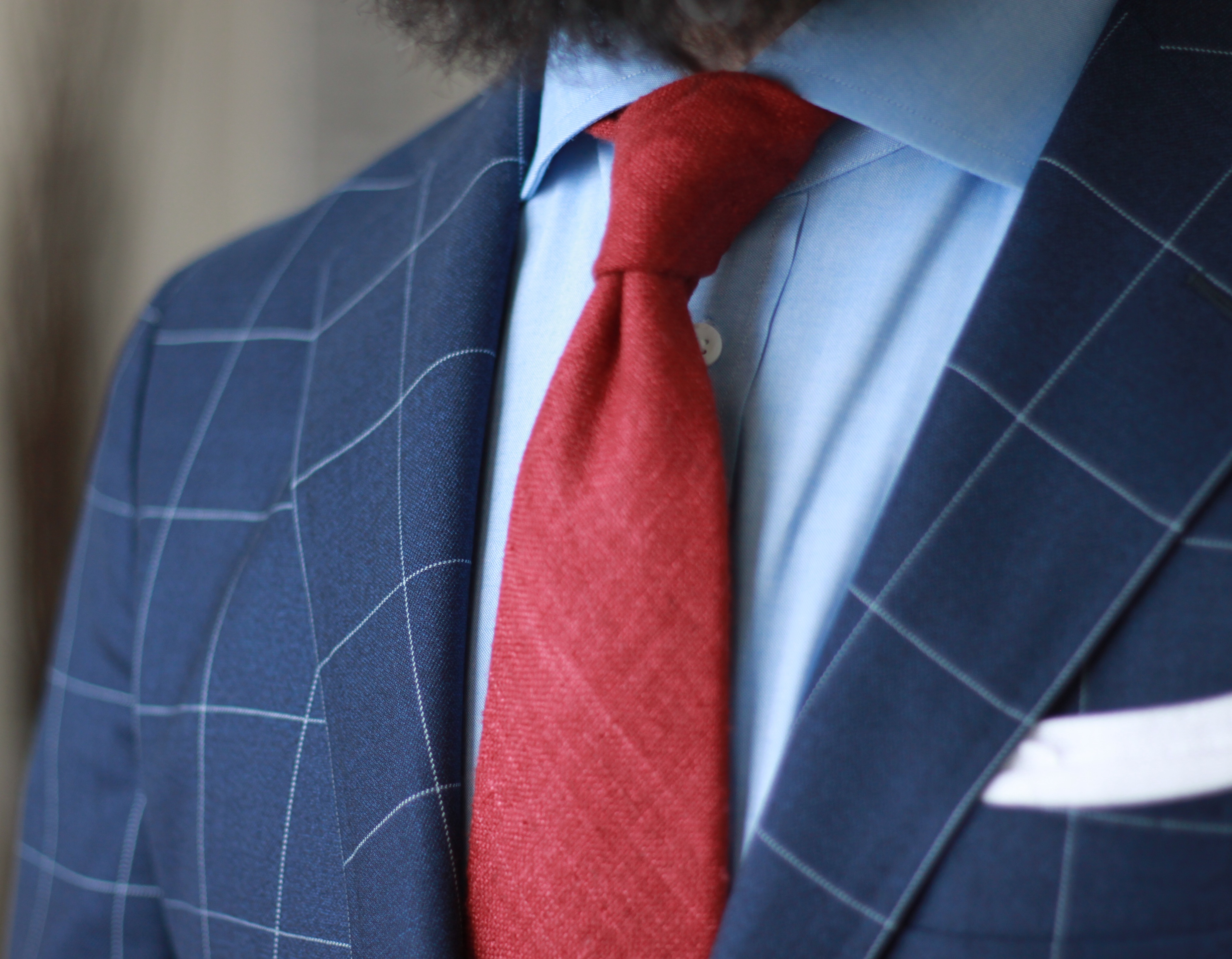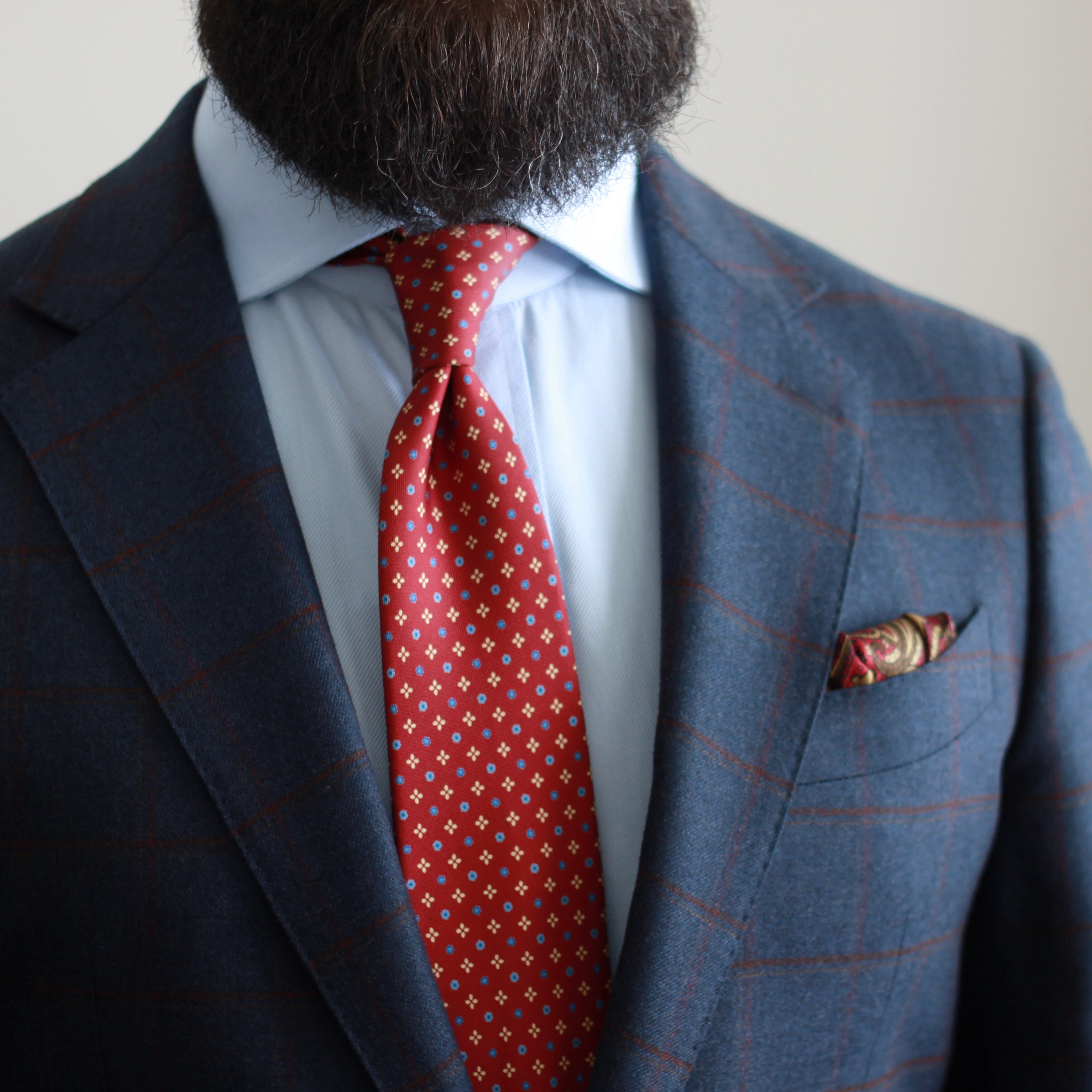 If you are interested in purchasing some Vanda ties, feel free to use this link to receive 5% off your first order! You can thank me later.
Kent Wang
So far, I own two grenadine ties from Kent Wang – a navy and a silver-grey. Both are the grossa weave, which is the larger scale knit – lots of texture, without the lower formality that is usually associated with a knit tie. So far, these are the best value grenadine ties I've come across. The construction is great, and they make a perfect sized knot – not too long, not too chunky. Eventually, I will own most of the colours they offer. Next up will be the brown, black, green and maybe even the pink.
Kent Wang also offers some attractive looking wool and cashmere options. I'm quite interested in the two donegal offerings (red, grey) and the cashmere herringbone ones (navy, brown). As the weather warms up, they will have to remain on the wishlist for now.
Seasonal tie choices
Seasonality is something I'm beginning to appreciate. Not just with sport coats and trousers, but ties too. I think for the most part, I have a pretty decent rotation of ties. There are some fabrics, like the matka pictured above, that would be traditionally spring/summer. That's mostly how I wear them, especially based on my colour choices. I think the texture could work year-round though. I would like some more seasonal choices – wool, cashmere, linen blends.
Lessons Learned
My tie buying learning curve was a bit shorter and steeper than my overall #menswear learning curve. I'm comfortable enough with my purchasing decisions that I can treat myself to these high-end custom ties. Every now and then, I do still make some less than ideal decisions. An example would be the silver-grey grenadine from Kent Wang. I very much like the tie, but in terms of priority I probably should have chosen a different colour. Similar to the "My Wardrobe – Sport Coats" post, I will be doing an audit of my tie collection soon, in hopes to identify any gaps so I can plan appropriately.
What have you learned about buying ties? Did you make any cringe-worthy purchases?
-Colin