Inspiration: The Brown Sport Coat
Inspiration: The Brown Sport Coat
What can brown do for you?
A brown sport coat should be one of your first purchases. In fact, I believe it is more versatile than a navy sport coat. It can do all the same things navy can, but will pair better with jeans. The post title might be a touch misleading – I am not suggesting one brown sport coat. Rather, I'll study a number of them in my own wardrobe for maximum effect!
There are a number of ways we can go about categorizing brown sport coats for this exercise:
Brown Sport Coat sub-categories:

Dark brown
Warm brown
Grey-ish brown
Tan (aka light brown)
Patterns with brown in them
And since I've listed them all here, I'm going to cover them all!
Shades of Brown Sport Coats
Dark Brown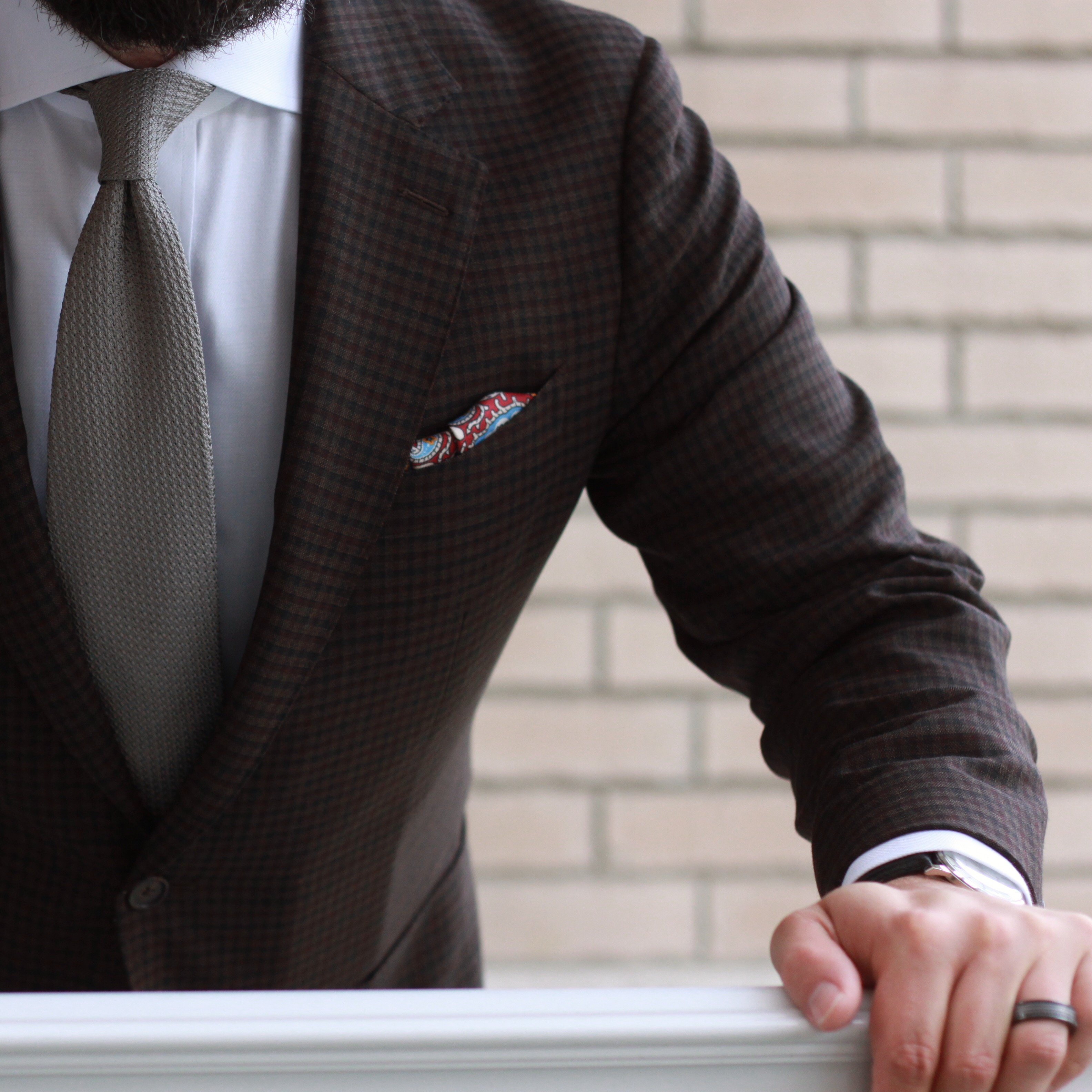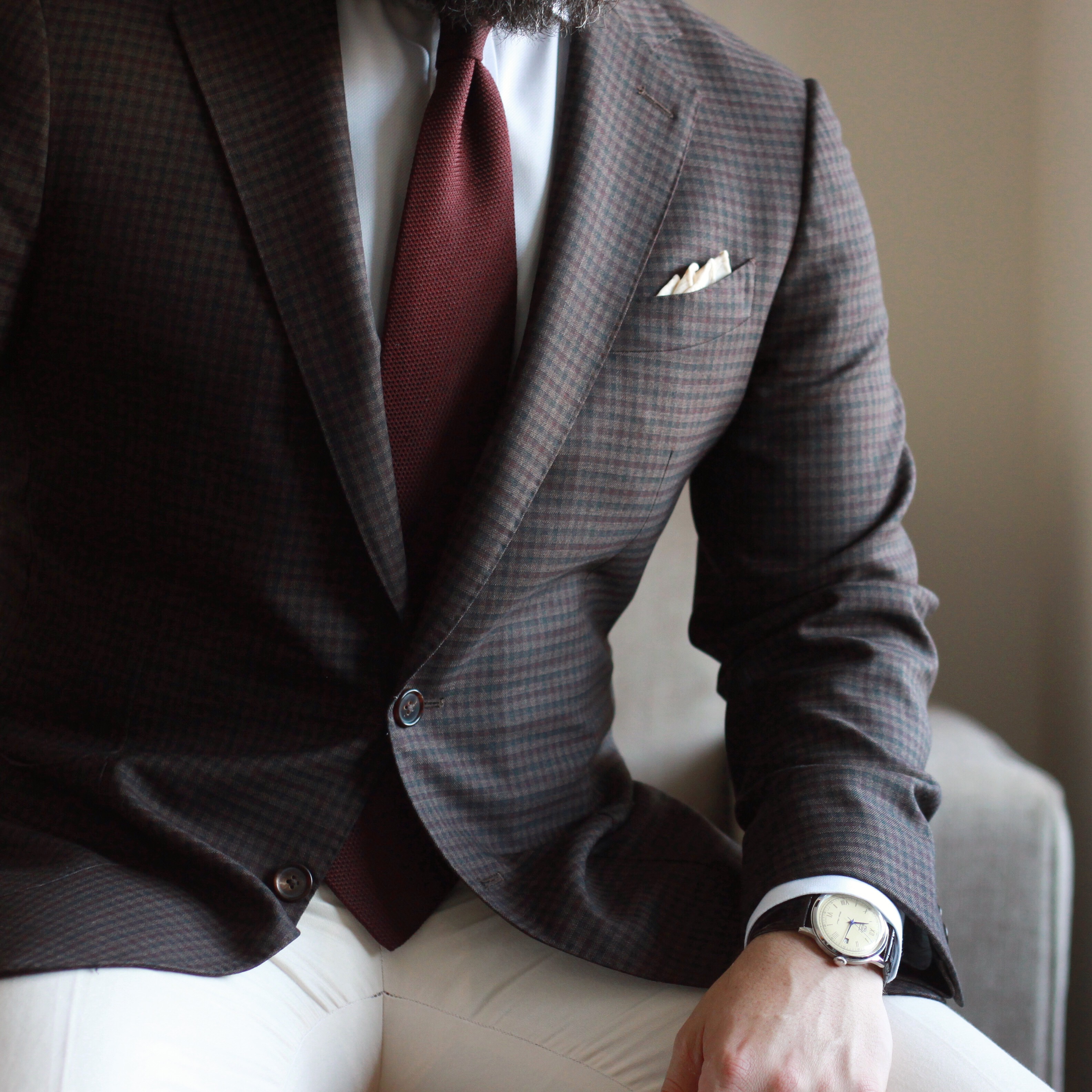 Here is an example of how I wore my darkest brown sport coat. It's a rich, chocolate base, with a navy and burgundy check. I've paired it with a crisp white shirt and silver-grey grenadine tie. Unseen are the light grey trousers. To me, brown and grey is every bit as versatile as a navy and grey based outfit. You get all the good contrast, and escape the more formal-leaning structure of a navy jacket.
The second outfit picks up the burgundy check in the jacket with the tie. Cream trousers and a white shirt keep it light, and add some contrast. Instead of a white pocket square, I chose my Cream Waves from Vanda. As you can see, it helps to continue the tone and colour of the trousers up into the top half, while keeping the overall warmth of the look. I think a white square would have been to harsh.
Warm Brown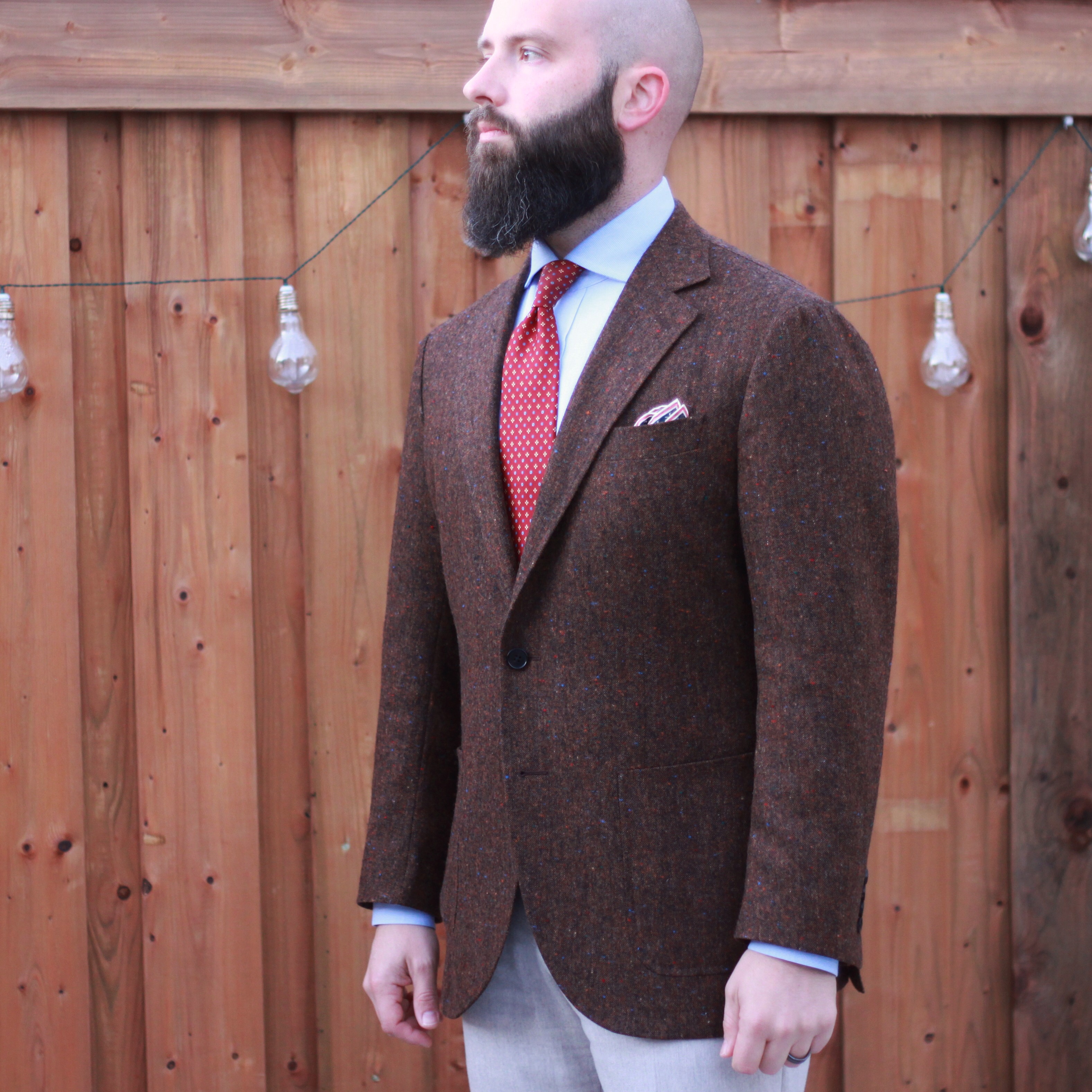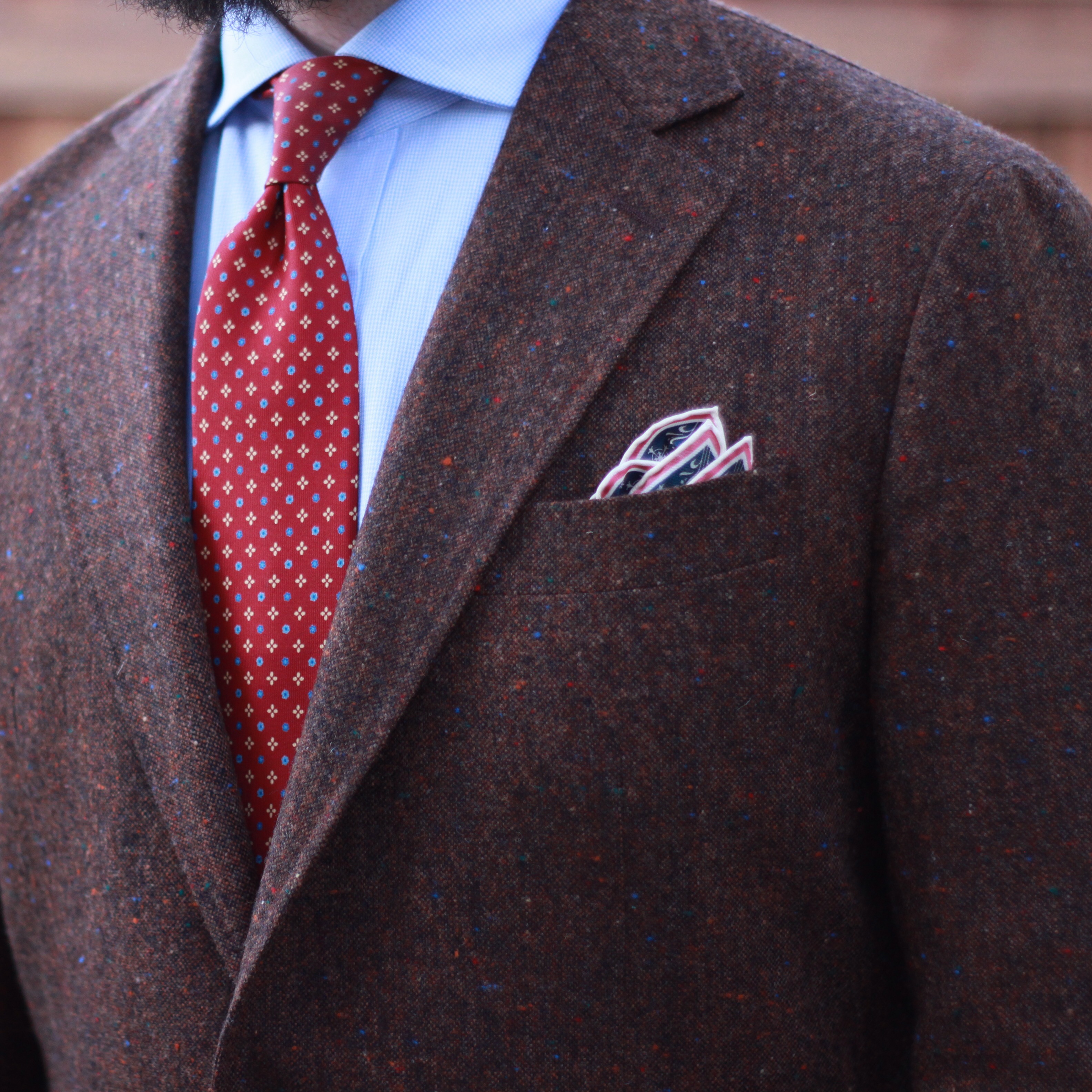 I recently picked up this beauty from Spier & Mackay – it's a nice warm, slightly rusty shade of brown tweed made up in a Donegal style by Botolli. At first, I wasn't sure I loved how colourful the flecks and specks are. Bright blues, oranges, greens and reds really pop all over. I tried it on a couple of times before deciding to bring it home. Side note: this may be the bestest fitting off the rack sport coat yet! Anyways, I wanted to play off the warm tones, and paired this brown sport coat with my light brown VBC flannel trousers (they are available again this year!) and a brick red tie from Vanda. A blue houndstooth shirt and my St. George and the Dragon pocket square from Rampley & Co balance out the warmth with some cooler blue shades. They also pick out the blue flecks nicely.
So, to summarize so far: Brown sport coats are awesome with grey trousers and light brown trousers. Good? Good.
Grey-ish Brown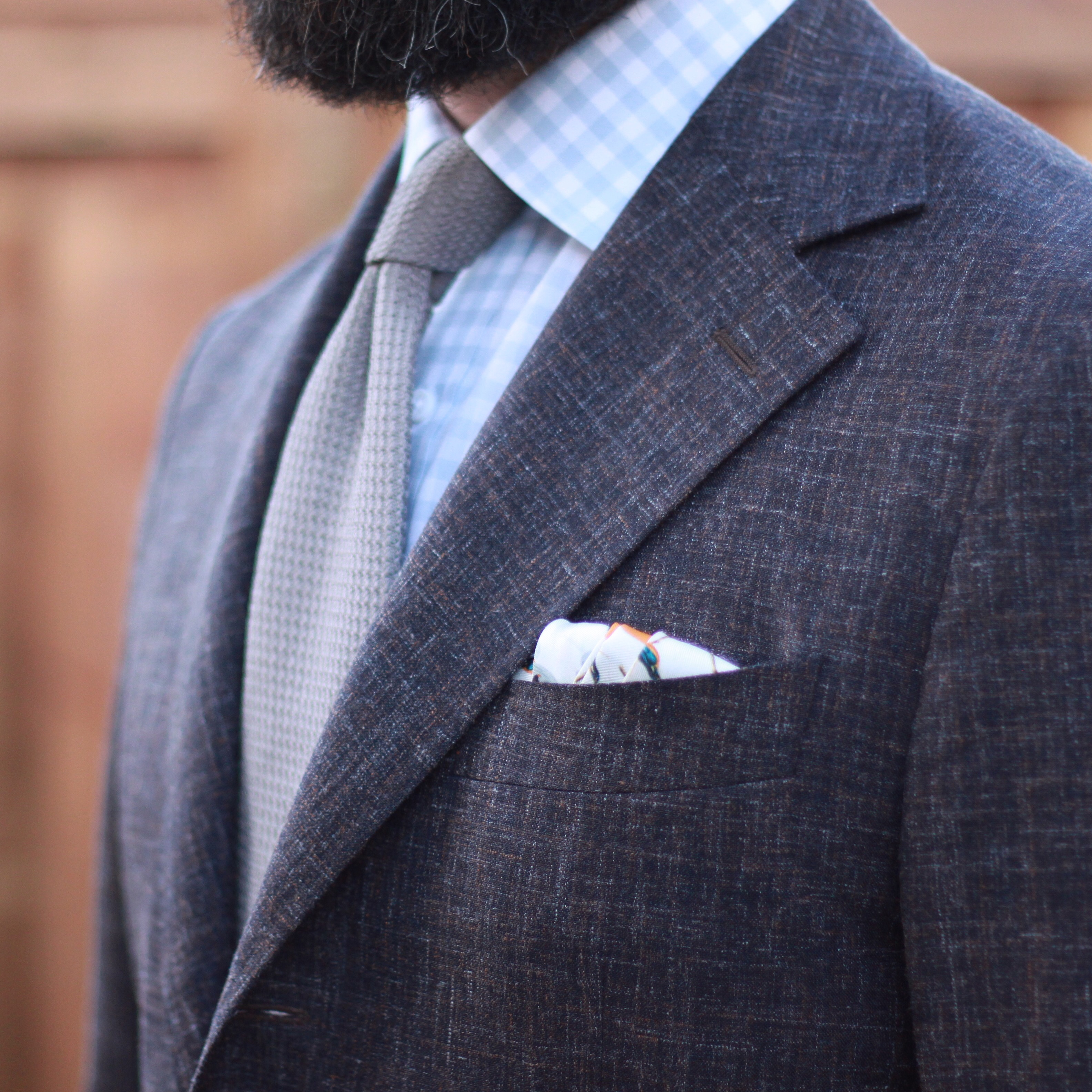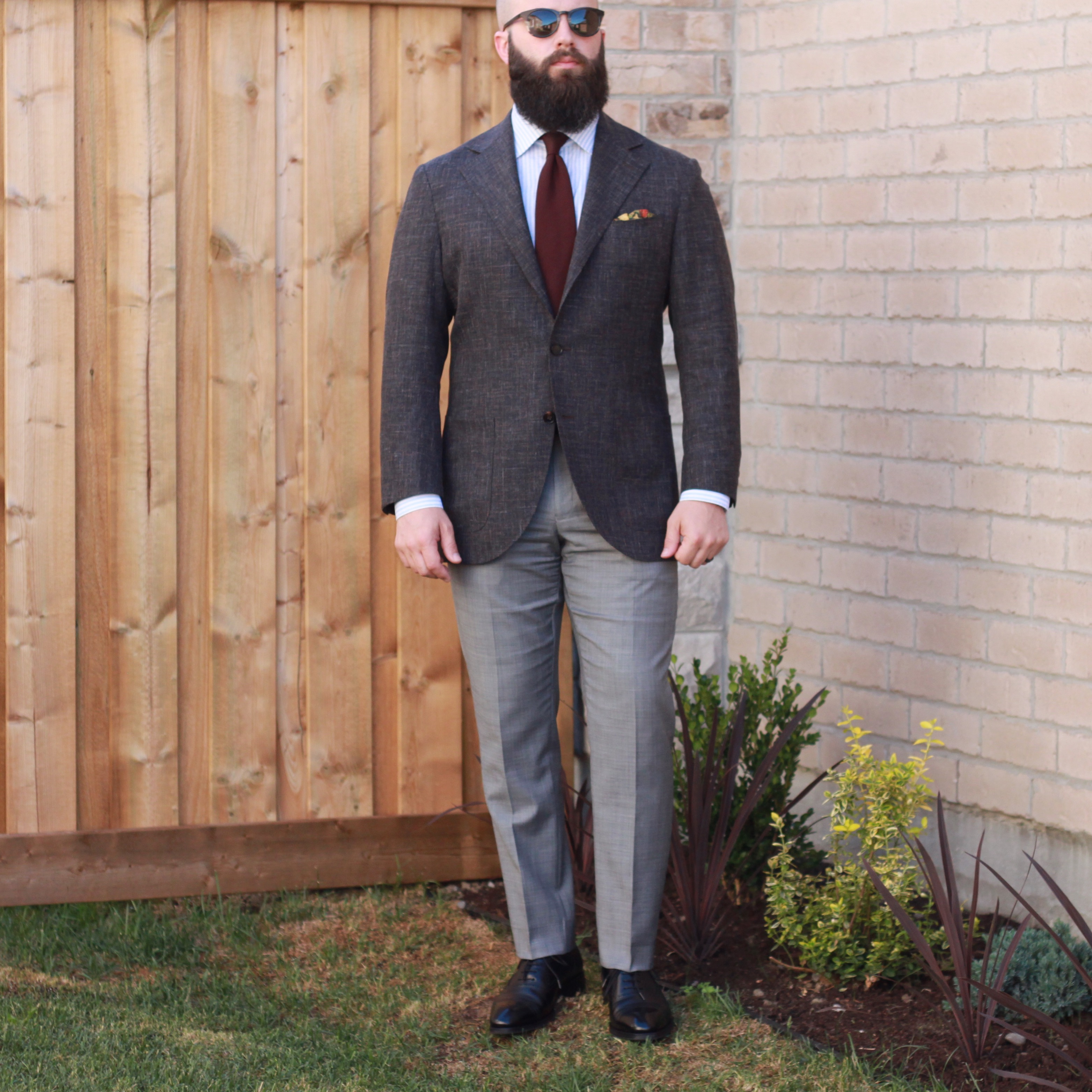 This summer slub is a really cool fabric. I've featured it previously, when I wrote about the v3 Neapolitan cut from Spier & Mackay. The grey and coppery threads really add some fantastic texture and depth to the colour. In the first pic, I've leveraged the grey tones with that same silvery-grey grenadine from Kent Wang (notice a pattern?) and my soft mint gingham shirt. I wore my Kingfisher pocket square from Rampley & Co to balance out the colour of the shirt, and hoping the orange would pickup the copper in the jacket.
In the second image, featuring the same brown sport coat, I went with my burgundy Sam Hober grenadine tie and the Taurus Orion pocket square from Kent Wang. The deep burgundy contrasts nicely with the brown sport coat, and the warm yellows, reds and browns in the pocket square really tie everything together. Light grey trousers and my black cap toe Carminas offer a neutral base.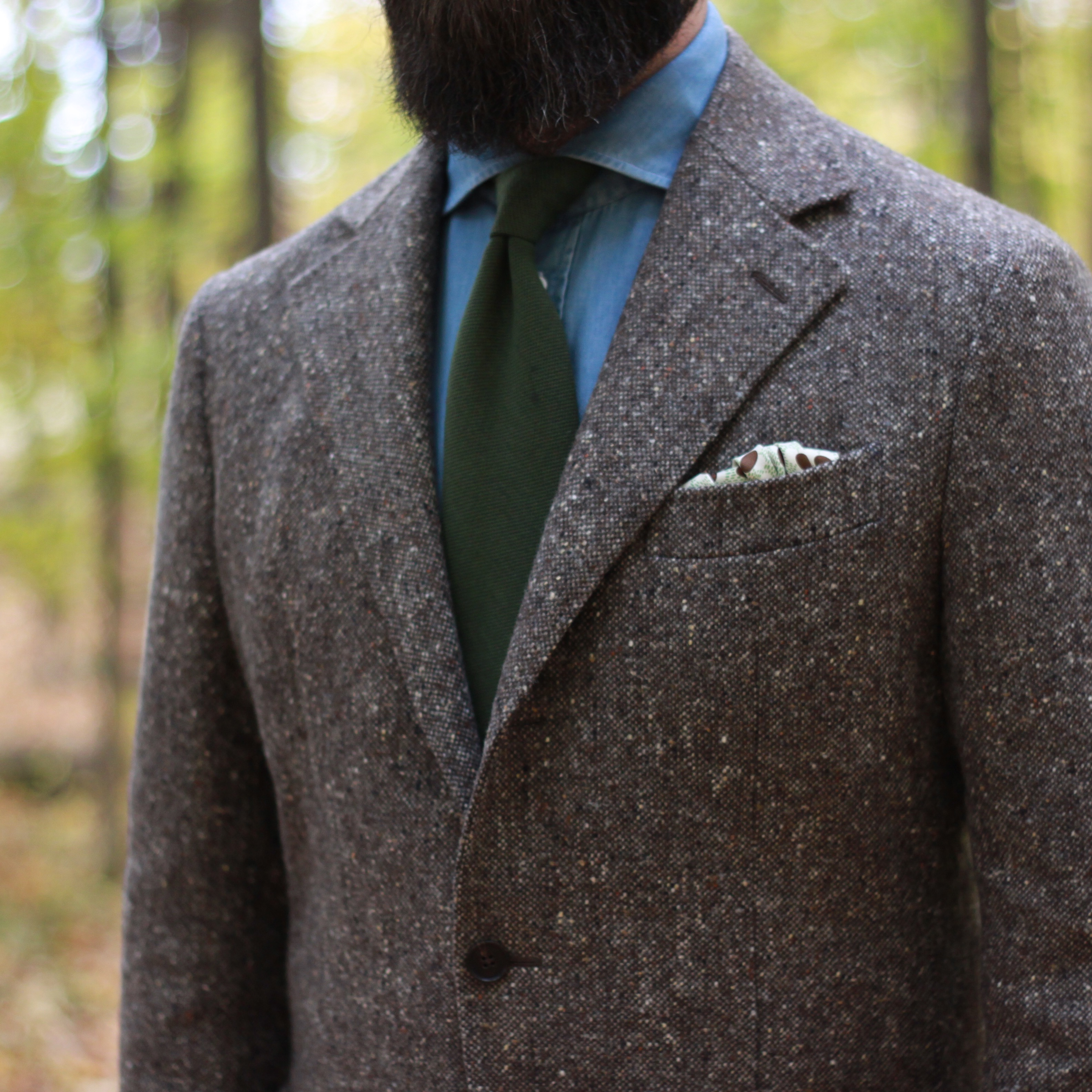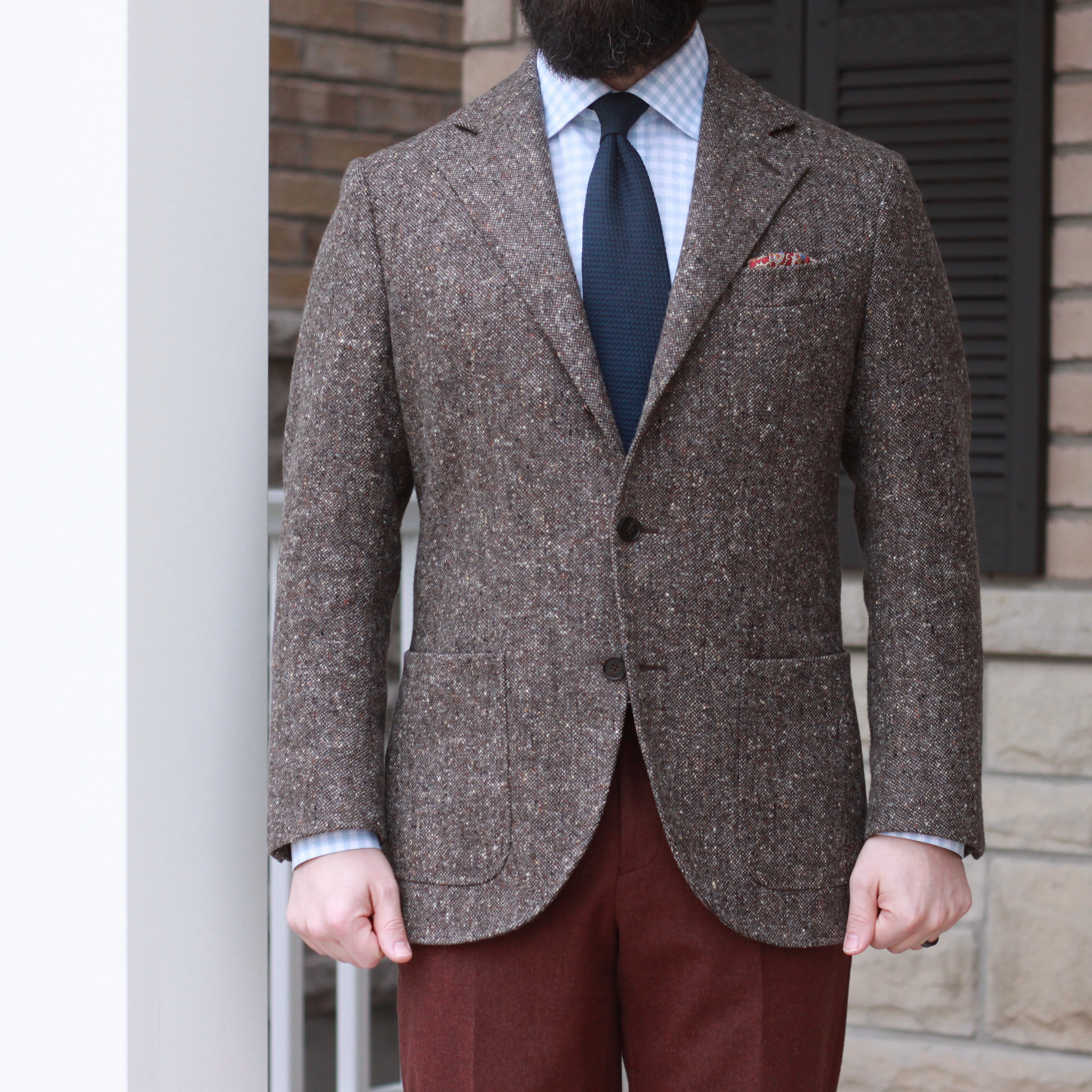 My next grey-ish brown sport coat is this Donegal number. The colour is called Fawn by Abraham Moon & Sons, it's a brown base with flecks of charcoal, light grey, beige and yellow. It is a very neutral shade – neither warm or cool, and has a wonderful texture. In the first picture, I've worn it with a light wash denim shirt and a forest green wool tie. The pocket square is a Tom Ford piece I picked up from LuxeSwap. Because the top half was generally low contrast, I continued the theme on the bottom half with navy trousers and my Velasca suede wingtips.
In the second example, I've paired the jacket with some burgundy flannel trousers. Because the jacket is not overly saturated, I really like the way the burgundy warms up the overall look while still providing a nice amount of contrast. The rest of the upper block is my soft mint gingham and navy grenadine from Kent Wang. The pocket square is from Vanda, and is a nice maroon/burgundy that has some silver, blue and yellow in it. Overall I liked this look, but the pocket square seems a bit contrived here – like I needed to justify the burgundy trousers in some way, if that makes sense.
Tan (light brown)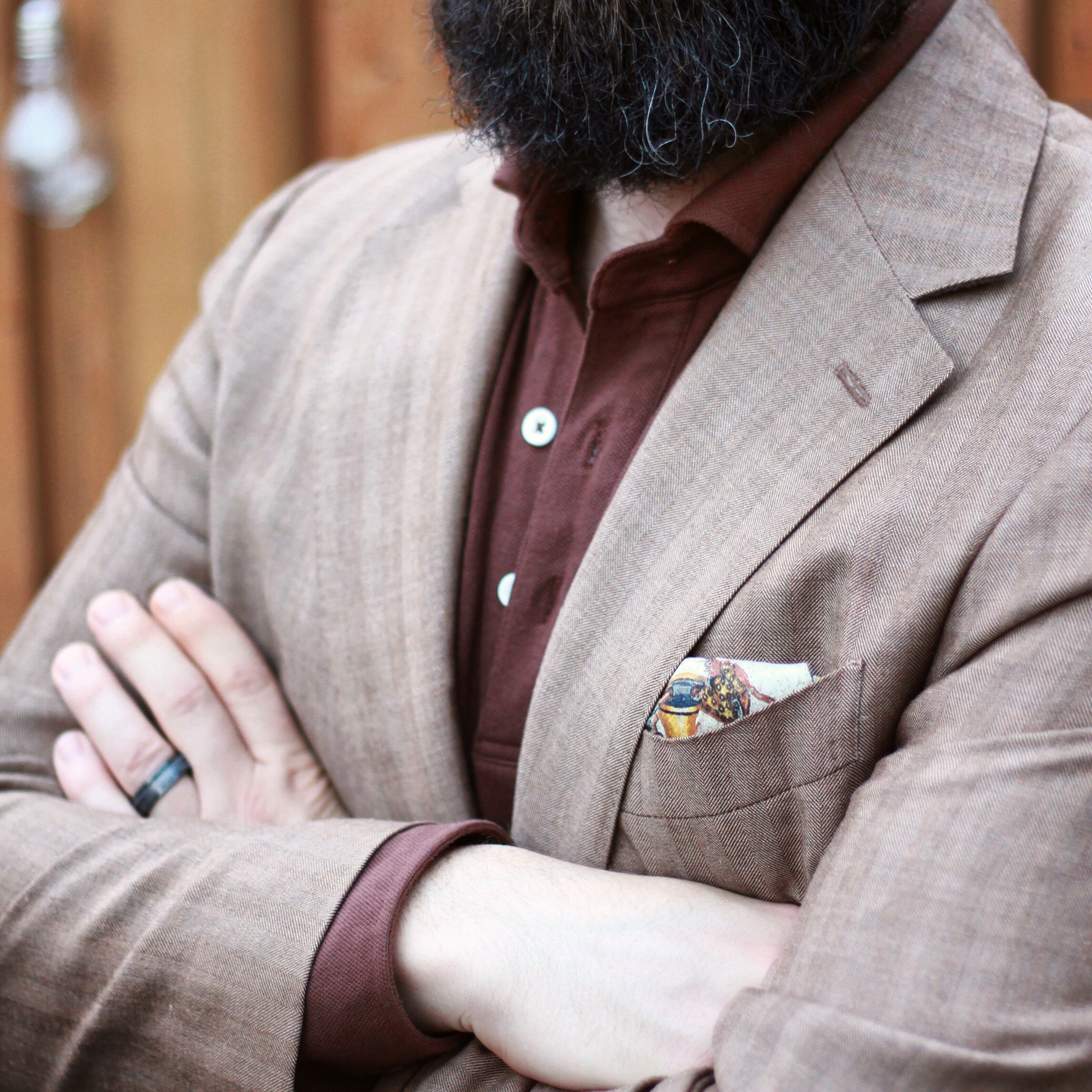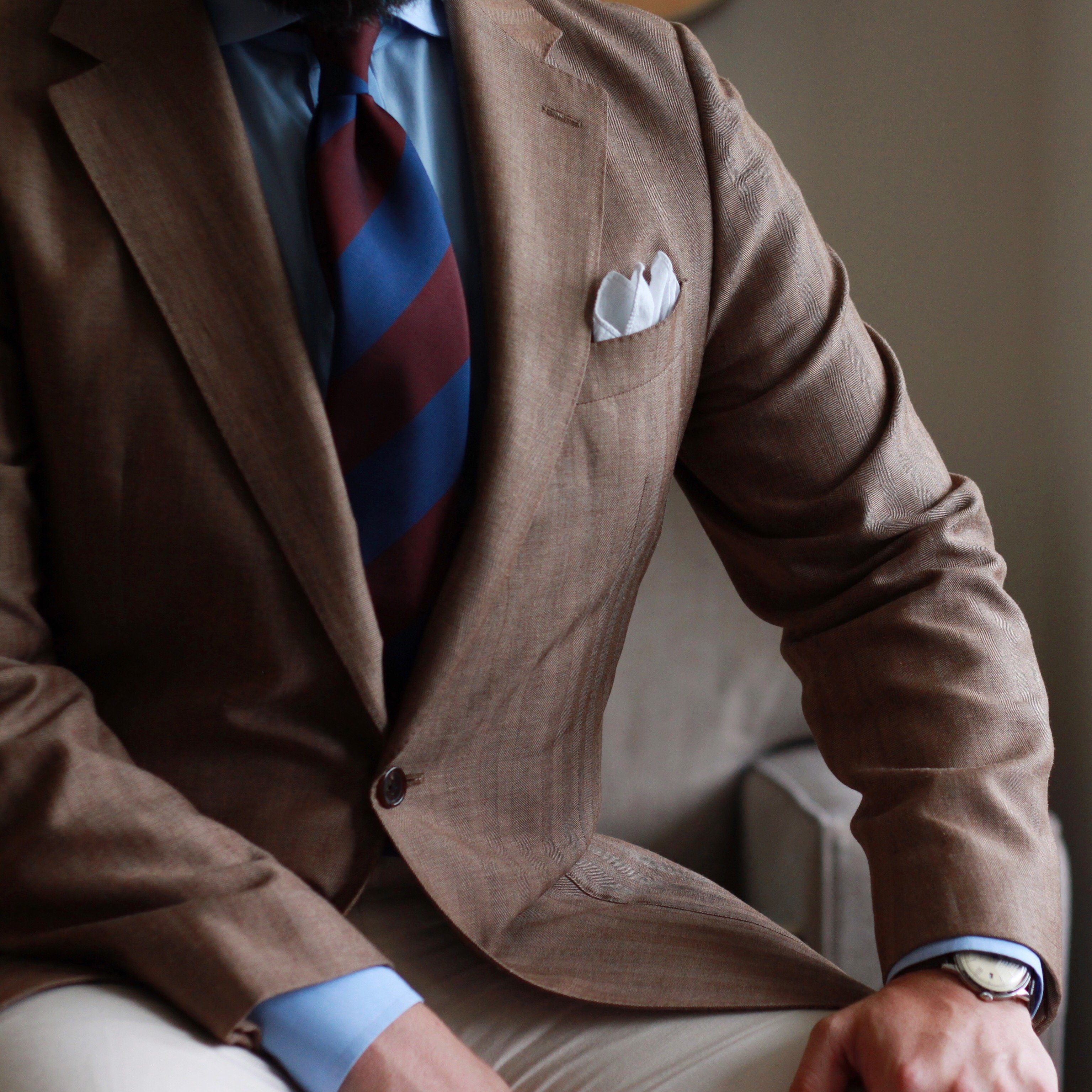 I've written about this tan herringbone jacket a few times. I had trouble finding pairings early on, but have come to learn that it is a really versatile piece. I'm actually on the hunt for a Fall/Winter weight jacket that is tan. Actually, Spier & Mackay has a really nice one from this season that I'm eyeing. The lighter tone works well with trousers and jeans. It seems light compared to all my other jackets, but I've found it has enough contrast with most of the trousers in my closet. Tan is a great brown sport coat to have in the rotation.
Brown Patterns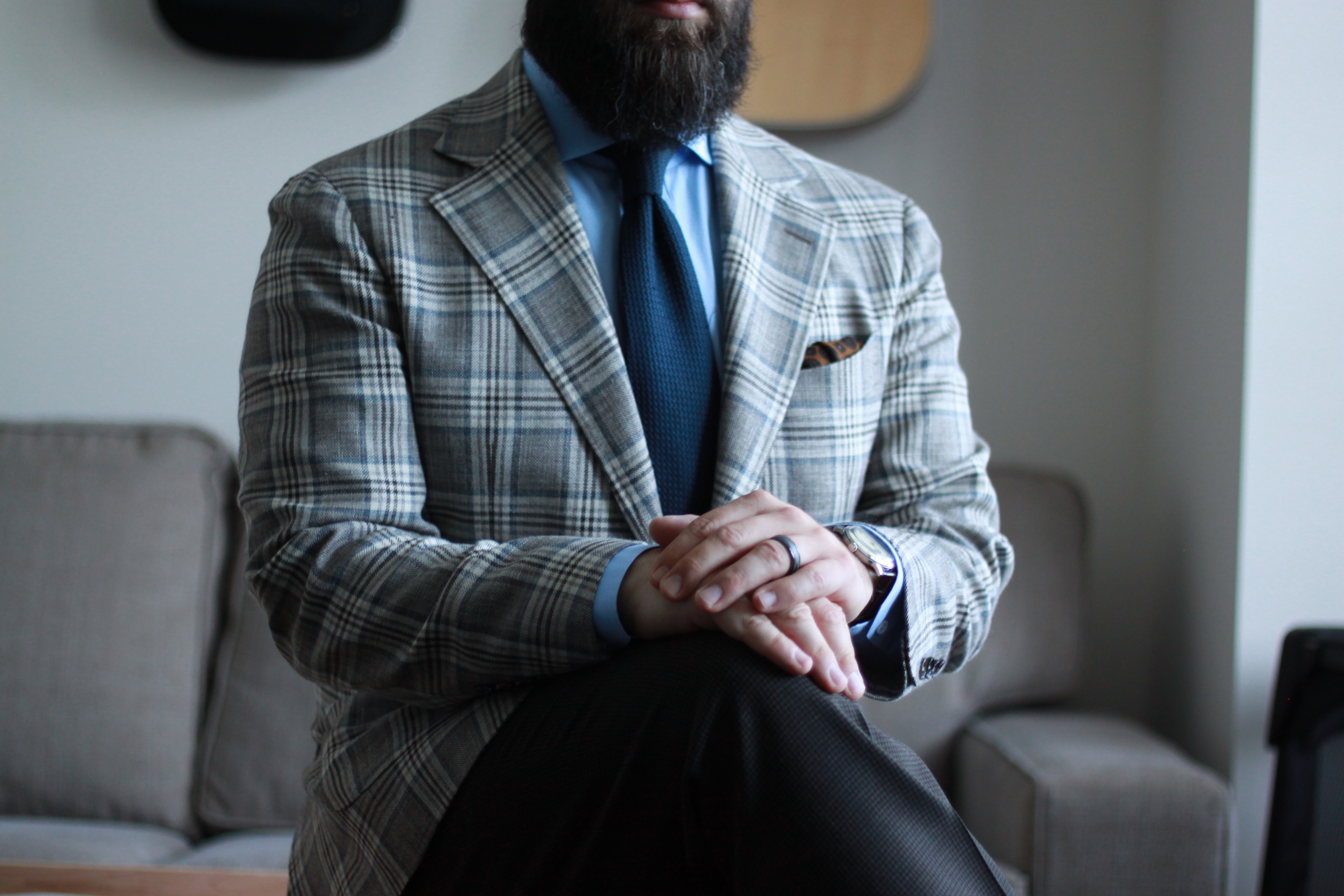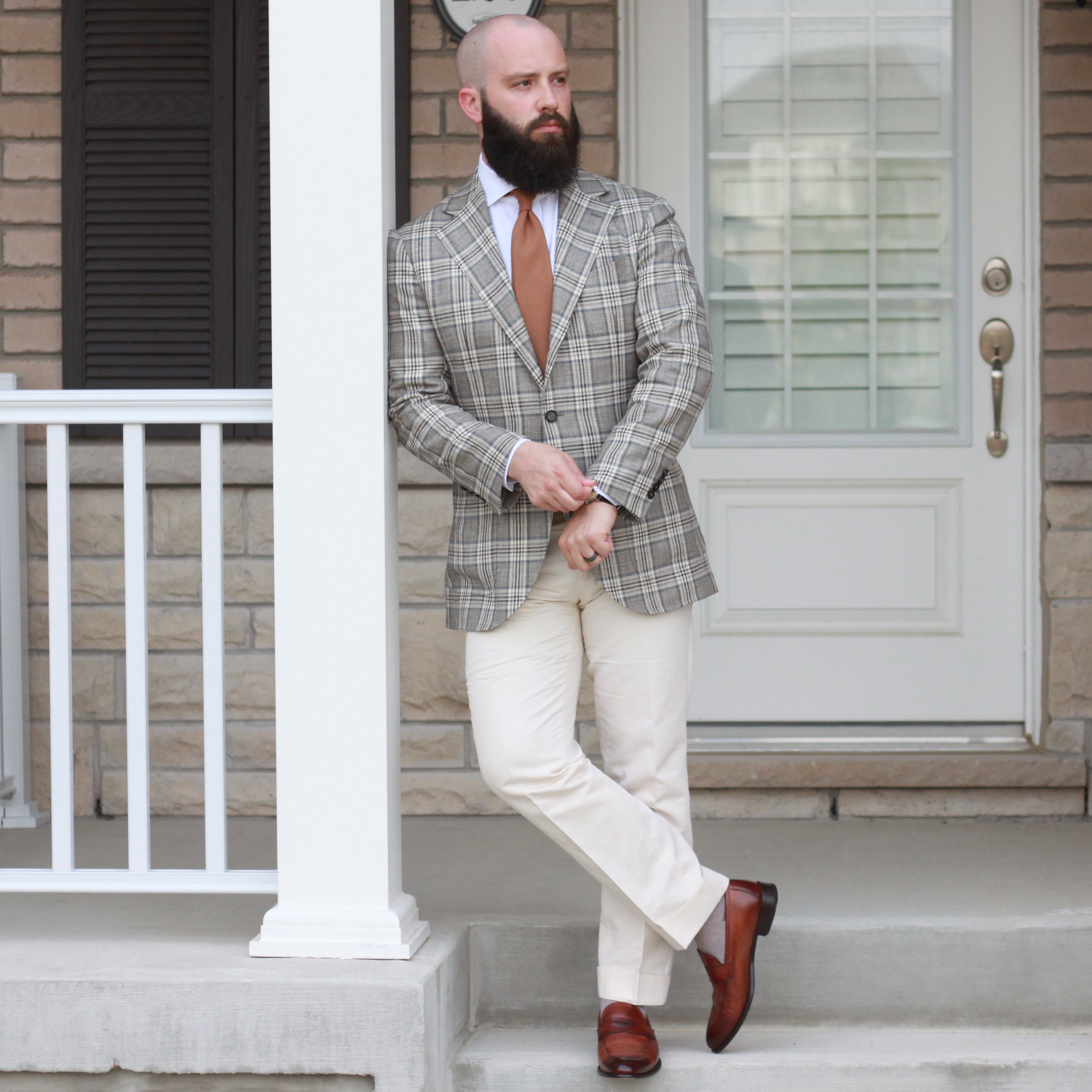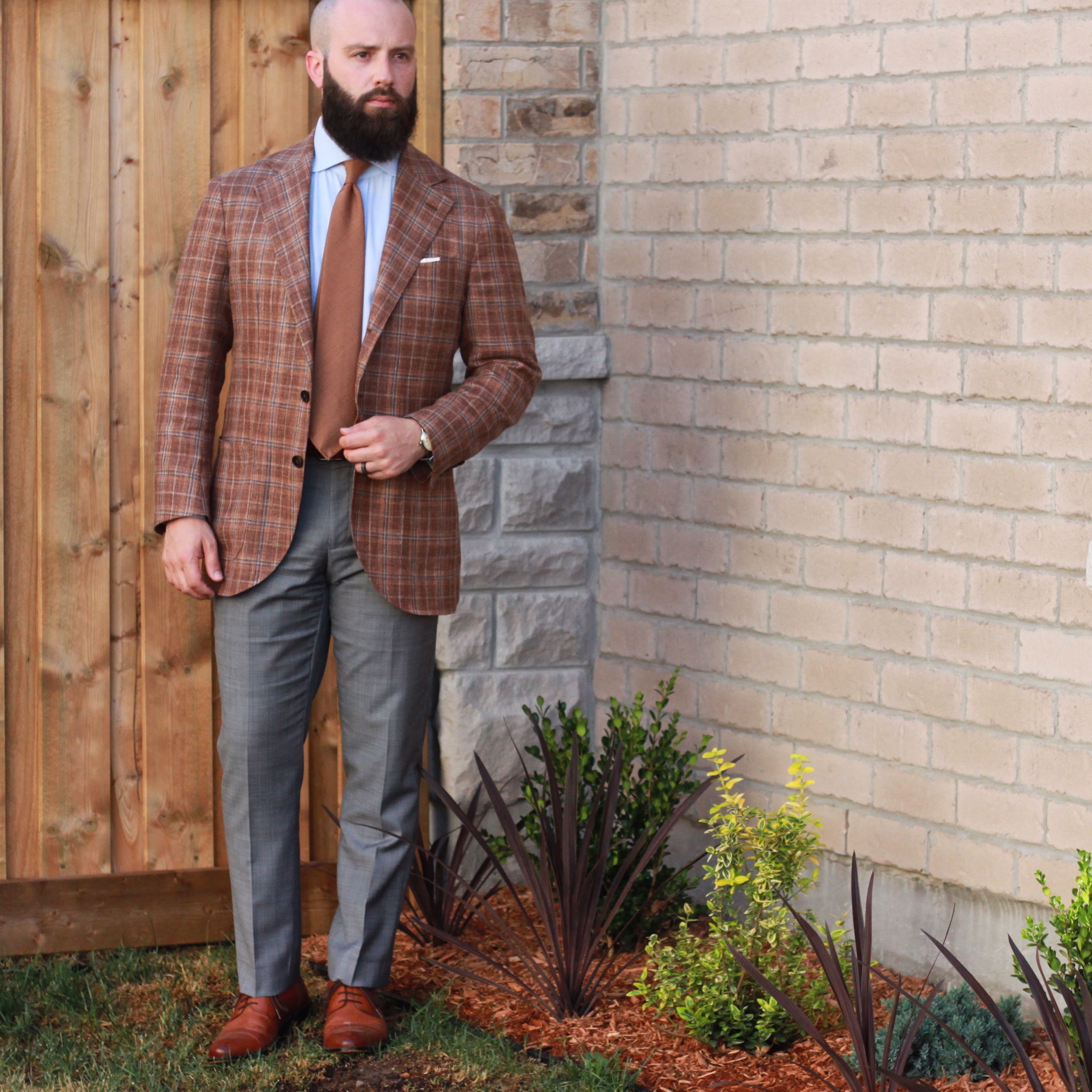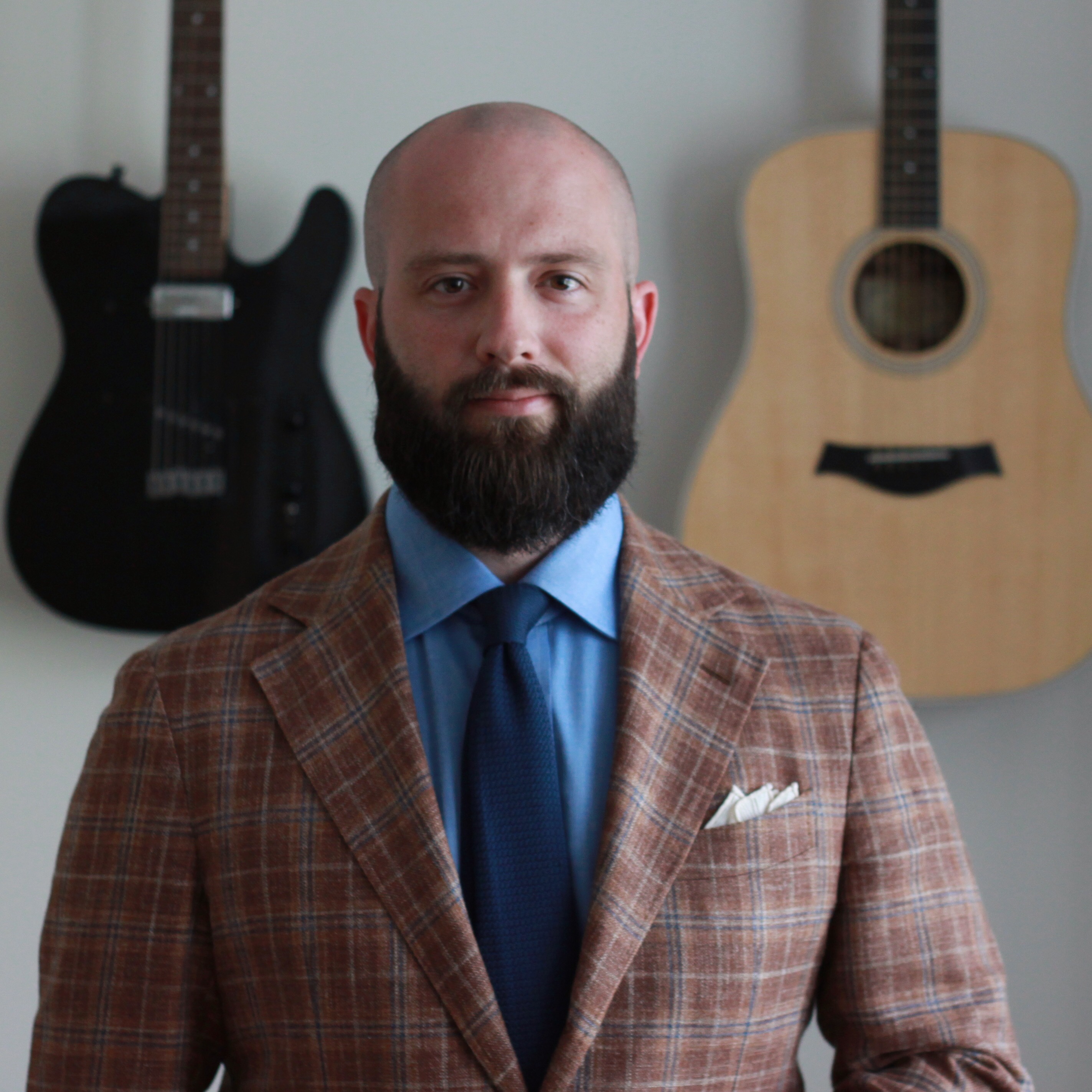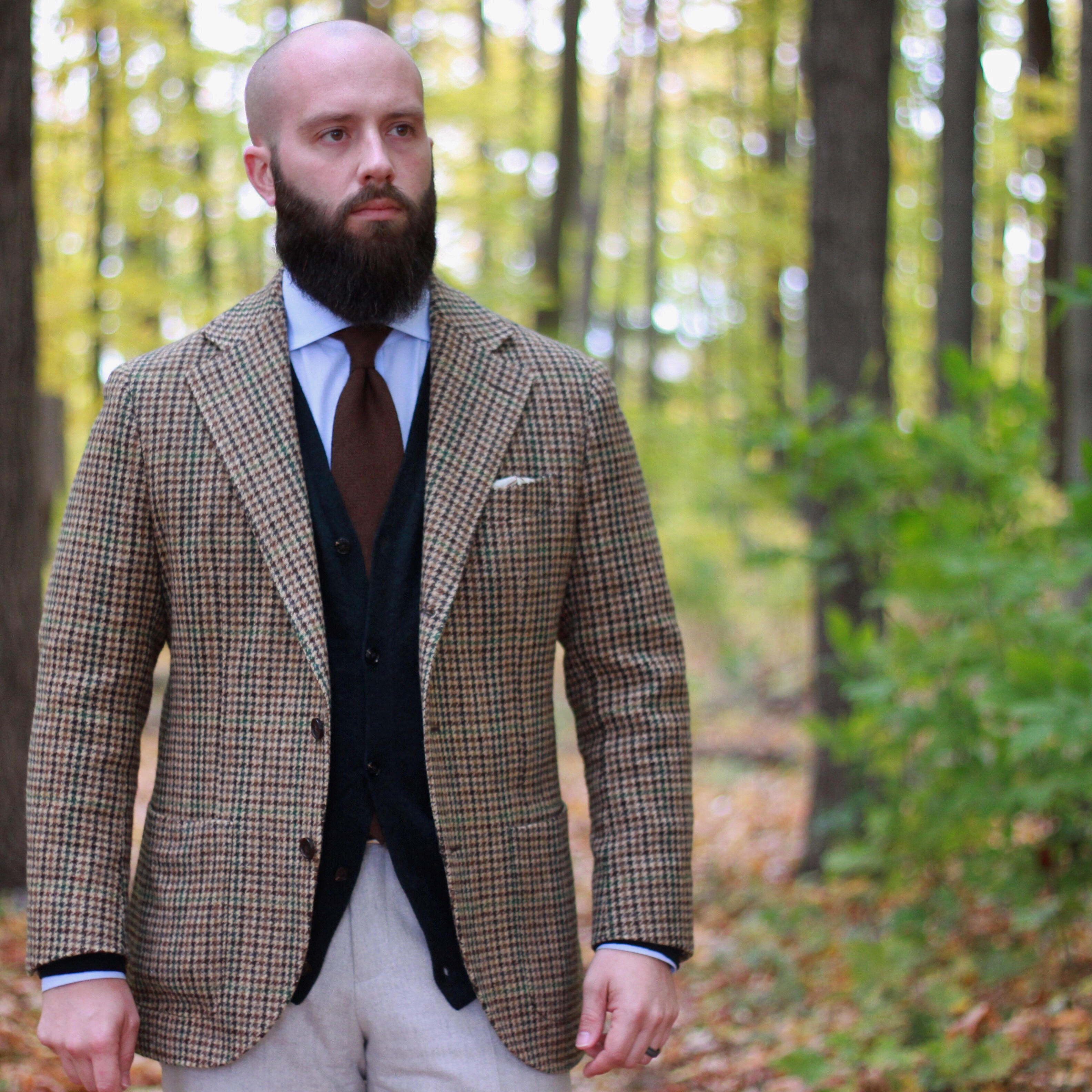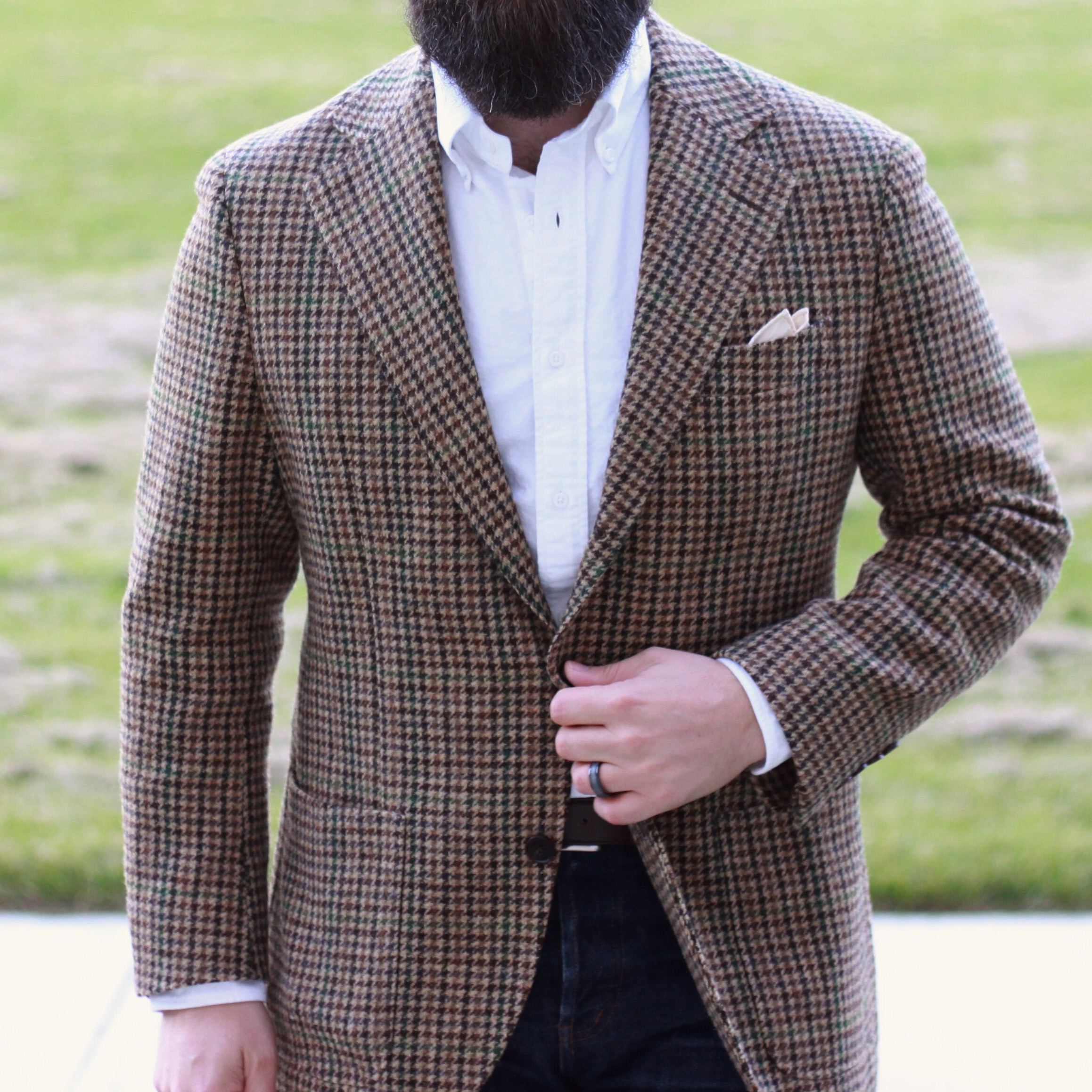 These examples all feature a bold pattern, with brown playing a strong supporting roll. I'm not going to go into detail about each of them, but I wanted to include them.
The Brown Sport Coat
I might go so far as to say: brown makes a better sport coat than navy. I generally stay away from declarative statements like that, but as I get more and more comfortable in my clothes, I get more comfortable in my positions about them. Now, I can't promise I won't change my mind in the future. So, since this is an "inspriation" post, have I inspired you? How would you wear a brown sport coat? How many do you already own? Let me know in the comments. Thanks for reading!
-Colin