What I Wore: March 2018
What I Wore: March 2018
Lousy Smarch Weather
Here we are again, looking back at another month of what I wore. March is the month where you start to see hints of spring, yet it is still cold outside. I'm feeling some urgency to wear all of my favourite fall/winter pieces a couple more times before they get put away for the warmer weather. As I work my way through the heavier items in my closet, I also took the time to audit my closet. I focused on my shirt and sport coat collections this month. I also got to write about a sweet new pair of shoes. In the context of looking towards spring, I've identified some gaps I'd like to fill – but that will be another time. For now, let's have a look at the month past.
What I Wore: Moleskin and Tweed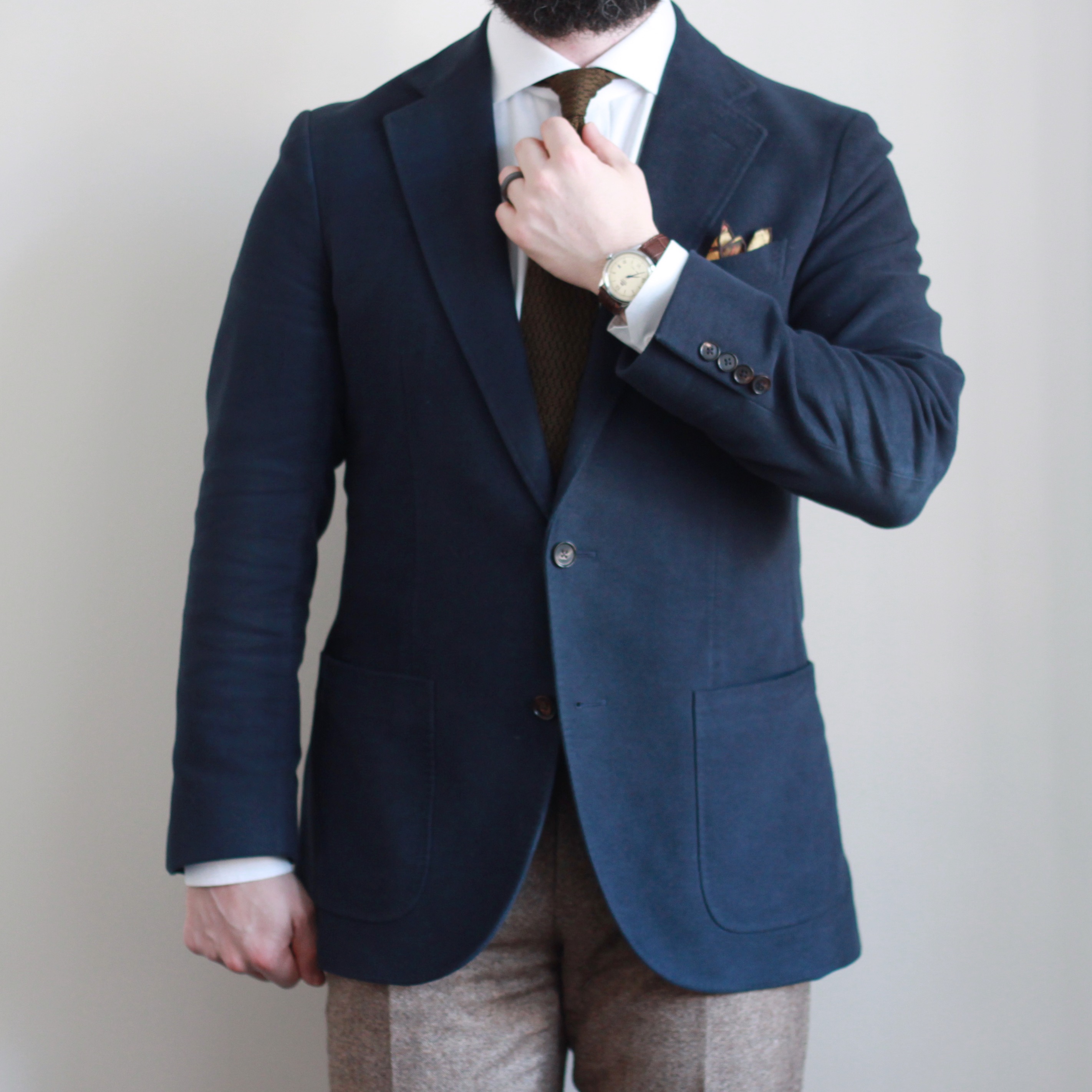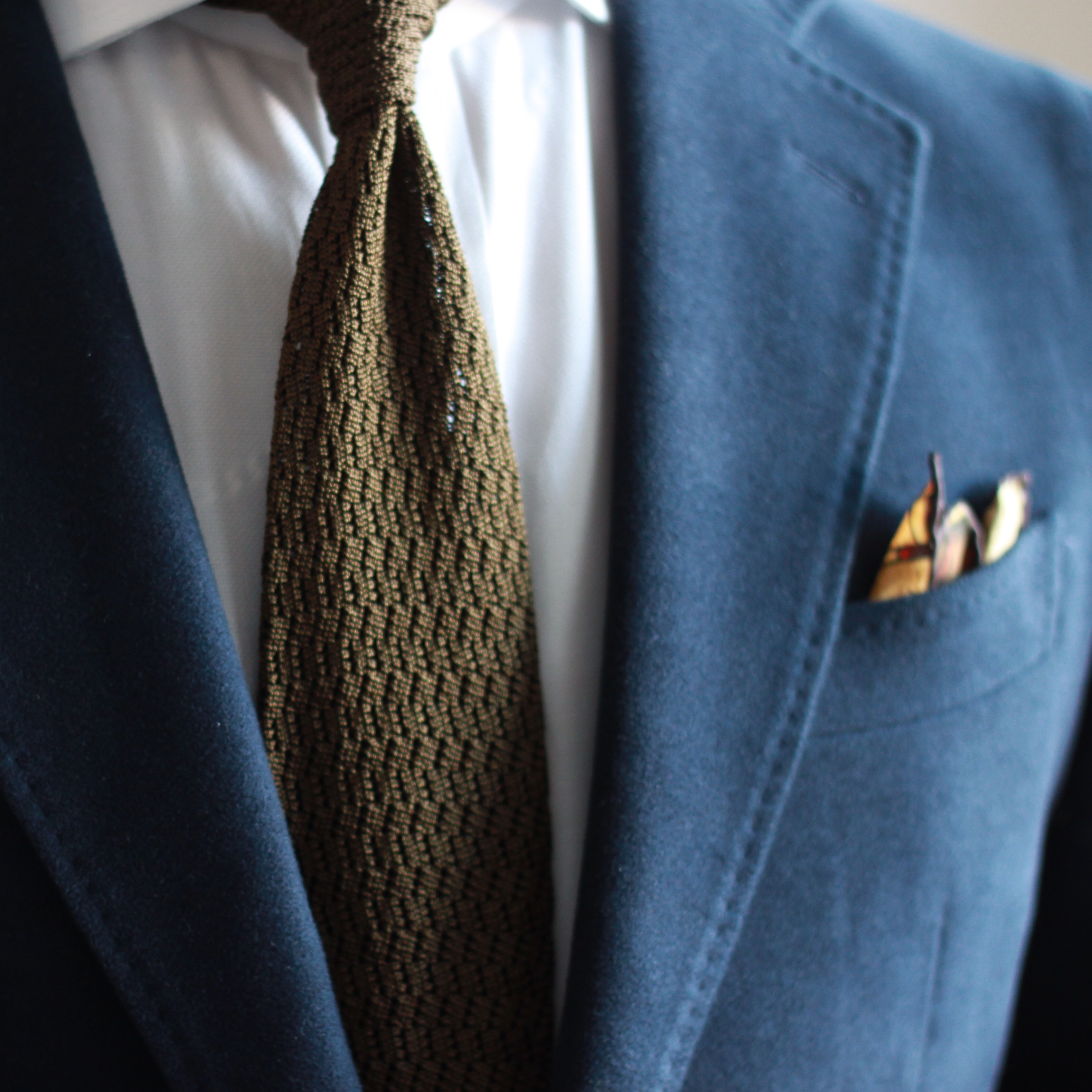 I love this navy moleskin sport coat. It's soft and warm, and a fantastic cold weather fabric. Here, I've paired it with a white shirt, which may have been an unorthodox choice. I felt the warmth of the light brown tweed trousers and the warm, coppery olive zig zag knit tie from Oxford Rowe would work well against a neutral shirt, as opposed to the blue shirt that may have been the easier choice. Also, finding a place to play between the general formality of a navy sport coat and white dress shirt, and the more casual leaning fabrics was interesting. These light brown merino tweed from Abraham Moon & Sons have been a great addition to my fall/winter trouser rotation. Spier & Mackay really nailed their selections this past season, and I'm sad I missed out on these trousers in some of the other colours. For the pocket square, I picked my Taurus Orion from Kent Wang. Aside from the white dress shirt (maybe), I think this was a safe, clean look.
What I Wore: the 'Uniform'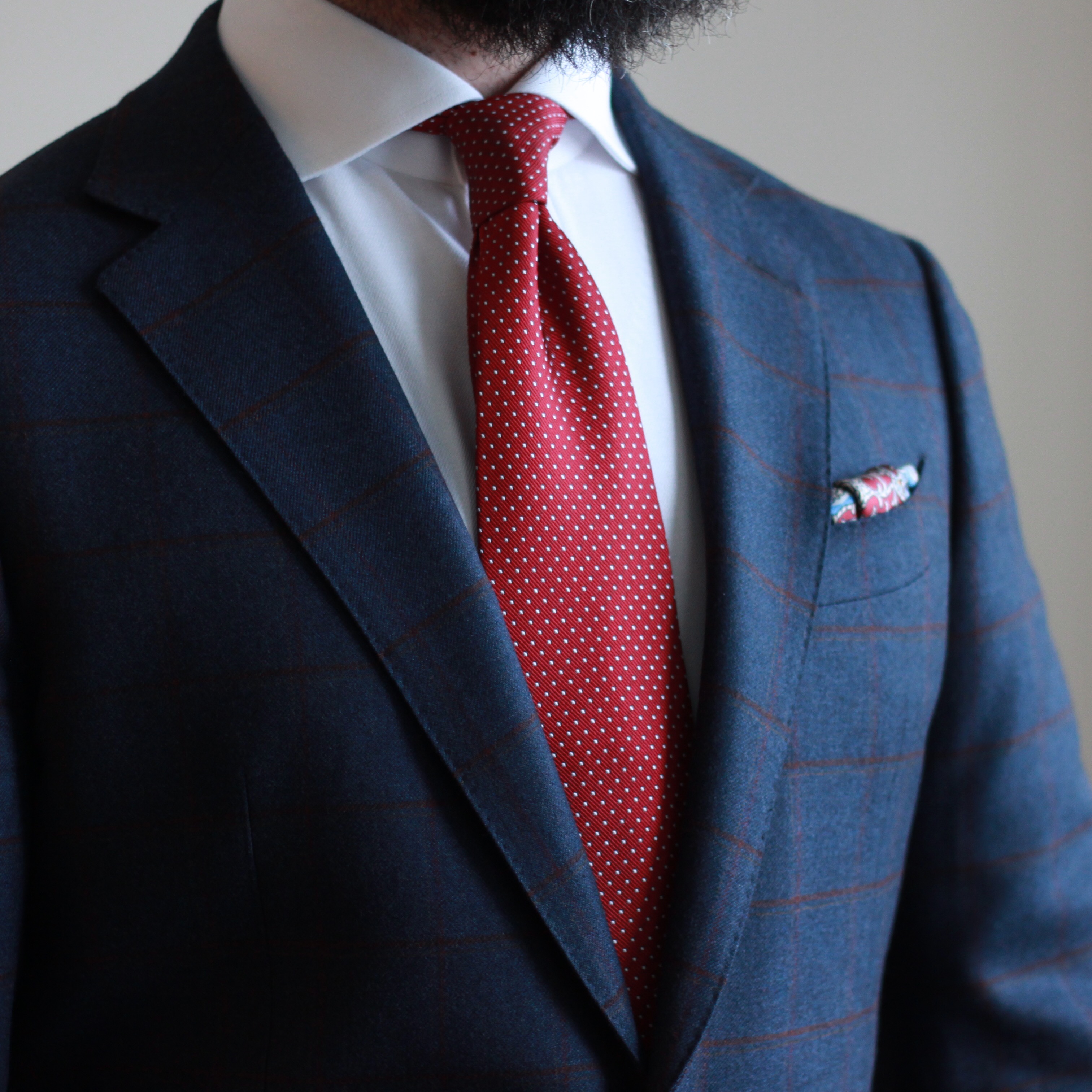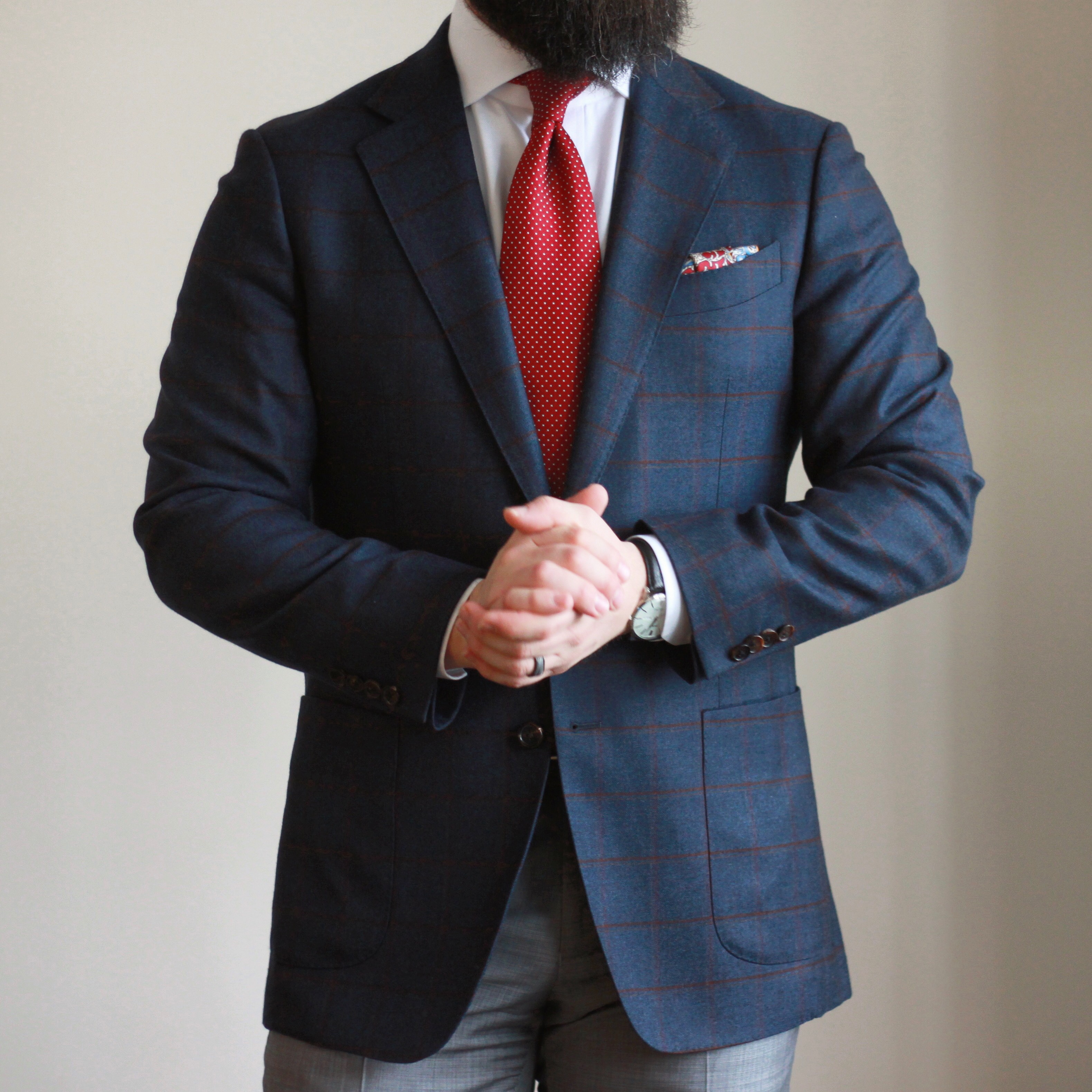 Ah, the #menswear uniform. Blue jacket, grey trousers. As a base, this is a great starting point for many outfits. In this case, I deviated a bit from the norm. White dress shirt again, and a bold red pindot tie. Going for a high contrast look, I wanted to make sure the colours weren't too out there. This blue sport coat has a great combination of red, rust and gold in the check. Picking a tie that pulled out the red was easy. This tie is RED. Bright RED. I think having red in the jacket helps spread out the visual impact of the tie, while at the same time enhancing the accent the check provides the sport coat. I think a different choice of pocket square would have improved the outfit. The burgundy has a more purple tone next to such a red tie, and the secondary colours don't really have any other references in any other pieces. This is what I wore though.
What I Wore: High Contrast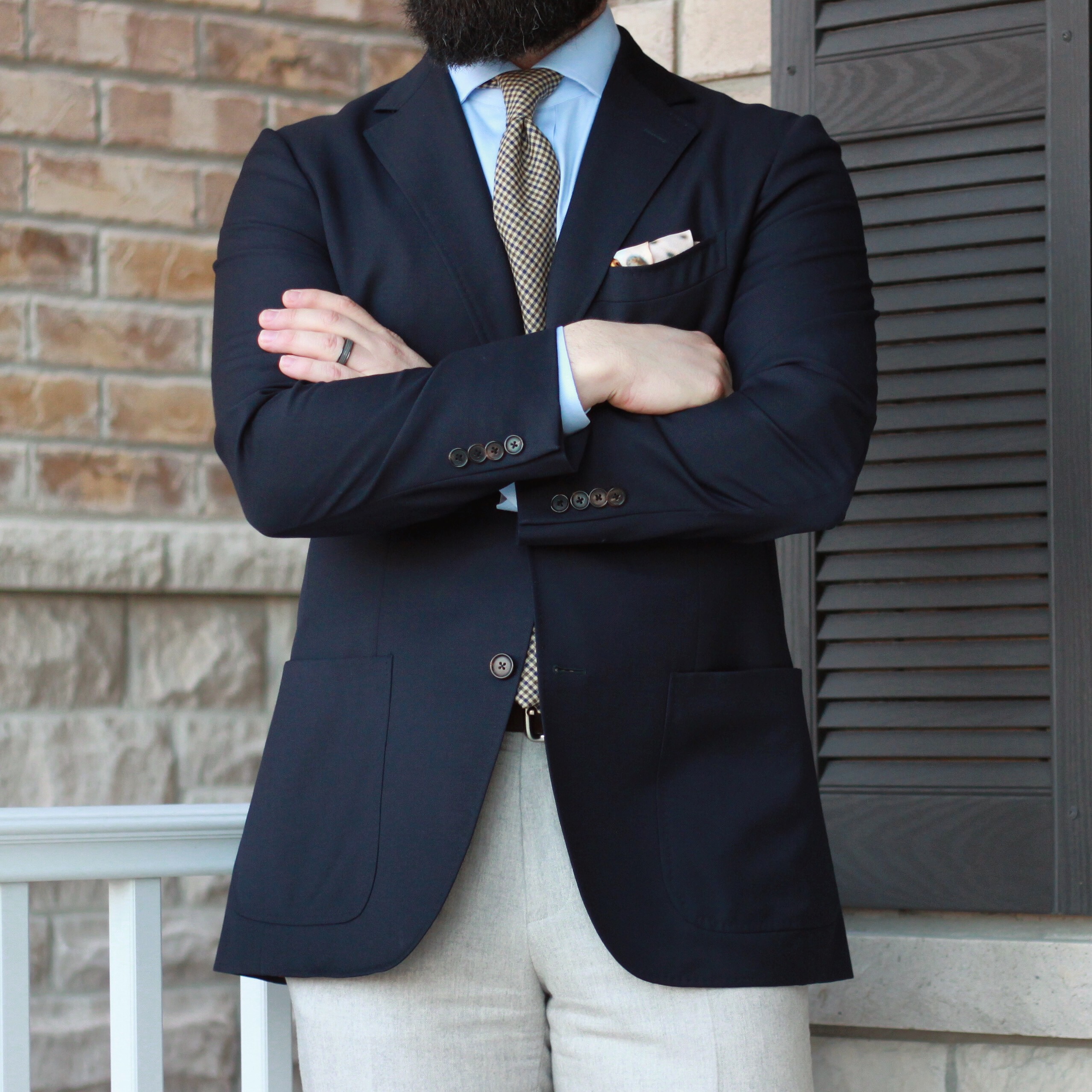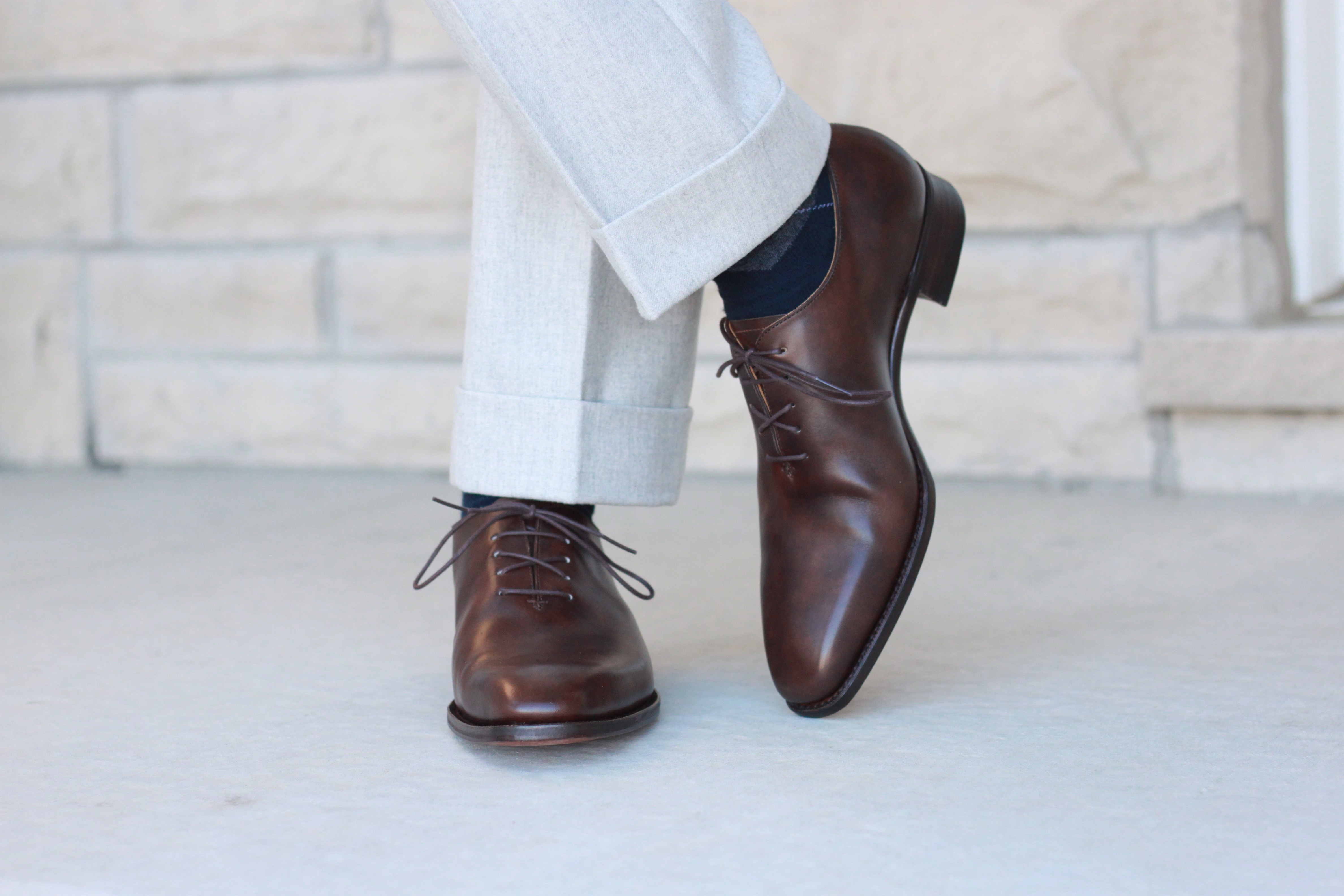 These light brown Vitale Barberis Canonico flannel trousers the Spier & Mackay offered up last season are another favourite. As the weather warms, I'll be hesitant to put these away. The flannel is soft and warm, and the colour is the perfect winter "white". I will definitely be looking for a spring/summer equivalent. Up top, I went with my trusty navy hopsack, light blue shirt, and a tie from Marshall Anthony NY I picked up on the StyleForum buy & sell. The pocket square is the lovely, limited edition Master Shoemaker piece from Vanda. I really like the contrast here. Dark jacket, light pants. The shirt is not super-saturated, and the contrasting olive and navy pattern over a creamy base in the tie really balances everything out to my eye.
This was also the first day I wore my handgrade wholecut dress shoes from Kent Wang. If you haven't read the review, the TL;DR is they are awesome. They fit me perfectly, the construction and materials are fantastic, and the museum effect is beautiful. If you're looking for a pair of new dress shoes, go check them out.
What I Wore: StyleForum Friday Challenge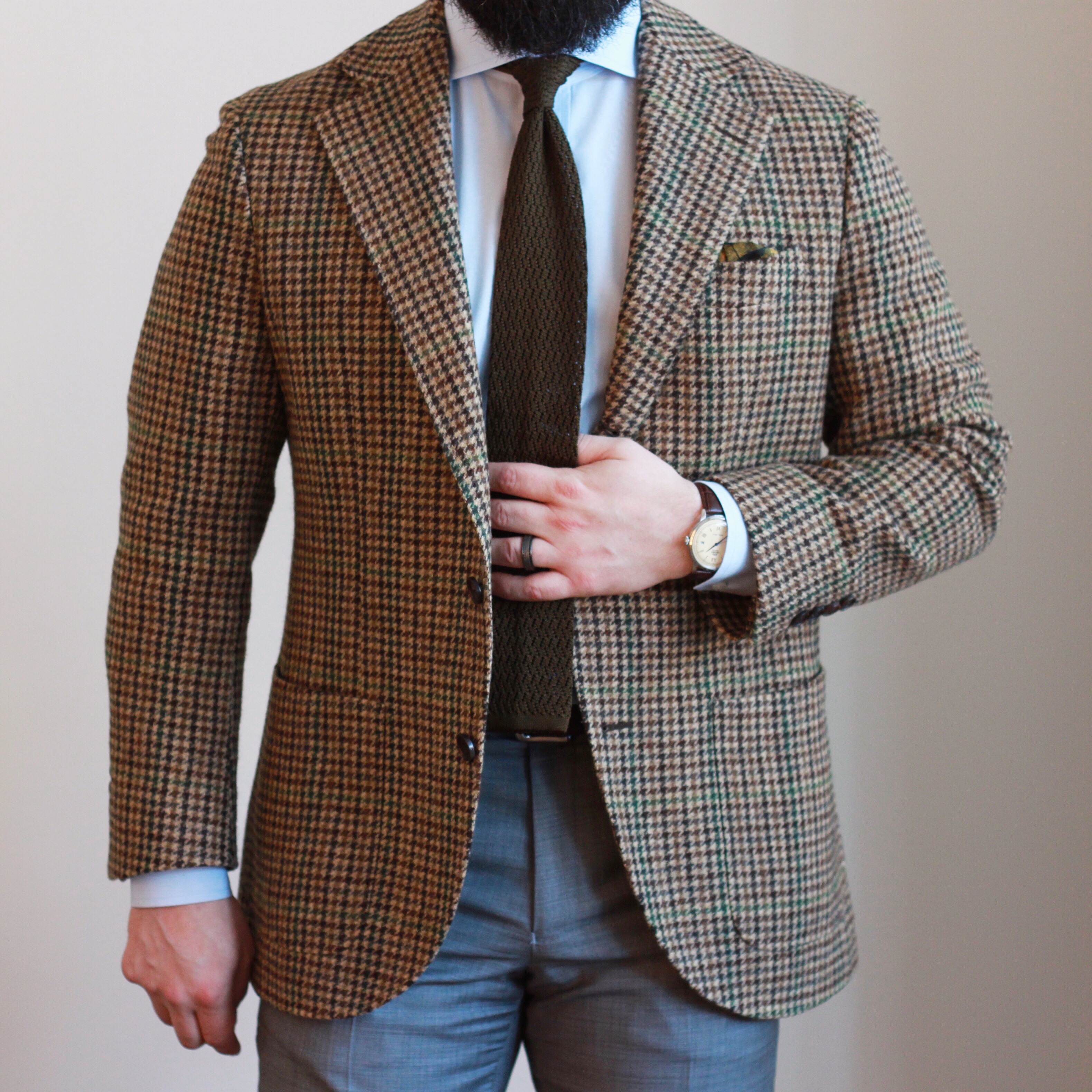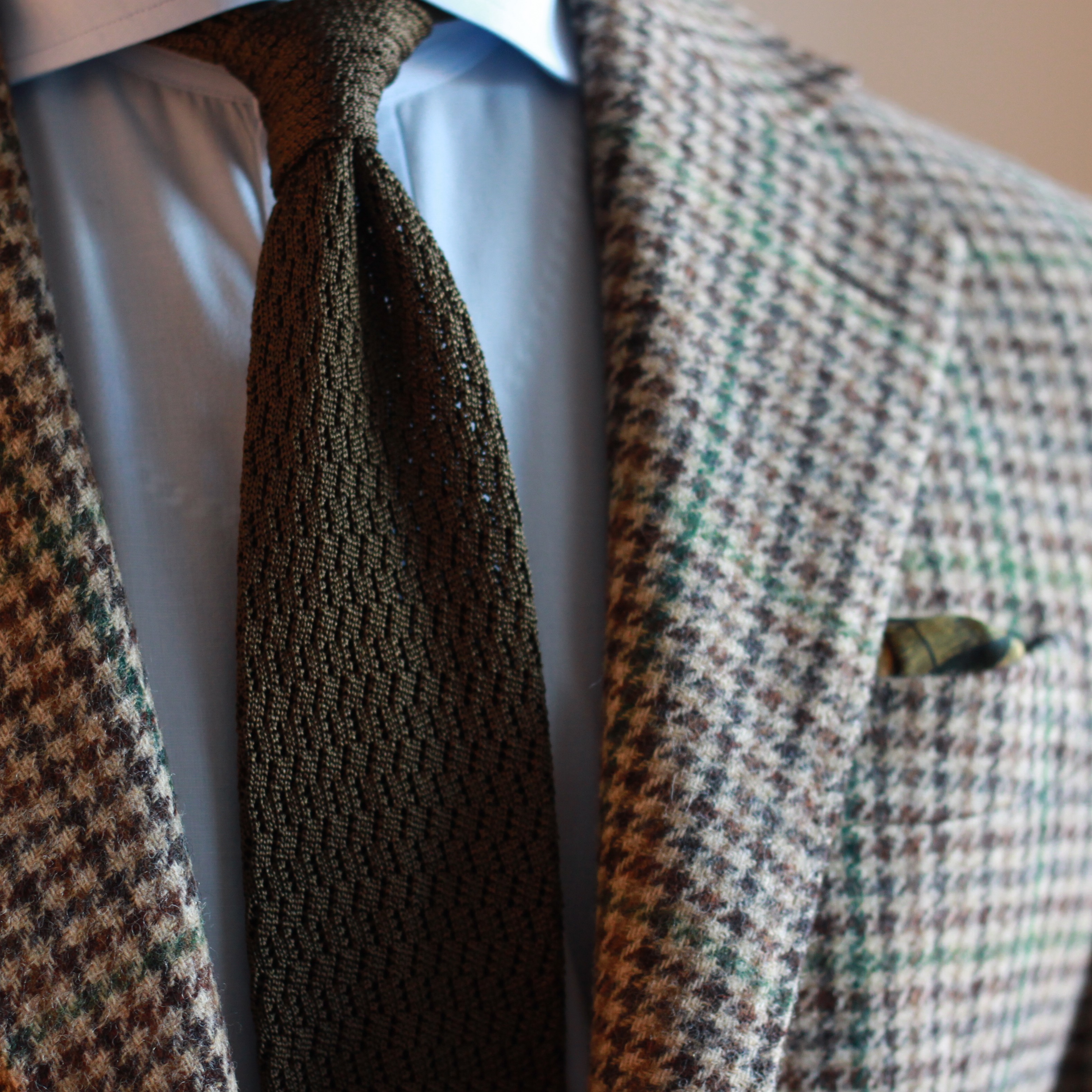 Over at StyleForum, there was a Friday Challenge titled: Say Hello, Wave Goodbye. The challenge was to wear a favourite piece that will be put away for the upcoming season. I didn't win, but any reason to wear this sport coat is a good one. I paired it with light grey trousers, a pale blue shirt, and this olive zig zag knit tie from Oxford Rowe that is quickly becoming a favourite.  When I picked this tie, it was with this jacket in mind. Again, I reached for the Taurus Orion pocket square from Kent Wang. I don't think it was the best choice, as it gets lost against the jacket. My cream square from Vanda might have been a better choice.
What I Wore: Blue, brown and grey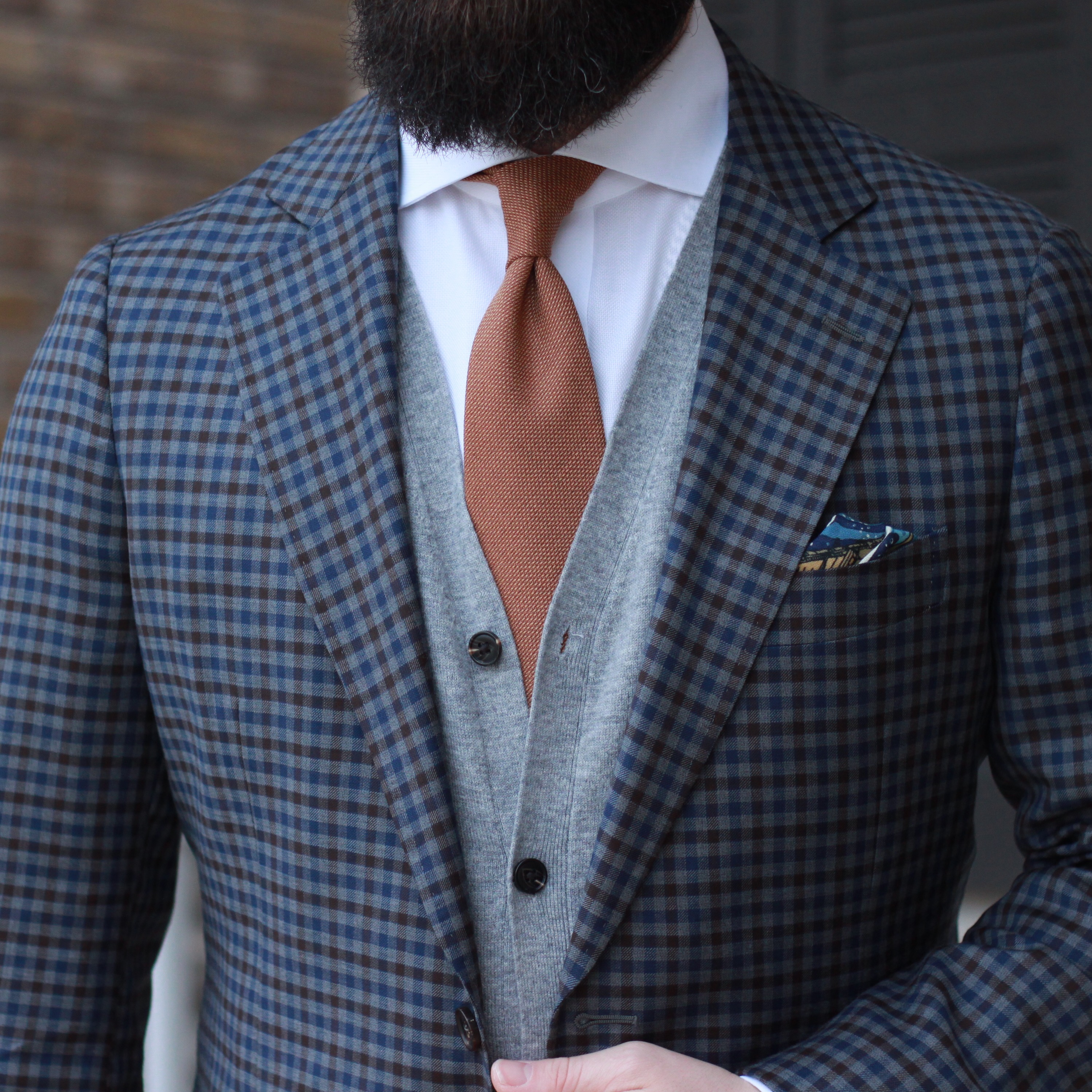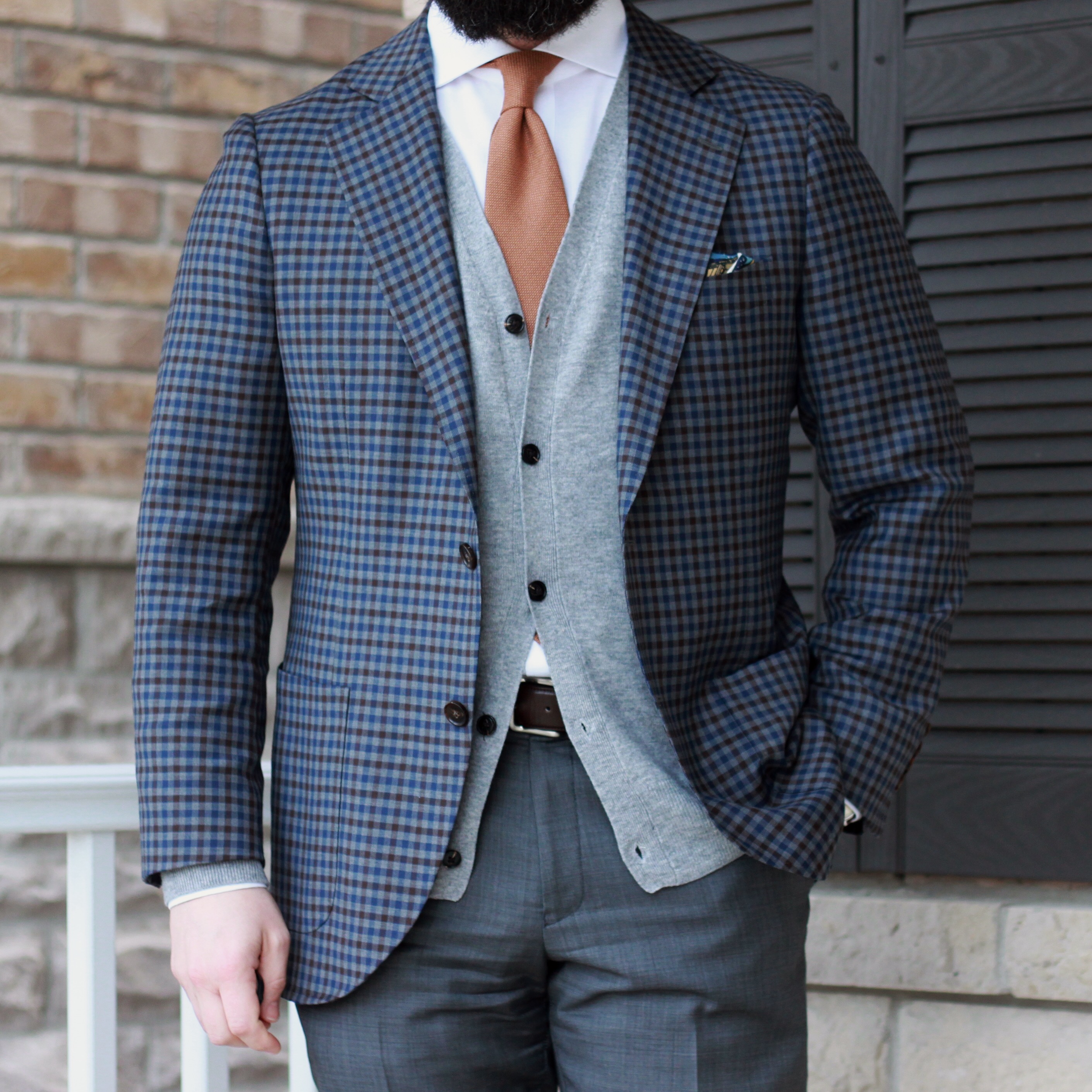 Blue, brown and grey. The perfect colour combination? This sport coat has all three. The scale isn't too big or too small either. The fabric is from Angelico, and was made up by Spier & Mackay in their latest unstructured cut with nice open quarters. I paired it with mid-grey trousers, a light grey cardigan, and a white dress shirt. It seems like I reached for my white dress shirts a lot more this month. For the tie, I wanted something in the brown family, but not too dark. What I wore was this granola hopsack tie from Vanda. I really like the texture, and I think the colour in the context of everything else was a great choice. This is the best combination I've put together with this tie since buying it. In my breast pocket is my wool/silk blend Great Wave pocket square from Kent Wang. I folded it in such a way to pull the light brown from the boats into the fit, and to show enough wave to augment the blue in the jacket.
Up next... April
March was another good month. Looking forward to some warmer weather now. Please.
-Colin