What I Wore: August 2018
What I Wore: August 2018
What I Wore While not on Vacation
Another month in the books, let's take some time to reflect on the month of August. Soon, we will all be thinking about tweeds and flannels and layering, but for now it is still hot. I spent a good chunk of August on vacation, but here's what I wore when I wasn't in shorts and a tee shirt.
What I Wore - green and cream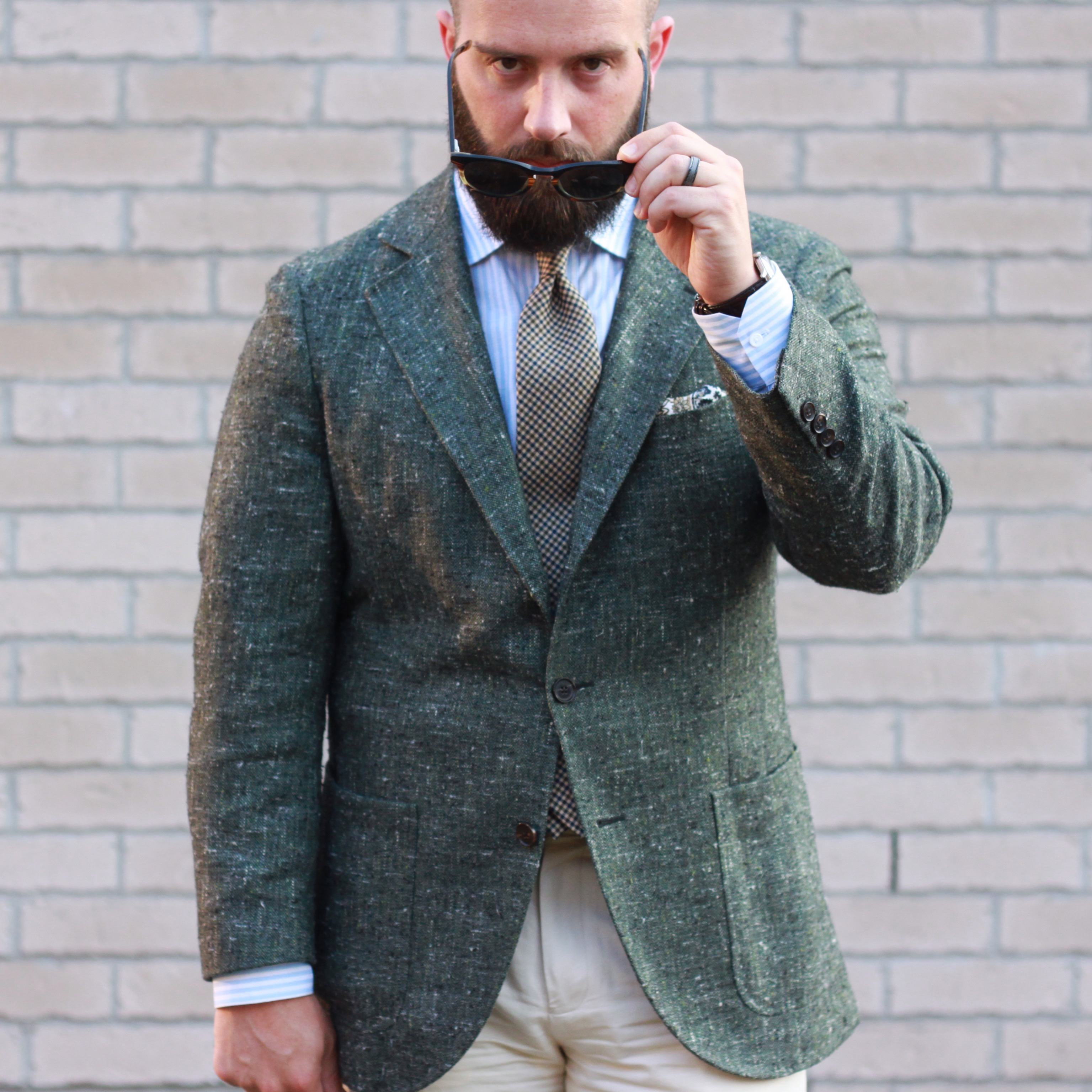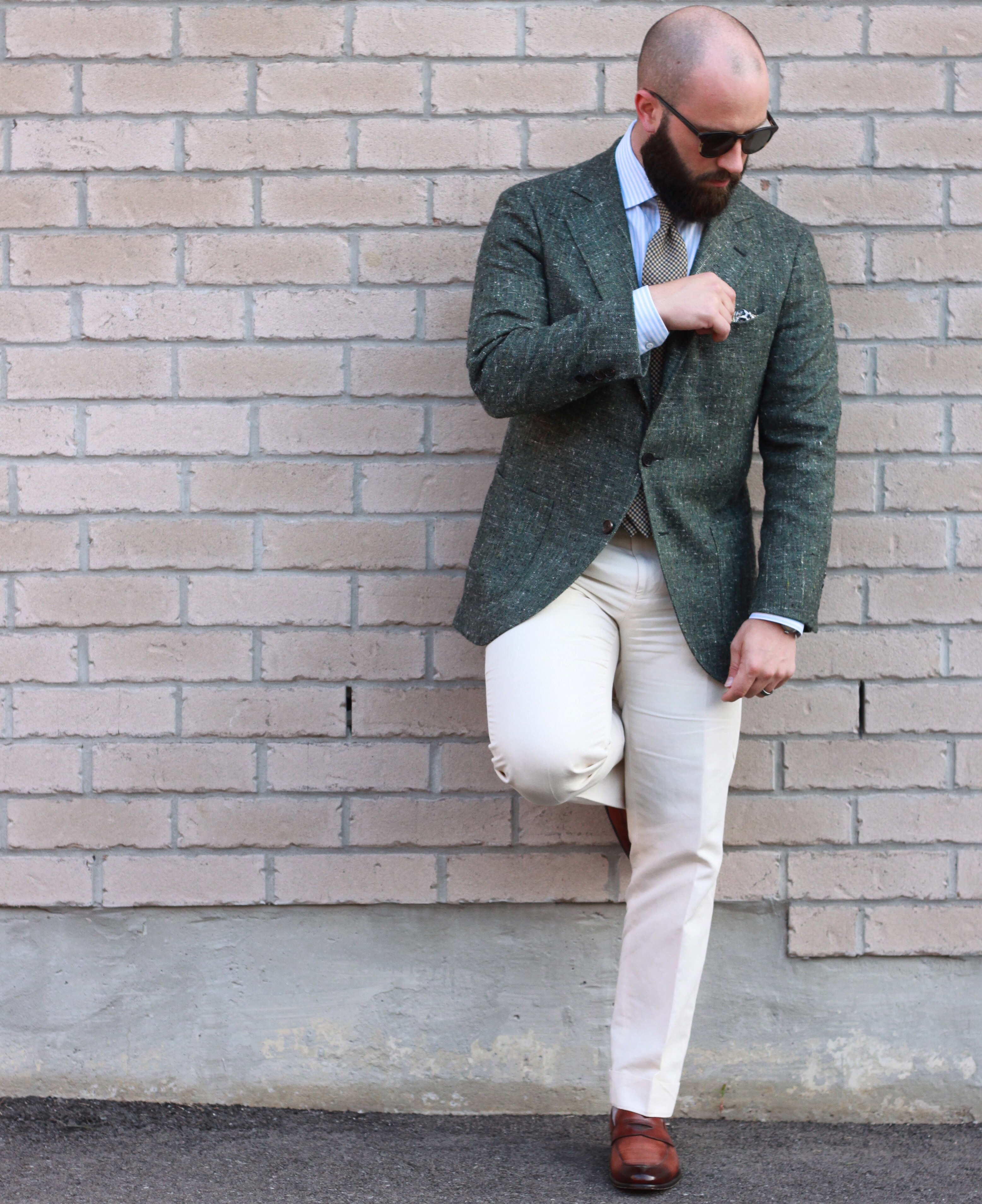 I really like this combination of colours. The green sport coat in a wonderfully slubby fabric from E. Thomas provides a nice amount of contrast vs the cream cotton-linen trousers. My light blue oban stripe shirt and gun check tie with cream, olive and blue has less contrast, but provides complimentary colours. In my breast pocket is the R Culturi square I reviewed. On my feet are my Paul Evans loafers that have been getting a lot of wear. The Havana brown is a lovely shade, and the burnishing on the toe is really well done. This colour combination is similar to another I wrote about (back in February). I really like how everything comes together, and will definitely continue to play with similar combos.
Also, I had to share this sweet photoshop Jesse @ burzanblog did. I should just stop right now.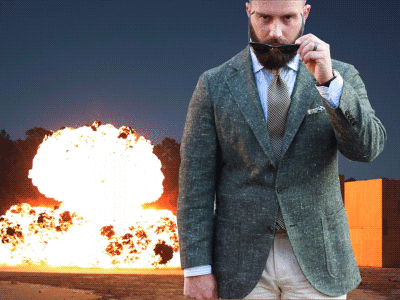 What I Wore - brown, grey and medallions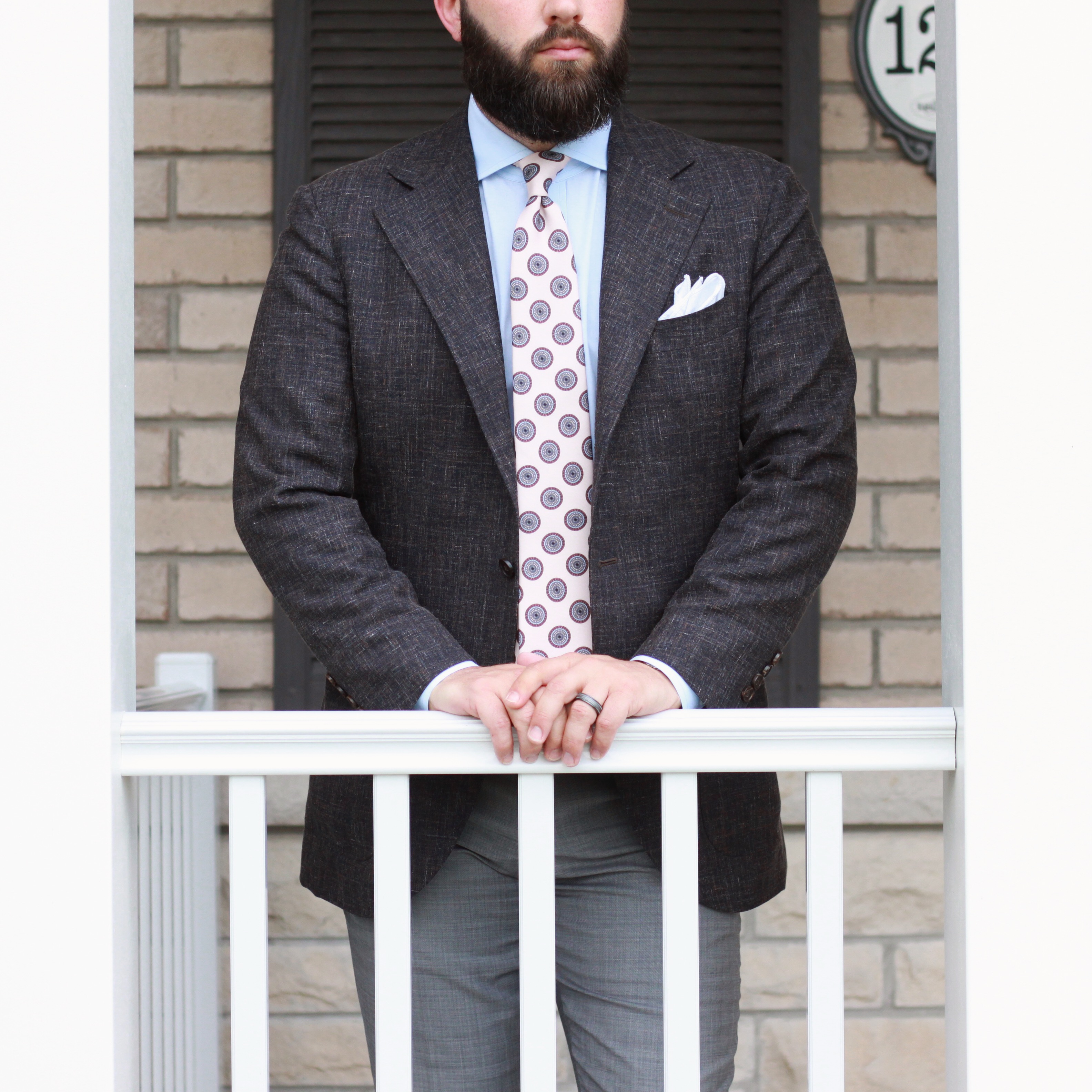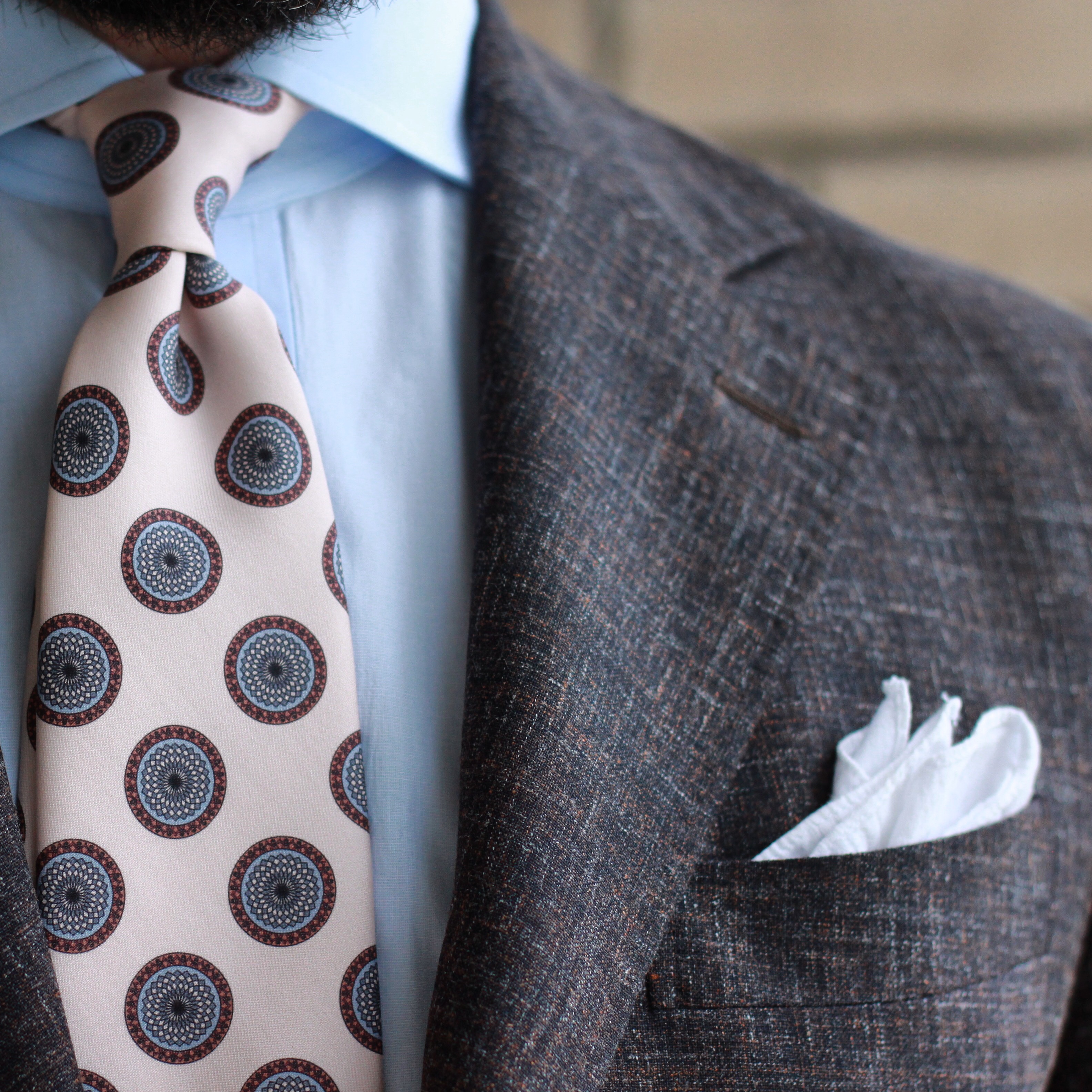 This pairing worked well for me in a number of ways. The jacket texture adds some visual contrast to the smooth, dry silk tie, and the coppery threads in the jacket pick out the border around the medallions. The light blue shirt is pretty basic, but is a good go-between for the jacket and tie. I originally ordered this tie because I thought it would be a versatile addition. To be honest, when I saw it in person I was a little hesitant at first. Having successfully paired it a few times now, I'm happy to say that the impression I got from it online was correct. The pattern and scale of the medallions isn't for everyone, but I quite like having something different like this in my rotation. Light grey trousers and my suede wingtips from Velasca finish off the lower block.
What I Wore - semi-casual blue and grey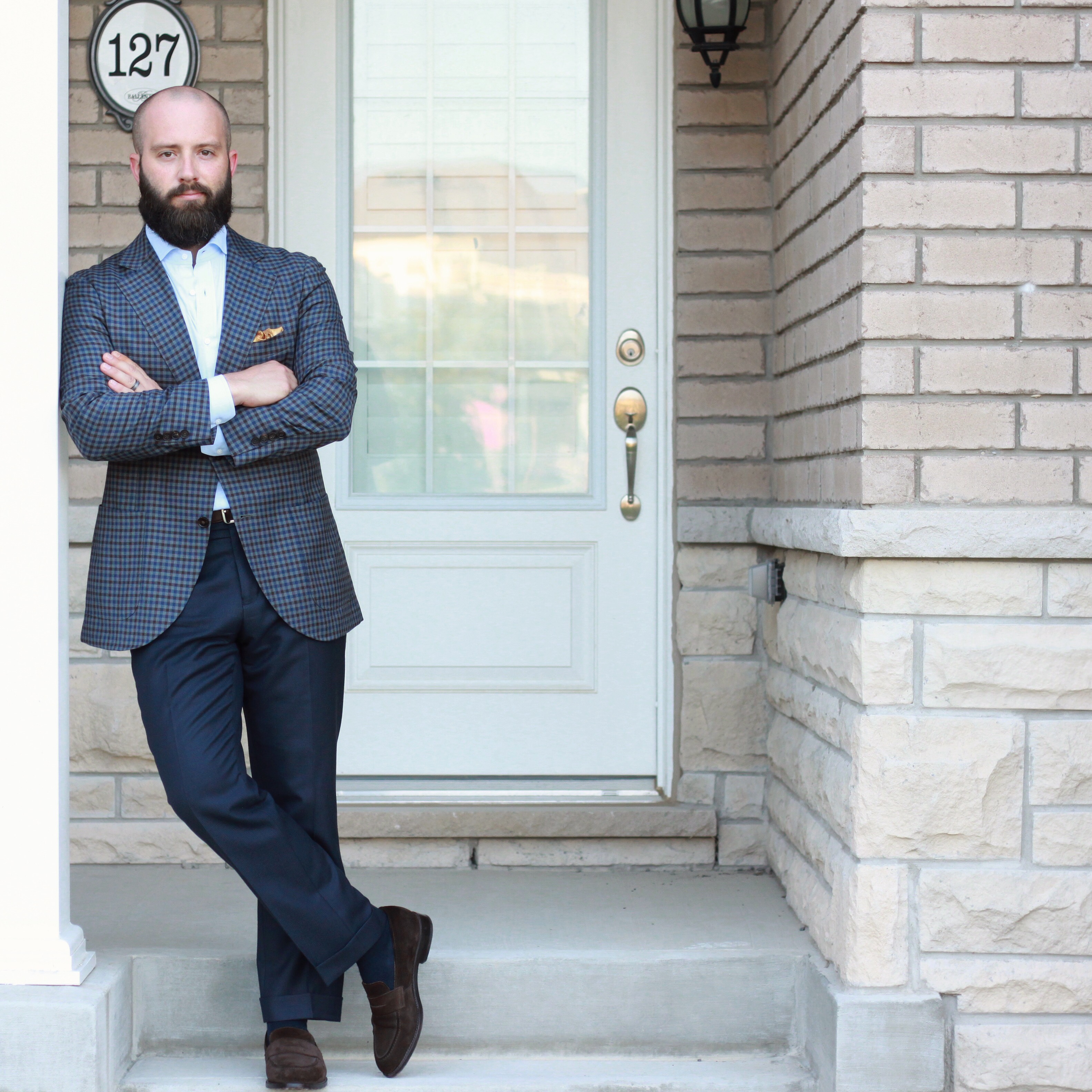 The sport coat and trouser pairing is balanced – not too light up top, but enough contrast with the pattern in the jacket. Lighter shoes and belt would have paired better with the pocket square. Or maybe a slightly darker brown instead of yellow in the square would have paired better with the loafers. I do like how cohesive this look was – especially the navy trousers and dark brown suede loafers from Velasca. It was a comfortable and relaxed pairing overall. As I wrote recently, finding ways to work in my navy trousers is a fun and rewarding challenge.
What I Wore - checks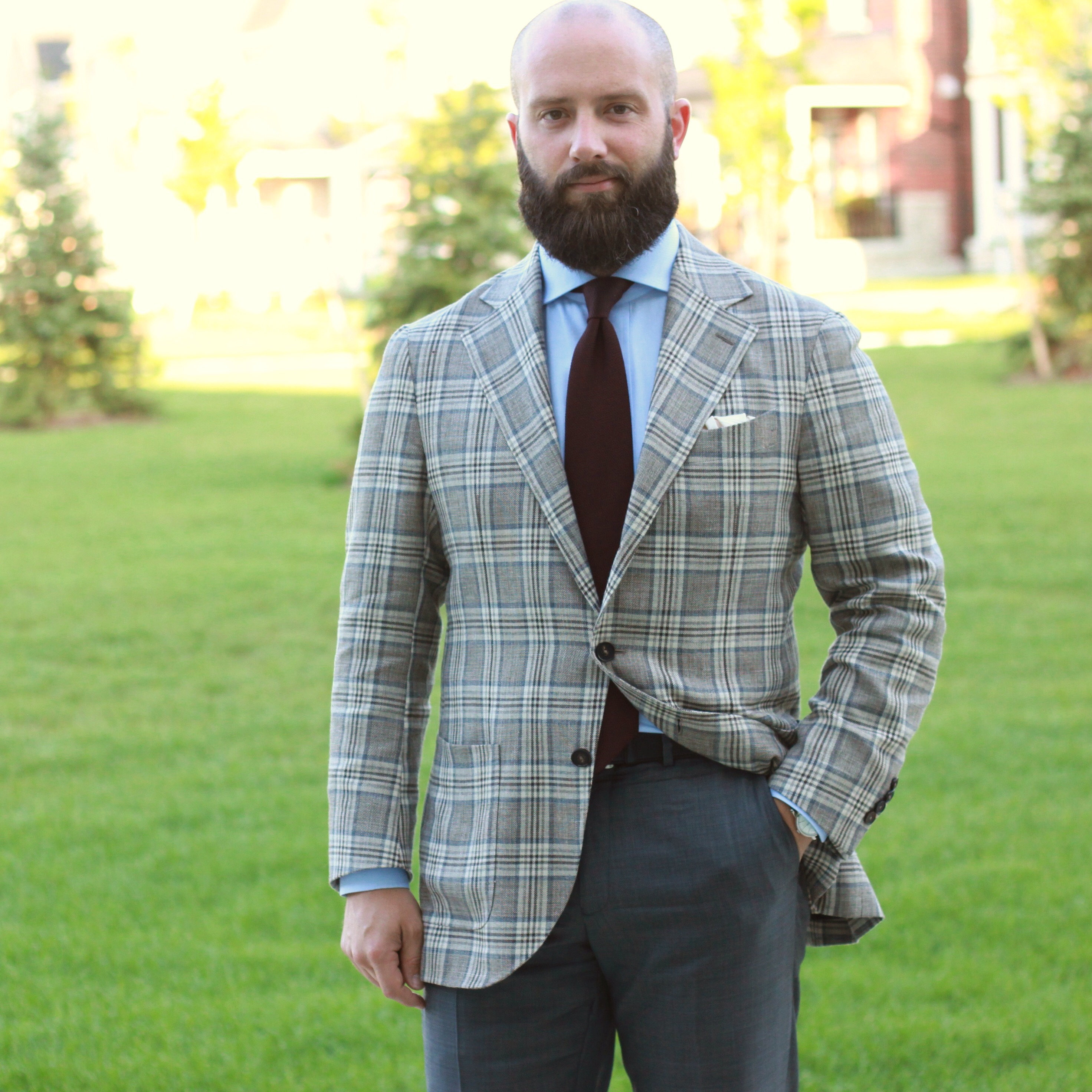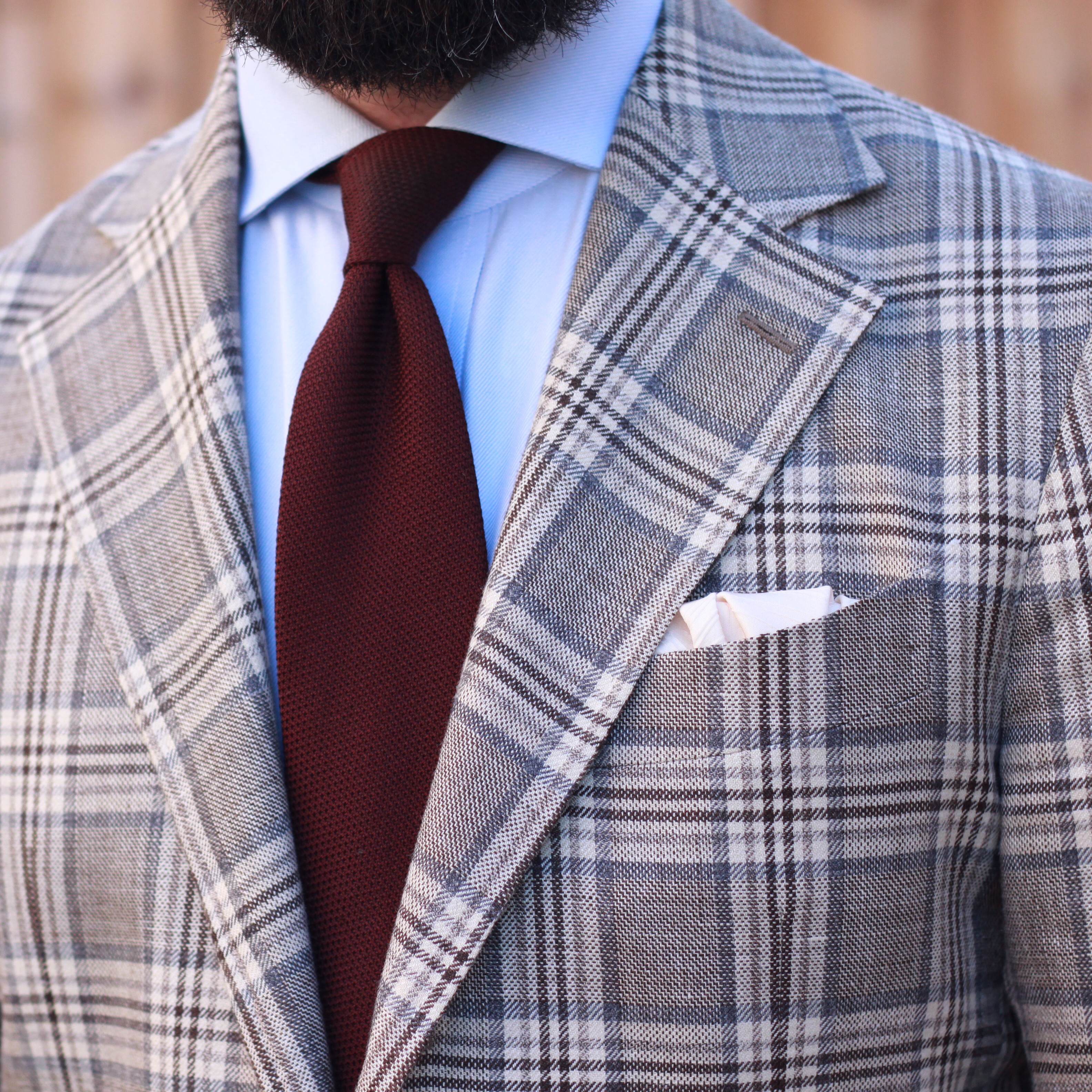 This combination is another variation on one from earlier this year. This time, I went with a slightly less saturated blue shirt. Kept the burgundy tie, but chose a fine grenadine weave from Sam Hober to replace the crunchy knit from Oxford Rowe. For the trousers, I went darker with my mid-grey sharkskin instead of the light grey pair. I think I'm happier with this look due to the added contrast from the darker lower half. I added one of my favourite pocket squares – this cream waves from Vanda Fine Clothing. A definite staple if you have an eye for details and texture, and want something a bit different than a white linen.
Almost fall
Now, if the weather would just check the calendar, we might see some cooler temperatures. That would put me in the frame of mind to start looking forward to the layers and heavier fabrics (tweed! flannel!). See you around!
-Colin