Insights: Building a dress shirt collection
Insights: Building a dress shirt collection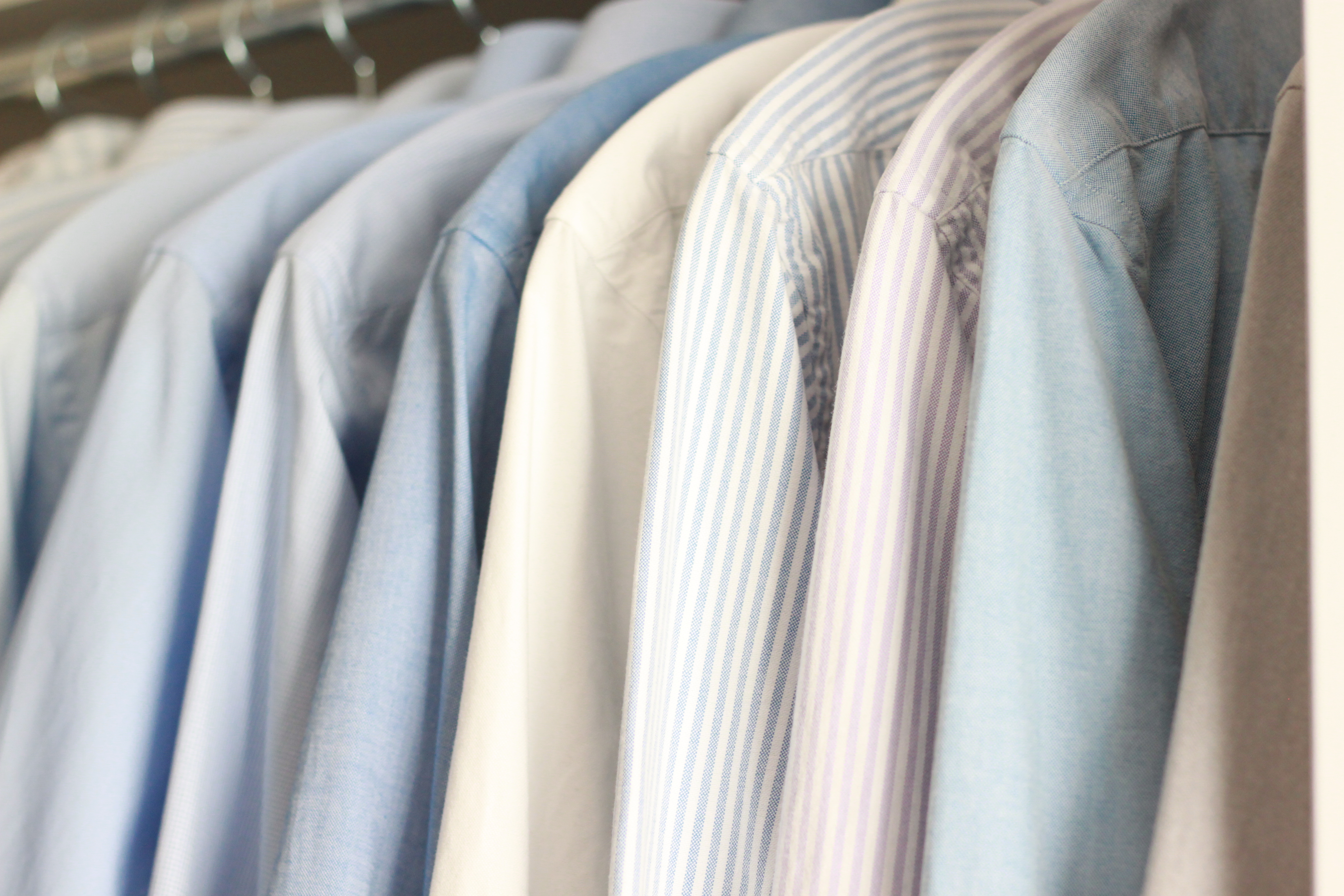 Learning about the dress shirt
The first dress shirt styles I bought were patterned Calvin Klein ones on sale at Winners. Even the slim fit were a bit billowy, and I would wear them with the top button undone and a white crew neck t-shirt underneath. Ouch. Once I began to update my wardrobe with a focus on versatility, I hadn't given much thought to shirts. I mean I knew something about about them. Namely, there were white ones, blue ones, and white and blue patterned ones. I just kind of assumed they were all interchangeable and had equal standing in a well-sorted out closet.
Turns out that's not really the case. For a while, I continued to buy my dress shirts at Winners, but would take them to a tailor to have darts added. They fit better through the body after that, but now I was investing an extra $15 on a $30 dollar shirt so that it fit "ok". I had issues where I would blow out the elbows on a dress shirt after just a few months. I still don't know what caused the wear to happen so quickly, but I imagine it was a combination of low quality fabric and the rubbery armrests on the chairs at work.
Eventually, I found my way over to Spier & Mackay. At the time, I was carrying some extra weight. I purchased 3 dress shirts in a 17″ neck and their contemporary cut. The dress shirts fit was so much better than anything I'd owned before. Fast forward, and I'd lost that extra weight. Now my shirt collection was in need of an overhaul. I'd picked up a couple of Spier & Mackay's 16.5″ neck slim fit shirts – more casual-leaning button downs – and found them to fit pretty well, but there was excess fabric around the middle.
Stepping up to the custom dress shirt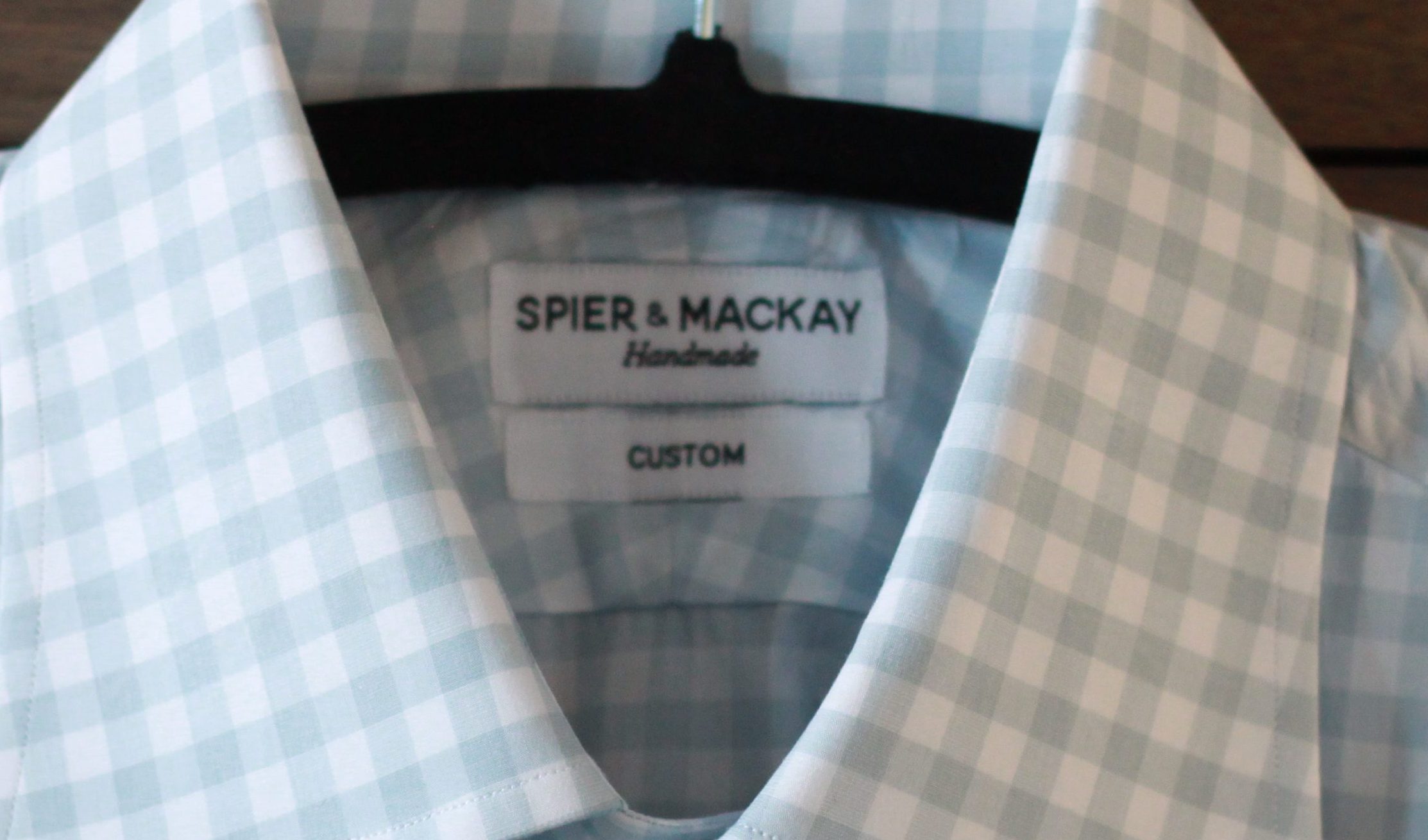 As good as the fit was, for a dress shirt I wanted the fit to be great. Knowing that I'd still need to have darts added, it was easy to justify the cost of moving up to custom. Credit to Spier & Mackay for nailing the fit right off the bat. On that first order, I went with a pair of white dress shirts, and a pair of blue (different weaves). I chose their full spread collar, and standard mitered single button cuffs. No fancy stuff. I was looking for fit above all else.
Since receiving that first order, the only real tweak I've made was to add 3/8″ to the collar point length, and adding a 1/2″ to the sleeve length. Their standard collar ended right at my jacket lapels, and I wanted them to sit under. For the sleeve length, I added to it as a buffer against shrinkage. On some shirt fabrics, this was definitely the right choice, but on others that didn't shrink as much the sleeves are a touch long. An option I found out about more recently is that Spier & Mackay can wash the fabric before cutting, which should basically eliminate any potential for shrinkage. For my next order I may return to the previous sleeve length and request the pre-wash.
Dress shirt colours and patterns
Colours
Blue and white. This should be 80-90% of your collection. I've written about wearing white dress shirts, which is the usual go to. Blue is truly where it's at. Once you've got these staples sorted, try branching out to ecru. Then you have your pinks, greens, greys. Until you have a decent rotation though, get your blue and blue/white patterns buttoned-down (see what I did there! ha!).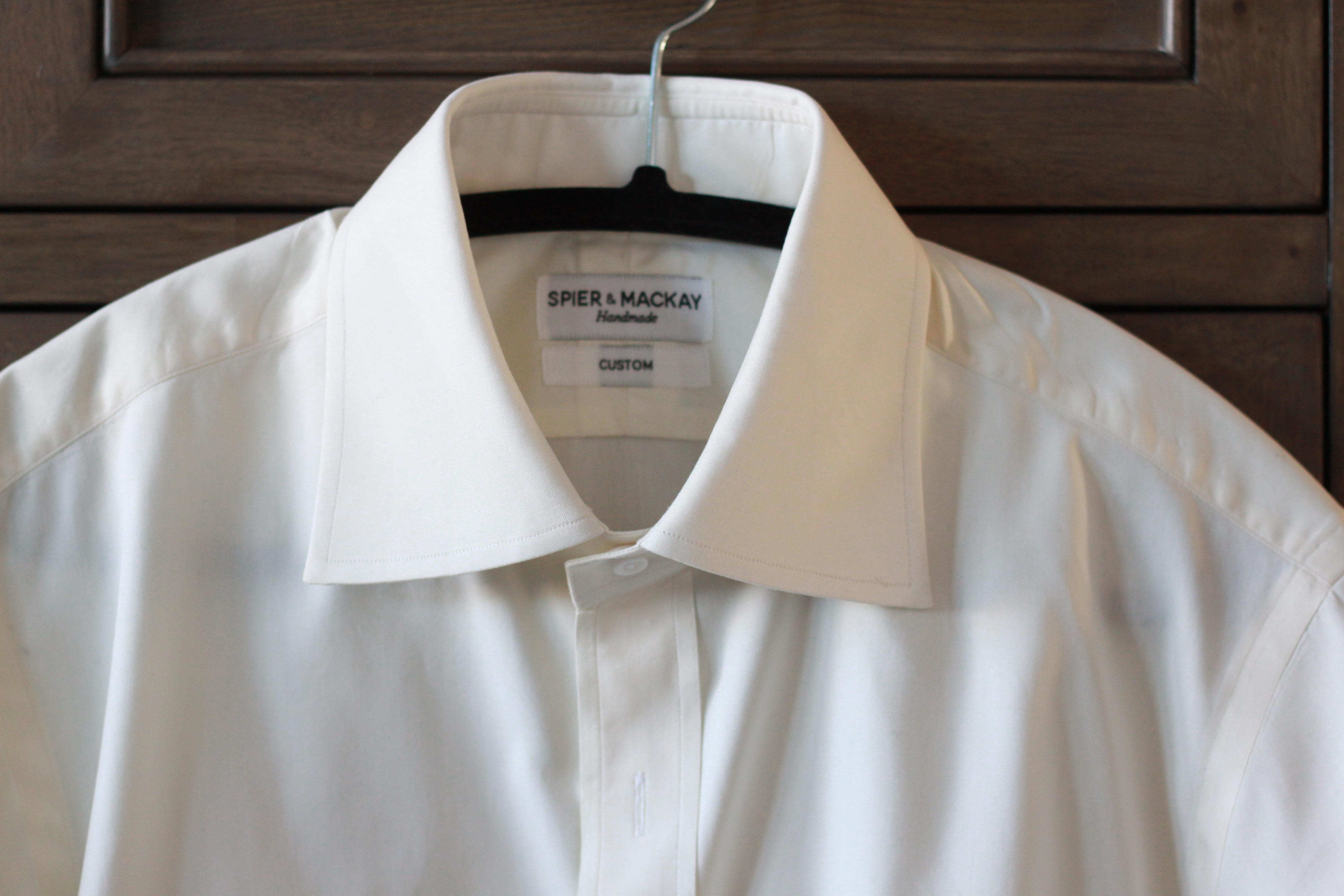 Solids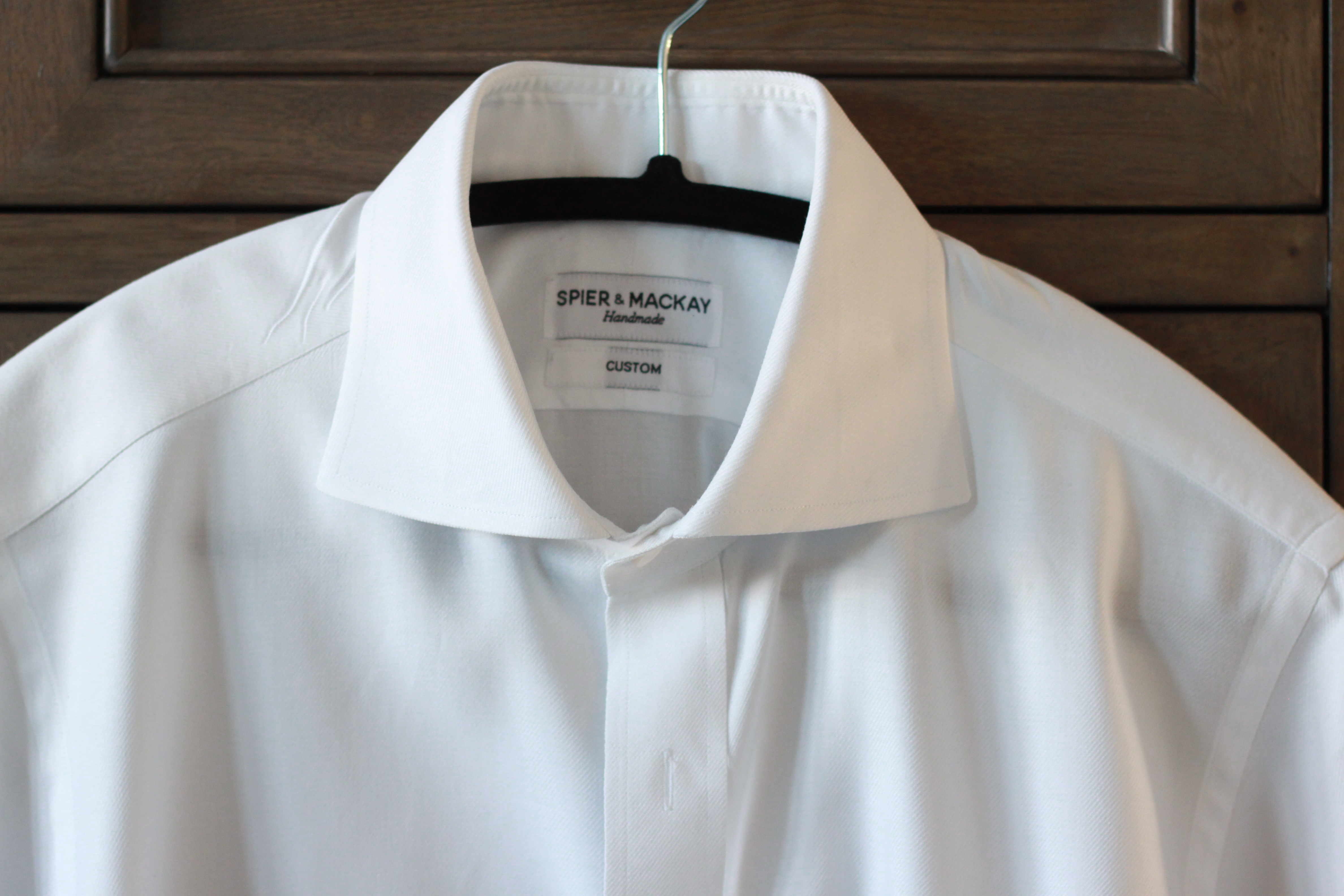 It's good to have some solid shirts in your collection. Solid doesn't have to be boring. Poplin is very smooth, and I own a few of those. There are lots of great weaves that can add some visual interest. Twills, box weaves and oxford cloth all add some texture and variation in the solid colour. Arbitrarily, solids like these should comprise say 40% of a well sorted dress shirt collection.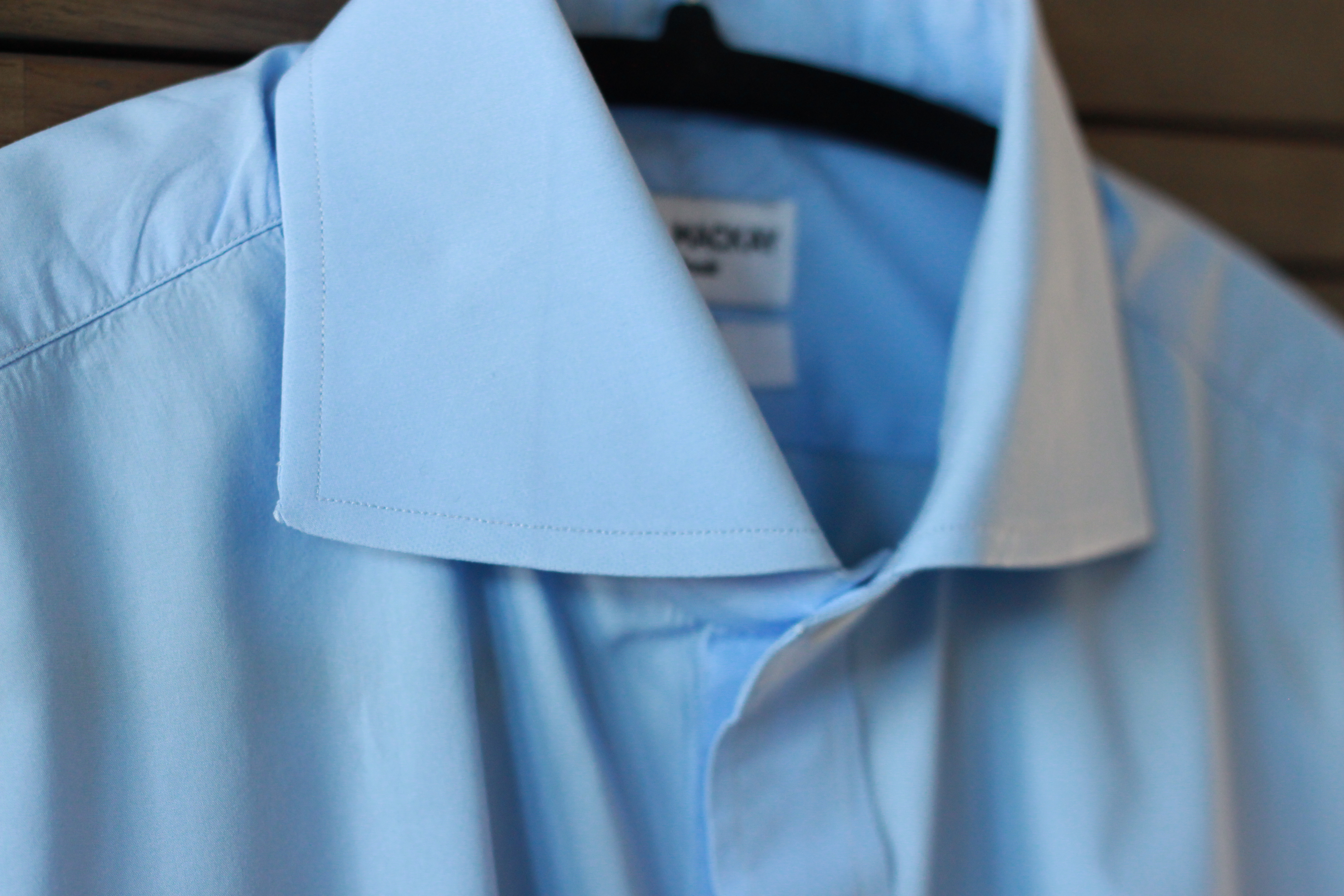 Stripes
Striped dress shirts are another staple. There are lots of variables to play with – stripe width, spacing, colour saturation. If you are building a lean dress shirt collection, I'd say these shirts would make up the next 20-30%. For maximum versatility stick to even spacing and same width stripes of a single colour and white. As a "rule" I don't like multi-coloured striped dress shirts. Blue and white stripes are a safe play, and within those colour constraints you still have a breadth of options. Changing the shade of blue can really impact the way the shirt wears. I have a great light blue and white oban stripe from Spier & Mackay that is really well balanced. Pencil striped dress shirts from a distance will appear solid, but up close add some visual interest. Bolder, darker blue stripes are another great choice, though a little bit less versatile.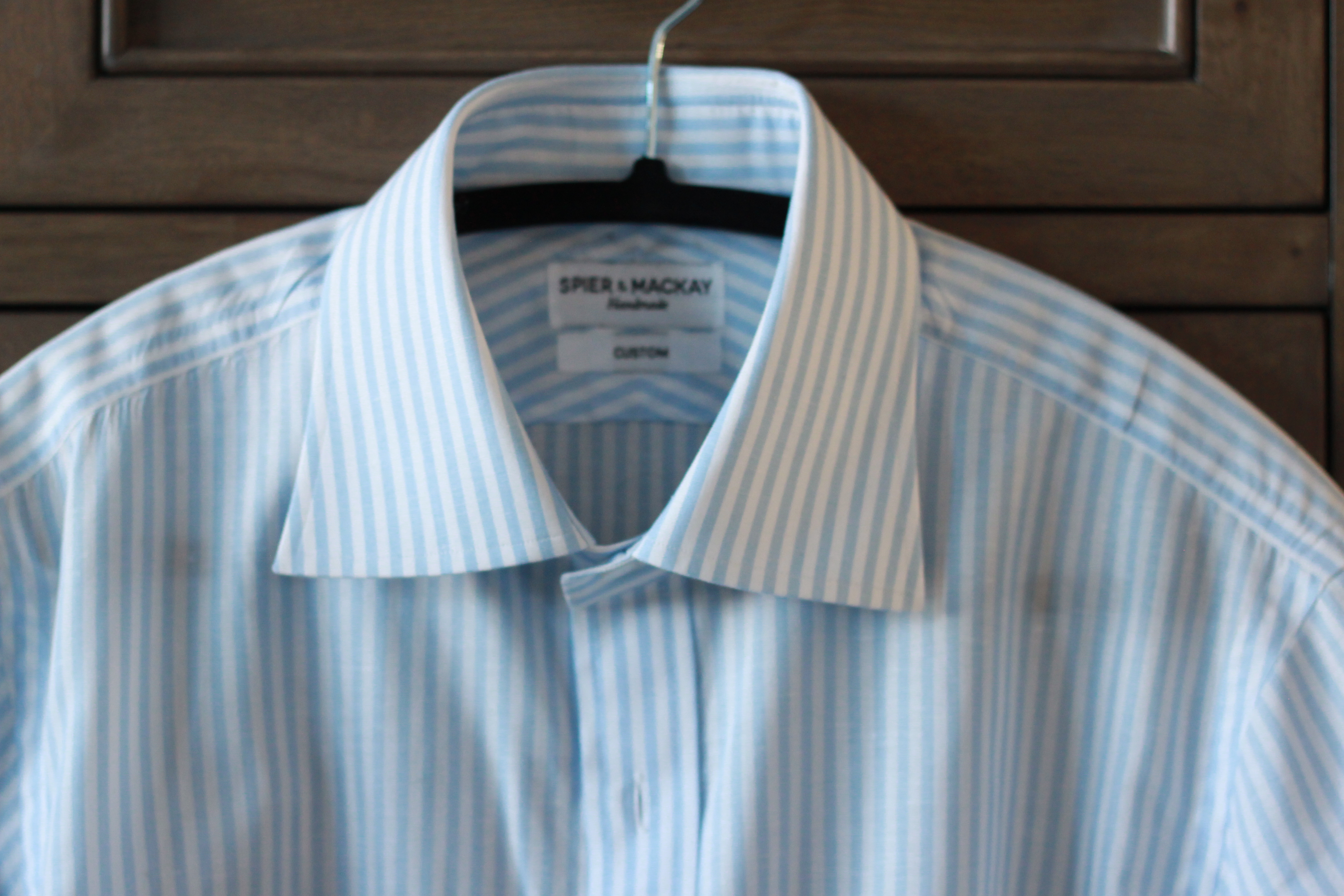 If you want to add some OCBD into the mix (you should) look for university stripes in green, burgundy, purple and pink. The way the fabric is woven takes some saturation out of the colour, leaving a soft, washed out appearance that is quite nice. I owned a grey pencil stripe before I knew it was difficult to wear. Now, putting on a grey striped shirt is physically the same as any other shirt, that's not what I meant. It's a less common colour for stripes, but I think it is a nice change and is fairly neutral. If I could find a light grey oban/butcher striped dress shirt fabric, I'd buy it now.
Regarding the width and spacing of the stripes, I'm going to cringe and write another dress shirt "rule". The coloured stripes should not be wider than the white stripes. It just looks off to me. A thin light blue stripe with wider white stripes looks great. When my brain interprets the stripes, it is always with white as the base. For some reason the white never appears to be on top, if that makes any sense. A thin white stripe and a wider blue stripe isn't balanced and I'd rather just have a blue shirt.
Checks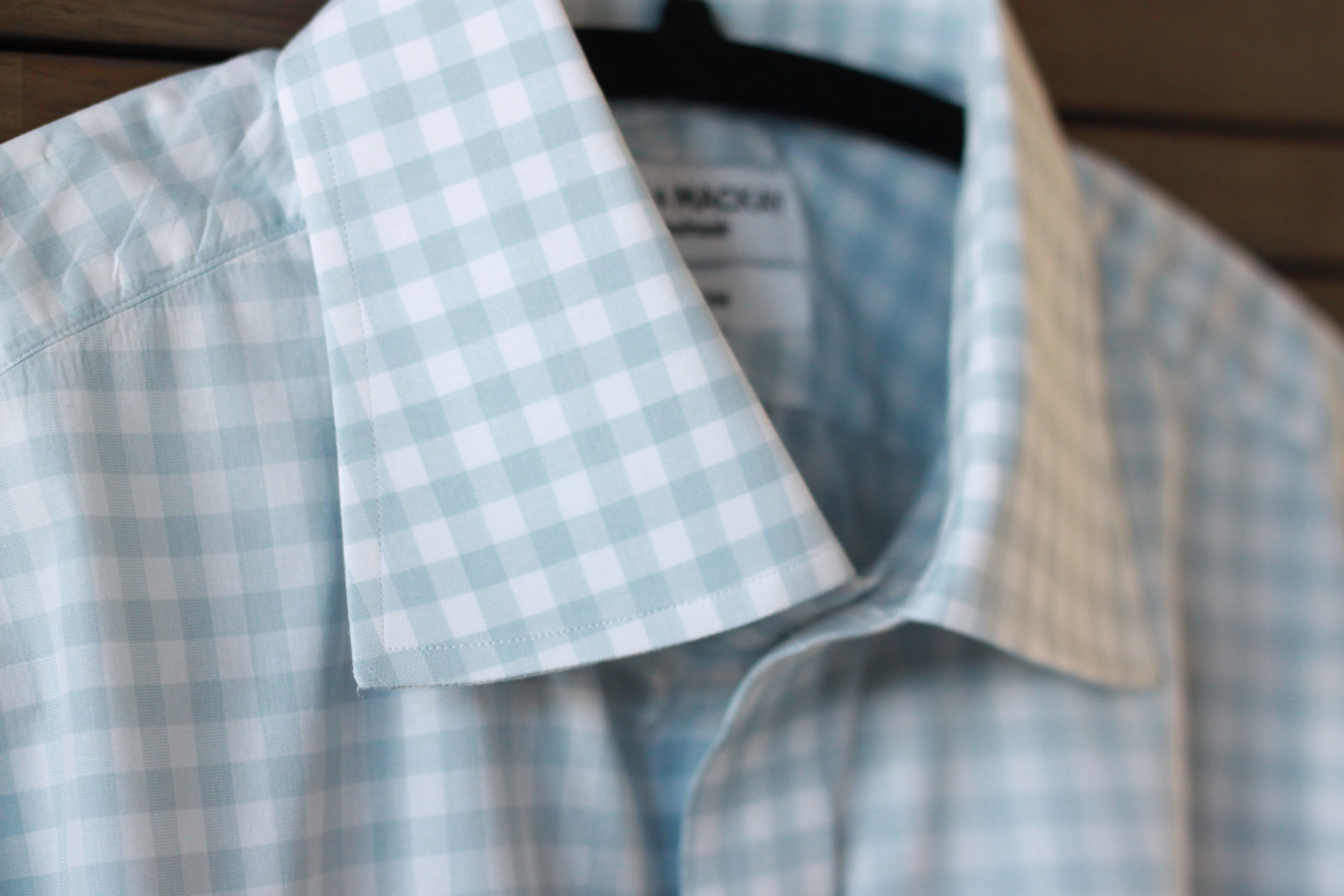 A couple of checked shirts are a nice change from stripes and solids. Gingham shirts worn with tailoring was pretty trendy a few years ago. High contrast colours – black, reds, purples, etc. For a dress shirt collection, I'd generally avoid the highly saturated ones. They're just too casual of a fabric. Take a look for lower contrast and saturation, like the soft mint one above. Another style of checked dress shirt that I'd recommend is a very small scale windowpane (sometimes referred to a micro-check, box check, or graph check). I own one, but the scale is a little larger than I'd like, and I find that I don't reach for it all that often. If you own lots of rustic tweed jackets, then a tattersall patterned shirt might be a good addition to your collection. Checked shirts should be maybe 20% of your collection.
Other patterns
I have a very small scale houndstooth (blue on white) shirt that I have to found to be quite versatile. Up close you can clearly discern the pattern, but at only a couple of feet away it resolves to a solid. As far as "other patterns" go, this is a great option. The one I have is a medium blue, but I'm keeping my eye on some other options. Prince of Wales is another pattern often found on shirts. I've never been interested. That's too complicated of a pattern for a shirt. It will be difficult to pair, unless you own mostly solid ties and sport coats. I don't think it would work with a suit.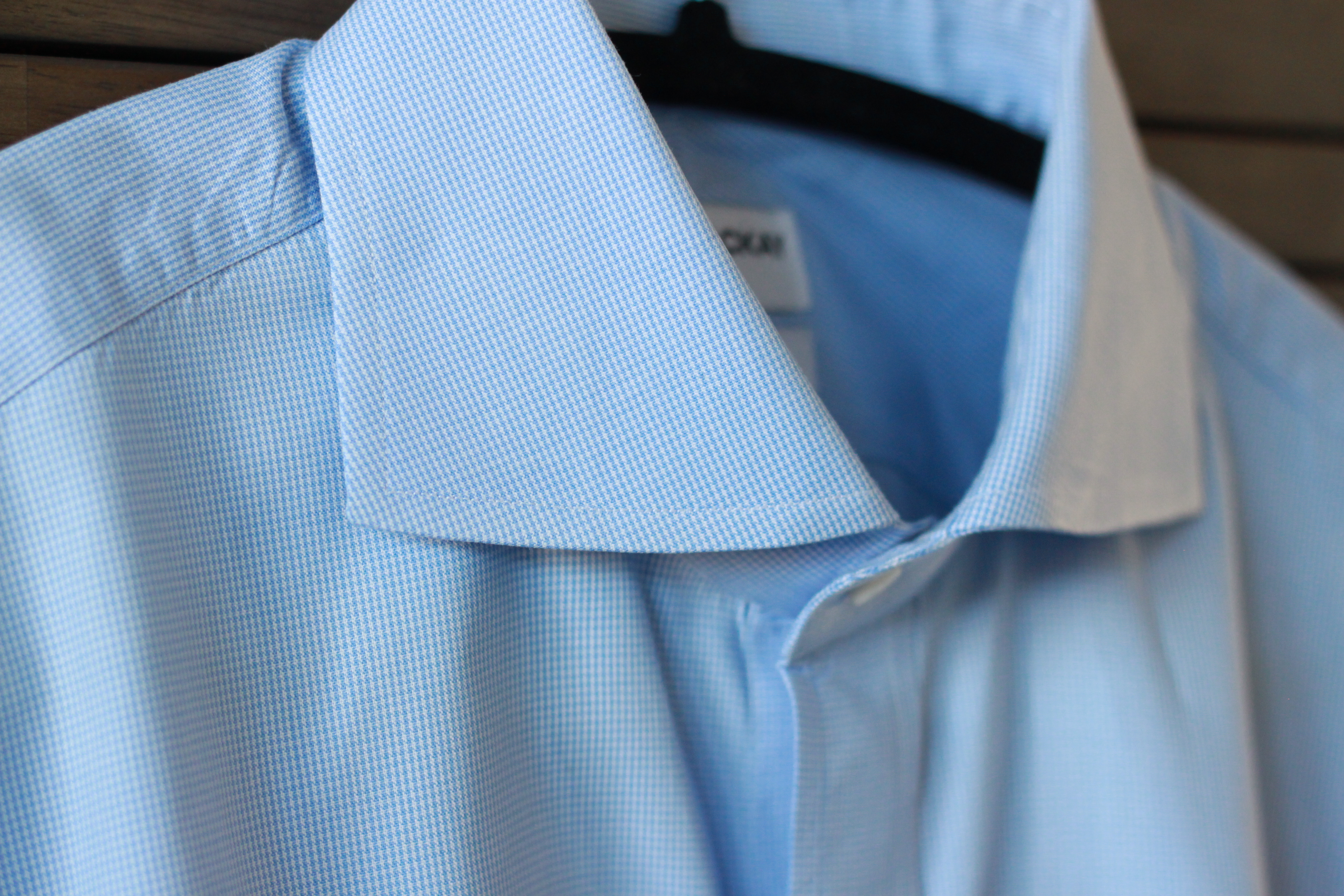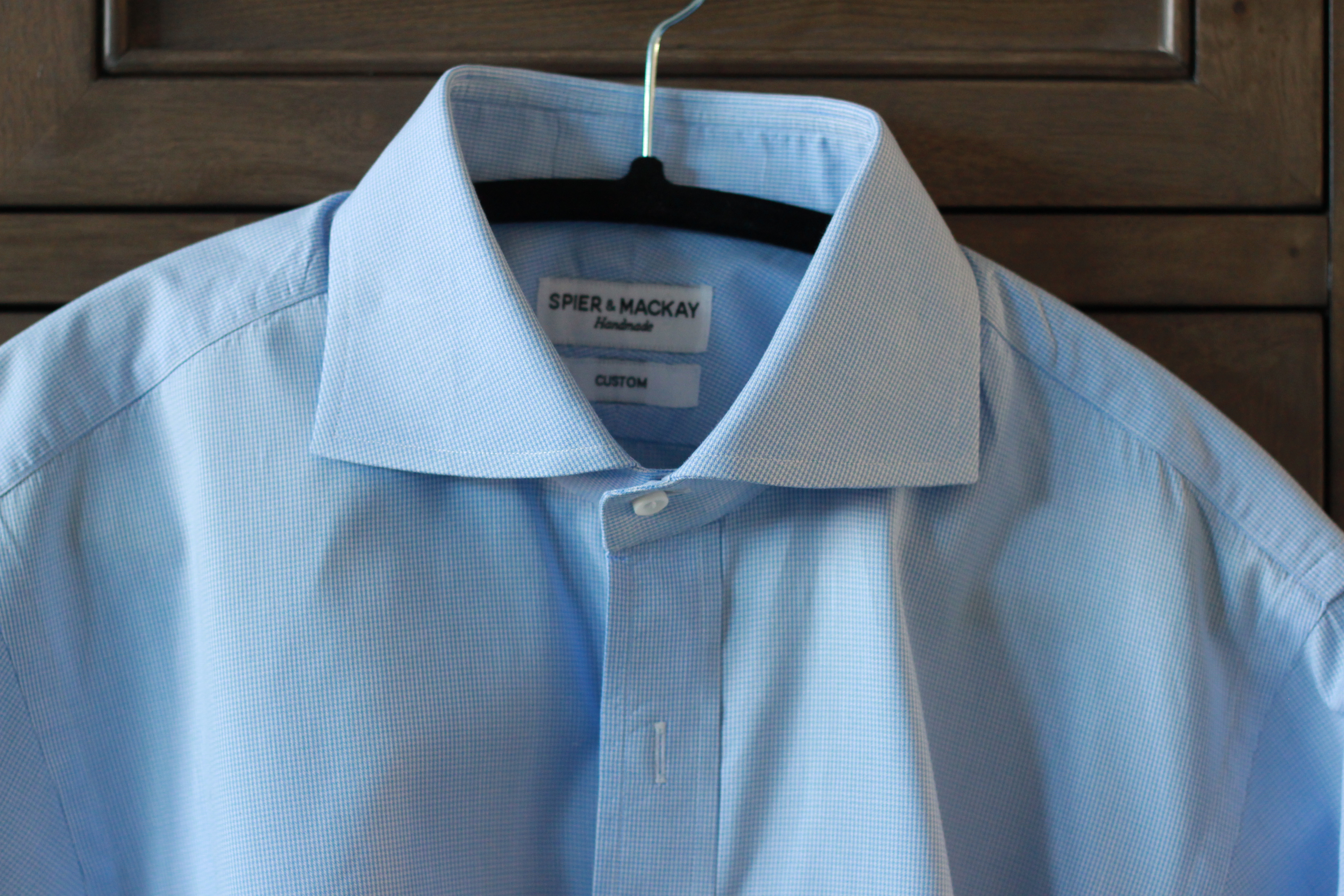 Chambray and Denim
Chambray shirts are a nice addition. Something just a little bit richer in colour and texture compared to an oxford cloth. Denim dress shirts are a bit of an obfuscation of the "dress shirt". It's all about the redefinition of formal clothing, and softening up the dress shirt. I'm torn. I see posts featuring light wash denim shirts, and think "man, that looks great." But I've yet to order one. They exist in something of a no-man's land. Neither formal nor casual. Maybe that's cool? If you have a wardrobe that is predominantly textured odd jackets, then there is probably a place for one. Just don't wear it with a suit.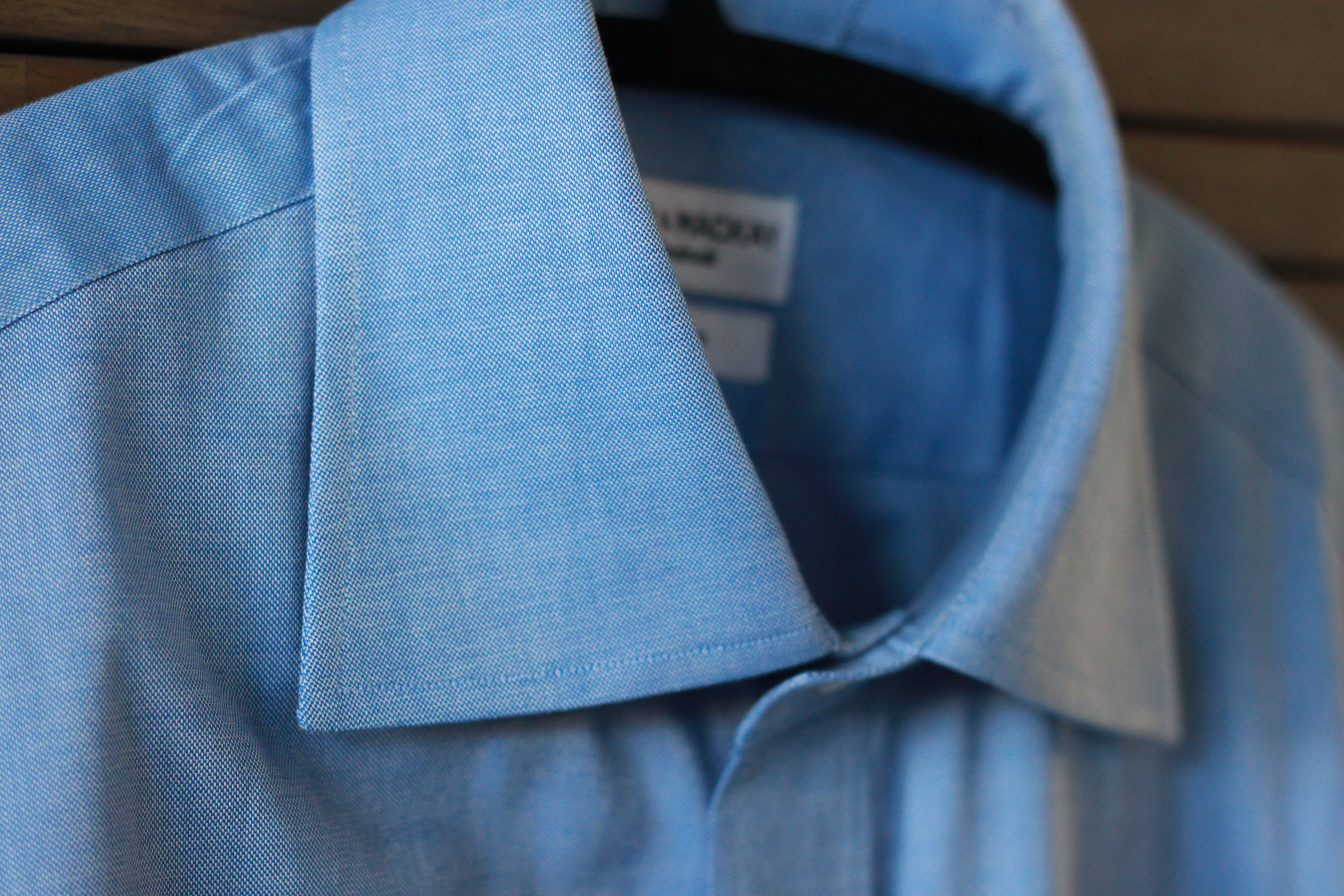 I had to add a quick update to this section, as I've since picked up a light/medium wash denim shirt. I've found it to be a great choice for pairing with textured sport coats (tweed anyone?), but can be trickier if you add a tie. I try to apply the same rules when picking a sport coat to pair with jeans, and have shared my thoughts in a post dedicated to the denim dress shirt.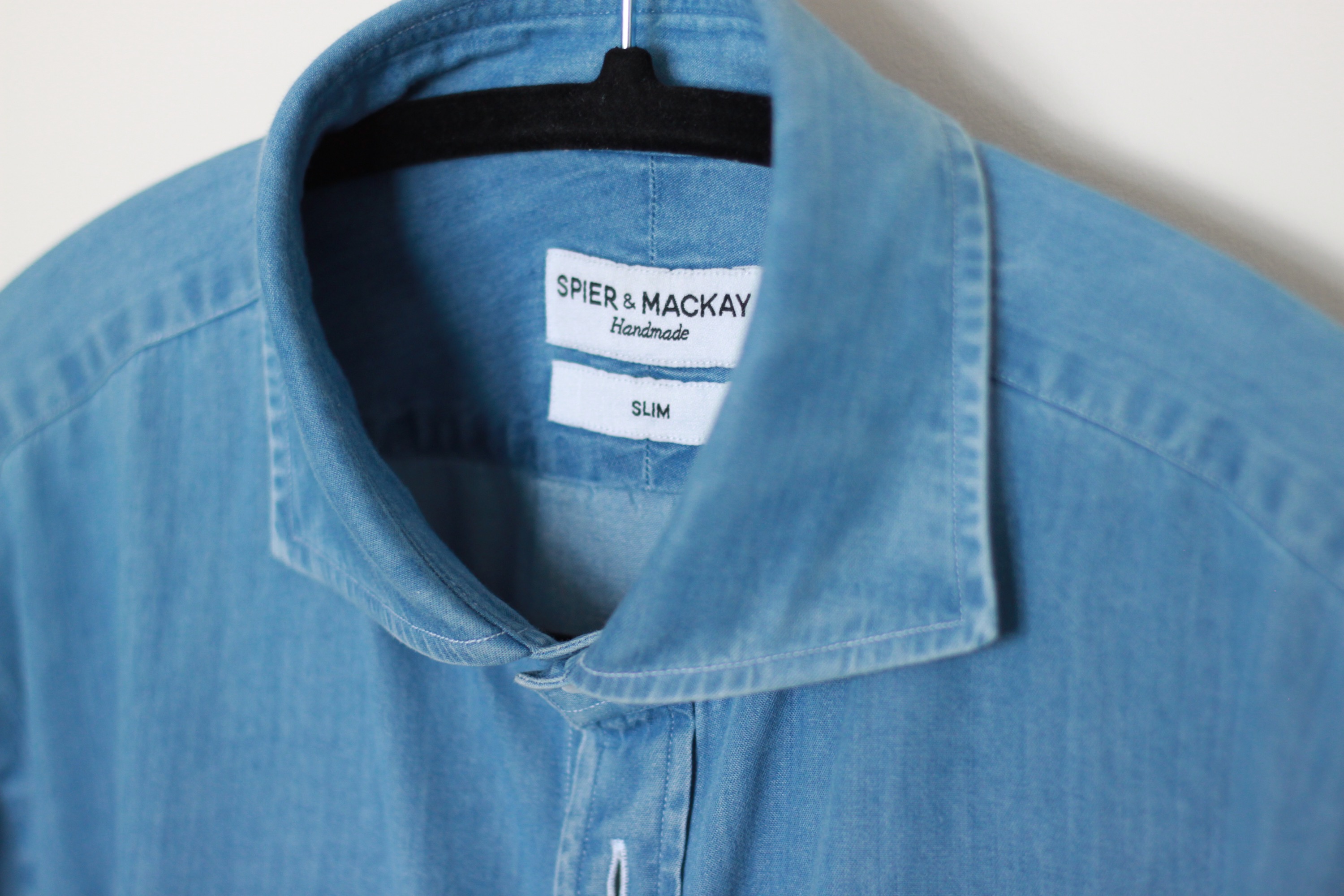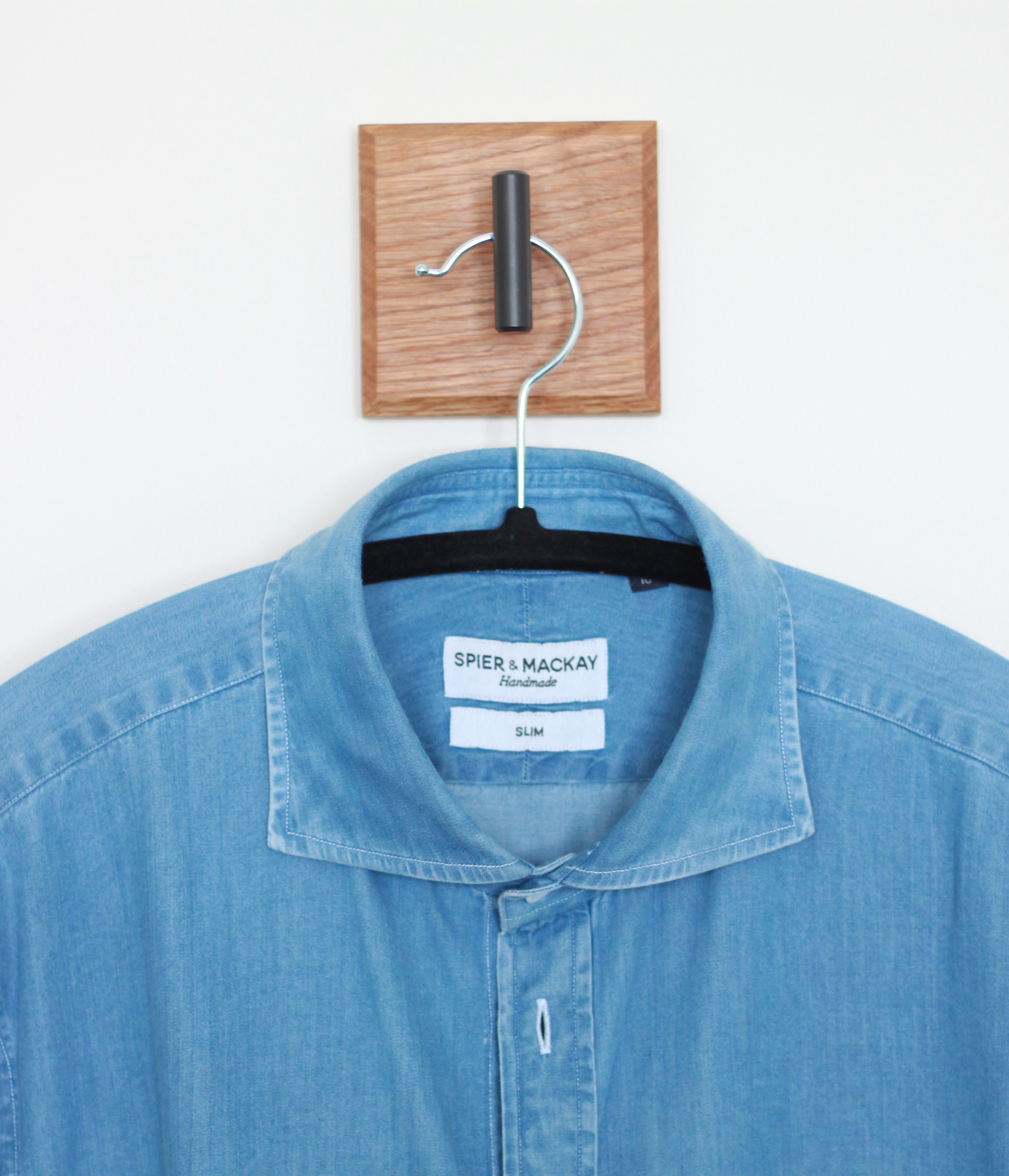 Collar styles
I have a combination of full spread, semi-spread and button down collars in my dress shirt collection. It's a fairly well balanced selection, though I ordered the semi-spread by accident. There's a little less tie room than I'm used to, but it's nice to have some variation. I stay away from extreme cutaway collars. They look rakish, and are trendy, but to me they show too much of the tie on either side of the knot.
For button down collars, there are a couple of details I look for. The points need to be long enough to provide a nice roll (S-shaped curve). There also needs to be enough room for a tie, should you plan to wear one. Again, the #menswear movement has taken these to an extreme, with crazy tall collars, long points and borderline comical rolls. Find a nice balance between the shape and size. I think Spier & Mackay's OCBDs are a great example.
Building a dress shirt collection
Hopefully I've been able to provide some insight into what makes up a well-balanced dress shirt collection. I've arrived at mine through mostly trial and error, and a happy accident or two. Did I miss anything that should be in a dress shirt wardrobe? Let me know.
-Colin