What I Wore: October 2018
What I Wore: October 2018
Seasonal Norms
Finally, some Fall weather! October was a month of transition – finally packing away my Spring/Summer wardrobe and getting into all the great Fall/Winter fabrics. I also added some new pieces to my collection. A couple of pairs of Vitale Barberis Canonico flannel trousers in mid-grey and charcoal should prove to be very versatile. Two new sport coats will also make their debut. The first is a wonderfully mottled mossy green tweed from Abraham Moon & Sons. Second is an Italian take on an Irish classic – a lightweight Donegal-style tweed from Botolli. You should also keep an eye out for some of the accessories I picked up from Amidé Hadelin, which I reviewed recently, as well as some new items from a perennial favourite Kent Wang.
What I Wore - Conservative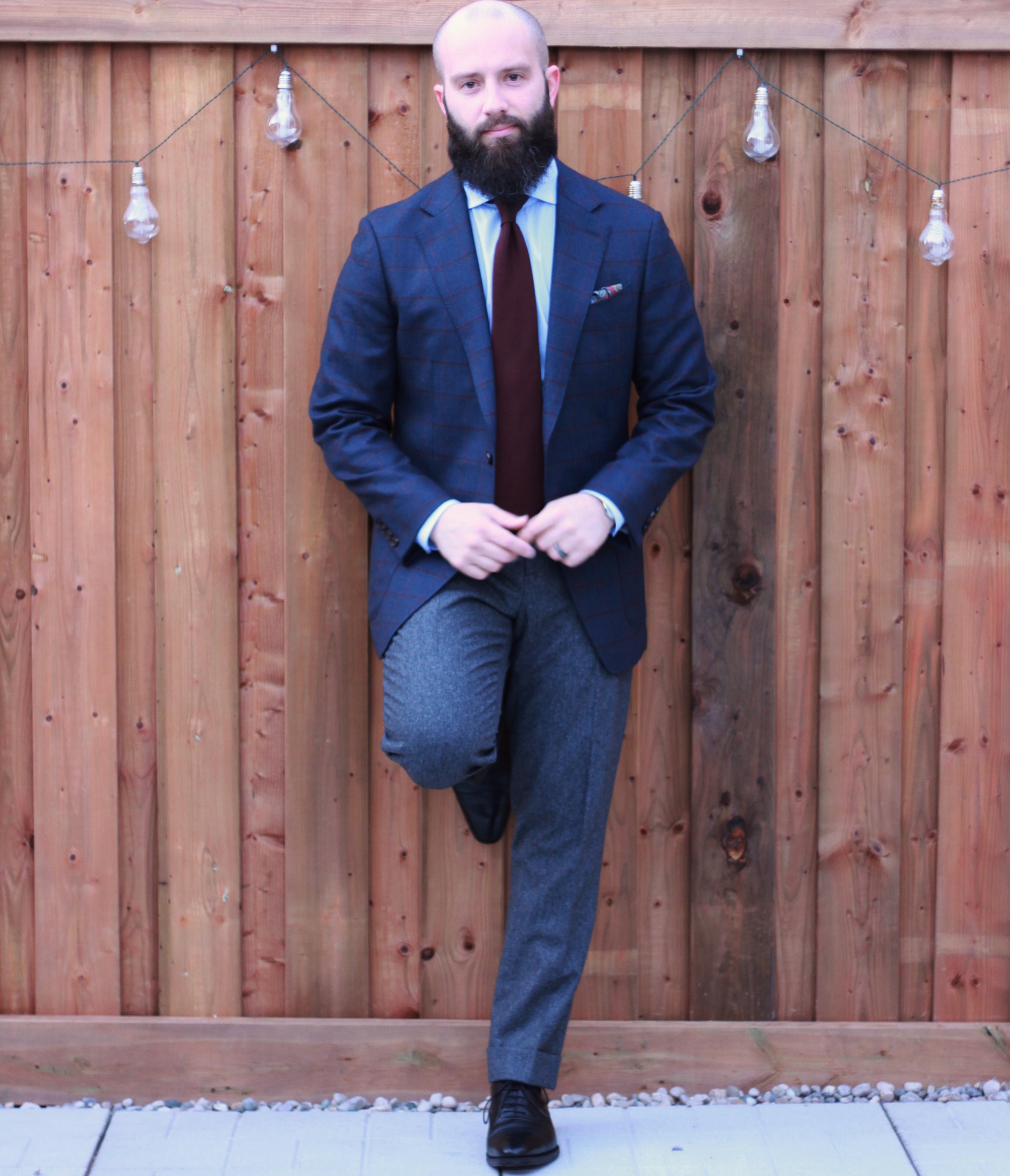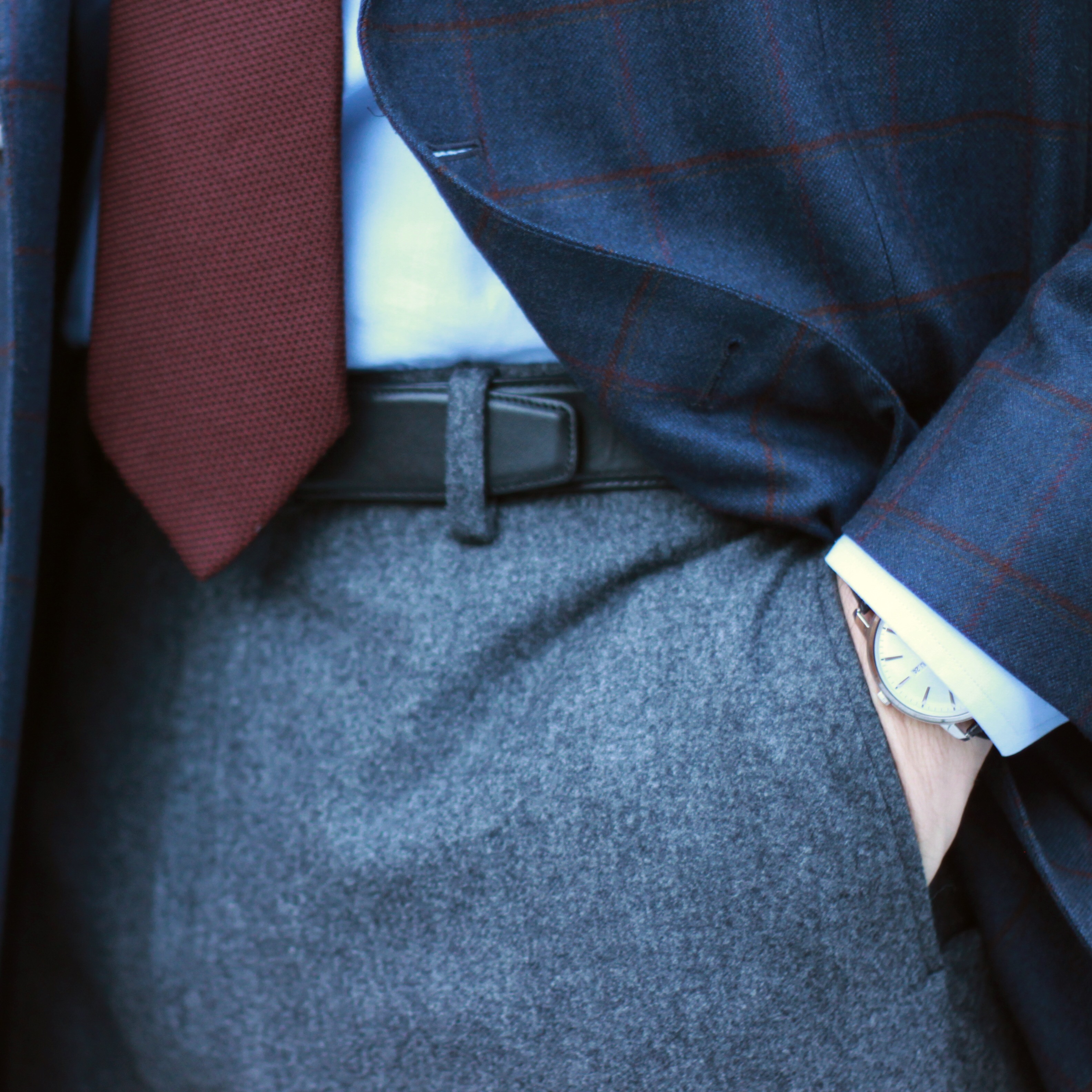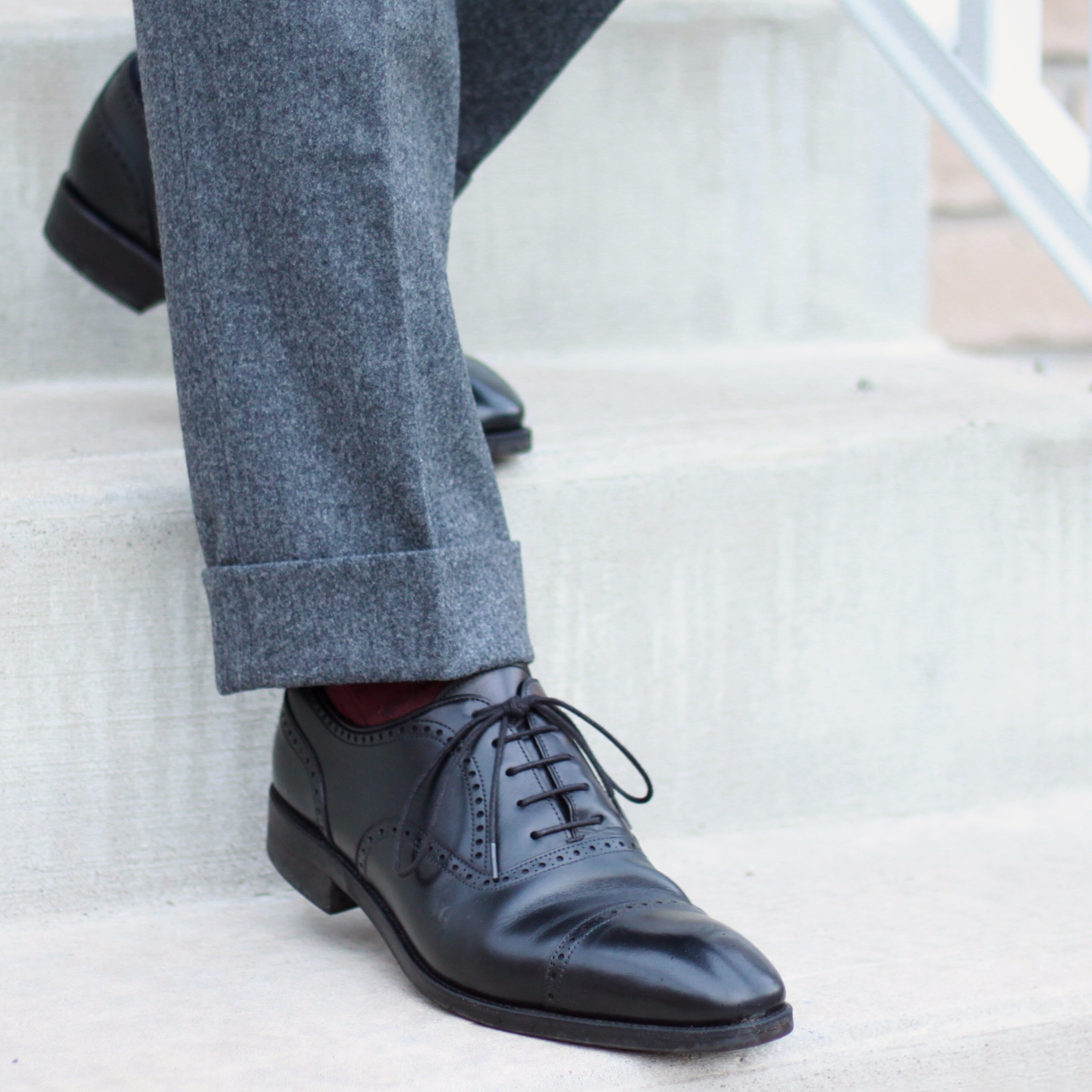 The first look up for review is this conservative, business-friendly look. Black Carmina captoes, paired with burgundy socks and my new mid-grey flannel trousers serve as the base. Up top, I chose a sharp blue poplin shirt, burgundy grenadine tie. This sport coat is a really soft wool/cashmere blend in a navy blue that features a burgundy and rusty orange windowpane pattern. Pulling colours from across the outfit is the new burgundy paisley pocket square from Amidé Hadelin. Overall, this was a classic look with some subtle twists, and I think it was a success.
What I Wore - Tweed Camouflage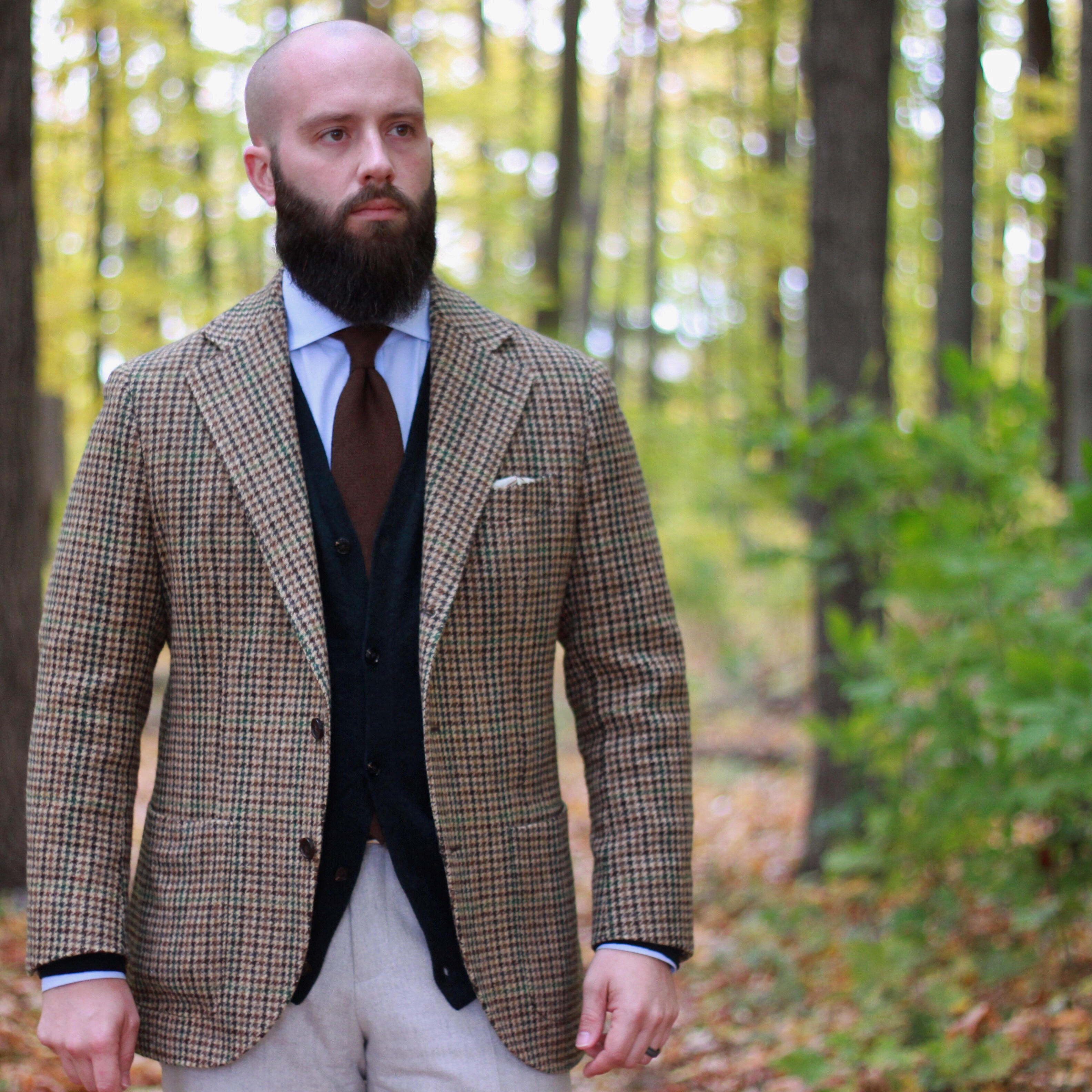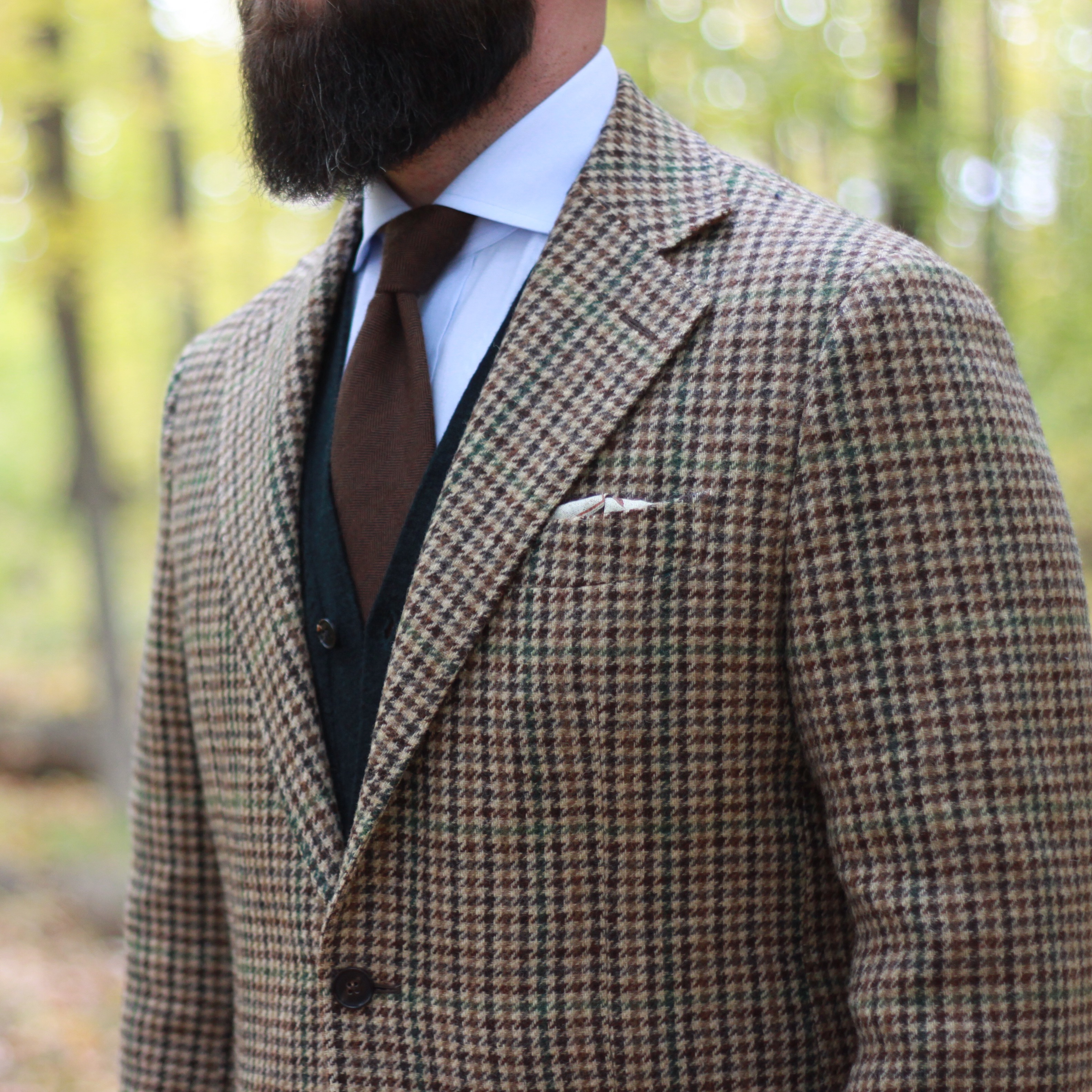 This guncheck tweed from Spier & Mackay last season is still a stunner. The brown, caramel and green in it are perfect for a woodland backdrop like this. I wanted to keep the top half darker, so I added my dark forest green cardigan to add some depth. Light brown flannel trousers provide some contrast as the lightest element in the outfit. Keeping with the contrast and rich textures, I wore my dark brown suede Velasca wingtips (which I love). A pale blue shirt is the only cool element, but I think it works because it isn't overly saturated. New accessories from Kent Wang are the Lod Mosaic pocket square, and this rich brown cashmere herringbone tie. All of these rich, earthy tones are perfectly at home in this forest close to my house. I plan to try and get out there again before all the autumn colours are gone.
What I Wore - Burgundy Trousers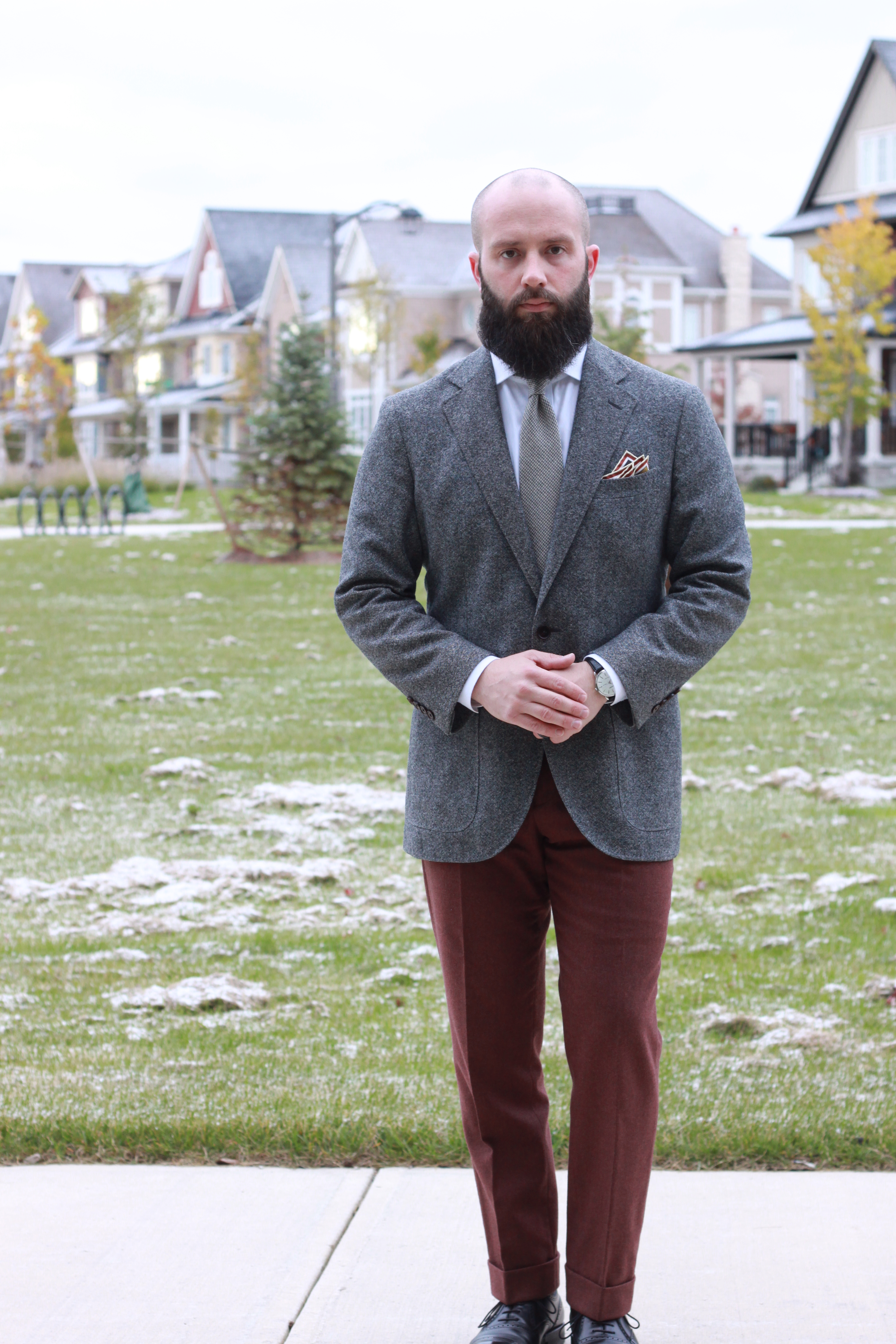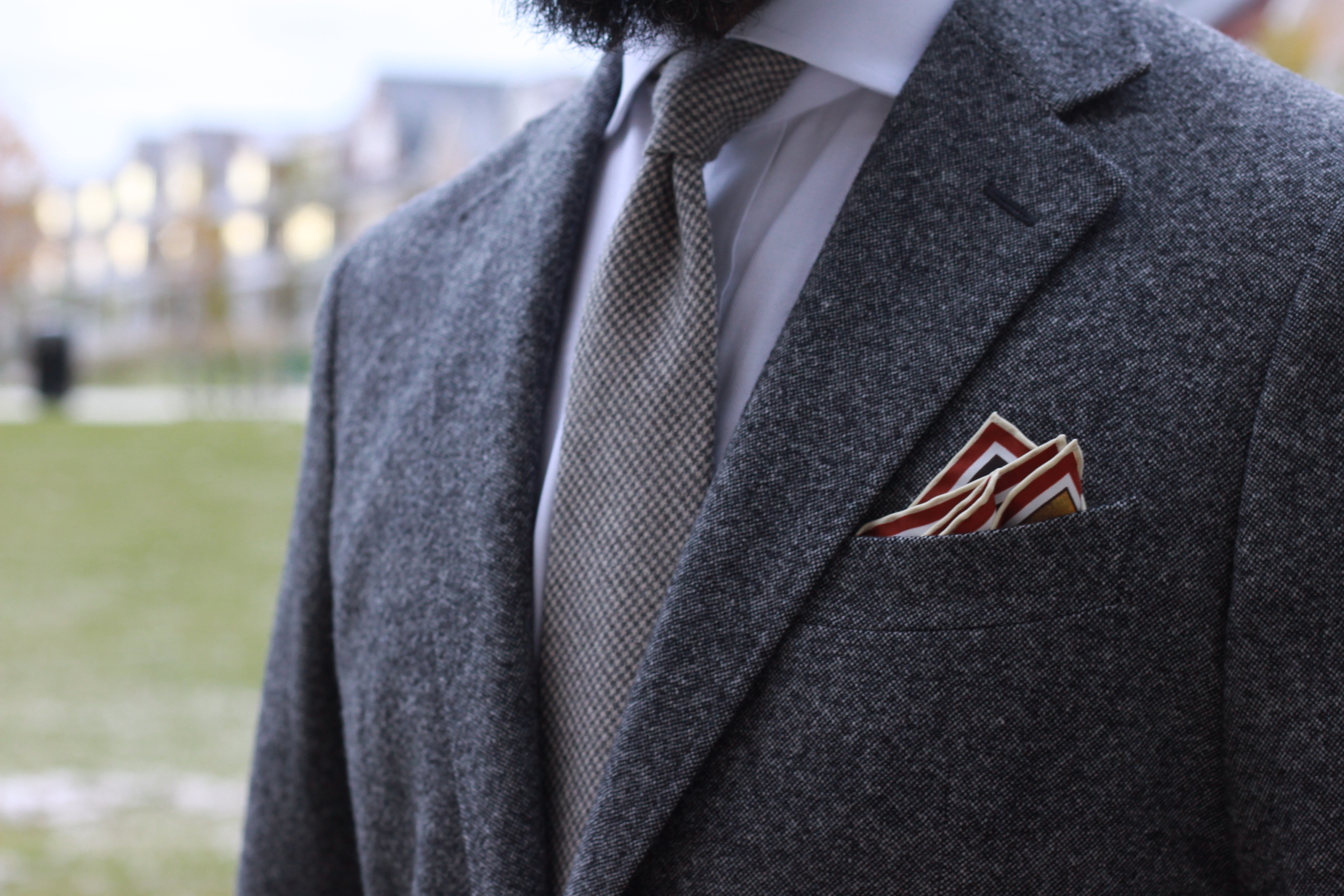 When I posted this one on Instagram, there was a lot of discussion about the tie. In relation to the saturated colour of the burgundy trousers, the upper half seemed too neutral to some. Suggestions included a burgundy or navy tie. While I agree with both in principle, for this outfit I wanted the trousers to provide the bulk of colour, pulling some up with the border of this Rampley & Co pocket square. The jacket is a mid grey merino tweed from Abraham Moon & Sons – I think they make up the vast majority of my tweed clothing – that Spier & Mackay offered last year. I stuck with a white dress shirt, and this great wool houndstooth tie from Marshall Anthony. Black belt and black Carmina captoes finished off the look. I think I'm still happy with the look, but next time might choose a darker tie; charcoal maybe.
What I Wore - Ecru and Blue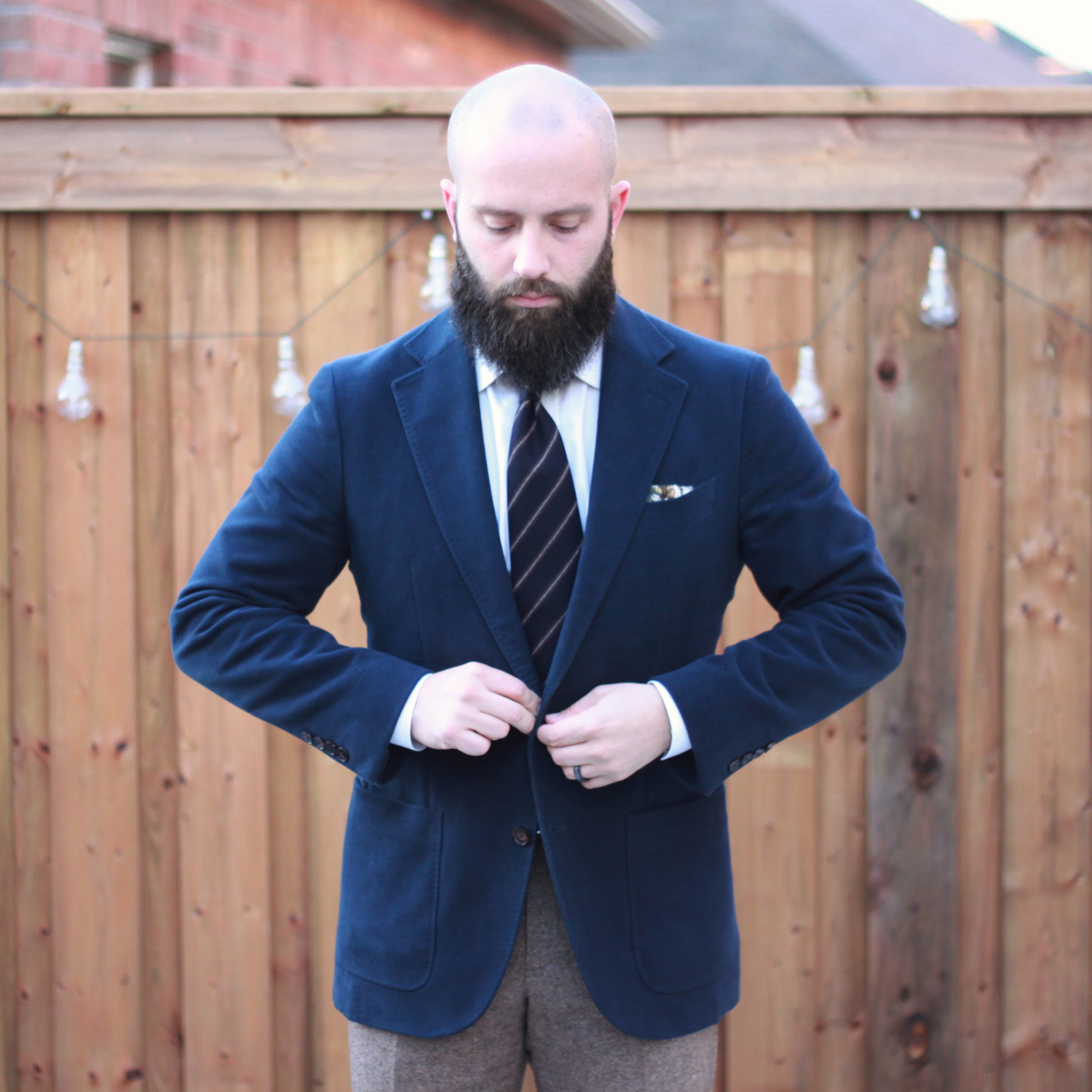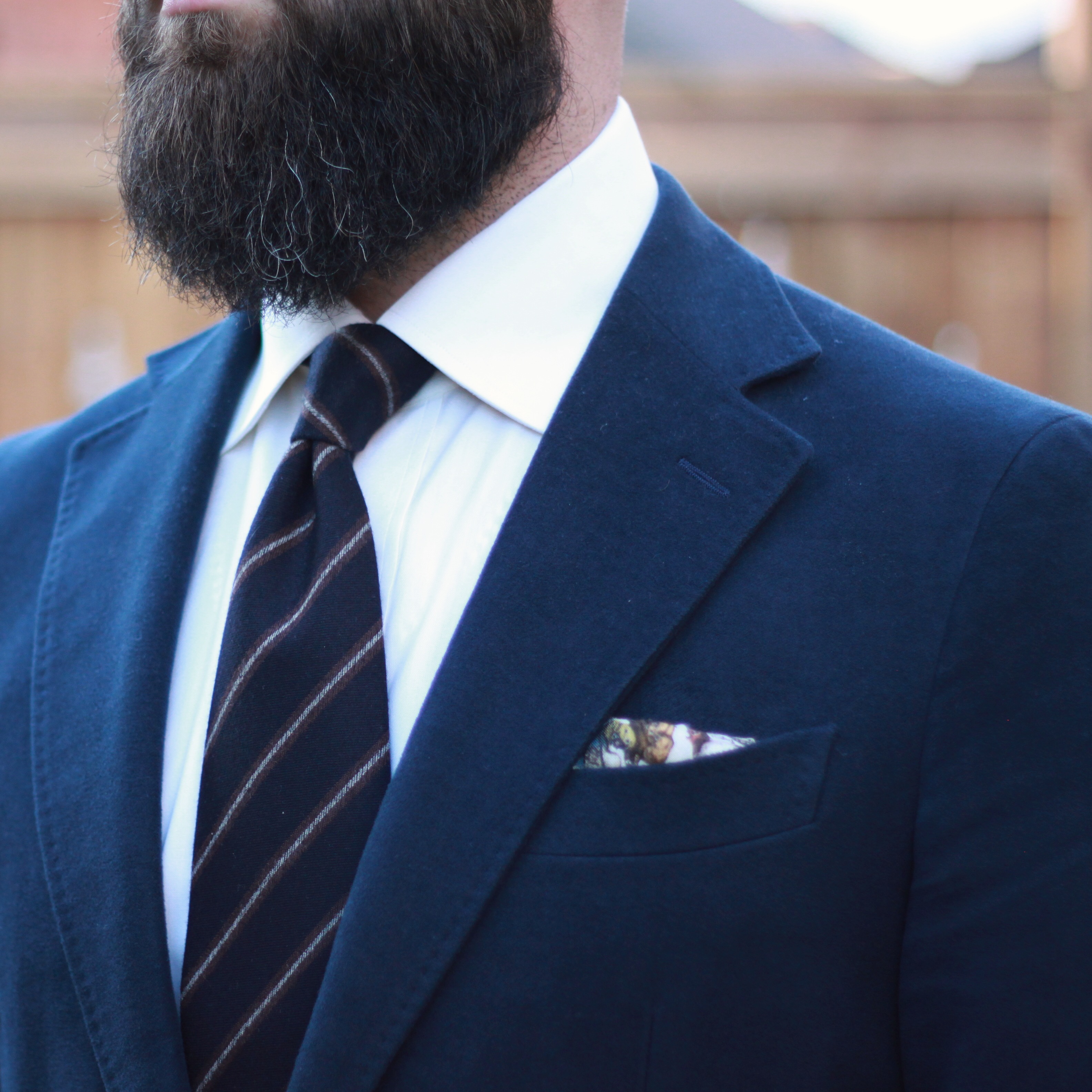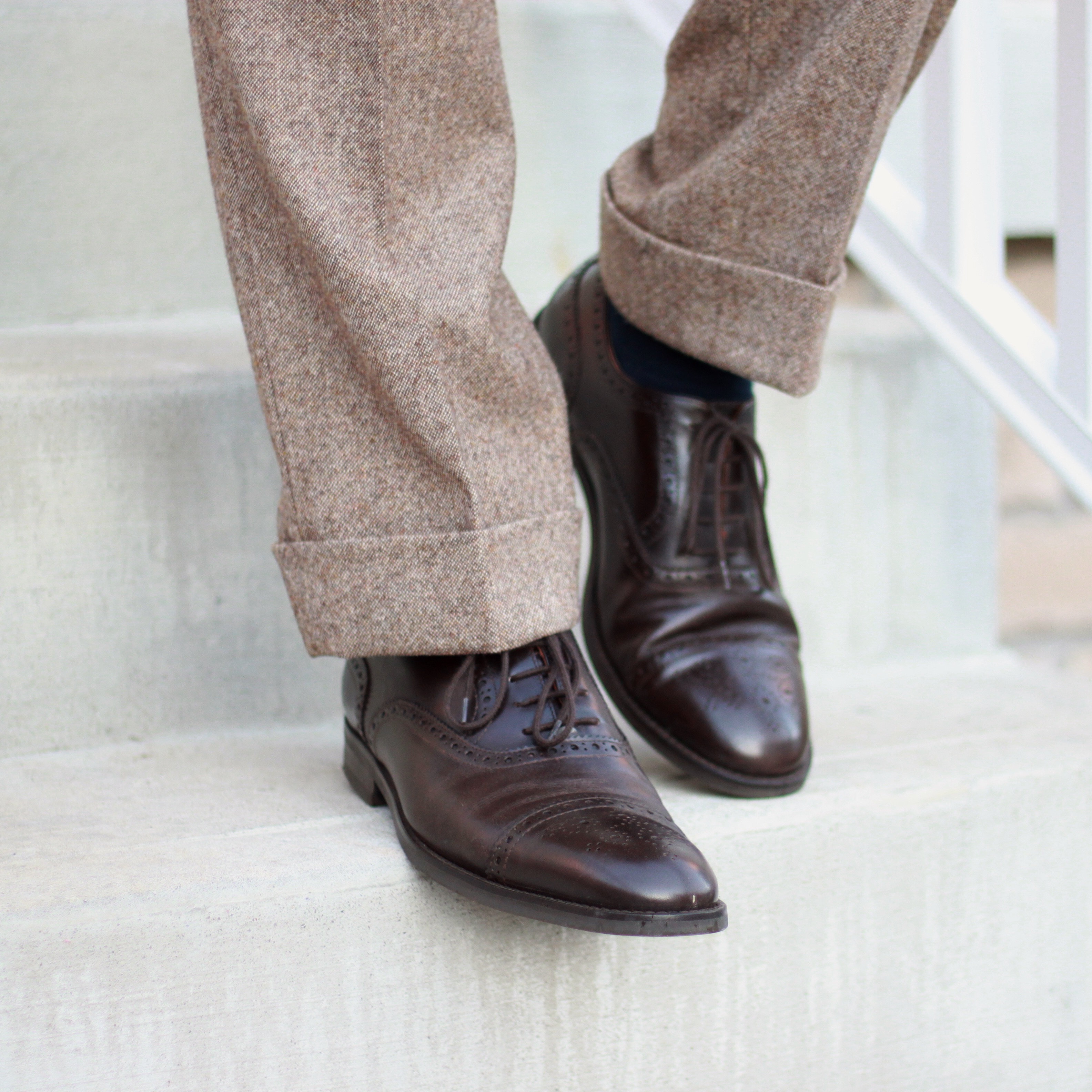 Shame the lighting was so cool that morning – makes it hard to tell the shirt is ecru. One of my favourite combinations of texture is moleskin and tweed. I might even like it more than flannels and tweed. Might. It's so hard to choose, Fall/Winter has so many amazing fabric textures. This was a bit of a reversal of what one might expect: moleskin jacket and tweed trousers. Pairing my Vecchio Anseatico tie was the one part I was unsure of. Blue on blue, especially navy, is always a bit tricky. The pieces almost need to be identical in shade and tone, or different enough to have a gap. If it's too close, it can look a bit off. I think this worked out well, as the moleskin is not overly dark (even though Brisbane Moss calls it navy). Finishing the top block is another new item from Kent Wang, their Cellarius Star Chart pocket square. Finally, down below I went with my dark brown leather Velasca shoes.
Thinking about snow...
It's almost the end of the year. As I write this, there are only 51 days left in the year! Where has the time gone? I'm glad I've armed myself with some new flannels and tweed jackets to keep me warm. Time to start layering. Hope you stay warm too!
-Colin