Inspiration: Canali
Inspiration: Canali
Disclaimer: this is a sponsored post
Brand Spotlight - Canali
Doing a little bit of homework to start off this post, I was surprised to learn that after more than 80 years Canali is still a family owned operation. Currently under the management of the third generation, Canali has become a truly global entity. An amazing journey from humble beginnings in a small shop opened in 1934.
When the opportunity to write a bit about Canali presented itself, I was excited. Then a bit nervous. Who am I to share my thoughts about such a storied men's tailoring establishment? Then I realized, this could be an interesting exercise. Who am I, and what does Canali mean to me? When I first started my journey down into the rabbit hole that is menswear, one of my first aspirations was to own something from Canali. Now, back then I couldn't afford new, but I did manage to find a gently used sport coat. I wore it happily for years, but ended up selling it once I lost a bunch of weight. One of the things I've come to appreciate most in the world of menswear is quality. There have been revisions to many of my previously defined values as I built more knowledge about the impact of construction and materials selection. When I first got interested in clothing, had you asked if I would spend $200 on a tie I would have laughed and said no. Now I can better appreciate what it means to pay for something that is truly a quality piece.
Canali still represents a bit of a holy grail for me, and this is a perfect opportunity to have a look at their recent collection. You know, for research (and fun!). I'll take a look at their suits and Kei sport coats.
Canali Suits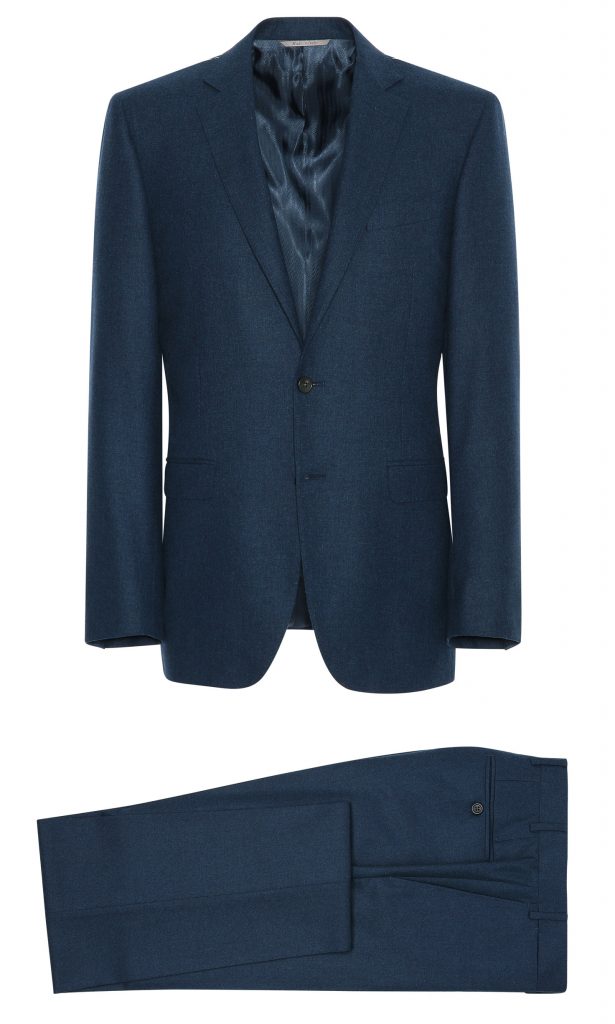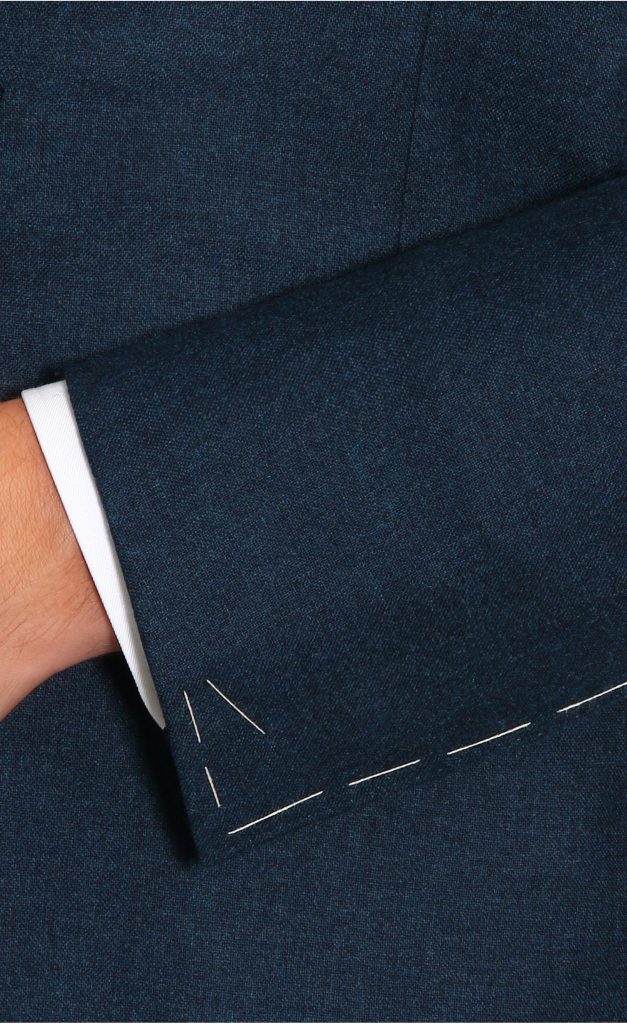 This is a beautiful looking suit. The fabric looks luxurious, and is a perfect shade of blue that isn't navy. It's called flannel, but is listed as 93% wool and 7% cashmere. The cut is modern, but not trendy. The soft looking shoulder isn't totally unstructured, but appears to have a natural shape. The lapels are classically proportioned – covering roughly 1/3-1/2 of the distance to the shoulder.
There are some other excellent fabric selections. Here are two other suits that I could see myself wearing.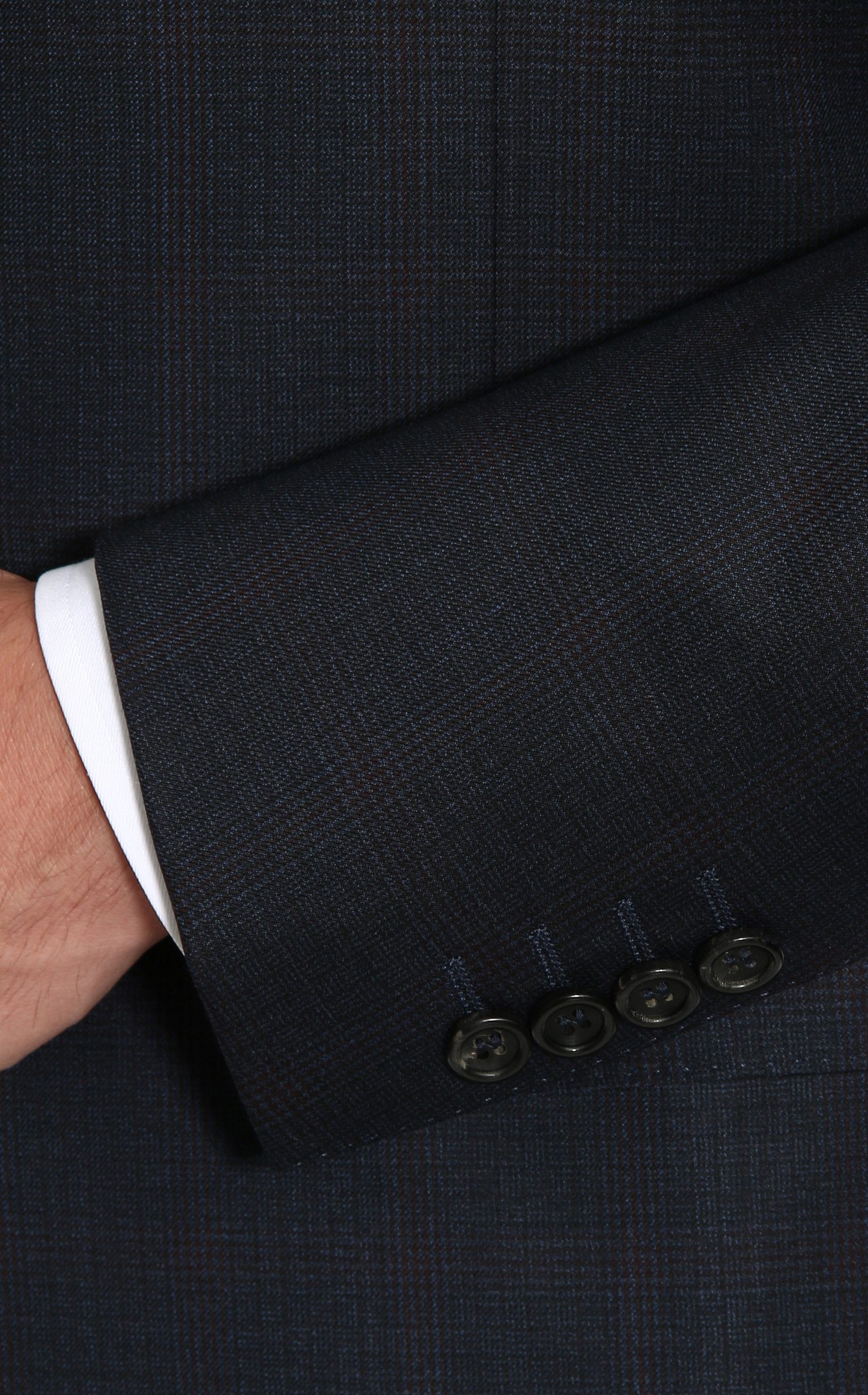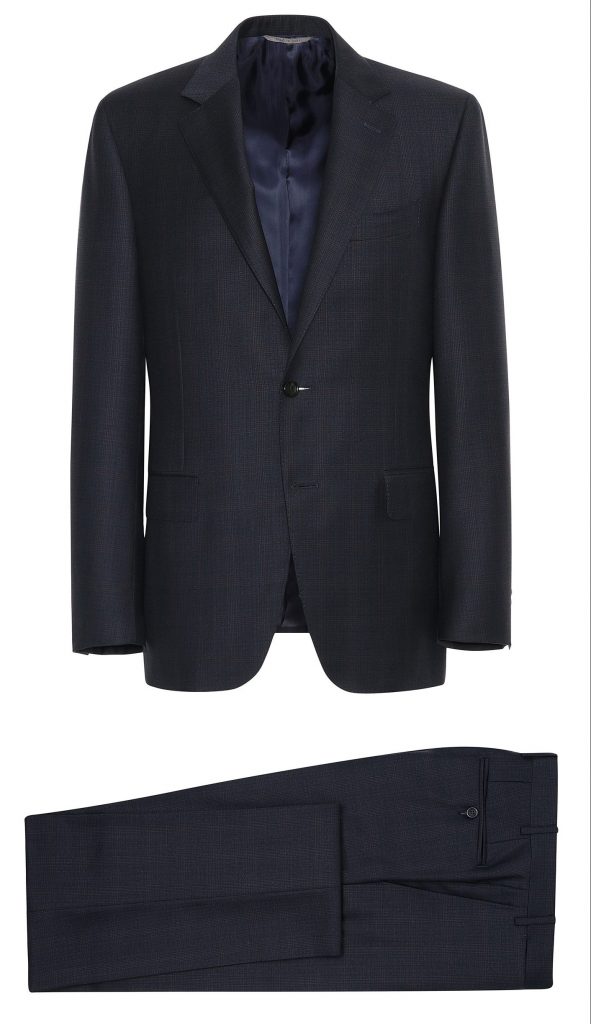 The understated check and colours in this fabric are excellent. The blue and burgundy overcheck are subtle against the charcoal base, but just visible enough to add some interest. This suit is just as versatile as a plain charcoal or dark grey.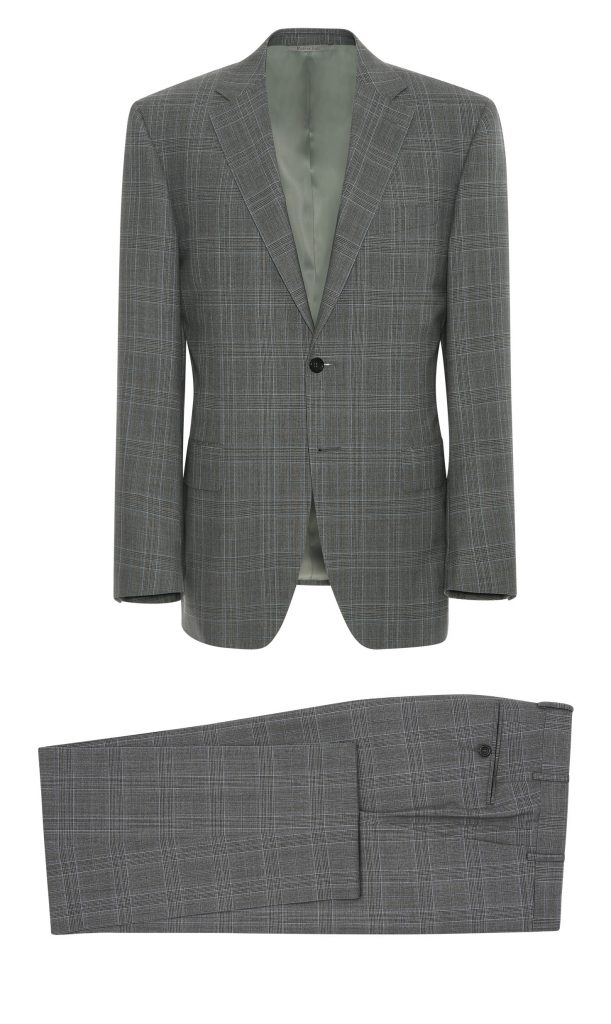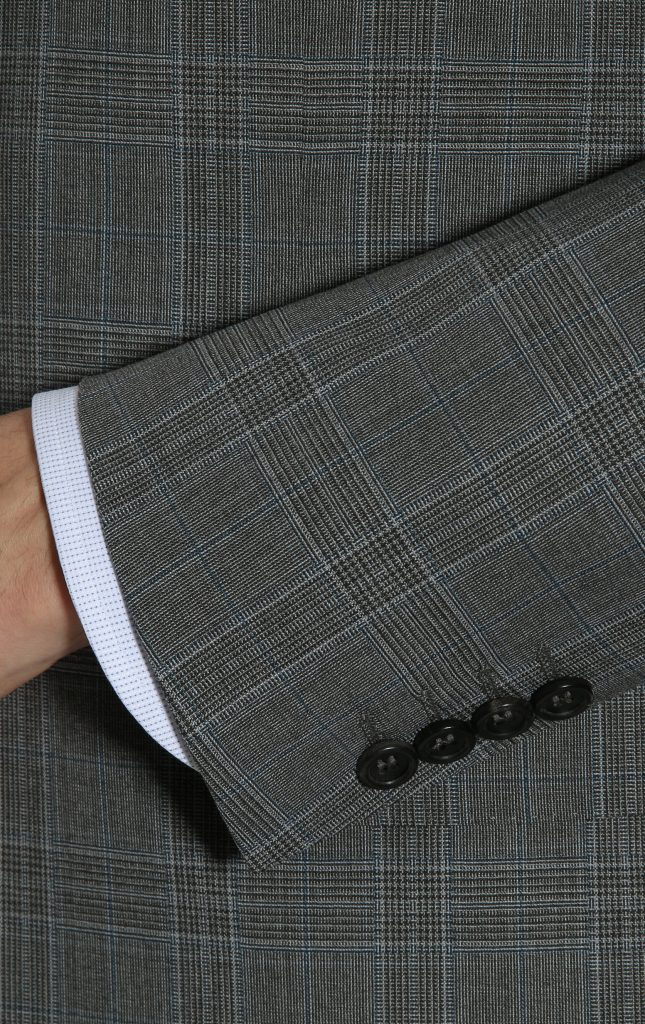 I have a similar grey Prince of Wales suit, but I love the details in the check. This is truly a mid-grey base, and it would be a versatile addition to anyone's suit rotation.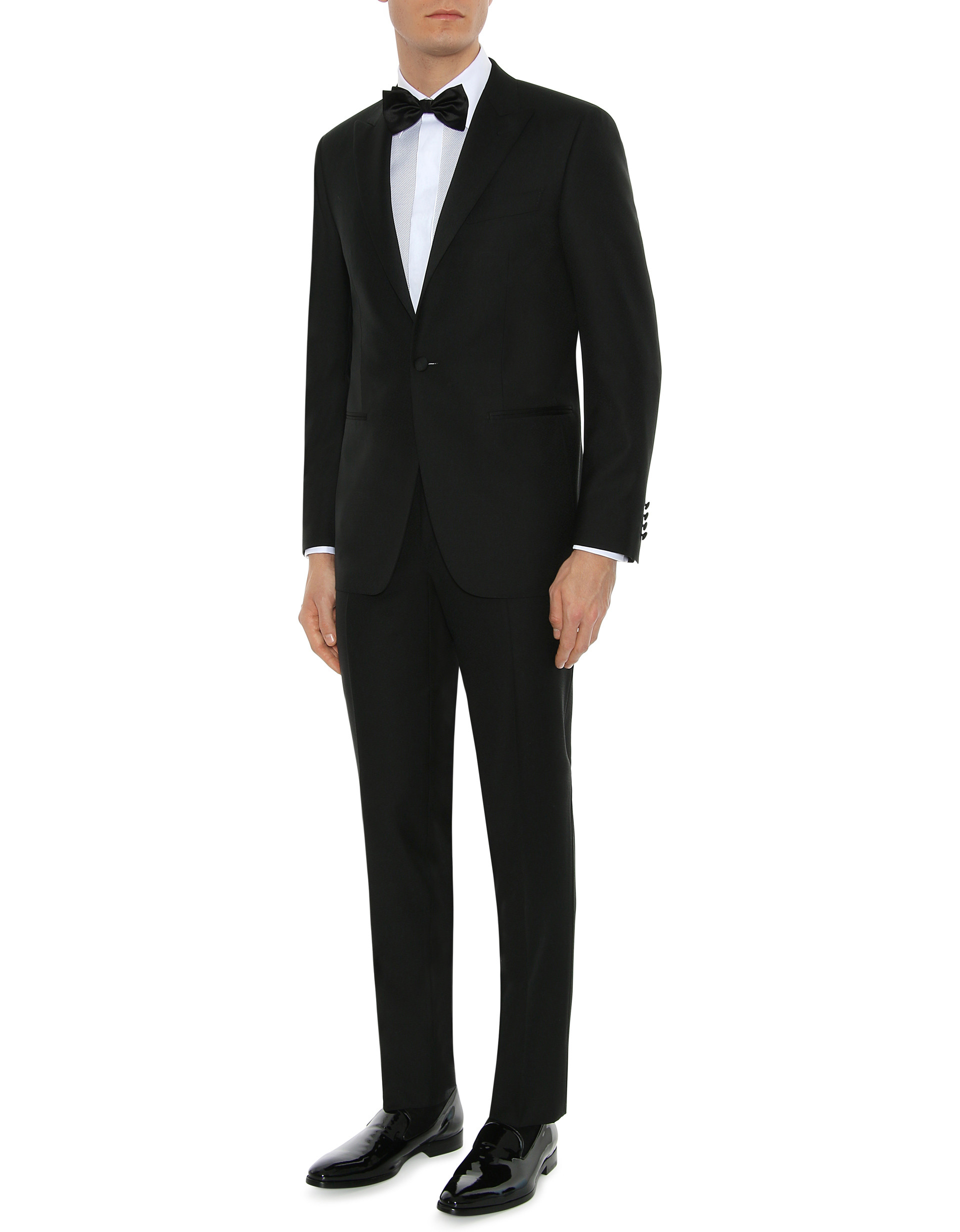 Canali tuxedo? Yes please. This is a great example of a well executed tuxedo. Single breasted, peak lapel. Normally, I like the look of a shawl lapel single breasted, and peak lapels on a double breasted jacket. I think in this case it's a small detail that adds a rakish look. The subtly textured fabric is a nice touch, as it provides a gentle counterpoint to the silk (grosgrain?) lapels.
Canali Kei Sport Coats
If you've followed me here, or on Instagram, you know how fond of sport coat and odd trouser combinations I am. Let's have a peek at Canali's selection of Kei sport coats. The Kei line represents Canali's take on soft tailoring. The jackets are unstructured with a softer shoulder and more generous lapels. The selection of fabrics are excellent! These are truly beautiful sport coats.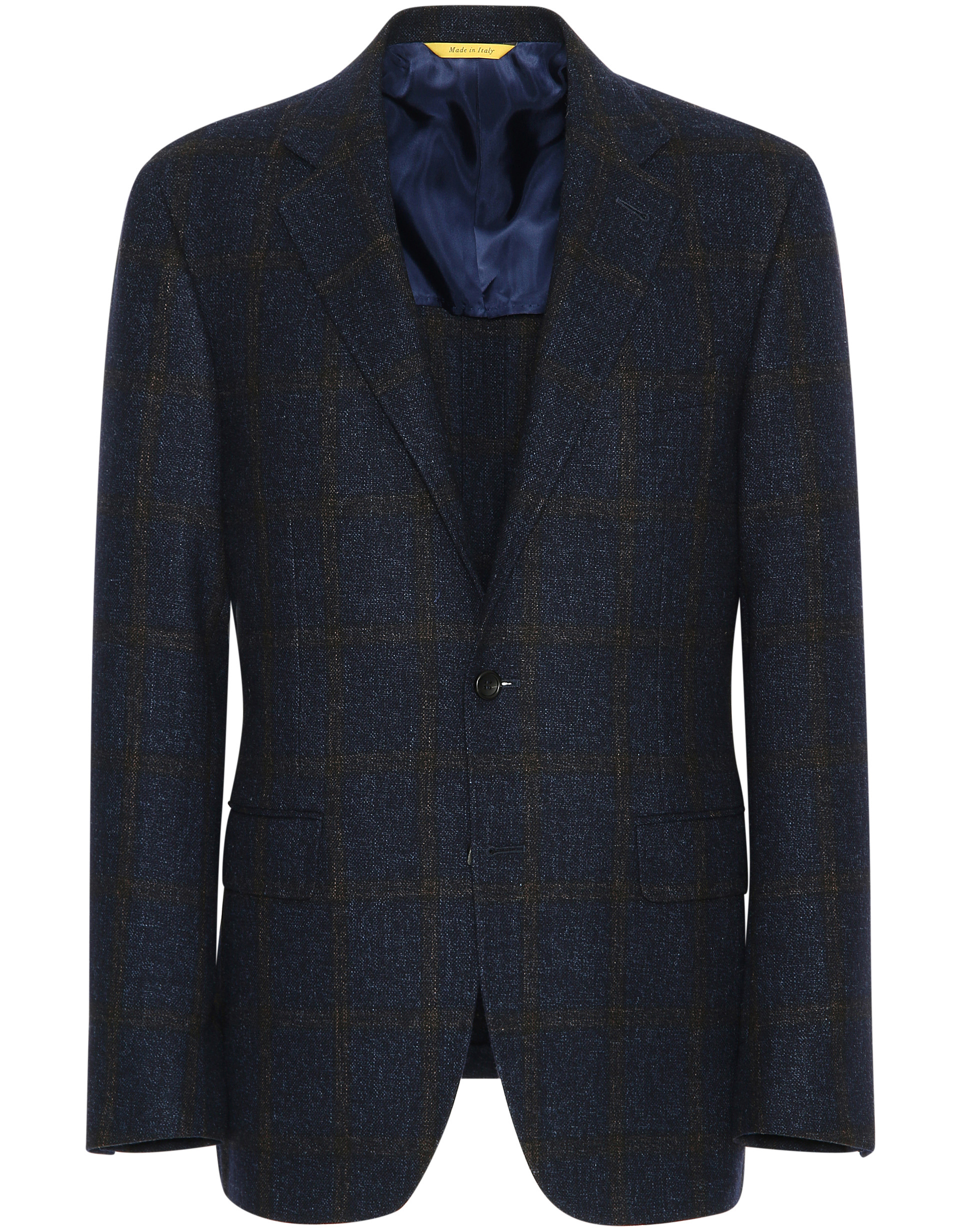 This one stood out to me, but it is in line with most of this collection. Subtle, understated and just a bit outside the norm. The brown check isn't harshly defined against the navy ground, which adds to the soft appearance of the jacket's construction. I'm always a fan of a good wool/silk/linen blend. I really like how it's paired in the photos with the burgundy trousers and lighter brown tie.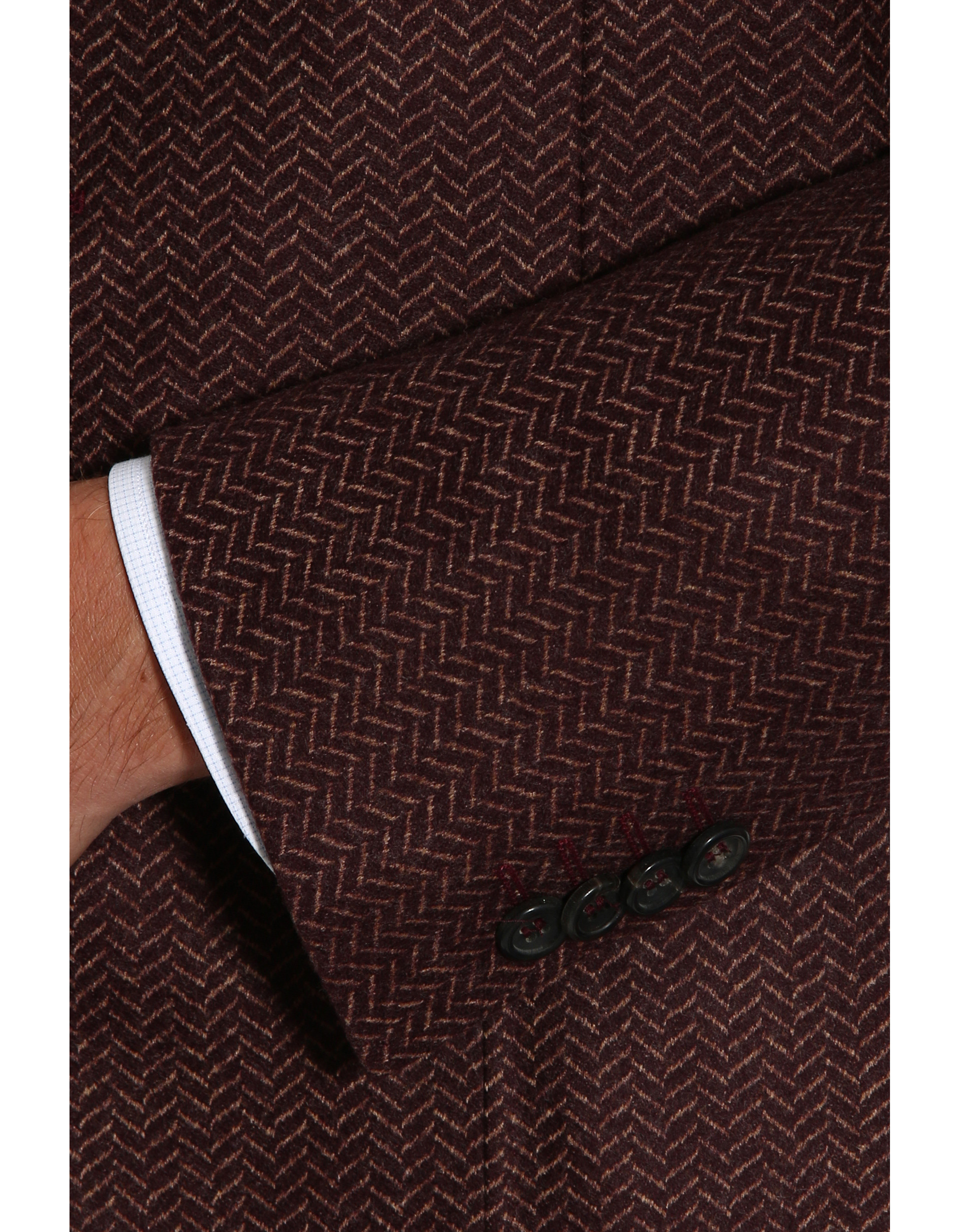 This Kei sport coat is also quite nice. I'm partial to burgundy pieces, but what I like about this is the hint of tan in the herringbone.  Again, the softness of the fabric is well matched to the softness of the jacket's construction.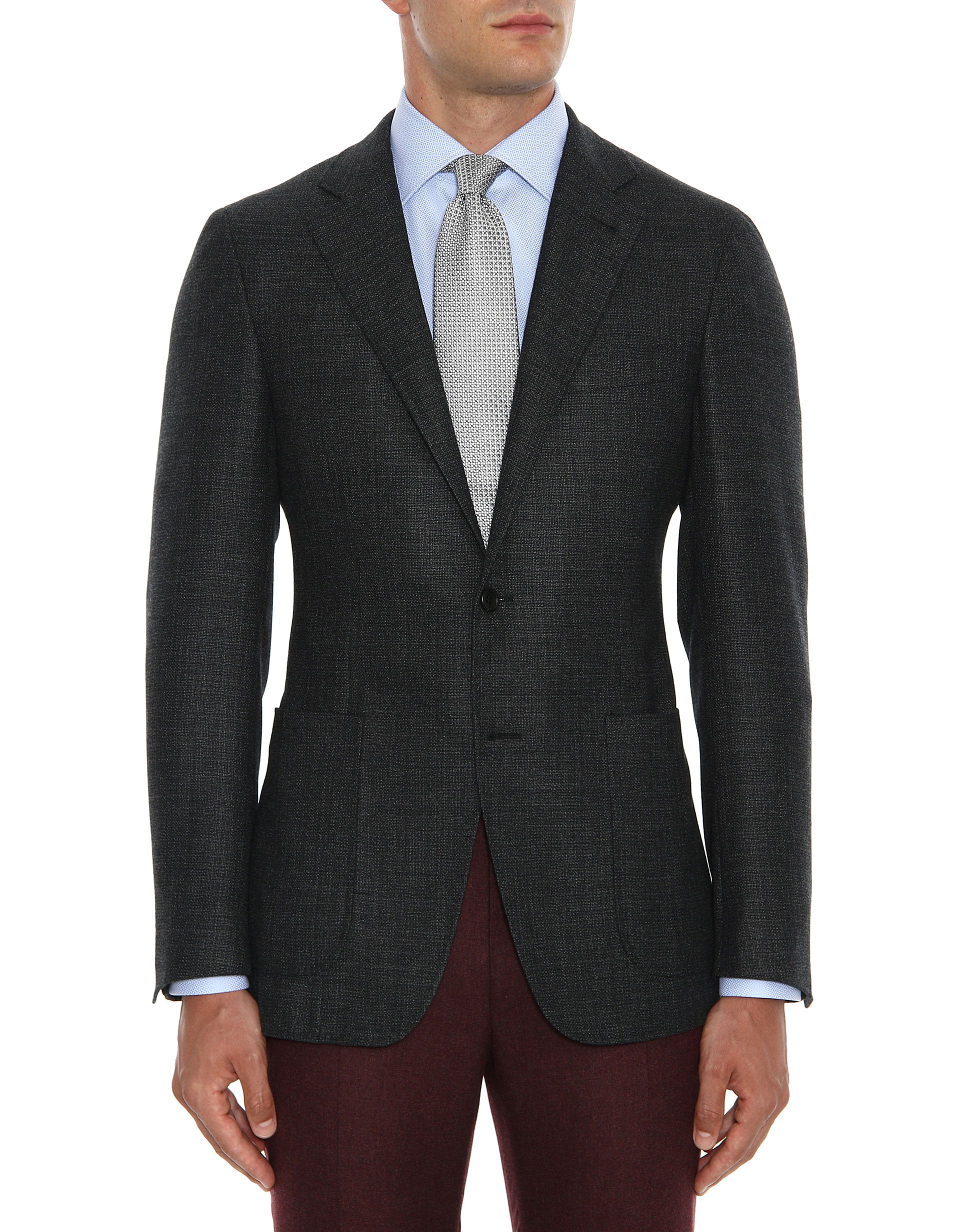 This last one got me thinking. Another "rule" I've learned is that black isn't a great colour, especially for an odd piece like a sport coat or trousers. But this, in a lovely texture, makes me question this "rule". I don't doubt it takes some confidence to wear black as a separate, and I think that quiet confidence is something that Canali offers with all their suits and sport coats.
Canali Outfits
Let's take this to the next step – if you were shopping there, could you walk out with two outfits? I think it's more a question of, "only two?" I'm going to build a couple I would wear; on around a suit, and another with a sport coat and trouser combo.
The Suit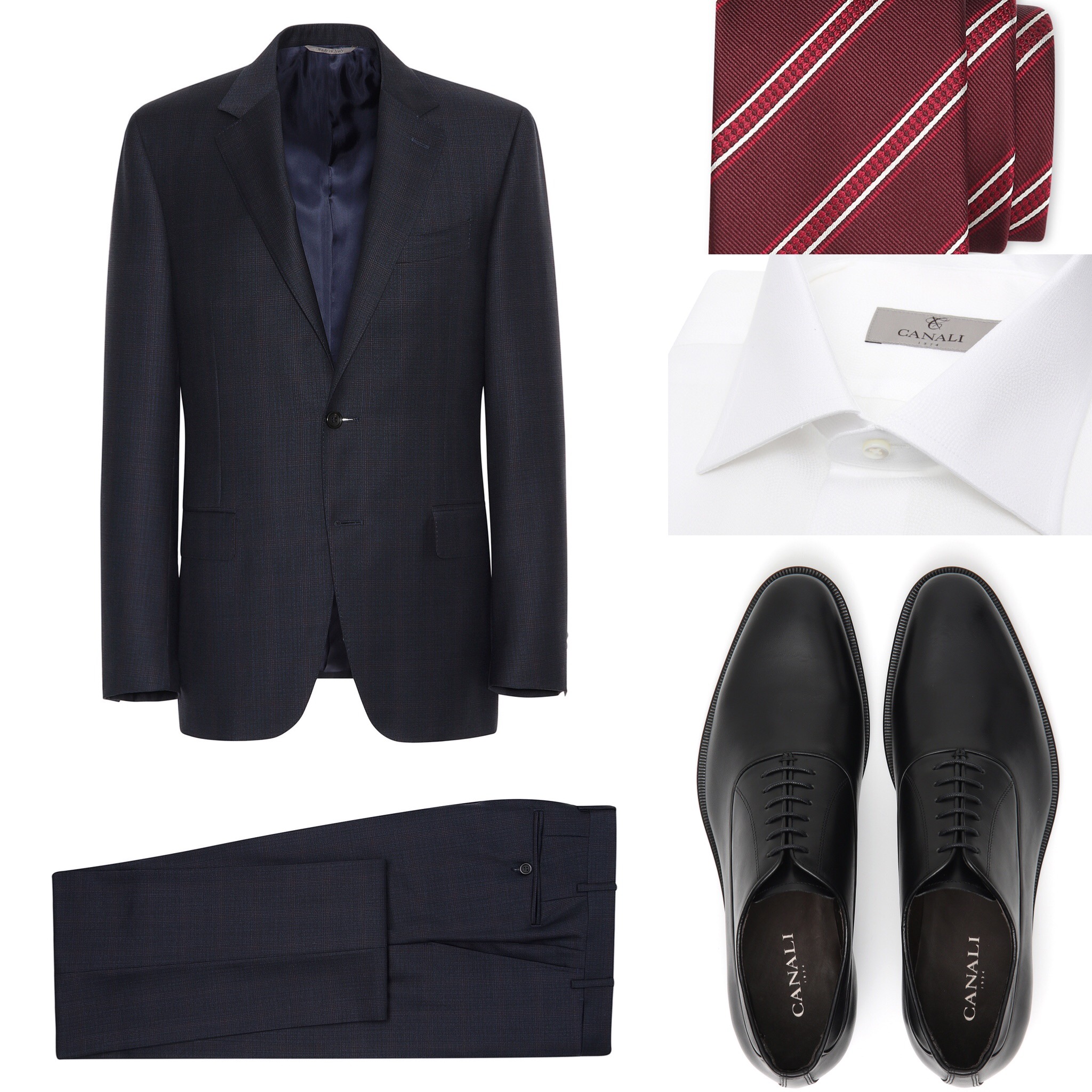 I had to go with the dark suit with the subtle check. It's just so tastefully patterned. Simple black oxfords anchor the look. I went with the bordeaux striped tie to pick up the check in the suit. Last, a textured weave white dress shirt. Classic look overall.
The Odd Jacket/Trouser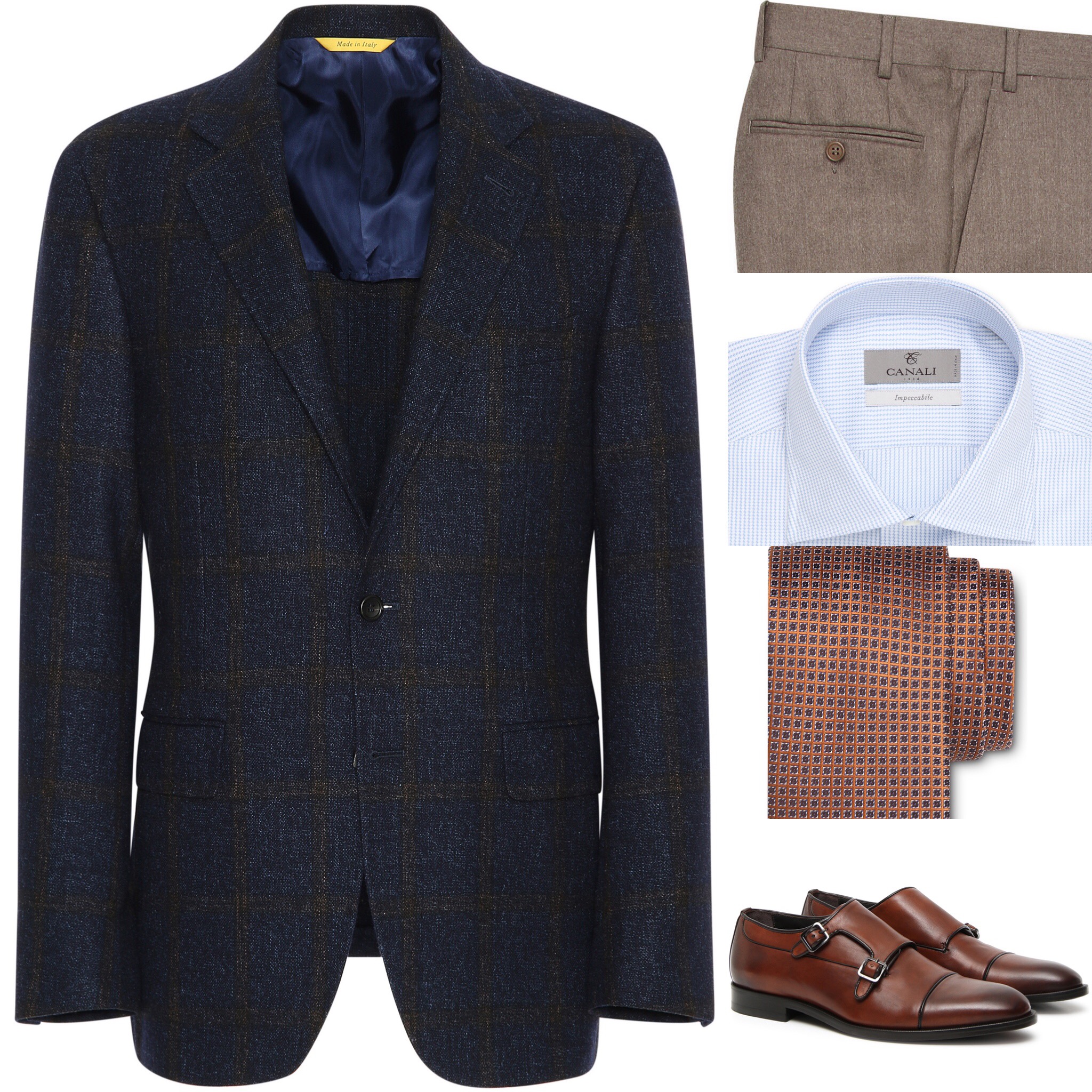 I almost built a similar outfit to the one they've posted with the burgundy trousers, but I wanted to see what else they had. After a look through their offerings, I settled on these wool trousers in a lighter shade of brown. They make for a nice base against the navy, and pick up the check in the jacket. This time, I went for a little more visual interest in the shoes and picked this warm tone pair of double monks. Tasteful burnishing and edging adds a ton of depth and visual interest to the shoes. The shirt is a light blue houndstooth pattern. It's hard to tell from pictures, but it looks like the shirt has a really nice weave and weight to it. For the tie, I only strayed a little from the brown family – this one is orange, but has brown and blue in the pattern.
What does Canali mean to you?
I'm glad I had the opportunity to write this. Now, head over to Canali's website. Look around. Then come back and tell me what Canali means to you.
-Colin